Grand Canyon
The
Grand Canyon
is a
UNESCO World Heritage Site
that is entirely in northern
Arizona
and is one of the great tourist attractions in the
United States
. The massive canyon encompasses several distinct areas, most famous of which is
Grand Canyon National Park
, a
United States National Park
. Visitors to the national park have many options, including: the remote
North Rim
; the more accessible (and therefore more crowded)
South Rim
; parts of the canyon, such as
Phantom Ranch
or the
Colorado River
, upon which many boating trips are made. In addition, parts of the southwestern end of the canyon are within the borders of two Indian reservations: the
Havasupai Indian Reservation
and the
Hualapai Indian Reservation
(which includes the development known as Grand Canyon West). Lastly, part of the southeastern end of the canyon is within the borders of the
Navajo Nation
. Except for the Navajo Nation portion, all sections of the canyon offer amenities for visitors. However, the national park, and in particular the South Rim, is by far the most popular destination and the best equipped to handle the millions of yearly visitors.
Understand
The canyon is an overwhelming experience, and nothing can prepare a visitor for the sight. The Grand Canyon is a massive canyon carved over several million years by the Colorado River. Grand Canyon National Park boasts an elevation change of nearly 7,000 feet (2130 m) from Point Imperial (at nearly 9,000 feet or 2740 m) to the banks of Lake Mead (at just over 2,000 feet or 610 m). The canyon is over a mile (1610 m) deep, from rim to river. In spots the rock layers exposed in the canyon display over two
billion
years of geologic history.
History
Grand Canyon National Park was founded as Grand Canyon National Monument in 1908 by President Theodore Roosevelt, and became a national park in 1919. Today the park contains over 1.2 million acres (490,000 ha), slightly less than the entire state of
Delaware
, and in 2018 received about 6.4 million visitors.
Landscape
Throughout the past century, hundreds of authors have attempted to depict the enormous landscape that is Grand Canyon. Not surprisingly, words most often fail to invoke the sense of awe and wonder that many visitors experience. Edward Abbey, a noted Southwest author, once penned: "Those who love it call it the canyon.
The
canyon. As if there were no other topographic feature on the face of the Earth".
There are, of course, other canyons on the planet. Some are longer, others wider, and there are even some that are deeper. Canyon visitors are often surprised to learn that Grand Canyon sets no records for sheer size. It is, however, simply regarded by most as the "grandest" canyon of them all.
Geologically, the canyon extends from Lee's Ferry near the Arizona/Utah border to the Grand Wash Cliffs near Las Vegas, a distance of 277 mi (445 km). It ranges in width from about a quarter mile to over 18 mi (29 km) wide. In places the canyon is over a mile deep.
However, it is not the statistics that define this landscape as "grand", but rather a combination of factors. The desert environment and a lack of herbaceous ground cover reveal a geologic story that is unparalleled. Surprisingly, the rock layers displayed at Grand Canyon show little sign of wear. The layers have been preserved almost perfectly, as though they were layers in a cake. Nowhere else on Earth displays so many volumes of the planet's history in such pristine condition.
The resulting landscape provides visitors with some of the most magnificent and unsurpassed vistas on the planet.
Flora and fauna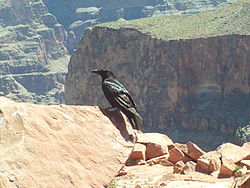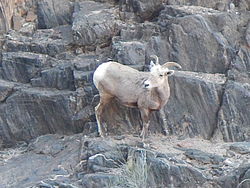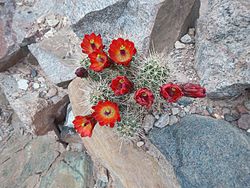 The most famous animal in the park may be the rare California Condor. They can occasionally be seen flying near Grand Canyon Village on the South Rim. Common bird life includes Canyon Wrens, Stellar's Jays (with their peaked caps), swallows, hummingbirds, and the playful and entertaining raven.
Mule Deer are common. Some of the largest elk in North America can be found in the national park, and in the adjacent Kaibab National Forest. Desert Big Horn Sheep are also seen on occasion, mainly in the inner canyon.
You'll often spot coyotes no matter where you are in the park, and if you're lucky, you'll get to hear them sing. Other predators are Mountain Lions and bobcats. Black Bears are rare, and they generally stay away from the inhabited areas.
Some of the smaller creatures that can be found in the inhabited areas of the park are the Ringtail (called a cat, but not in the cat family), which like to live in the rafters of some of the historic buildings on the rim. They are quick and stealthy, but they often forget how visible that tail is, and you'll see it hanging out over a beam.
A favorite with visitors is the Abert's Squirrel with their tufted ears. Other varieties of squirrels and chipmunks are also popular. They seem tame and like to beg for food behind the Bright Angel Lodge, near the Ice Cream fountain. But heed the warnings and resist the urge. One of the most common injuries in the park are squirrel bites.
You might also see the common Striped Skunk, and if lucky, you might even see the rarer Western Spotted Skunk (usually at lower elevations). Skunks here are also habituated to humans and may seem tame, but they will react as all skunks do, so don't come up on them suddenly!
For the reptile family, there are variety of small lizards, and a few snakes. The most striking (in more ways than one) is the Grand Canyon Rattlesnake; with its reddish (almost pink) coloring it neatly blends into the rocky terrain of the canyon. They are interesting to see as long as it is at a safe distance. Rattlesnakes are more afraid of you than you are of them. If given the chance, they will avoid any contact with humans. Most rattlesnake victims are young males that are chasing or trying to capture a snake.
Do not feed the animals
. It is unhealthy for them, and may be unhealthy for you. A seemingly tame squirrel might bite you—they carry plague, rabies, etc. A deer or elk can charge at you without warning. If the animal is aware of your presence, you're too close.
Climate
Temperatures and weather within the canyon vary greatly by location. Temperatures on the North Rim are often 20-30°F (11-16°C) cooler than at the river. This is a land of extremes. It can be snowing at the rim, while others are comfortable sunbathing at the river. Conversely, it can be cool and comfortable at the rim in the summer, while temperatures at the river exceed 120°F (49°C). It is not unusual for local canyon guides to encounter neophyte hikers in desperate shape. Some die. An unusual number of fatalities occur among young people who overestimate their abilities. Due to the high altitude, snowfall is a regular occurrence on the rims during the winter months.
July and August are monsoon season in Arizona and strong thunderstorms can sweep in quickly with lightning strikes every few minutes and sudden downpours. Due to the elevation of the Grand Canyon rims, people are struck by lightning fairly regularly so take shelter indoors during storms.
Get in
By car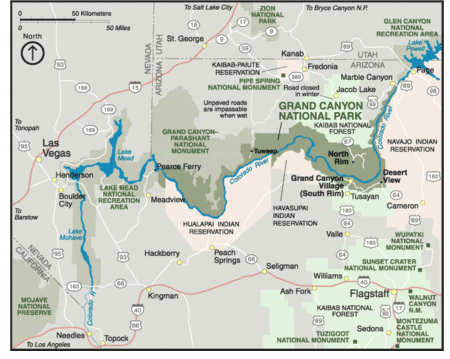 The majority of visitors to the South Rim of the park arrive from the south on Arizona Route 64 (AZ 64) (conjoined with US highway 180). Or, you can enter the South Rim from the east on AZ64.
For the south entrance: from
Flagstaff
, you can take US Route 180 (US 180) northwest to Valle where it joins with AZ 64, and continue north to the South Rim; or take I-40 west toward Williams to the junction with AZ 64 and continue north to the South Rim. Both routes are approximately 80 mi (129 km). The approx 60 mi (97 km) on US 180 is a narrow 2-lane mountain road through a heavily forested area. The I-40 west is a wide multi-lane interstate for approx 20 mi (32 km), to AZ 64 which is a slightly wider, less mountainous 2-lane highway, and the recommended route during winter weather. There are two lanes at this entrance reserved for pass and prepaid entrance fees (now lanes 1 and 4), which can be pre-purchased outside of the park at the National Geographic Theater/Visitor Center.
For the east entrance, take US 89 south from Page, AZ or north from
Flagstaff
to the junction with AZ 64 at Cameron. It is approx 25 mi (40 km) from the junction to the east entrance of the park, and approx 25 mi (40 km) from the east entrance to the South Rim village area.
Visitors to the North Rim use ALT US 89 to AZ 67 (closed in winter). While the average distance across the canyon is only ten miles, there are no roads, meaning the trip by car is a five-hour drive of 215 miles (345 km).
People visiting the Havasupai Indian Reservation use AZ 66, turning onto Indian Road 18 (which may appear on maps as BIA 18, or Hualapai Hilltop Highway) for approx 60 mi (97 km). The road dead ends at Hualapai Hilltop.
By plane
Many Grand Canyon visitors fly into one of two metropolitan airports within half a day's drive of the South Rim.
By bus
There are no commercial bus lines offering transportation to either rim, but several tour companies offer guided tours originating in
Flagstaff
,
Phoenix
,
Las Vegas
,
Los Angeles
and other locations, either directly to the South Rim or that include the South Rim as part of an itinerary, and a few offer tours which include a visit to the North Rim. There is a small shuttle service,
Arizona Shuttle Service
, which does carry passengers and luggage from the Flagstaff Amtrak station. The tickets for this shuttle may also be purchased from
Amtrak
.
By train
The
Grand Canyon Railway
operates a train ride from the town of
Williams
to the Grand Canyon Village (travel time is 2.5 hours in each direction). The terminus at Grand Canyon Village is within walking distance of some accommodations. The train features a historic steam locomotive during the summer season, restored Pullman cars, and a staged old west style shootout. However, the Grand Canyon is not visible from the train. It is simply another option for traveling to the canyon, and takes about twice as long as driving to the canyon.
Amtrak's
Southwest Chief, with trains operating daily between Chicago and Los Angeles, stops at Williams Junction 3 mi (4.8 km) east of
Williams
town, with connections to the Grand Canyon Railway in Williams. There is a Thruway bus shuttling passengers from Williams Junction to Williams town.
Fees and permits

All private vehicles entering Grand Canyon National Park must pay a $30 entrance fee, which is good for seven days. Individuals on foot or on a bike must pay a $12 entrance fee, also good for seven days.

Get around
Several viewpoints and trailheads in the park have limited or no parking and must be reached using the park shuttle system. The National Park Service runs an extensive
shuttle service
on the South Rim with three interlocking routes. The service is free, and generally runs from before sunrise until after sunset, depending on the route. Service is more frequent from May through September and includes additional routes. In addition, during the summer the park service operates a shuttle from
Tusayan
into the park.
Horse and mule riders are required to follow a number of rules and restrictions while in the park, and must get a permit from the park service to keep animals in the park overnight.
From Mar-Nov the West Rim Drive is not accessible to most private vehicles (handicap vehicles may request a variance at the entry gate). The park service runs a shuttle during this time. The shuttles are frequent but long lines form during the busy summer months.
There is no easy connection between the North and South rims. By car, the shortest route is a five-hour drive crossing the river by a bridge near Lee's Ferry; by foot, it is a two-day hike across the canyon.
See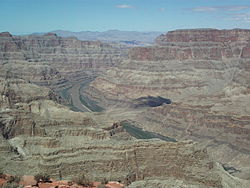 South Rim
Grand Canyon VillageGood views, the trailhead of the Bright Angel Trail, historic buildings, and massive crowds.

Desert ViewThe historic Watchtower is a popular stop for many travellers and provides an excellent vantage point for viewing the canyon and Colorado River.

Hermit's RestAt the West end of Hermit Road, this gift shop and snack bar was designed by Mary Colter (the same person responsible for the Watchtower at Desert View) to resemble a Hermit's abode, and fit in harmoniously with the landscape. Constructed of a mix of stone and wood.
There are several other viewpoints along the road between Hermit's Rest and Grand Canyon Village (West Rim) or Desert View and the village (East Rim).
North Rim
10 mi from the South Rim by air, is the . The North Rim is a 215 mi (346 km), 5-hr drive from Grand Canyon Village. At 8,000 ft (2,440m) the elevation of the North Rim is approximately 1,000 ft (305m) higher than the South Rim, and as a result it features more coniferous trees and cooler temperatures. The roads to the North Rim are open only during the summer (from approx 15 May to the first fall snowfall), while the in-park facilities usually close by 15 Oct, regardless of the weather. With far fewer visitors, this area can be a great place to enjoy the peace and majesty of the canyon. The main viewpoints are Bright Angel Point, Cape Royal (where the Colorado River can be seen), and Point Imperial (the highest viewpoint in the park).
Havasupai Indian Reservation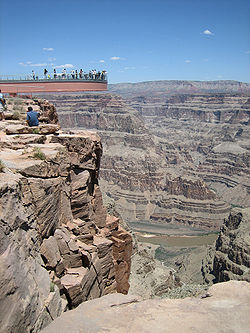 A popular destination in the canyon lies southwest of the park on the . Havasupai can be loosely translated as "People of the Blue-Green Water". Entry into this remote portion of the canyon requires an entry permit. Entry permits are $110 per person, and are only available to those people with reservations at either the Lodge (an additional $440 per room per night) or the campground ($300 to $375 per person for a required three night reservation, which includes the permit fee); day hikes are not allowed. Full payment is due when campground reservations are made; transfers may be offered on the Havasupai website for a ten percent fee. Lodge reservations require a $100 per night deposit, and may be cancelled up to two weeks in advance. Those venturing into Havasu Canyon are greeted by spectacular world class waterfalls. Although the Havasupai Reservation is somewhat impacted (trashy), the incredible canyon below the village of Supai is worth the visit. Access to Havasu Canyon is from Hualapai Hilltop north of
Peach Springs
. Visitors must park at Hualapai Hilltop and hike or fly to Supai near the waterfalls. It is an eight-mile hike to Supai Village, and a further two miles to the campground. Helicopter transportation to and from the village is available on a first come basis four days a week; however, on occasion the wait may be many hours in length. An extremely rustic lodge is the only public accommodation available in Supai. A large mile long campground is 2 miles down canyon between Havasu and Mooney Falls. Both the campground and the lodge are extremely crowded most of the year; advance reservations are a necessity, and are very difficult to obtain.
Hualapai Indian Reservation (Grand Canyon West)
The borders the Colorado River, with Grand Canyon National Park to the north. Tribal headquarters are in the impoverished town of
Peach Springs
. The
Grand Canyon Resort Corporation
is a collection of tourist enterprises wholly owned by the tribe. Activities include motorized rafting trips on last few miles of white water in the canyon, and pontoon boat rides on the smooth waters of Lake Mead. Grand Canyon West (in the remote northwest corner of the reservation) is a collection of viewpoints overlooking the last few miles of Grand Canyon and the stagnant waters of the Colorado River as it flows into Lake Mead. The Hualapai have partnered with dozens of commercial tour operators from the Las Vegas area, and a tour package purchase (ranging from $29–109 per person) is required for entry to the Grand Canyon West area. Hundreds of helicopter flights ferry passengers from the "West Rim" to a multitude of landing zones near the lake shore.
Grand Canyon SkywalkThe Skywalk is a 10 foot wide glass bottomed walkway that extends 70 feet over the canyon rim, allowing visitors to look 4000 feet down to the canyon bottom. This attraction is what attracts the majority of visitors to this area of the canyon, but be aware that it is not a part of the national park and is pricier than most visitors expect. No strollers or personal items may be taken onto the Skywalk including cameras; professional photos can be purchased for $30 per photograph, or $100 for all photographs taken.
Do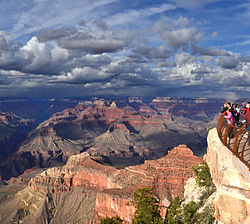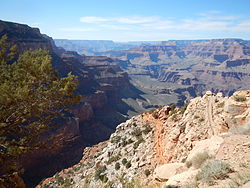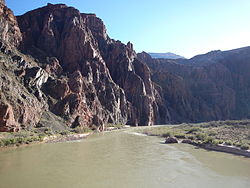 Hiking
Hiking in the Grand Canyon is unlike anywhere else on Earth - trails range in difficulty from fifteen minute loops to multi-week treks, and all offer spectacular views. In addition, there are numerous unmaintained trails throughout the park for the more adventurous. For people who prefer guided hikes a variety of outfitters offer options. While most canyon hikes entail significant elevation change, less-strenuous hiking options include nature walks along the rim trail which offer great views without requiring much exertion.
All hikers should take trail warnings extremely seriously. Temperatures in the canyon may vary by 50-70 °F depending on elevation and time of day, and unlike most places, the most challenging portion of a hike in the Grand Canyon will always be the end, meaning that if you run out of water you will get heat stroke, and if you get too tired you will be unable to get back to the trailhead.
Carry more liquid than you think you'll need, and know your limits.
It is far too easy to overextend yourself hiking in the canyon, and each year over 250 people require rescue due to underestimating the heat and difficulty. Also be aware that trails may be icy during the winter - if you have crampons for your shoes or hiking poles you should bring them or consider purchasing them from a local shop.
From the south side it is possible to do a loop going down the South Kaibab Trail and up the Bright Angel Trail. You can leave a vehicle at the Bright Angel Trail head and take public transit to the South Kaibab Trail head. While often not recommended as a day hike, if you are fit it can be done in between 6 and 10 hours.
Whitewater rafting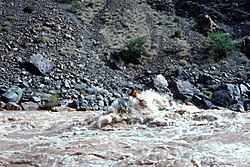 Whitewater rafting expeditions depart daily during the summer months from Lee's Ferry. Commercial trips range from 3–18 days and cover from 87-300 mi. Trips book up fast so be sure to book your trip about a year in advance or you will have to get lucky with cancellations. The most popular section of river for the "true" Grand Canyon river experience lies between Lee's Ferry and Diamond Creek.
Private (non-commercial DIY) river permits are also available for river trips up to 30 days in length. The new
Colorado River Management Plan
has changed a 12-20 year wait list to a new weighted lottery.
Flightseeing
Airplane and helicopter tours are offered by providers outside of the South Rim in Tusayan at the Grand Canyon Airport, and also from Las Vegas. Scenic flights are no longer allowed to fly below the rim within the national park. However, some helicopter flights land on the Havasupai and Hualapai Indian Reservations within Grand Canyon (outside of the park boundaries).
Other activities
Buy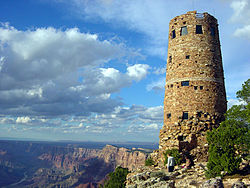 All types of tourist trinkets relating to the Grand Canyon, Native American Indians, and the American Southwest are available in shops in Grand Canyon Village on the South Rim. The South Rim is overflowing with shopping options. The North Rim has only one shop, which is at the North Rim Lodge.
Hopi HouseThis gift shop designed by Mary E. J. Colter opened in 1905. It specializes in Native American crafts: Navajo Rugs, Hopi Kachina's, Zuni Fetishes, pottery, jewelry as well as t-shirts and souvenirs. The upstairs gallery offers Native American artworks.

Lookout StudioAlso designed by Colter features spectacular views of the canyon from its overhanging patio, and specializes in rocks and fossils along with the souvenirs.

Hermit's RestAnother Colter building blends into the canyon and offers a variety of souvenirs.
Eat
South Rim
Additional cafeterias are in the Maswik and Yavapai Lodges. There is a grocery deli at Market Plaza inside the grocery store, as well. Just outside the park, in the gateway community of Tusayan, are a number of dining selections.
address: 9 Village Loop Drive, Grand Canyon Village

Also features partial canyon views.

Bright Angel RestaurantInformal dining, open for breakfast, lunch and dinner.

El Tovar Hotel Dining RoomFine dining for breakfast, lunch and dinner. Reservations required for dinner (not accepted at other times). Dining room is a flashback to the 1910s and features partial canyon views. $20 for lunch, $30 for dinner.
North Rim
Grand Canyon Lodge Dining RoomWonderful food and an unrivaled view of the canyon. Serves breakfast, lunch, and dinner. Dinner reservations required.

Cafe On The RimServes cafeteria-style snacks, breakfast, lunch and dinner. Veggie burgers, salads, sandwiches.

Coffee SaloonIn the Rough Rider Saloon. Coffee, bagels, and pastries.

phone: +1 928-643-7232

address: Hwy 89A & AZ-67

Has exceptionally good cookies and malts. About 40 mi north of the rim, and outside of the park. Also offers comfortable lodging.
Drink
South Rim
El Tovar LoungeInside seating year round, patio seating overlooking the rim seasonally.

Bright Angel BarLive entertainment seasonally.

Maswik Pizza PubPizza, Beer and Wine big-screen TV and more.
North Rim
Grand Canyon Lodge Dining RoomServes cocktails.

Rough Rider Saloon
Sleep
There are a variety of hotels, lodges, and campgrounds inside and outside of the park on the North and South Rims. As lodging at the Canyon fills early and is fairly expensive, many visitors base themselves just outside of the South Rim in
Tusayan
. For those willing to stay further from the park the cities of
Williams
or
Flagstaff
offer additional options.
Lodging
South Rim
The following lodges are inside Grand Canyon National Park. Reservations can be made by contacting
Xanterra
for the first five lodges, and
Delaware North
for Yavapai.
North Rim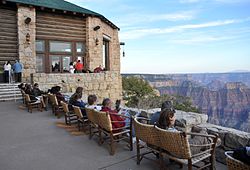 address: Hwy 67, North Rim

The only lodging within the park on the North Rim, this lodge is a mixture of cabins and motel style accommodations. The main lodge was built in 1928 and is listed on the National Register of Historic Places. It is open only from May 15 to Oct 15. Motel rooms are within walking distance of the canyon rim, while some of the cabins are along the rim. All lodging comes with a private bathroom, although some cabins have only 3/4 bath (shower, no bathtub). The hotel also offers complimentary shuttle service to the Kaibab trailhead twice daily, which should be booked a day before. It is recommended to make reservations as far in advance as possible; reservations can be made up to a year ahead.
Inner Canyon
Phantom RanchPhantom Ranch is on the Colorado River and is accessible by foot, mule, or raft. Made up of cabins and dormitories (segregated by gender) with a dining hall. All Phantom Ranch accommodations and meals require advance reservations. There is no cooking allowed in the cabins or dorms, and guests without a meal reservation are not allowed in the dining hall at mealtimes. It is recommended that you reserve meals at the same time you reserve your bunk or cabin. Guests should check in at the Bright Angel Lodge Transportation desk before hiking down to Phantom Ranch, and can do so a day in advance of their hike.
Camping
There are campgrounds at the North and South Rims. Reservations are highly recommended, especially at the busier South Rim. Outside of the park,
Kaibab National Forest
has numerous undeveloped campsites and "at large" camping is allowed for up to 14 days. Due to extreme drought conditions, check for closures and camp fire restrictions.
South Rim
Desert View Campground(May-Oct). 26 mi east of Grand Canyon Village, this campground offers tent and RV sites (no hookups). Costs are $10/night. All sites are first-come, first-served.

Mather Campground(year-round). In Grand Canyon Village, this campground offers sites suitable for camping and RVs (no hookups). Facilities include water and flush toilets. Costs are $18/night from Apr-Nov, $12/night from Dec-Mar. Reservations can be made online or by calling +1-800-365-2267, outside the U.S. call +1 301 722-1257.

Trailer Village(year-round). Adjacent to Mather Campground, this campground offers RV sites with hookups and toilets (no showers). Costs are $36/night for two people, and $3,5 for each additional person. Reservations can be made by calling +1-888-297-2757 (outside of the U.S. call +1 303-297-2757).
North Rim
address: Forest Rd 579

Open mid-May to mid-October. Outside of the park, 45 miles (72.4 km) north of the North Rim, this campground is operated by the forest service, and has 51 single-unit sites and one group site with water and vault toilets. All sites are first-come, first-served.

phone: +1 928 638-7888 (information), +1 928-638-7814 (late arrivals)

Mid-May through October; for the last two weeks of October services are minimal and there may be no running water. Along the North Rim, this campground offers sites suitable for camping and RVs (no hookups). Facilities include water and flush toilets. Reservations are required and can be made online; it is advisable to reserve as early beforehand as possible.
Backcountry
Any camping below the rim in Grand Canyon requires a
backcountry permit
. Permits must be obtained through the Backcountry Country Office (BCO) at Grand Canyon National Park. Permits are not available online or via telephone. They are only available in person, by fax or by mail. There is limited water available within the canyon, so backpackers should plan on carrying sufficient water with them. All backcountry users are asked to follow "
Leave no Trace
" principles.
Permits are limited to protect the canyon, and become available on the 1st day of the month, four months prior to the start month. Thus, a backcountry permit for any start date in May becomes available on 1 Jan. Space for the most popular areas, such as the Bright Angel Campground adjacent to Phantom Ranch, generally fill up by the requests received on first date they are opened to reservations. There are a limited number permits reserved for walk-in requests available on a first come, first served basis.
There are a number of outfitters that provide fully guided backpacking trips (including permits and gear) at Grand Canyon.
Stay safe

Hiking at the Grand Canyon often surprises people who attempt Inner Canyon trips. It can be hotter than you'd expect, colder than you'd expect, drier or wetter. A prepared hiker is better able to survive the extremes of the canyon. Even for short walks into the canyon keep in mind that it is a seducer: it seems easy hiking down into it but when you come back up you find that you have over-extended yourself. It's the opposite of climbing up a tall mountain, where you can stop and turn back when you get tired, knowing that the descent will be much easier.
In particular, do not attempt to hike to the bottom of the canyon and back in one day. Hundreds of hikers each year have to be rescued from the Inner Canyon due to exhaustion and dehydration. While the temperature on the canyon rim is cool due to its elevation, below the rim it can be very hot. The vertical distance from the bottom back up to the rim is nearly a mile straight up (1.5 km), in addition to the distance you travel horizontally. If you plan to go to the bottom of the canyon, spend the night (permit required), and take enough food, water, shelter, and other backcountry camping equipment to keep yourself safe and sound. If you don't have the equipment, don't go.
For an eye-opening look at the dangers of hiking in and around the canyon unprepared, Over the Edge: Death in Grand Canyon by Thomas M. Myers (long time resident doctor at the South Rim), and Michael P. Ghiglieri (biologist and river guide), describes the various ways in which visitors have lost their lives at the canyon. ().

Connect
Grand Canyon Community Library

phone: +1 928 638-2718

address: 11 Navajo St, Grand Canyon Village

A small branch of the Flagstaff-Coconino County Public Library, housed in a historic log schoolhouse. It has public access terminals, Wi-Fi, and print, copy, scan, and Fax.

phone: +1 928 638-7768

address: 20 S. Entrance Rd.

Two public internet PCs, and free WiFi in the library and surrounding courtyard.
Go next
The Grand Canyon is part of the Grand Circle, which includes the
Monument Valley
,
Mesa Verde National Park
,
Bryce Canyon National Park
,
Zion National Park
,
Capitol Reef National Park
,
Canyonlands National Park
,
Natural Bridges National Monument
,
Hovenweep National Monument
,
Arches National Park
and many other attractions.
While literally getting out of the chasm may be the most difficult part of your visit, getting out of the national park is relatively easy.
Popular attractions near the North Rim include
Bryce Canyon
and
Zion
National Parks. The nearest major airport is in Las Vegas.
Travelers to the South Rim often head toward
Flagstaff
or
Sedona
.
Phoenix
and
Las Vegas
are the nearest major airports; however, there is a small commercial airport in Flagstaff as well.
Phoenix
is home to hiking at Camelback Mountain, golfing, MLB Spring Training, and super hot weather.
Las Vegas
is home to casinos, shows, and nightlife.
The Hoover Dam
is also not too far away from Las Vegas.