Grand Falls-Windsor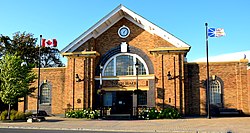 Grand Falls-Windsor
is a city of 14,000 people (2016) in
Central Newfoundland
. It is the largest in the central region.
Understand
History
In 1768, Lieutenant John Cartwright, while following the Exploits River through the Exploits Valley, named the waterfall he found "Grand Falls". In 1905, the town of Grand Falls was established as a new town using Garden City principles expounded by Ebenezer Howard. Worried about the impending war in Europe, Alfred Harmsworth (Baron Northcliffe) began looking for an alternative source of newsprint for his family's newspaper and publishing business. During their search for a suitable location to build and operate a pulp and paper mill, Harold Harmsworth and Mayson Beeton, son of Isabella Beeton, the author of Mrs Beeton's Book of Household Management, discovered Grand Falls. The site had great potential due to access to lumber, the possibility of hydroelectricity and a deep-water port available in nearby Botwood. The Harmsworths and Robert Gillespie Reid, owner of the Newfoundland Railway, formed the Anglo-Newfoundland Development Company, and the mill was opened in 1909. Workers came from throughout the colony and the world to help develop the new area. At that time, only employees of the mill and workers from private businesses were permitted to live in Grand Falls. Other people settled north of the railway in a shack town known as Grand Falls Station, which became Windsor, named for the English Royal Family.

Get in
Grand Falls-Windsor can be accessed via
Trans-Canada Highway 1
. There are several exits, the first coming from the east being Grenfell Heights, second Union Street/Lincoln Road; third being Cromer Avenue and the fourth being Victoria Street/Main Street W/Station Road. They all lead into different parts of the town.
It is approximately 95 km (1 hour) west of Gander, 240 km (2½ hours) west of Clarenville and about 430 km (4 hr 45 min) west of St. John's. On the other hand, the town is 210 km (2 hr 15 min) east of Deer Lake, 265 km (2 hr 45 min) east of Corner Brook, and 475 km (5 hr) east of Port Aux Basques, when travelling on the Trans-Canada Highway.
The nearest airport is Exploits Valley (Botwood) Airport in Botwood. The nearest international airport is Gander International Airport, approximately 100 km east of Grand Falls-Windsor.
DRL BusOne bus daily from St. John's (MUN University Student Center) at 7:30AM (6 hr 45 min, $73), and one bus from Port aux Basques (Marine Atlantic) at 8AM (7 hr 25 min, $79). Tickets are purchased upon boarding the bus, cash only.
Get around

Because of Grand Falls-Windsor's curved and somewhat confusing nature, if you are new to the town a map could be useful. While the town is marked very well with street signs and attraction signs everywhere, it still may not be enough.
The Newfoundland and Labrador Route 1 runs through the middle of town, with exits for Main Street, Station Road, Cromer Avenue, Union Street, Grenfell Heights and New Bay Road. Main thoroughfares in the town include Lincoln Road, Cromer Avenue, Main Street, High Street, and Scott Avenue, though this list is not exhaustive.

See
phone: +1 709 292-4522

address: 24 Catherine St

Exhibits about the Beothuk people, geology, regional industry and natural history. A locomotive of the Newfoundland Railway which was closed down in 1988 can be seen in front of the museum.

The Salmonid Interpretation Centre

phone: +1 709 489-7350

address: 100 Taylor Drive

Exhibits on the history, biology, ecology and habitat of the Atlantic Salmon. Visitors can view the fish through underwater windows as it travels upstream to the spawning habitat and take in the view of the Falls and nesting seagulls. Restaurant and gift shop.

Harmsworth HallIt was constructed by the Anglo-Newfoundland Development Company (AND) in 1929. The hall houses the offices for the Town of Grand Falls-Windsor. The hall has a wood frame with a brick exterior and stands two storeys tall. It has roof trim moulding, copper flashing and large arched windows that overlook High Street, the main street in Grand Falls. It has concrete lintels over the doors and windows, and the centre portion of the hall features a peaked roof.
Do
Exploits Valley Salmon FestivalA five-day summer festival that has featured performances by Aerosmith, Smashmouth, the Tragically Hip and the Eagles. A gospel concert, a softball tournament, a salmon dinner (of course), a pub crawl,

Gorge Park

address: 1A2 Scott Ave

Walks along the Exploits River.

phone: +1 709 700-8807

Four whitewater rafting trips offered on the Exploits River.
Buy
phone: +1 709 489-6474

address: 19 Cromer Ave, Windsor

Being the Grand Falls-Windsor area's only shopping centre, it has department stores such as Wal-Mart and Bargain Giant along with restaurants like Jungle Jim's and clothing stores all in one building.
Eat
Valley Restaurant

phone: +1 709 489-5961

address: 19 Cromer Ave

Diner: fish and chips, hot turkeys dinners, burgers and fries.

phone: +1 709 953-9898

address: 7 Church Rd

"All-day breakfast" (but they usually close by 2PM, so it's not really available "all day"), burgers, fish, etc.

phone: +1 709 393-3663

address: 48 High St

Fine dining.
Drink
phone: +1 709 489-9893

address: 18 Hill Rd

Live music, dancing, cold beer, cocktails.
Sleep
phone: +1 709 489-7350

address: 1 Scott Ave

Large lots with services – electric, water and sewer hookups. The comfort station features free, private showers. Other services include laundry facilities, social centre, horseshoe pit, shuffle board and walking trails along the river. Early Jun to early Sep. Wheelchair accessible.

phone: +1 709 489-5324

address: 78 Lincoln Rd

Air-conditioning, and free WiFi throughout the hotel. A continental breakfast is included.

phone: +1 709 489-7185

address: 181 Grenfell Hts

Free Wi-Fi and breakfast, guest laundry facility, air conditioner.
Go next