Grand Manan Island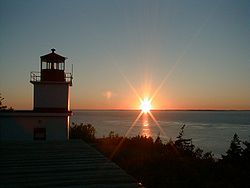 Grand Manan
is a beautiful island, made up of several small fishing communities. Its permanent population of 2,360 (2016) swells significantly in the summer, but you can easily find privacy. While New Brunswick is a bilingual province, the residents of Grand Manan are almost exclusively English speakers.
Understand
Grand Manan rests in the midwestern end of the Bay of Fundy, a body of water between the provinces of New Brunswick and Nova Scotia, and home to some of the most extreme tides in the world. It is 32 km south of Blacks Harbour, New Brunswick. The climate in spring, summer and fall is very comfortable but winter has an inconsistent weather pattern with snow, rain, freezing rain and mild weather.
The vast majority of Grand Manan residents live on the eastern side of the island. Due to limited access, 91-metre (300-ft) cliffs, and high winds, the western side of the island is not developed, although it does have wind-power ventures and camps at Dark Harbour, a small community and get-away destination for islanders. Grand Manan has a network of trails for all-terrain vehicles, hiking, mountain biking, nature walks, and presents a challenging landscape for jogging.
There are a number of freshwater ponds, lakes and beaches that are prime locations for sunbathing, beachcombing, and picnics. Other interesting finds on Grand Manan are magnetic sand, and "The Hole-In-The Wall" located in Whale Cove in the village of North Head. Anchorage Provincial Park can be found on the island's southeastern coast between the communities of Grand Harbour and Seal Cove.

History

"Manan" is a corruption of "mun-an-ook" or "man-an-ook", meaning "island place" or "the island", from the Maliseet-Passamaquoddy-Penobscot First Nations who, according to oral history, used Grand Manan and its surrounding islands as a safe place for the elderly Passamaquoddy during winter months and as a sacred burial place ("ook"-means "people of").
Although there is no evidence, the Norse are believed by some to be the first Europeans to visit Grand Manan while exploring the Bay of Fundy and Gulf of Maine around 1000 AD. During the early 16th century, Breton fishermen are said to have fished the teeming waters around the island and sheltered among its old-growth oak forests.
Portuguese explorer João Álvares Fagundes charted the area around Grand Manan in about 1520. The island became part of New France, by there was no French settlement, and in 1713 it was traded to the British in the Treaty of Utrecht.
The first permanent British settlement of Grand Manan was established in 1784. Because of the Treaty of Paris (1783), the United States considered Grand Manan to be its possession on the basis of the island's proximity to Maine. For many years, the U.S. and Britain squabbled over the ownership of Grand Manan. Britain obtained better title to Grand Manan in Jay's Treaty of 1794.
Grand Manan established a reputation for fishing and shipbuilding in the early 19th century, and undertook the harvesting of hackmatack, birch and oak. In 1831 the Gannet Rock Lighthouse was built on a rocky islet south of Grand Manan, in order to protect shipping en route to the port of Saint John, New Brunswick. It is Grand Manan's oldest lighthouse.
By 1884, Grand Manan became the largest supplier of smoked herring in the world. By 1920, it produced a staggering one million boxes—or twenty thousand tons—of smoked herring, all caught in its local waters. By the late Victorian era, Grand Manan had been discovered by a new breed of explorers—the "tourists"—who began visiting the island in steady numbers.

Get in
There is regular car-ferry service from Blacks Harbour, NB. There is no fee for the trip to Grand Manan, however you must pay for your return trip. Prices and an up-to-date schedule can be found
here
.
A 1,000-m air strip for small planes is near the centre of the island. The closest commercial airports are
Saint John
, and
Bangor, Maine
.
Get around
Leighton Spicer - private taxi, Grand Harbour. +1 506 662-3708
See
phone: +1 506 662-3524

address: 1141 Route 776, Grand Harbour

This museum offers the Allen L. Moss Memorial Bird Collection, the McLaughlin Marine Gallery, a display of Island Geology, plus historical artifacts, archives and genealogical records.

phone: +1 506 662-3662

address: 21 Cedar Street, Castalia

Exhibits feature local artists and visiting artists with a connection to Grand Manan Island.

The Grand Manan Whale and Seabird Research Station

phone: +1 506 662-3804

address: 24 Route 776, North Head

Artifacts and exhibits related to right whales. Gift shop.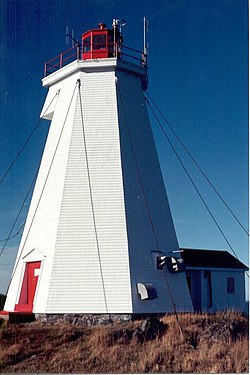 address: 50 Lighthouse Road, North Head

Lighthouse tours. Gift shop.
Do
phone: +1 506 662-7022

address: 136 Anchorage Road

Hiking and cycling trails, interpretive displays, wildlife, activity centre, and panoramic views of the ocean.
Buy
The Old North Head Post Office

address: 52 Route 776, North Head

A 1938 building a 2-minute walk from the ferry terminal. It is now occupied by an eclectic mix of small businesses. Tourist information, a community products store called 'The Exchange', Postoffice Pizza, Grand Manan Scooter Rentals, Kites and Kones, Something to Crow About Coffee, and artist studios.

The Painted Whale

phone: +1 506 662-1982

address: 2 Pettes Cove Rd #1, North Head

Gift shop
Eat
phone: +1 506 662-3563

address: 65 Route 776 → North Head

Seafood restaurant. Open on weekends in early June and late September. Open seven nights a week in July-August.

phone: +1 506 662-8488

address: 19 Marathon Lane, North Head

Licensed dining room (seasonal).

The Harbour Grille & Gift House

phone: +1 506 662-3103

address: 1140 Route 776, Grand Harbour

Takeout and eat-in.
Sleep
Go next