Grand Staircase-Escalante National Monument
Grand Staircase-Escalante National Monument
is a
United States National Monument
that is managed by the Bureau of Land Management in the state of
Utah
. If you like slickrock and slot canyons, this is the place to go. At 1.7 million acres, the monument encompasses a seemingly limitless number of destinations, although there are only a few roads that will take you to any of them. The Monument lies between Bryce Canyon in the west, and Capital Reef and Glen Canyon National Recreation Area to the east.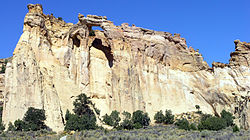 Understand
History
First explored by Spanish priests seeking a route from Santa Fe to the California missions, this area of southern Utah remains one of the most sparsely populated regions in the West. For many years it received only token protection and was not part of the national park system, but threats to develop it for mining and commercial use led the Clinton administration to place it in National Monument status in 1996. This was done without consulting area residents and was not seen favorably in Republican-dominated Utah. It is managed by the Bureau of Land Management, rather than by the National Park Service.
Landscape
Deep sandstone canyons, surprisingly impressive waterfalls and acres of road-less wilderness. This is a desert lover's paradise.

Flora and fauna
Pinyon Juniper woodlands, desert grasslands and lush riparian areas.
Climate
Summers are hot, highs often reach well over 100 °F. Summer nights are cool and pleasant. Expect afternoon thunderstorms from mid-June to late August. Winters can be cold and windy, with ample amounts of snow. The snow often melts within a few days, turning the dirt roads into mud pits.
Get in
Fly into
Las Vegas
,
Salt Lake City
or
Phoenix
and rent a car. From Las Vegas take Interstate 15 North or from Salt Lake City take Interstate 15 South. In either case take State Route 14 east from Cedar City to State Route 12 or US 89, which will take you through the Monument. From Phoenix take Interstate 17 North to Flagstaff and then continue north on US 89, which take you into the Monument. Four wheel drive is highly recommended on any but the primary roads, although not strictly necessary.
Fees and permits
Camping is free in unimproved areas.

Get around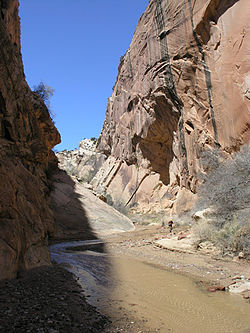 There are only two paved roads that travel the width of the monument, Highway 89 to the south and Highway 12 to the north. There are several dirt roads that bisect the monument from north to south, such as Cottonwood Canyon Road and Skumtumpah Road, both which offer and treasure of slot canyons and hiking. Hole in the Rock Road offers access to the heart of Escalante and numerous trailheads, however it comes to a dead end at the north rim of the Colorado River. The dirt roads in the area can become impassable when wet due to the clay.
See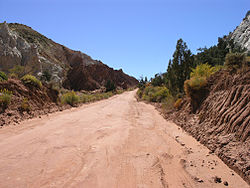 Cedar Mesa
Cottonwood Road
Escalante Canyons
Grosvenor Arch
Hells Backbone Road
Hole in the Rock Road
Johnson Canyon Road
Skutumpah Road
Staircase
Do
There are slot canyons for every level of canyoneering, from beginners to the very advanced. Don't get yourself into any situations you cannot get yourself out of. Know your own limitations. Do not hike in slot canyons if there is ANY chance that it could rain.
Escalante Area
Peek-a-boo Canyon and Spooky CanyonAn easy introduction to canyoneering.

Calf Creek FallsAn easy 5.5-mile round trip hike to an impressive waterfall.

Hole in the Rock RoadEnds at an impressive trail that Mormon pioneers in the 1800s carved out of the cliffs in an effort to cross the Colorado River.
Skutumpah Road - From Glendale to Canonville
Lick WashAn easy introduction to canyoneering. Lick Wash can get slippery if wet due to the clay.

Willis CreekAn easy introduction to cantoneering. A small stream run through Willis Creek.

Bull Valley GorgeAlthough a little more difficult slot canyon, most athletic people can handle this one. Do take a rope for emergencies. Ice cold water can accumulate in various spots in the canyon in the winter. Bull Valley Gorge can be connected to Willis Creek via Sheep Creek for a long day hike or an overnight backpack.
Cottonwood Road - Between Kanab and Page to Canonville
Hackberry CanyonAn easy stroll through a river.

Cottonwood CanyonAn easy slot canyon the entire family can enjoy.

Yellow RockAn interesting hike to explore a yellow-tinted mountain.
Wahweap - Big Water Area
Wahweap HoodoosThose magnificent white hoodoos seen in photographs everywhere.
There are plenty of other opportunities for hiking, backpacking, canyoneering, photography, and just general sightseeing.
Guided tours
Tag-A-Long Expeditions / Adrift Adventures

phone: +1-435-259-8594

address: 452 N. Main Street, Moab, Utah 84532

Guided 4x4 tours into Grand Staircase-Escalante, Capitol Reef, San Rafael Swell, and surrounding areas.
Buy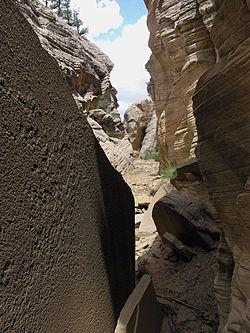 Johnson Canyon Road is 11 miles east of Kanab. It meets up with Skutumpah Road and continues to either Glendale or Canonville depending on the direction you choose.
Kanab
has a couple of grocery stores, motels, and restaurants.
Escalante and Boulder also have a couple of motels, outfitters, and small restaurants. Don't expect a gourmet meal, but don't think your options are limited to gorp and granola bars.
At the Glendale (East Zion) entrance to the Grand Staircase there is a Bed & Breakfast and one of the most unique bistros anywhere. Nearby is the small town of Orderville which has a grocery store and a motel. A couple more miles is Mount Carmel and
Mount Carmel Junction
. Glendale, Orderville, Mount Carmel and Mount Carmel Junction have several lodging and dining options between them.
Cottonwood Canyon Road is near Big Water, 32 miles east of Kanab. The dirt road is 46 miles long and ends at Cannonville. There are a few lodging and dining options at Cannonville and more if you head toward Bryce Canyon.
Eat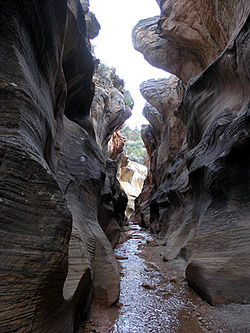 Drink
Sleep
Lodging

Camping
Backcountry
Stay safe
Do not hike in slot canyons when there is any threat of rain. Flash floods are common during the summer and are extremely dangerous.

Go next