Grande-Vallée and Petite-Vallée
Grande-Vallée
and
Petite-Vallée
are two small villages next to each other on the
north shore
of the
Gaspé Peninsula
. Grande-Vallée is home to about 1,100 people (2011), while about 180 live in Petite-Vallée.
Petite-Vallée is home to
Le Festival en Chanson
, a music festival held in late June.
Understand
Tourist office

phone: +1 418 393-2102

address: 1, rue de la Rivière, Grande-Vallée
History
In 1691, Governor General Frontenac granted the area to François Hazeur, a prosperous merchant from Quebec City. The seignory, called La Grande-Vallée-des-Monts, stretched from Rivière-Magdeleine Seignory in the west to the Saint-Hélier portage in the east. It was inherited by Hazeur's son-in-law, Michel Sarrazin, a surgeon, biologist, and doctor of the King.
No colonization took place until the 1830s, when fishermen of Saint-Thomas-de-Montmagny occupied the place during the summer. In 1842, Alexis Caron and his family, also from Saint-Thomas-de-Montmagny, became the first permanent settlers. In 1846, the mission of Saint-François-Xavier-de-Grande-Vallée was founded. In 1872, the post office opened.
Get in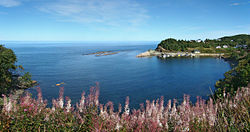 Grande-Vallée and Petite-Vallée are on Route 132, about 95 km (59 miles) and 86 km (54 miles) west of
Gaspé
, respectively. Gaspé is also where you'll find the nearest airport:
Michel-Pouliot Airport
(
YGP
) is served by daily flights from Montreal, Quebec City, and the Îles de la Madeleine on Air Canada Express.

Do
phone: +1 418 393-2394

A nationally-renowned festival of Quebecois traditional music, held annually since 1983. Many of the events took place at le Théâtre de la Vieille Forge à Petite-Vallée before its destruction by fire in mid-August 2017; the festival is expected to continue at alternate venues.
Eat
phone: +1 418 393-2648

address: 37, rue du Quai, Grande-Vallée

The fanciest restaurant in town (though admittedly there's not much competition), at L'Aubergine you can enjoy an elegant al fresco meal of time-honoured Gaspesian fare served to you on a breezy terrace with a panoramic view of the mighty St. Lawrence. The specialty of the house is bouillabaisse, made of course with fresh locally-caught seafood — don't miss it. Website in French only.

phone: +1 418 393-3008

address: 94, rue Saint-François-Xavier Est, Grande-Vallée

It's on the main drag about midway between Grande-Vallée and Petite-Vallée. This small, cozy place has a menu that's about evenly divided between roadside diner classics like burgers, club sandwiches, and fried chicken on the one hand, and more upscale fare where fresh seafood and regional specialties abound.
Sleep
address: 2, rue de la Longue-Pointe, Petite-Vallée

Eight rooms and three stand-alone chalets with breakfast provided.
Go next