Grande Prairie
Grande Prairie
is a city of over 63,000 people (2016) in
Peace River Country
,
Alberta
.
Understand
Grande Prairie was named for the large prairie which lies to the north, east, and west of it. In the 18th century, the prairie was occupied by bands of the Dane-zaa (Beaver) peoples, who began trading with the North West Company at Dunvegan in the early 19th century. In 1880, a Hudson's Bay Company post called La Grande Prairie was established 15 miles (24 km) northwest of the present city.
In the late 19th century, the prairie was settled by Cree and Iroquois from around Jasper and Lac Ste. Anne. When 17 townships were surveyed for homesteading in 1909, a land rush soon followed, with many settlers arriving over the Edson Trail. The trail from Edson to Grande Prairie was opened in 1911 as a means for settlers to reach the Grande Prairie area. It was nothing more than a tract of clear cut bush and forest, and thus was a very difficult route for many settlers, especially during wet weather. Because of this, large scale settlement came late compared to other major farming regions further south in Canada. By 1912, the town included a bank, hotel, post office, and land office, making it a district metropolis.
It was not until the arrival of the railway in 1916 that farmland quickly expanded as waves of settlers came into the Peace region. This drove up Grande Prairie's population past 1,000.
Settlement continued unabated even into the 1930s during the Dust Bowl era because the Peace Region was able to escape the severe drought conditions that plagued the Canadian Prairies further south at the time.
During the Second World War, the US and Canadian military establish Grande Prairie as a part of the Northwest Staging Route for the construction of the Alaska Highway from Dawson Creek to Alaska. Grande Prairie was a major stopover point for military aircraft during the war.
In the late 1950s, its population grew further as oil and natural gas exploration was underway in the Peace Region, especially since the first major discovery of oil further south in Leduc near Edmonton in 1947 and the construction of a large pulp mill in the early 1970s.
The construction and paving of Highway 43 in 1956 cut down on the travel time by road significantly, further enhancing Grande Prairie's accessibility and economic status. The town was incorporated as a city in 1958. At that time, its population was approximately 7,600.
The opening of the Procter & Gamble kraft pulp mill in 1972 and the discovery of the Elmworth deep basin gas field spurred an economic boom. Grande Prairie's population went from just over 12,000 in the early 1970s to over 24,000 by the time the oil boom went bust in 1981.
Grande Prairie has a diversified economy. Major industries include oil and gas, agriculture, forestry, and food services.
Climate
Grande Prairie has a northern continental climate typical of northwestern Alberta and northeastern British Columbia, classified as humid continental. Winters are generally very cold with some mild spells. Summers are often fairly cool to pleasantly warm in the daytime, but nights can be cool despite the long summer days typical for its latitude. Hot days over 30 °C (86 °F) are rare, occurring on average only two to three days a year, which is not unexpected this far north. Winter conditions can vary tremendously from year to year. Winters have been known to be mild enough to produce "brown Christmas" conditions, where little or no snow may fall until after Christmas due to unusually mild early winter conditions.
Get in
By plane
Grande Prairie AirportDaily flights to Grande Prairie Airport are available from Calgary and Edmonton on Air Canada Express and on WestJet Encore. Grande Prairie's regional airport is 5½ km northwest of the city. There is no bus connection: it can only be reached by taxi.
By car
It is at the intersection of Highway 43 (part of the CANAMEX Corridor) and Highway 40 (the Bighorn Highway), approximately northwest of Edmonton. Grande Prairie is a major centre for travellers wanting to connect to the
Alaska Highway
.
By bus
Red Arrow
and
Northern Express
offer service to Edmonton.
Get around
The city is most easily managed by rental car.
Grande Prairie Transit
offers a small bus network that serves most parts of the municipality. The bus system consists of five routes. These routes run on a 30-minute basis during peak hours and hourly the remainder of the day. There is reduced service on weekends and statutory holidays. Fares are $2 for adults, and $1.50 for children, students and seniors (Jan 2018).
The city offers the non-profit, independent
Disabled Transportation Society
(DTS), which has specialized transport services for individuals with disabilities.
See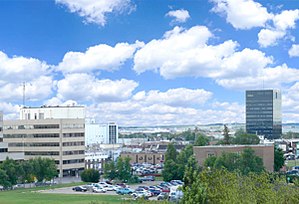 phone: +1 780-532-8111

address: #103 9839 103 Avenue

The second largest art gallery in Alberta, the Art Gallery of Grande Prairie works to preserve, inspire and explore the world of art to share with the community and the region. They offer free admission, tours, programs, and activities for all ages. The Art Gallery presents an average of twelve art exhibitions per year and welcomes over 10,000 visitors per year.

Grande Prairie Museum & Heritage Village

address: 10329 101 Avenue

phone: +1 587-259-6333

address: #3 9907 100 Avenue

Collection of original paintings, sculptures, carvings, pottery, jewellery, photography and more including Aboriginal and Indigenous artworks.

Muskoseepi ParkIn the core of the city, surrounding the Bear Creek Reservoir, Muskoseepi Park offers 1100 acres of parkland, walking trails, manicured fields, and group use facilities,.

Grande Prairie Regional College

address: 10726 106 Avenue

Grande Prairie Campus is in a beautiful brick building designed by Douglas J. Cardinal without corners inside or out. Nice walking trail behind the college circles the Bear Creek Reservoir and connects to a 7-km paved biking trail that follows Bear Creek to the Southeast.
Nearby
Philip J. Currie Dinosaur Museum

phone: +1 587-771-0662

address: 9301 112 Ave, Wembley

Many exhibits, a National Geographic Theatre, classrooms, a Paleontology Lab, a gift shop and a restaurant. The museum is named after Philip J. Currie, from the University of Alberta, who has contributed to the understanding of the link between dinosaurs and birds.
Do
phone: +1 780-830-5000

address: 10 Knowledge Way

Sports and recreation facility; the aquatics area features two water slides, FlowRider for simulated surfing, dinosaur-themed waterpark for children ages 12 and under, 50-metre competition swimming pool a Lazy River, Family and Adult Hot Tubs, steam room and sauna. The Fieldhouse provides courts and equipment for a variety of sports or fitness classes that includes Racquetball and Squash courts, a four-lane, 175-metre track, weight room, and cardio equipment.

phone: +1 780-539-4454

address: 10910 107 Avenue

Casino featuring familiar table games & slot machines, plus entertainment, food & drink.
Events
Live music can be found in several downtown bars and intermittently at all-ages locations such as Tito's Restaurant and the GP Curling Club.
Summer-long music festivals: Grande Prairie has a wide range of local music genres including country, Reggae, Metal, folk, and rock.
Cultural venues include Revolution Place (a concert hall and hockey rink — the local AJHL team, the Grande Prairie Storm, plays there), the Grande Prairie Museum, the Art Gallery of Grande Prairie, and Second Street Theatre.
Professional musical theatre: "Broadway Live Broadway".
The Reel Shorts Film Festival is a five-day international festival of short films in Grande Prairie that takes place at Grande Prairie Live Theatre's Second Street Theatre in early May.
Buy
address: 11801 100 St

As the largest mall in the Peace region, the Prairie Mall is home to over 80 stores, restaurants, and other services. The mall is anchored by Mark's Work Wearhouse, and Shoppers Drug Mart, and also is home to Coles, RW&Co, Le Chateau, Sterling Shoes, HMV, M-Five, Aeropostale, Children's Place, Bootlegger, Ricki's, Landmark Cinemas, David's Tea, and Moxie's Class Grill.

address: 100 Avenue Westbound

As a growing municipality Grande Prairie has managed to fight back the big box store pull with a unique, active downtown district. This area is home to 500 stores and services, and is seen by citizens as the heart of the community. 100 Ave is lined with many independent retailers, such as Soular, Victoria's Attic, Dark Flavour Board Shop, and Fashionista. In addition downtown is home to urban decor stores, countless restaurants, and several lounges.
Eat
Drink
phone: +1 780-532-9080

address: 10508 100 Ave

Opened in 2001, Maddhatters affords Grande Prairie with a little diversity in its nightclub scene. Serving as a lounge and as a club, Maddhatters has continuously been atop the night scene in Grande Prairie.
Sleep
phone: +1 780-402-2378

address: 10745 117 Avenue

phone: +1 780-532-2773

address: 10218 162 Avenue

Holiday Inn & Suites Grande Prairie Conference Centre

phone: +1 780-402-6886

address: 9816 107 Street

Paradise Inn & Conference Centre

phone: +1 780-539-6000

address: 11201 100 Avenue

phone: +1 780-830-2000

address: 10612 99 Avenue

address: 11710 102 Street

Hypno opulence beds, deluxe continental breakfast, indoor pool with water slide, fitness centre, meeting facility, kitchenette suites, extended stay, pet friendly

phone: +1 780-513-5555

address: 9805 100 Street

Downtown Grande Prairie hotel with on-site Denny's, Shark Club Sports Bar & Grill and Bar One Urban Lounge, indoor pool, whirlpool, fitness facilities, business centre and high speed Internet access.

Silver Crest Lodge

address: 11902 100 St

It's cheap, but not much more.

phone: +1 780-539-5678

address: 11401 100 Avenue

phone: +1 780-539-5561

address: 12102 100 Street

phone: +1 780-357-1916

address: 8117-99 Street, Clairmont

92 rooms with complimentary shuttle service, fitness area, salt-water swimming pool, waterslide, whirpool, and business centre.
Go next