Grants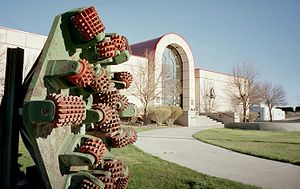 Grants
is a small town in western
New Mexico
,
United States
. It is one of the stops along the historic
Route 66
highway west of
Albuquerque
, New Mexico's largest city.
Understand

It was established by three Canadian brothers who had the contract to build a section of the Atlantic and Pacific Railroad through the area in the 1880s. After the construction of the railroad, Grants survived as a rail and lumber town, serving as a section point on the Santa Fe Railroad and terminus for short line logging railroads that operated in the Zuni Mountains.
The Mormon farmers up the road at Bluewater helped it gain prominence as the "carrot capital" of the US.
Grants expanded dramatically during the 1950s as a result of the discovery of rich uranium ore in the area. A crash in the uranium market around 1980 seriously damaged the town's economy, but it has recovered somewhat.

Get in

Grants is about 75 miles from Albuquerque by car, along Interstate 40, which at this point follows the historic Route 66. Albuquerque International Sunport is the nearest major airport. Grants is not served by any commuter airlines, but it's so close to Albuquerque that you might as well drive anyway.

Get around

Grants sprawls more than its current population would suggest. It's not large, but many of the motels are near the Interstate and fairly far out of downtown, such as it is. As such, driving or cycling are the preferred modes of transport. A bike is handy for around town, but a car is a must for getting to the various nearby attractions.
Public transport in the form of a local bus line is available; call the Grants/Cibola County Chamber of Commerce at +1 505-287-4608 for more information. Schedules tend to be irregular. There are no taxi services in the city.

See
New Mexico Mining Museum

address: 100 N. Iron Ave

Chronicles the region's uranium-mining history.
It's rare for a scenic turnout/rest area along an Interstate to be worth mentioning in a "See" entry, but two exceptions are nearby. A viewpoint between Albuquerque and Grants gives a striking view of the "Sky City" at Acoma Pueblo. Further west, another scenic turnout offers views into one of the continental United States' most recent volcanic basalt flows, erupted from a vent a few miles south of the highway some time in the last 2000 years (estimates for the age vary).
Grants is a good base for visiting the western pueblos of New Mexico. Acoma, Laguna, and Zuni are all nearby, and offer much to the visitor interested in the Pueblo Nations. Acoma recently opened a fabulous new cultural center at the base of Sky City; visitors seeking to tour the pueblo must check in here for their tour. Feast days, pow-wows, and various events throughout the year keep things interesting at all three pueblos.

Wild Spirit Wolf Sanctuary

phone: +1 505-775-3804

address: HC 61 Box 28, Ramah

A non-profit shelter for wolves and wolf dogs, Wild Spirit Wolf Sanctuary is located to the northwest of Grants along Highway 53. Wild Spirit Wolf Sanctuary is a place that's not only designed to provide shelter and refuge for wolves and wolf dogs, but seeks to educate the public at large about the true nature of wolves. Beautifully set in an area known as Candy Kitchen, Wild Spirit has guided tours from 11AM, 12:30AM, 2PM and 3:30PM and takes you along specially built enclosures that house the animals. A guide is there to explain about the sanctuary and facts about the wolves.
Do
Like most small communities, Grants has its share of local events and festivals. Call the Chamber of Commerce at +1 505-287-4802 or the Northwest New Mexico Visitor Center at +1 505-876-2783 for more information.
The El Malpais Visitor Center, on the east side of the city at Exit 85 off I-40, is a good place to get oriented with the area. Exhibits in the center highlight the many outdoor recreation opportunities in the region. The center's theater shows the award-winning short documentary "Remembered Earth," a wonderful film that reveals the story of the regions landscapes. The USDA Forest Service, National Park Service, and Bureau of Land Management all cooperate to run the center.
The primary draw of the region is the enticing mix of outdoor recreation and cultural sites. With two national parks, a national forest district, a Bureau of Land Management conservation area, designated wilderness, and a nearby state park, there's plenty for the outdoor recreation seeker to do out here. Cycling, cross country skiing, hiking, birdwatching, astronomy, photography, jeeping, ATV riding, horseback riding; it's all possible in the area.
For those interested in the cultures of New Mexico, the three nearby pueblos and the Navajo Nation offer many opportunities to get acquainted with the Native Americans of the region. Feast days, fairs, and other events are usually open to the public, and tours of the pueblos are usually available. Acoma has a very well organized tour enterprise that makes it easy to visit the pueblo. Zuni has a visitor center and museum, and Laguna allows visits to the San Jose mission church.

Buy
Grants is not a particularly notable source of art or memorabilia, but its proximity to
Navajo Nation
as well as Acoma, Laguna, and Zuni means that American Indian arts and crafts are widely available. Several trading posts operate in the Grants/Milan area; the most comprehensive selection is at Elkins Chaco Canyon Trading Company, just east of Exit 79 in Milan. See under
Get out
below for information on an interesting series of Navajo rug auctions; finding lodging in Grants is a good idea if you're attending this auction, there being no lodging near the auction site.
Eat
La Ventana

address: Geis Street

Has delicious steaks and New Mexican cuisine. Non-smoking and open late.

El Cafecito

phone: +1 505 285-6229

address: 820 E Santa Fe Ave

A local favorite for basic New Mexican cuisine including Navajo Tacos and Blue Corn.

El Ranchero

phone: +1 505 876-1032

address: 705 Highway 66

Has killer hot red chile.

Wow Diner

phone: +1 505 287-3801

address: 1300 Motel Dr

A newly opened restaurant sheathed in stainless steel with a great menu.
The chains include Denny's, Subway, Blake's Lotaburger, Taco Bell, Pizza Hut, Domino's Pizza, and Sonic Drive-In.

phone: +1 505 287-8314

address: 1212 E. Santa Fe Ave

Serves Chinese food at a low price. Quite crowded during lunch and dinner.
Drink
A few watering holes exist here. Some can be a bit on the rough side; tippler beware. All are located along Santa Fe Avenue, which is also Route 66 through Grants and Milan.
OutlawsOften features live music acts or DJs, and has pool tables and big screen televisions.

Route 66 Junkyard BrewpubThe first brewpub in Grants: locally brewed beers, live music, sports bar area with big screen televisions, burgers and BBQ from the food truck.

Pat's LoungeThe usual pool tables and bar sort of place as well.

La Ventana RestaurantHas a small but pleasant bar for a more mellow atmosphere.
Sleep

Most of the usual motel/motor-lodge chains can be found near I-40 exits. Best Western, Days Inn, Holiday Inn (Express), Super 8, Travelodge and the Choice Hotels collection (specifically, a Quality Inn) all have franchises. Most are not fully booked during most of the year, but reservations are a good idea at peak travel times, and also during the first or second week in October, when the Albuquerque International Balloon Fiesta fills hotels and motels up to a hundred miles away.
For the more adventurous, some old Route 66 classics are still hanging on along the Mother Road on the east side of town. Check out the Leisure Lodge, the Southwest Motor Lodge, the Desert Sun Motel, the Franciscan, and the El Dorado Motel for more budget oriented accommodations.

Go next
El Malpais National Monument is a rugged national park that offers hiking and a chance to explore lava flows, lava-tube caves, volcanoes, the famous La Ventana Arch, and many cliffs and canyons. The famous Bandera Volcano and Ice Cave attraction is also within the park, offering two trails that lead into the Ice Cave and into the crater of Bandera Volcano.
Just beyond El Malpais is the El Morro National Monument, which features historic inscriptions and petroglyphs along with a nice 2 mile hike over the mesa past ancient ruins.
The area is surrounded by the Cibola National Forest, Mount Taylor Ranger District. This district includes the Zuni Mountains to the southwest of Grants, and Mount Taylor and the San Mateo Mountains to the northeast of Grants. Gooseberry Springs Trail provides hikers with access to the summit of Mount Taylor, the region's highest peak at 11,301 feet. Many forest roads allow mountain bikers, jeepers, and hikers to easily access the forest lands.
The Navajo Nation covers much of northwestern New Mexico and offers various points of interest. If interested in Navajo rugs, be sure to check out a rug auction at the tiny town of Crownpoint, an hour north of Grants. Auctions are held on Friday nights every month or two, "usually... but not always" on the third Friday of the month (see site below for schedule), and are both an opportunity to acquire some quality folk art at excellent prices and a fascinating cultural study.
Chaco Culture National Historical Park is 90 miles north of town; Grants is a good place to find lodging if you're bound for Chaco, there being no lodging in the park other than a very basic campground.