Grasse
Grasse
is a commune in Provence, France. It is known worldwide for its traditional perfume industry.
Understand
Grasse sits on a hill, halfway from the coast of the
French Riviera
(
Cannes
and
Antibes
) and the Alps. The surrounding villages are generally charming and not as crowded as their more famous neighbors on the coast.
Get in
The 4 lane N2285 'penetrante' from the A8 exit 42 (Grasse/Cannes) is the recommended access route. It terminates rather abruptly just before the steep ascent into Grasse on the old N85 (route Napoleon). Fortunately you do not need to go much further to get to the couple of perfumeries which is probably the main reason to visit.
It is also quite possible to take the meandering inland roads from
Vence
via the
Loup Valley
and/or
Fayence
.
You can also get by train from
Nice
or
Cannes
to .
From Nice there are frequent buses run every 30 to 40 minutes to Grasse. The journey takes approximately 1.5 hour and costs €1.50. Tickets are for sale on the bus.
From Cannes there are buses to Grasse as well, but less frequent.
See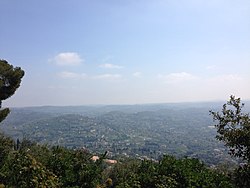 Route Napoleon
Views back towards coast
Auribeau perched village
Perfumeries in Grasse
phone: +33 4 93 09 20 00

address: 73 Route de Cannes

The oldest perfumery in France, dating back to 1747.

Parfumerie Fragonard - The History Factory

phone: +33 4 93 36 44 65

address: 20 bd Fragonard

phone: +33 4 93 36 01 62

address: 60 bd Victor Hugo
Olive-oil mills
Moulins de la Brague

phone: +33 4 93 77 23 03

address: 2 rte Châteauneuf Opio

Moulin Ste Anne

phone: +33 4 92 42 01 70

address: 9 chem Prés GRASSE
Do

The Grasse area is good for outdoor activities, as well as hiking in the hills it is possible to ride horses, go mountain biking and play golf and tennis.
There are golf courses such as the Golf Country Club de Saint Donat (270 rte Cannes GRASSE tel: 04 93 09 76 60), or the Golf du Grande Bastide (761 chem Picholines CHATEAUNEUF tel: 04 93 77 70 08
fax: 04 93 77 72 36).
Although most towns have a municipal tennis club these tend to be rather cliquey and not very welcoming to foreigners. The Tennis Club Plaine Le Vignal (268 chem Picholines CHATEAUNEUF tel: 04 93 60 14 20 fax: 04 93 60 14 35) is more accommodating to foreigners and also has a pleasant restaurant with a very cheap and basic menu and a swimming pool.
Horse Riding - try the Club Hippique de La Brague (chem Ranch 06740 CHATEAUNEUF tel: 04 93 60 16 10 fax: 04 97 01 06 44) near the Vignal, the Club Hippique Grasse (168 rte Cannes 06130 GRASSE tel: 04 93 70 55 41) between Grasse and Mouans Sartoux, or the Poney Club École Equitation (42 chem Mosquée GRASSE tel: 04 93 36 13 23) on the way to Magagnosc

Buy
Perfume: There's a perfume factory there, where you can find your favorite scent.
Soap
Olive oil
Eat
Auberge St DonatPlascassier - on the roundabout with D104 to Mouans Sartoux). Open for lunch every day and dinner M-Sa. Unpretentious restaurant that provides a bargain at lunch where you have a 4 course fixed menu meal including wine and coffee for €13.50/person. Either reserve or get there at 12noon.

La Bastide St AntoineTwo star Michelin Restaurant (and Hotel) expensive (€100/person minimum) but well worth splurging on and less well known than the other Michelin restaurants in the area.
Sleep
phone: +33 4 93 36 02 57

address: Hôtel la Bellaudière, 78 Avenue Pierre Ziller, 06130 Grasse
Go next