Graubünden
Graubünden
(
Romansch: Grischun, Italian: Grigioni
), sometimes also called
Grisons
, is a region and canton of
Switzerland
. While it is Switzerland's biggest canton by area, it is also the most sparsely populated.
Regions
Other destinations
Understand
Graubünden is a mountainous canton, from maps one can see that it is dominated by the
Engadin
and Rhein valleys. However these have many a side valley that offers hidden and isolated splendours. From Graubünden, rivers flow to the Mediterranean, North and Black seas; it is the watershed of
Europe
. It is a spectacular landscape, home to
Switzerland's only National Park
. Graubünden combines wild rugged scenery with charming villages and a unique Romansch culture. The capital is the ancient
Chur
which has existed since roman times (
Latin: Curia
) it is a small city with a fully cobbled and painted shuttered old quarter. Like the rest of the canton it is modest; concealed here is some of the best outdoor sports in the world, ancient mountain towns, stunning panoramas, three official languages and distinct culture, yet it does not boast; little is known by outsiders of the delights within.
Public Holidays
There are no public holidays in addition to
those observed in the whole of Switzerland
. However there are some local holidays which are only observed in some towns.
Talk
Graubünden is the only canton in Switzerland to be officially trilingual: German, Italian and Romansh are spoken in different areas.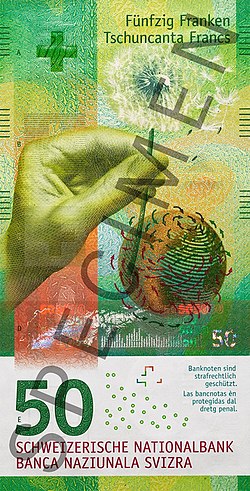 German
is nowadays the most common language in the canton. It is spoken as first language by three quarters of the people. The variant spoken is a Highest Alemannic dialect commonly called
Bündnerdeutsch
. It is, even more so than most dialects in Switzerland, very different from standard German and is mostly not understandable by German speakers. However, all the locals do speak standard German.
Romansh
is the second most widely spoken language in the canton. While it used to be spoken in a bigger area, it is now only spoken in a couple valleys in Graubünden with about 30,000 native speakers left split up into five different dialects. While the number of Romansh speaker is small, it is still an official language of Switzerland. Swiss Francs are annotated in this language and the Swiss public broadcaster has its own Romansh TV and radio channel (
Radiotelevisiun Svizra Rumantscha
). As a traveler, you are unlikely to get into any situation were you would require to speak Romansh. Being such a small minority, most native speaker are bilingual in German.
There are four valleys in the south of the canton close to the border with
Ticino
and
Italy
which are
Italian
speaking.
As elsewhere in Switzerland not everyone will be able to understand and speak English. However, most younger people will have learned some level of English in school and especially in tourist areas, you should have no problems getting by using English.
Get in
There are no airports in Graubünden so the easiest option is to take the train from either Zurich or Milan, where there are international airports. You can also take the train into Zurich Bahnhof from other European cities, as it is an international train station.

Get around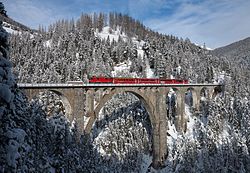 The Rhätische Bahn (RhB) is the train system in Graubünden. The trains are always on time and can get you to most places. Post buses will take you from the stations up the mountains to the villages.
==See==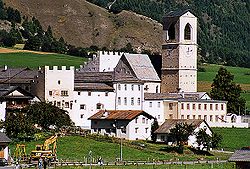 Itineraries
Do
You may want to visit the Thermal Bath in Vals.
Skiing is the biggest winter-time activity in Graubünden. There are resorts throughout the Engadin valley, St. Moritz being the most famous, but also in the Prättigau valley, Davos and Klosters, and the Surselva valley. Flims Laax Falera is among the biggest. Apart from these larger famous resorts there are many smaller resorts to be found throughout Graubünden. There are 2,200 km of ski pistes in the canton.
Hiking is the main activity in the summer. Cable-cars, railways and ski-lifts can help you up or down in some places, or you can go it alone on the thousands of trails that wind across the mountains, valleys and lakes of Graubünden. The views are absolutely stunning. One of the more famous hikes in this part of the Alps is the Via Spluga.
Eat
Traditional Romansch foods include Capuns, Rosti and Pizokel. Rosti is shredded potatoes, fried, with cheese melted on top. Occasionally, bacon and a fried egg are added on top of the rosti.

Drink
Beer
is the most popular alcoholic drink in Graubünden. The beer
Calanda Bräu
is brewed in
Chur
.
Wine
is made in the canton as well.
Von Salis
grows wine in the villages
Malans
,
Jenins
and
Maienfeld
, which is unusual for
Switzerland
let alone Graubünden.
Mineral water
is also bottled in vast amounts in Graubünden. The water
Valser
is bottled in Vals and Calanda Wasser is bottled in Lenzerheide.
Apfelmost
, available in alcoholic and non-alcoholic forms, is a refreshing apple drink, similar to cider.
==Stay safe==
There is very little crime in Switzerland, Graubünden being one of the safest cantons. There may be areas of
Chur
that could be dodgy after dark.
==Go next==
Italy
and
Austria
border much of Graubünden and both countries are easily accessed from the Engadin and San Bernadino pass. There is also the rest of Switzerland to explore, including the nearby Italian-speaking region of
Ticino
.