Gravatá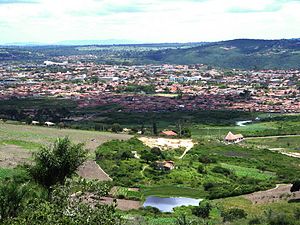 Gravatá
is a city in
Pernambuco
,
Brazil
.
Get in
Gravatá is in the Agreste Region of Pernambuco. Fly to
Recife
's Guararapes International Airport. The city is only 86 kilometers west of Recife on interstate highwy BR-232. The same BR-232 leads to
Caruaru
(an addition 54-km drive).
See
Alto do Cruzeiro lookout point, with a statue of Christ the Redeemer. Access through the Escadaria da Felicidade (Stairs of Happiness).
Artisan Station (Estação do Artesão), handicraft and arts center located in the old train station.
City Memorial (Memorial da Cidade), cultural center and museum located in the old prison building (1911).
Beautiful historical buildings include:
Prefeitura (City Hall) (1909)
Matriz de Sant'Anna Church (1810)
Cruzeiro Chapel
Guimarães House, at Rua Rui Barbosa, 126
Antonio Farias House, at Rua João Pessoa, 12
Cabral House, at Avenida Governador Agamenon Magalhães, 14
Chalets in Avenida Joaquim Didier (Chalet Vallois, Chalet Farias, Chalet Amadeu Battar)
Caranguejo Sugar Plantation, in the district of Uruçu-Mirim (16 km from city center)
Pernambuco Orchids Center (Centro de Orquídeas de Pernambuco), located at Recanto Baraúna
Mountains and hills: Serra das Ruças, Serra das Cãibras, Serra da Estrela, Serra do Maroto
Balneário de Dona Nadir, natural pools
Cachoeira da Palmeira waterfalls
Tao wateralls
Flower, strawberry and pineapple farms
Do
Festivities
Frei Damião Festivities, every May. Walk from the Matriz Nossa Senhora de Santa'Ana Church to the Riacho do Mel Chapel, where Frei Damião celebrate his first mass in Brazil.
São João Festivities, in late June.
Trekking
Several exciting trails are available:
Estrada de Chã-Grande Trail
Flores Trail (at Fazenda Pedra do Tao, in Camocim district)
Fonte de Água Mineral Trail (at Fazenda Pedra do Tao, in Camocim district)
Karawatá Trail (at Serra do Maroto)
Palmeira Trail (at Sitio da Palmeira)
Pedra do Tao Trail (at Fazenda Pedra do Tao, Camocim district)
Três Vendas Trail (at Sítio Três Vendas)
Trilhos Trail (at Fazenda Canaã)
Mocó Stone Park (Parque de Pedras do Mocó)
Train Tunnels
: 14 train tunnels are located in the Serra das Ruças mountains. Russinhas village is a pineapple-producing community.
Adventure Sports
Cascavel Train Bridge (19th century), built by the British. Extreme sports. Rappel.
Pedra Branca (75 meters). Alpinism, rappel, free flight.
Pedra Dourada
Pedra do Tao. Rappel, climbing, orchids.
Buy
Furniture.
Handicrafts.
Fresh flowers, strawberries and pineapple.
Desserts: Doce de Leite and Garra Sertaneja.
Eat
Local traditional dishes include buchada, sarapatel and galinha cabidela.
Gravatá is also famous for its fondue restaurants.
Desserts: Doce de Leite and Garra Sertaneja.
Sleep
Casa Grande Gravatá , BR-232, Km 82, tel.: +55 81 3533-0920 and +55 81 3465-3011
Fazenda Céu Aberto , Estrada Velha de Chã Grande, km 3, tel.: +55 81 9126-9600
Highlander ], Estrada de Chã Grande, tel.: +55 81 3515-1517 and +55 81 3424-3838
Portal de Gravatá , BR-232, km 82, tel.: +55 81 3533-0288 and +55 81 3227-0345
Spa Oásis , Fazenda Sampaio, R. Duarte Coelho, tel.: +55 81 3533-0380 and +55 81 9972-0990
Sempre Verde/Evergreen Experiences & Horse Trekking , ecotourism, birdwatching, 12 km from central Gravatá, 800 metres above sea level, tel.: +55 81 3533-7524 / +55 81 9958-3861.