Great Basin National Park
Great Basin National Park
is a
United States National Park
established in 1986, in east-central
Nevada
near its border with
Utah
, five miles west of the tiny town of
Baker
. The park derives its name from the
Great Basin
, the dry and mountainous region between the
Sierra Nevada
and the
Rocky Mountains
. The park itself is dominated by one of the many mountain ranges in the Great Basin.
Understand
History
Great Basin National Park is at the western end of the area in which the Indian Fremont culture used to dominate.
Landscape
Great Basin National Park is, despite the name, a mountainous park region. It is in many ways similar to the
Sierra Nevada
Range of California, and has high, rocky peaks from which small creeks descend into the valleys below.
Approaching the park from Baker, the land is flat until the visitor center is reached; then steep-sided mountains block further travel westward. The scenic drive to Wheeler Peak follows the mountain slopes until the mountain range becomes too steep to climb by road.
Flora and fauna
At lower elevations, sagebrush dominates. Higher elevations include many juniper trees, and these collect in forests in some places. The highest elevations have very little vegetation.
Climate
There is almost an difference in elevation between Wheeler Peak and the valley floor. Weather conditions in the park vary with elevation. In late spring and early summer, days in the valley may be hot, yet the snowpack may not have melted at high elevations. The Great Basin is a
desert
, with low relative humidity and sharp drops in temperature at night. In the summer fierce afternoon thunderstorms are common. Weather conditions are highly variable. Please come prepared for all types of weather. It can snow any time of the year at high elevations.
Due to the elevation, temperatures can get cold at night but quickly get warm when the sun rises, for the sun does not have to pass through much of the earth's atmosphere before hitting the ground. As a result, it could be 40 degrees above freezing (Fahrenheit), but there could still be snow above 7,000 to 8,000 feet in elevation. Temperatures can be cold during winter in both Baker and Great Basin National Park, but temperatures should get pretty hot in Baker during the summer months.
In 2016 the park was designated as an International Dark Sky Park (IDSP) by the
International Dark-Sky Association (IDA)
. This designation is given to lands which provide exceptional viewing of starry nights. Great Basin National Park received this title due to its location in one of the least populated areas of the contiguous United States and conservation efforts which seek to reduce sources of light pollution and educate visitors on the importance of the park's dark skies. For visitors this means that in good weather conditions the park is a particularly good location for stargazing. The park hosts
ranger-led stargazing activities
, including a multi-day
astronomy festival
each year.
Get in
By plane
The nearest airport is in
Cedar City
, Utah, away. Major airports are found in
Salt Lake City
, Utah, away, and
Las Vegas
, Nevada, away.
By car
From the east or west - From U.S. Highway 6 & 50, turn south on Nevada State Highway 487 and travel 5 miles to Baker, Nevada. In Baker turn west on Highway 488 and travel 5 miles to the park.
From the south (Utah) - Travel north on Utah State Highway 21 through Milford and Garrison, Utah, which will become Nevada State Highway 487 as you cross the border. Turn west on Highway 488 in Baker and travel 5 miles to the park.
From the south (Nevada) - Travel north on U.S. Highway 93 (Great Basin Highway). At the junction of U.S. Highway 6 & 50 drive east to Nevada State Highway 487 and turn south. Travel 5 miles to Baker. In Baker turn west on Highway 488 and travel 5 miles to the park.
By bus
No public transportation is available to, or in, Great Basin National Park.
Fees and permits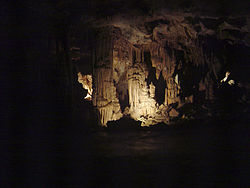 Open - Daily, year round, from 8AM to 4:30PM Pacific Time. Extended hours in the summer. Closed - Thanksgiving Day, Christmas Day, and New Year's Day.
Great Basin National Park has no entrance fee. Cave tour fees vary depending on length of tour. 60-minute tours cost Adult/Child $8.00/$4.00 while the 90-minute tours cost $10/$5. Golden Age/Golden Access card holders pay child rates. Camping fees are $12 for developed campgrounds per night/per site. $6 for Golden Age/Golden Access card holders. Primitive campgrounds have no fee.
Get around
Most of the park's attractions and facilities can be reached from the visitor center and the roads near it. However, there are some attractions in the park that require you to drive to Baker and take the main highway south and turn onto a dirt road that leads into another section of the park.
Two main roads in Great Basin National Park are paved; the first road leads to the visitor center, and the other goes up Wheeler Peak. All other major roads are dirt track, often four-wheel drive recommended routes.

See and do
Grey Cliffs

address: Baker Creek Road

Pole Canyon includes several cliffs, rock formations, and a few caves. Parking is extremely limited.

address: Lehman Caves Road

The 900-foot-long Lehman cave system is quite a sight for visitors and scientists. The cave includes innumerable stalactites, stalagmites, and columns; however, it also includes several shields, which are a rare sight in most caves. Tours only visit the front part of the cave, going as far back as the Grand Palace; behind the public area are several large cave rooms and the Gypsum Annex.

Wheeler Peak

address: Wheeler Peak Scenic Drive

The summit of Wheeler Peak, which towers above the Great Basin, is the highest in Nevada and 108th highest in the United States. Although the mountain is beautiful from a distance the risk of adverse weather; strong winds; and lack of shelter near the summit can make a hike to the peak treacherous. Hikes should be started early in the day and weather conditions should be monitored since conditions can change quickly.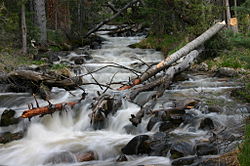 Buy, eat, and drink
More restaurants are found in
Baker
; for a more varied cuisine, the town of
Ely
is only an hour's drive away.
phone: +1 775 234-7221

Serves breakfast and lunch, hand-dipped ice cream cones, shakes, malts, and home baked desserts. The gift shop offers Great Basin and Lehman Caves souvenirs, apparel, cards, mugs, books, toys and games, jewelry, Great Basin crafts, camping and travel items, and bagged ice.
Sleep
Lodging
Lodging is available outside of the park in the town of
Baker
and at Hidden Canyon Retreat, which is south of Baker and is in a canyon on the east side of Great Basin National Park. Lodging is generally on the basic side in the Great Basin National Park area, since there are no major towns within thirty miles' travel of the park. For example, internet connectivity and cell phone service can often be poor.
Camping
Great Basin National Park
has four developed campgrounds with vault toilets, picnic tables, tent pads, and campfire grills. There are no hookups or leveled parking sites. Campsites are limited to eight people, three tents, and two vehicles per site. There are three campgrounds that have accessible sites.
Lower Lehman Creek
is the only campground open year round. Other campgrounds are generally open from May until October, weather permitting. Water may not be available early and late in the season, and is not available in the winter at Lower Lehman Creek. Fees are reduced if water is not available. Since exact opening and closing dates are dependent on weather conditions, contact a visitor center at +1 775 234-7331 or check the current conditions for information specific to your arrival date.
Reservations
All park camping is on a first-come, first-served basis. No reservations can be made, except for the Grey Cliffs Group Campground where they are required. Campsites may not be "saved" or reserved for family or friends arriving later. Campgrounds often fill on weekends and holidays in the summer months. Visitors are advised to find a campsite early in the day.
Lower Lehman Creek Campground

address: Wheeler Peak Scenic Drive

Open all year; elevation: 7,300 feet (2,200 meters); 11 campsites. There are a limited number of pull-through sites for RVs and trailers. Water is available in the summer only.

Upper Lehman Creek Campground

address: Wheeler Peak Scenic Drive

Open mid-May through September; Elevation: 7,752 feet (2,362 meters); 22 campsites with 1 wheelchair accessible site. Water is available. Evening Campfire Programs are offered in the amphitheater during the summer.

Baker Creek Campground

address: Baker Creek Road

Open mid-May through September; Elevation: 7,530 feet (2,295 meters). 34 campsites, 2 of which are wheelchair accessible. Water is available.

Primitive Campgrounds (Snake & Strawberry Creek)Open all year; elevation: 6,300 feet 8,250 feet (2,515 meters); Picnic tables and fire grates are provided at most primitive campsites. A few Snake Creek sites have toilets most do not. Drinking water is available at the RV Sanitary Station from late spring through early fall, or at the Lehman Caves Visitor Center. Creek water should always be boiled or treated before use.
Snake Creek and Strawberry Creek Roads are open year round, but can be muddy or snowy in the winter and spring. High clearance vehicles are recommended for these rough, dirt roads. RVs and trailers are not recommended.
Backcountry
Backcountry camping does not require a permit, but registration is free and strongly recommended. Stop at a visitor center to register and obtain a copy of the regulations. Registration not only allows the park to monitor use, but also provides critical information in the event of an emergency.
Stay safe
Climbing
The area in and around the park offers a very limited amount of technical rock climbing. The hazardous nature of the rock is the main contributor to this as well as the remoteness of the sites. All routes in the Wheeler Peak area are hazardous with deadly rockfall possible any time of year. Chiseling, chipping, gluing, or breaking away rock or otherwise physically altering the rock is prohibited. This includes placing bolts or other fixed protection. Clean aid, top-roping, or traditional lead climbing are permitted. The use of motorized drills, hand drills or other portable motorized equipment is not allowed. Free climber registration at park visitor centers is recommended for anyone who plans to climb in the park. Rescue resources are limited and may be hours away. Parties should be capable of self-rescue.

Weather
Check weather forecasts before hiking in any canyons in the park, since rains can cause the normally dry washes on the east and west sides of the park to suddenly become great rivers that carry large amounts of rain and melted snow from the mountains nearby. Warmer weather can also cause snow melt, although snow melt will occur more slowly and send water down the washes at a steadier rate.

Go next
A small settlement, Baker, is from the park, and offers lodging, food, and supplies.
Farther away is the town of Ely, which has a supermarket and some restaurants.
Still farther away is a larger city, Salt Lake City. However, both Salt Lake City and Ely are quite a long way from Great Basin National Park, so prepare accordingly.