Great Northern Peninsula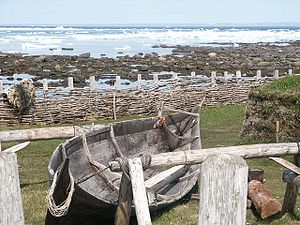 The
Viking Peninsula
or
Great Northern Peninsula
is a large rural area in
western Newfoundland
. Located north of
Gros Morne National Park
, it extends to St. Anthony (population 2400) as the northernmost town on the island of
Newfoundland
.
L'Anse aux Meadows National Historic Site
, a former Viking settlement at the northern tip of the peninsula, appears on the
UNESCO World Heritage List
.
Understand
The Northern Peninsula is sparsely populated (about 25,000 people along 300 km of western coastline); weather conditions can be harsh, especially in winter, due to rugged terrain and direct exposure to westerly prevailing winds across the open Gulf of St. Lawrence. The population is declining. There are few tiny fishing villages and many wide open spaces.
Pack ice jams the Strait of Belle Isle in spring and early summer as icebergs further north break up during the spring thaw and are carried by ocean currents. One may encounter summer conditions ashore and winter conditions on the ice-filled water, or even be unable to get out of the harbour due to ice jams. Polar bears occasionally arrive on the Northern Peninsula from Labrador on the ice; animals or their tracks should be reported to Pistolet Bay Provincial Park staff so bears may be live-trapped and returned to Labrador.

Other destinations
Get in
By car
From the Trans-Canada Highway, exit at Deer Lake and follow Highway 430 northward through Gros Morne.
From Labrador, board the ferry at Blanc Sablon (+1-866-535-2567). The crossing to St. Barbe is 1¾ hrs, weather permitting, $25 for car and driver. In winter, this ferry lands instead in Corner Brook, with corresponding increase in time and cost.
By bus
Norpen Bus Service

phone: +1 709 457-2024

This company runs a shuttle from Corner Brook and Deer Lake to St. Anthony Airport on Tuesdays & Fridays.
By plane
St. Anthony AirportThis small airport in St. Anthony has scheduled service from St. John's and onward to Labrador and northern Quebec. Additional flights are available in Deer Lake
Get around
The only major local road is the Viking Trail, Newfoundland Highway 430, which follows the western coastline.

See
Cow Head Lighthouse

address: Cow Head, Newfoundland

A 10-minute hike with some stairs will bring you to the renovated lighthouse. This is very cool as it is open and you can climb up into the old lantern room and get a beautiful view of the Gulf of St. Lawrence.
Do
phone: +1 709 457-2706

address: 51 Main St, Bide Arm

Boat tours from Canada Bay, charters, iceberg and whale watching.
Buy
phone: +1 709 623-2354

address: 75 Main St, St. Lunaire - Griquet

Manufactures jams, sauces, vinegars, teas, drinks and chocolates using wild berries from Newfoundland and Labrador. Books, clothing, souvenirs.
Eat
phone: +1 709 623-2295

address: 112 Main St, St. Lunaire-Griquet

Seafood, pork, chicken.

phone: +1 709 754-3105 (phone), +1 709-623-2126 (mobile text)

address: L'Anse aux Meadows

Focusing on fresh, healthy, local and gourmet. In 22 years they have never served a french fry.
Drink
phone: +1 709-623-2241

address: Straitsview, St. Lunaire-Griquet

Bar and lounge, take-out fried foods and sandwiches, live music, billiards and darts.
Sleep
L'Anse aux Meadows
Hawke's Bay
Main Brook
Plum Point
Port au Choix
Raleigh
St. Anthony
St. Barbe
Go next