Great Zimbabwe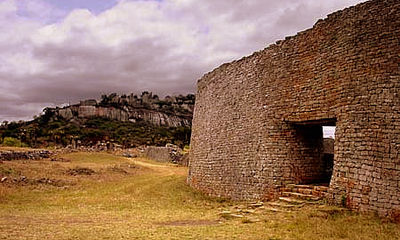 Great Zimbabwe
is a complex of ruins built by Shona-speaking people between the 13th and 14th centuries. It was once the centre of a vast empire known as the Munhumutapa Empire. It has been a
UNESCO World Heritage Site
since 1986.
Understand
These are the largest ruins in sub-Saharan Africa, covering almost 1,800 acres. There are three distinct architectural groupings known as the Hill Complex, the Valley Complex, and the Great Enclosure — all of which were built with dry-stone technique using no mortar holding the stones together. Despite this, the buildings have survived for seven centuries.

History
Colonizing European powers refused to believe that Africans were capable of engineering on this scale, leading to theories about ancient Phoenicians, Arabs, Romans, the lost tribes of Israel, and even that the structures were built by the Queen of Sheba. Other theories as to their origin abounded among white settlers and academics, with one element in common: they could not have been built by African people; they must have some Mediterranean or Biblical connection. However archaeologist Gertrude Caton-Thompson's excavations in 1932 showed conclusively that these ruins are of an indigenous Bantu people. In the post-colonial period the sovereign nation looked to pre-colonial roots, choosing the name of this monument: 'Zimbabwe.'

Get in
Great Zimbabwe is about 27 km southeast of
Masvingo
. You can get a combi from behind the TM supermarket in Masvingo, costing about US$1 and taking about 20 minutes (once it fills up). The combi drops you at a turnoff about 2 km from the gate to the ruins, you then walk past a craft market and through the Great Zimbabwe Hotel to reach the ruins. You can also get a taxi from Masvingo, and the ruins are visited by many overland trucks and other organised tours. Entry to the ruins is US$15 for foreigners.
Permits and fees
Around US$15 - US$25 for entrance for non-Zimbabweans. You may get a discount if you have a SADC passport or residence permit.

See

There are many other sites like Great Zimbabwe, but none are as big, and most of them are inaccessible due to poor road conditions and wild animals. Some are seen as sacred by locals so it's tough to get to them.
Do
Go and see all the beautiful landmarks and animals.

Sleep
Lodging
phone: +263 39 262 274

Closest hotel to the Great Enclosure and not far from Lake Mutirikwi. Swimming pool, tennis court and volleyball pitch. Room service available from 07:00 to 21:30.

phone: +263 39 265 120
Camping
There are campsites just outside the ruins, with dorms and rondavels.