Greenock
Greenock
is a town in
Inverclyde
,
Scotland
.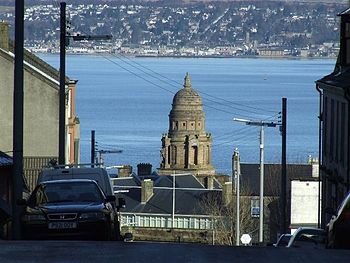 Understand
Greenock is a town on the coast of the tidal River Clyde, with a population of 44,000. The population peaked in 1921 at 81,000. Historically the main employment in the town was in shipbuilding and sugar refinining, but both declined in the later part of he twentieth century.
The 17th century pirate, Captain Kidd claimed that he was born in Greenock, but documentary evidence suggests that he was born in
Dundee
.
Get in
The town is situated at the mouth of the River Clyde in the picturesque area of Inverclyde. Greenock has easy transport routes from main population centres and airports.
By car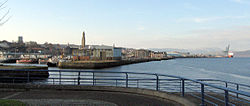 From Glasgow/Glasgow Airport take the M8 (becomes A8) heading West.
From Ayr/Prestwick Airport take the A78 heading North.
By train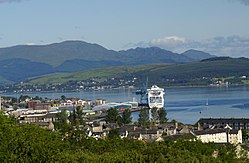 From Ayr or the "Prestwick-Airport" Station, take the train to "Paisley-Gilmour Street", and change to platform 2 for the "Gourock" or "Wemyss Bay" Train. You can then alight at either "Bogston", "Cartsdyke", "Greenock-Central", Greenock-West", or "Fort Matilda" (Gourock Train) or "Whinhill", "Drumfrochar", or "Branchton" (Wemyss Bay train). "Greenock-Central" is the nearest to the centre of the town.
From Glasgow Central train station, take the "Gourock" train and alight at either "Greenock-Central" or "Greenock-West". Journey time 25-45 minutes.
From Glasgow International Airport, take the bus to "Paisley-Gilmour Street" and take the train to "Gourock" alighting at either "Greenock-Central" or "Greenock-West".
By bus
From Glasgow, take the 901 Citylink bus for Gourock (McInroy's Point) or Greenock (town centre) - both are hourly, M-Sa. There are also occasional peak services numbered 906 which extend to Largs but also travel via Greenock.
Also, from Glasgow, take the 901 McGill's bus service to Largs which travels via Greenock - also hourly, M-Sa - but do not serve Glasgow Airport. Journey time is around 1 hour.
From Ayr, take the 585 "Greenock" Stagecoach bus - be warned though, it's half-hourly (or every 20 min during the summer) frequency and takes around 2 hours to complete.
From Largs, you can also take the 585 or jump on a McGill's 901/576/or 577 service which all either terminate or travel through Greenock. Journey time is no longer than 30-45 mins.
From Clydebank, take a Scottish Travel number 22 bus which operate every half hour and take no longer than 45 minutes to get to Greenock.
From Port Glasgow and Gourock, almost every bus heading towards greenock terminates there, so passengers can enjoy frequencies (on "main" routes into town) of every 5 minutes or more.
Get around

Greenock is not a huge town, so it is fairly easy to get around the place on foot. However if you wish to wander around in the hills above the town to take advantage of the spectacular view of the mountains across the Clyde, then using a car to get to those places wouldn't be a bad idea. Taxi's are available all over greenock and are really cheap. The start fare is £2-2.50. A trip from Greenock to Gourock will cost you less than £10.
The roads in Greenock are pretty easy to find your way around on, but you should definitely bring a streetmap. Also, watch out as the very centre of the town is governed by a quite awkward one-way system.
The locals are friendly (despite what you may have heard) and will gladly point you in the right direction.

See
There are many things to see and do in Greenock. As mentioned previously there are the stunning views from the hills around the town.
Craig's TopA particularly nice spot which provides a panoramic 360-degree view of the whole area including a magnificent view over the gateway to the Highlands. "Craig's Top" is found at the summit of Lyle hill at the start of "Lyle Road".

Walk the CutAn enjoyable experience. The "Cut" is an aqueduct, and beside it a near level pathway winds up round the hills to the south-west of the town. This path rings round Dunrod Hill and takes you to Loch Thom, a reservoir constructed in 1824 to supply Greenock's water, now also used for leisure fishing. At the point where The Cut meets the loch the Cornalees Centre provides facilities for nature study and the focus for nature trails and pathways.

The EsplanadeOne of Greenock's most enjoyable walks. This is a beautiful road right down at the edge of the water. The views are breathtaking, with Helensburgh, Kilcreggan and the Highlands to see across the impressive expanse of the Clyde. If you are very lucky, you may even see a baby seal!

The Battery ParkNestled between Greenock and the neighbouring town of Gourock. This is a field of green grass and playing fields, with a stunning view to the mountains beyond. There are two children's play-parks with the small one for toddlers and the larger for older children, a small but reasonable skate-park, an astroturf football pitch and a small cafe. The beautiful town of Gourock is also within walking distance.

Scottish Fire and Rescue Service Museum and Heritage Centre

address: The Fire Station, Dalrymple Street, PA15 1LY

A museum in an old fire station with an extensive collection of fire engines.

address: 15 Kelly Street, PA16 8JX

This is a nice museum which features an interesting feature on the history of ship-building at Greenock on the Clyde. The museum boasts an extensive array of taxidermy specimens of animals and insects. When coupled with the regular and varied displays of local and national artist's works, the McLean makes for an enlightening experience. A welcome addition to what has been known in the past as an "industrial town". Greenock has its fair share of art and culture. A very interesting museum with plenty of interesting items.
Do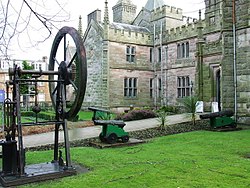 The town also hosts a varied range of activities. There is something for everyone in and around Greenock.
address: 10 Custom House Way PA15 1EG

This is the small local cinema. The screens are relatively small as are the selection of films available to see (normally only the blockbusters and so on). However, if you choose your time well you could be lucky enough to view a whole film in your own private cinema, as the locals rarely go to the cinema during the day on weekdays. Popcorn, sweets and drinks on sale.

address: 8 Customhouse Way, PA15 1EW

This is a large and well equipped leisure centre situated at the Waterfront near the centre of Greenock. There is a large swimming pool with plenty of fun slides. There is an Ice-Rink and a well equipped Gym. The enormous glass wall on the Waterside of the building provides beautiful views while you are working out, swimming, or enjoying a skate. There is also a cafe where you can look down onto the gym.
Buy
The Oak MallIn Greenock is the main shopping centre. Contains Shops such as Dorothy Perkins, Topshop, New Look, Burtons, Marks & Spencer, Clinton Cards, Boots, Millets, Superdrug, Game, Greggs, WH Smith, Internacionale, Makays, Argos, JJB Sports, Original Shoe and more. In the Oak mall you will also find an Aulds bakery shop which is a really popular local chain where they sell the locally made popular Aulds pies. This is also a sit in cafe where you can sample some of the baked goods with a nice cuppa.There is also an O'briens sandwich bar in the middle of the centre and a cafe called Leos both of which you can sit in. The mall is very clean and is patrolled by security.

Outwith the shopping centre there is a large Tesco store which has electrical and clothing as well as the usual food.
There is also a wide range of shops in the streets surrounding the Oak Mall. The main streets of interest being West Blackhall Street and Cathcart Street.
Eat
phone: +44 1475 892547

address: 9 Inverkip St.

phone: +44 1475 866600

address: 121-123 W Blackhall St
Drink
Greenock usually has a good busy atmosphere on Thursday, Friday and Saturday nights. Thursday is student night (with discounted entry to some clubs e.g. Word Up) and therefore can determine the croud. There are many great bands who play locally. Thursday and Saturday nights are the best for catching a good band; Places like the Argyle have regular performers ranging from tribute acts to some great local talent, comedians and other shows.
Pubs
Horseshoe Bar

phone: +44 1475 720785

address: 30 Kilblain Street, PA15 1SR

Old fashioned pub, popular karaoke in evenings.

Argyll & Sutherland

address: 1 Bruce Street, Greenock, PA15 4LL

Nicely furbished small pub with beer garden, serves food, evening entertainment

Black Cat

address: 7 Laird Street, Greenock, PA15 1LB

A dads' favourite!

Harwoods

address: 208 Dalrymple Street, Greenock, PA15 1LE

Aims for an over 23 age group (usually the more discerning clientèle!) - Karaoke evenings.

Tokyo Joes

address: 20 Westburn Street, Greenock, PA15 1JR

Beer garden, serves food, nightclub in evening (over 25's).

address: 80–92 Cathcart Street, Greenock, PA15 1DD

A Wetherspoons, Serves food, large building, No music, beer garden, can have drink deals.

The Old Bank Bar

address: 11 William Street, Greenock, PA15 1BU

beer garden, serves food, busy on a sat night!
Nightclubs
Red

address: 14 Cross Shore Street, Greenock, PA15 1DY

Nightclub, good mix of music, 2 bars, generally 18-26 crowd

Word Up

address: Dalrymple Street, Greenock, PA15 1LF

Biggest nightclub in greenock, 3 rooms, mix of music, dance, R&B, Pop, oldies, Indie depending on room, busiest club, mix of people. Strict bouncers regarding ID!
Sleep
phone: +44 1475 723316

address: 6 Ardgowan Square

address: 1/3 James Watt Way
Go next