Greensboro
Greensboro
is a city of about 250,000 in
North Carolina
. It is named after Nathanael Greene, a Patriot general who fought a battle here during the Revolutionary War. It's nicknamed the "Gate City" for its historical role as a transportation hub for the
Piedmont
. The famous author William Sydney Porter, better known as O. Henry, was born here. It can be sleepy and genteel but is enjoying a newfound reputation as a great place for young people. Downtown especially is experiencing a surfeit of bars, music venues and restaurants.
Get in
By plane
Piedmont Triad International AirportPTI, as the locals refer to it, has around 75 daily flights to most major hubs on the east coast. Several rental car companies operate at the airport, and taxis are provided by Triad Transportation (+1 336 668-9808). Lyft and Uber pick up and drop off passengers outside doors #2 and #5. As for public transportation, PART Shuttle 27 goes from the airport to the regional hub for $2.50, and from there you can transfer for free to PART buses to other parts of the Triad.
By train
Greensboro is served by
Amtrak
through its
Piedmont
and
Carolinian
services from
Charlotte
to
Washington, D.C.
and
New York City
, and its
Crescent
service between
New Orleans
to New York City. The station, officially but generally known as "The Depot", is downtown at 236 E Washington St, and doubles as the city's main bus station. The Depot has restrooms, Wi-Fi, and a small cafe.
By bus
Greyhound
has daily intercity bus services from several destinations in North Carolina, and long-distance buses from
Washington, D.C.
and
New York City
. All long-distance buses arrive at the Depot downtown.
PART
(Piedmont Authority for Regional Transportation) provides bus service between several cities around Greensboro, including
High Point
,
Winston-Salem
,
Mount Airy
,
Chapel Hill
,
Durham
,
Asheboro
,
Lexington
. Buses arrive at the Depot.
By car
Greensboro is served by four interstate highways,
I-40
goes east-west,
I-85
goes north-south, and when completed
I-73
will go north to Michigan and south to Myrtle beach, and
I-74
will go north to
Cincinnati
and the Quad Cities. US highways 29, 70, 220, and 421 travel through Greensboro.
Get around
By bus
Greensboro offers public bus service through the
Greensboro Transit Authority
, and also provides 30 minute service on all 16 routes Monday through Friday from 5:15AM-6:30PM, and evening service every hour from 7:30PM-11:30PM with 7 buses with two or three combined routes running 'hourly'. On weekends, on Saturday from 6AM-10PM with evening service starting at 7PM until 10PM; however, the same evening service ran during the week and Saturday runs only from 6AM-6PM.
College students can ride the HEAT bus system for free by showing a valid college ID. There are 7 HEAT routes that carry the college community and the general public; non-students ride for the regular bus fare of $1.50 or a GTA bus pass
By bike
The
bike sharing
program
LimeBike
operates in Greensboro.
By foot
Downtown and the adjacent College Hill neighborhood are very pleasantly walkable.
See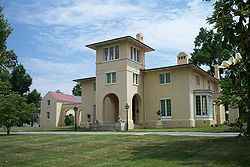 UNC-GreensboroGood people watching and Weatherspoon Art Museum is fun on a rainy afternoon.

Fisher Park

address: Elm Street north of Fisher Avenue, downtown

A 100-year old neighborhood surrounding a central park, a nice place for a walk.

phone: +1 336-272-5003

address: 447 W Washington St

Greensboro's National Historic Landmark home of Governor John Motley Morehead, and America's oldest Tuscan Villa residence. Features period furnishings, art, and rose gardens. Open to public tours.

Greensboro Science Center and the new Animal Discovery Zoological Park

phone: +1 336-288-3769

address: 4301 Lawndale Dr

A natural history museum geared towards children with many interactive exhibits and a small but excellent zoo. The museum features geology, paleontology, and astronomy exhibits among others and the zoo houses everything from reptiles and farm animals to tigers and monkeys.

International Civil Rights Center and Museum

phone: +1 336 274-9199

address: 134 S. Elm Street

The International Civil Rights Center & Museum is an archival center, collecting museum and teaching facility devoted to the international struggle for civil and human rights. The Museum celebrates the nonviolent protests of the 1960 Greensboro sit-ins, which served as a catalyst in the civil rights movement. The museum complex includes 30,000 square feet of exhibit space. It is located in the historic 1929 F.W. Woolworth building in Greensboro, and you can see the original lunch counter and stools where the Greensboro Four began their sit-ins. Entry is only by guided tour, which lasts about an hour and a half and drags on somewhat.

phone: +1 336 373-2043

address: 130 Summit Ave

A nice way to spend an afternoon, the Greensboro Historical Museum has surprisingly extensive collections on the city's varied history, from pre-Columbian times all the way to the present day. Lots of artifacts on display with detailed information. Includes a collection of Civil War weapons and artifacts, and a little area that reproduces shops and buildings from turn-of-the-20th-century Greensboro. It also has a large number of exhibits for children. Backpacks must be checked at the front desk.

South Elm StreetThe center of downtown Greensboro, Elm Street is lined with attractive historic buildings. If you follow the street a bit further north, they start to turn into corporate high-rises.
Do
address: 5945 Lake Brandt Rd

address: 4235 Hamburg Mill Rd

Also allows fishing.

address: 6332 Townsend Rd
address: 407 Prescott street

Community urban greenspace on the edge of downtown, with a large orchard and gardens
Buy
There are a number of unique shops along
South Elm Street
downtown, including numerous art galleries, boutiques and cafes.
phone: +1 336 292-0171

address: 410 Four Seasons Town Centre

An indoor 3-story mall adjacent to Koury Convention Center offering over 180 stores and restaurants anchored by Belk, JC Penny's and Dillard's. Be aware that there has been a sharp rise in crime around the mall including car theft due to its proximity to the highway. Use common sense and stay safe.

Friendly CenterA 75-acre open village shopping center with over 1 million square feet of stores, it is anchored by Belk, Macy's and Sears and offers more local stores than the mall. Next door to Friendly Shopping Center is their new addition: The Shops at Friendly Center. Stores include REI, Ann Taylor, Brooks Brothers, Coldwater Creek and more. Restaurants include P.F. Chang's, Flemings's Prime Steakhouse and Wine Bar, Ben & Jerry's, and Mimi's Cafe. The large Harris Teeter grocery store offer hot bars, pizza, sushi and a great salad bar.

phone: +1 336-373-0733

address: 414 State Street

Eclectic by Nature offers candles, stones, gifts, books, and a great selection of handcrafted herbal teas. The store is also home to a rotating variety of spiritual advisers and Tarot readers from a wide array of backgrounds. The staff are knowledgeable and helpful; if they don't know, they know who to ask or how to find what you're looking for. The store is also a center for Pagan, Wiccan and other spiritual cultures in the Triad area.
Eat
phone: +1 336 274-4810

address: 219 South Elm St

Buy it by the slice or get a whole pie.

phone: +1 336 288-4900

address: 2605 Lawndale Dr

An authentic sit-down Italian trattoria whose food distinguishes itself from the rest.

Sapporo Fantasy Japanese Steak and Sushi House

phone: +1 336 282-5345

address: 2939-C Battleground Avenue

Quality sushi, if not the best in Greensboro at very reasonable prices.

phone: +1 336 574-3300

address: 1500 Mill Street #104

Excellent Indian cuisine that is hard to find in North Carolina. Has a lunch buffet seven days a week at a very reasonable price. Table service is by far the best in the Triad. Noteworthy vegetable samosas.

phone: +1 336 274-1373

address: 345 South Elm St

Downtown pub with several very good microbrews. Very large place and crowded on the weekends.

phone: +1 336-299-9888

address: 2206 W Gate City Blvd

BBQ since 1930, located across the street from the Greensboro Coliseum. A second location is on Battleground Ave. Stameys BBQ, along with Brushy Mountain BBQ in Wilkesboro, Hannahs in Lenoir, Short Sugars in Reidsville & Danville VA, these are the top BBQ places in all of North Carolina.

phone: +1 336 275-0220

address: 2200 Walker Ave

Across the street from Lindley Park Filling Station at the intersection of Walker Ave and S Elam Ave. Excellent brick-fired pizza, salads, and regional microbrews.

Tripp'sA small North Carolina chain that is based out of Greensboro. Two locations are on New Garden Road near Bryan Blvd and West Wendover Avenue near Wal Mart. Lunch and dinner entrees are generally very good, portion sizes are fair and the prices are reasonable. For dessert, Tripp's serves Carnegie Deli cheesecake shipped directly from New York City. Best non-southern dessert to be found in the Triad.

phone: +1 336 294-5551

address: 4109 Spring Garden Street

Good Vietnamese.

Saigon

phone: +1 336 294-9286

address: 4205 W Gate City Blvd

Good Vietnamese.

phone: +1 336 274-6684

address: 329 Tate St

Tate Street on the edge of UNCG campus. (previously Sushi 101) - Owned by two Korean brothers. There are some very interesting and delicious concoctions offered on their menu.

phone: +1 336 370-4900

address: 2119 Walker Ave

Possibly the best bar food in town. A 2 minute drive or 15 minute walk from UNCG. A variety of imported beer, liquor, and wine and has outdoor seating.

Ghassan'sFour locations. Best steak sub in town. Also serve a variety of middle eastern dishes such as kabobs, falafel, hummus, and gyros.

phone: +1 336-370-0707

address: 1421 Westover Terrace

A local favorite since the late 20th century for "honest seasonal American fare." They also have 60 wines by the glass.

phone: +1 336 854-2015

address: 622 Green Valley Rd

Beside to the O.Henry Hotel, they feature seasonal food using old-world European culinary sensibilities and flavors. Their wine list features 50 wines by the glass and wine flights.

phone: +1 336 379-0699

address: 702 Green Valley Rd

Traditional and modern versions of classic dishes popular in European Bistros. Honest drinking bar. Adjacent to Proximity Hotel.
Drink
Sleep
phone: +1 336 852-1443

address: 1619 Stanley Road

Andrea's Troy-Bumpas Inn, Bed and Breakfast

address: 114 South Mendenhall Street

In Greensboro's Historic College Hill District adjacent to downtown.

phone: +1 336-272-3474

address: 111 W Washington Street

Historic hotel in downtown Greensboro off N. Elm street.

phone: +1 336 451-7742

address: 808 Northridge Street

Historic Bed and Breakfast near UNC-G.

Embassy Suites Greensboro Airport

phone: +1 336 668-4535

address: 204 Centreport Drive

phone: +1 336 393-0088

address: 201 Centreport Drive

phone: +1 336 294-3800

address: 4400 West Wendover Avenue

phone: +1 336 547-7007

address: 4304 Big Tree Way

Grandover Resort Golf Spa Weddings Meetings 1000 Club Road 800 472 6301 http://grandover.com/

Fairfield by Marriott Greensboro Airport

phone: +1 336-841-0140

address: 7615 Thorndike Rd

Newly renovated (2018) hotel with free breakfast, WiFi, and an outdoor pool.
Splurge
address: 624 Green Valley Road

AAA Four Diamond Hotel in central Greensboro by Friendly Shopping Center. Locally owned, features afternoon tea, free full breakfast.

phone: +1 336 379-8200

address: 704 Green Valley Road

High-end hotel with sustainable practices that include water heated by 100 solar panels, huge windows with abundant natural light and plenty of fresh air circulating into guest rooms.
Stay safe
Greensboro is a charming southern city but has its share of crime just like any other large area in the state. Common sense is your best friend; don't ever leave your car unlocked or with valuables visible. Walk in well-lit places at night, especially downtown. The South and East sides of the city are a bit rougher than the rest, and Lee Street in particular is rather sketchy. Best to drive through if you don't have specific business there. When going to places late night on High Point Road, be aware of your surroundingsthis is one of the areas that has seen the most increase in late-night crime. Cops are everywhere and generally helpful but remember they are very serious about what they do.

Connect
The Greensboro Public Library has free Wi-Fi, and the
Central Library
branch is conveniently located downtown. Computers with internet access are available too, but you need a library card or a guest pass (available if you show an out-of-state ID) to log on.
Free public Wi-Fi is also available at the Depot.
Go next