Greenville (Maine)
Greenville
is a very small city in the
Highlands
region of
Maine
. It only has a year round population of 2,000 with a seasonal population of over 6,000.
Understand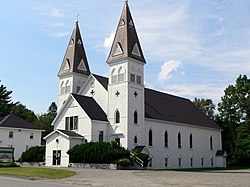 See
phone: +1 207 695-2716

Call for seasonal hours. Learn about the history of the region and the Katahdin (aka "the Kate") at this small free museum next to where the Kate is moored.
Do
phone: +1 207 695-271

Call or go online for seasonal hours. Take a slow cruise on a National Landmark steamship that tours Moosehead, the largest lake in Maine. Narration is provided about many points of interest along the way and a working galley provides refreshments. Choose from a three, five, or eight hour cruise. No smoking, no pets, handicap accessible. Adult price $32-$37, senior pice $28-$33, kids 11-16 $17-$20, kids under 11 ride free, 8 hour cruise $60 for all ages.

phone: +1 207 695-2778

address: Greenville Junction

Currier's has been providing seaplane tours since the early 1980s. The staff is friendly and accommodating, willing to work with you to provide you with the experience you're looking for. Choose from six sight seeing tours, including the Mount Katahdin Air Tour, $140 per person, Moosehead & Lobster Lake Air Tour, $85 per person, North Bay Air Tour, $75 per person, Kineo Mountain Air Tour, $60 per person, Squaw Mountain Air Tour, $35 per person, or Moose Watch Tours, $70, $95, or $140 depending on length of tour.

phone: +1 207 695-2020

address: 13 Moosehead Industrial Park, Greenville Junction

Rent an ATV to see the region in one of the most popular local ways- on local logging trails. In this area, ATV's are a common sight in drive throughs (as long as the locals don't boycott every business that has one). Motorboat, personal watercraft, and snowmobile rentals are also available. Snowmobile rentals run from a mandatory pre-trip 8AM orientation includes operating basics, safety and trail etiquette to 4:30PM. Rental rate is $200.00 per day, which includes sled with unlimited mileage, helmet and trail map and does not include gasoline or riding clothes. Advanced reservations are recommended.

address: 5 Lily Bay Rd

Rent a bike, canoe, kayak, skis, snowshoes, or snowmobile, or buy your own. Northwoods Outfitters also offers over thirty different outdoor adventure trips for people of all ages and skill levels. The store also sells outdoors equipment, clothes, shoes, gear, and houses a coffee and pastry shop. See website or call for specific rates.

Jack's Air Service

phone: +1 207-695-3020

address: 30 Hofbauer Dr.

JAS is an FAA Approved Floatplane Charter Service in its 40 year of operation Serving Maine and Canada since 1971. There are 3 different tours available, a Local & Regional Scenic Tour ($30 per person), a Mt. Kineo & Northern Moosehead Lake tour (30-40 minutes, $55 per person) and a Mt. Katadin tour (1hr-10minutes, $110 per person). JAS also does charter flights to all the great fishing ponds, lakes and sporting camps with our own remote camp located on Horseshoe Pond. We also have a rental camp right on Moosehead next to the Airservice.
Festivals and Events
phone: +1 207 695-2702

address: Greenville Junction

Saturday Afternoons starting mid to late January, subject to change depending upon weather and ice conditions. The only event of its kind in the state, and definitely something worth seeing. Auto racing enthusiasts race all afternoon on a quarter-mile track plowed into the snow on the ice of Moosehead Lake.

International Sea Plane Fly In

phone: +1 207 695-3631

address: Greenville Junction

You can see the planes from pretty much anywhere in town, but for an ariel view stop at Indian Hill or to get up close head over to West Cove. The 37th Annual Seaplane Fly-In will take place September 9–12, 2010. The event got its start in 1973 when a few like-minded pilots decided to create a fly-in, and by 1995 it became a non-profit corporation to promote fellowship, personal contact, and unification among seaplane pilots as well as recreational and competitive events. Today, you can see many classic, experimental, and rare seaplanes at the annual fly-in. There is also a craft fair around the base each year for the families and tourists who come to see the event.

phone: +1 207 695-2421

June 19, 2010. Each spring Moosehead Lake Region has a month long celebration honoring the moose. Activities include a canoe race, mountain bike race and tour, rowing regatta, craft fair, kids' fun day, and moose tales. There are demonstrations of moose calling, local artist interpretations of moose and moose themed food.
Buy
phone: +1 207 695-2104

address: Rt 15

The largest store in or near the town of Greenville. Indian Hill is a trading post for fishing, boating, hunting, outdoor enthusiasts, tourists and locals alike. From groceries to sporting supplies and boats to a 24 hour gas station, you can get geared up for any kind of outdoor adventure. Hunters can buy licenses, guns, bows and arrows, and knives, among other things. Hikers and campers can find any gear they need as well. There are plenty of souvenirs for tourists and clothing for shoppers, and many different kinds of rentals (canoe, kayak, etc).

Kamp Kamp Moosehead Lake Indian Store,

phone: +1 207 695-0789

address: Greenville Center

Their motto is "Something for Everyone," which certainly describes this store. One of the most diverse stores in Greenville, Kamp Kamp sells small novelty toys such as Chinese handcuffs, fortune telling fish, magnetic rocks, noisemakers, and miniatures. They also sell knick-knacks, antiques, clothes, jewelry, hunting lodge accessories, souvenirs, and Indian and Northwoods trinkets.

Mud Puddle Mercantile

phone: +1 207 695-4440

address: Pritham Ave

One of many souvenir shops in Greenville offering Northwoods themed jewelry and gifts.

Corner Shop

phone: +1 207 695-2412

address: Greenville Center

The Corner Shop is one of those something-for-everyone stores with less of a focus on the Northwoods and more on unique trinkets. Candles, wind chimes, knick-knacks, novelty signs, books, mugs, souvenirs, Vera Bradley-style quilted purses, a designated year-round Christmas section, hand made jewelry, and even home made fudge.
Eat
phone: +1 207 695-1100

address: 17 Pritham Ave

A waterfront restaurant, bar, and hotel. The waterfront location is what sets this restaurant apart from others in Greenville. They offer either traditional dining inside or dining on a floating barge connected to the main building (also with a bar). Boaters can dock and eat as well. If you're looking for something to do, take a ride on the Wing-It; the owner's personal yacht that sails on sunset cruises for around $20 a person, weather and participants permitting early June through Fly-In weekend. the cruise departs at 4:30PM and lasts for an hour and a half. After the cocktail cruise, when dinner is over and the bar is closed, you can head upstairs to one of two suites. $5- $25.

Dairy Bar

phone: +1 207 695-2921

address: Pritham Avenue

Order at the on-street window for a quick bite to eat or an ice cream cone.

Graves & Sons Seafood

phone: +1 207 695-2001

address: Pritham Avenue

The restaurant to go to if you're looking for more local color rather than the tourist-y side of Greenville. Just don't offend the townies.

Jamieson's (sandwich & pizza shop)

phone: +1 207 695-2201

address: Pritham Avenue

Pretty much self-explanatory, although they do have the best subs and pizza in town. Then again, they're the only sub and pizza place in town.

Flatlanders

phone: +1 207 695-3373

address: Pritham Avenue
Sleep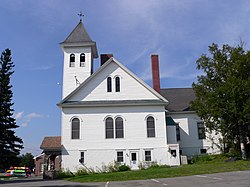 Budget
phone: +1 207 695-2210

address: Rt 15

The family atmosphere is stressed here, with an enforced quiet time from 10PM to 7AM. Amenities include: tent and RV sites, a store, gameroom, playground, ice, firewood, phone, modem hookup and bathhouse and dressing area. On weekend and holiday mornings free coffee, tea, and hot chocolate is provided in the camp store. Pets Welcome. $20-$32 per night.

phone: +1 207 695-2623

address: 127 Moosehead Lake Rd. (Route 15)

Located across from the Indian Hill Trading Post and close to all the snowmobile trails. Offers clean and comfortable lodging.
Mid-range
Splurge
phone: +1 207-695-4400

address: 368 Lily Bay Rd

The lodge touts its views of Moosehead Lake and locally adapted foods. Each room is specially decorated, including hand-carved beds, fireplaces, beverage centers and many amenities. Book early if you want special accommodations and/or a package deal.
Go next