Greenville (South Carolina)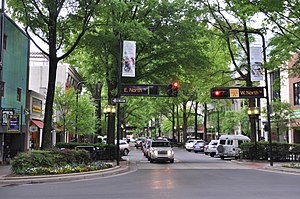 Greenville
has been described as
Athens, Georgia
for adults. It is the county seat and largest city of Greenville County,
South Carolina
,
United States
. Greenville is also the center of the largest metropolitan area of South Carolina.
Columbia
,
Charleston
, and North Charleston have more people, but the urban area around Greenville is larger. With its historic homes and modern office towers, Greenville is said to be where "Old South" meets "New South".
Understand
Greenville is the primary city of "the Upstate" of South Carolina, an area that includes the six counties of northwestern
South Carolina
along the borders of
North Carolina
and
Georgia
. It is the principal city of the Greenville Metropolitan Statistical Area (2005 estimated population: 591,251) which is included in the greater Greenville-
Spartanburg
-Anderson Combined Statistical Area (population 1.2 million according to 2005 estimates by the U.S. Census Bureau). Greenville County is both the most populous and most dense in the state at 407,383, but because its city limits enclose less than 30 square miles, the population of the
city
is 67,453 (2015 estimate). Perhaps a more accurate representation of Greenville's size is the urbanized area, which includes all of the city plus adjacent unincorporated areas and some suburbs that have a high population density — this figure is 302,194 (2015 estimate).
Get in
By plane
Greenville is served by two airports,
Greenville Downtown Airport
(GMU) and
Greenville-Spartanburg International Airport
(GSP), in nearby Greer. Greenville-Spartanburg International is the state's second busiest airport.
By train
Amtrak
serves Greenville via its
Crescent
line, running daily from
New Orleans
to
New York City
's Penn Station, with stops including
Atlanta
,
Charlotte
, and
Washington, D.C.
Northbound trains are in Greenville at 5AM and southbound trains at 11PM. 1120 W Washington St.
By car
Greenville is on the
Interstate 85
corridor, linking it to
Atlanta
and
Charlotte
, and
Interstate 26
, which is in nearby
Spartanburg
, goes northwest through
Asheville
on to
Tennessee
, and southeast on to Charleston. It also is at the northern terminus of the Interstate 385 corridor. The other freeways that converge in the area include Interstate 185 and U.S. Highway 123 (Calhoun Memorial Highway). Other major highways include U.S. Highway 25, Business U.S. Highway 25, U.S. Highway 29 and U.S. Highway 276. Main Street is home to many of the downtown area's shopping and dining destinations.
By bus
Greyhound
offers service from on its route between
Charlotte
and
Atlanta
. The station is at 9 Hendrix Dr.
Get around
Greenlink, Main Office: 1021 S. Main St; Transfer Center: 100 W. McBee Avenue, +1 864 467-5001. Greenlink offers 11 fixed routes to destinations all across Greenville County. All Greenlink buses are wheelchair-accessible, and each Greenlink bus is equipped with a bike rack to make commuting easier for bike riders. Free WiFi is available on all Greenlink Buses. Single rides $1.50; day passes $5.00; 20-ride pass $27.00; discounted fares available for children and seniors.
Yellow Cab of Greenville, 529 W Washington St, +1 864 233-6666,
Downtown Pedicab has eight pedicabs in downtown Greenville.
Downtown Trolley. The City of Greenville operates two downtown trolleys.
Pedal Chic Bicycle Rentals, 651 B South Main Street, +1 864 242-2442. Women's, men's, and kid's bikes and baby trailers for rent. Limited availability, so please call ahead to book your reservation. $15 for 4 hours; $25 for 8 hours.
See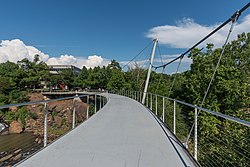 Falls Park on the ReedySouth Main Street. This is a unique and beautiful urban park. The park surrounds the 60-foot Reedy Falls. It creates an oasis in the midst of the bustling city. This is also the original birthplace of what would eventually become known as "Pleasantburg" - later renamed, "Greenville."

Heritage GreenAn urban arts and cultural campus with several institutions:
Greenville County Museum of Art

phone: +1 864 271-7570

address: 420 College Street

If you weren't expecting great art in this corner of South Carolina, you will be in for a surprise. Regular traveling exhibits combine with the museum's own 32 paintings by Andrew Wyeth to make this a worthwhile stop for any art lover. Free.

Sargent Wilson Museum & GalleryPreviously a Coca-Cola bottling plant, now an annex of the Bob Jones University Museum & Gallery.
Bob Jones University Museum and Gallery

phone: +1 864-770-1331

address: 1700 Wade Hampton Blvd

A thorough presentation of European Old Masters from the fourteenth through the nineteenth centuries including one of the finest collections of Italian Baroque painting in the United States. Includes religious art by Rubens, van Dyck, Reni, Tintoretto, Le Brun, Cranach, Ribera, and Murillo set among period furniture, sculpture, tapestries, and porcelains. Closed for renovation through 2019, but selected artworks are on display in the Gustafson Fine Arts Center Atrium and Rodeheaver Auditorium 1st and 2nd floor lobby.
Cleveland Park

address: 150 Cleveland Park Drive

Adjacent to the Greenville Zoo, this park features four playgrounds, six tennis courts, two sand volleyballsu courts, and a dog park. There are 4½ miles of paved paths used for running and biking which connect to the longer 1½ mile Swamp Rabbit Trail. Cleveland Park also includes a fitness trail with pull-up bars, parallel bars, climbing rope, and other body-weight exercise stations.
Do
As the largest city in the Upstate, Greenville offers many activities and attractions. Greenville's theaters and event venues regularly host major concerts and touring theater companies. Four independent theaters present several plays a year.
Places
address: 2465 Laurens Road

TD Convention CenterIs the largest convention center between Atlanta, Georgia and Washington, DC, has more than 315,000 square feet of exhibition space and 88,000 square feet of meeting and conference space. Many trade shows, conventions, and other events are held here each year.

Bon Secours Wellness ArenaFormerly the Bi-Lo Center, it is a 16,000-seat arena in downtown Greenville which hosts major concerts and sporting events each year.
address: 650 N Academy St, Greenville, SC 29601

Greenville's ECHL hockey team since 2010. Minor league affiliate to the New York Rangers.
Centre Stage, Greenville's Professional TheaterStage is a year-round, 285-seat professional theater offering a wide range of entertainment that includes music, comedy, drama and special events within easy walking distance of Falls Park and the historic West End. Free parking, assistive listening devices, art exhibitions, chamber music concerts, independent film screenings, galas and more await visitors to this state-of-the-art performance facility, noted for its unique configuration, comfort and intimacy.
Peace CenterA performing arts center that hosts touring Broadway shows, symphonies, concerts, and civic events. Known internationally for its excellent acoustics, the Peace Center is also home to the Carolina Ballet Theatre, Greenville Symphony Orchestra, and Greenville Chorale.
The Warehouse TheatreIs a black box theater operating for over 32 years, is in the Historic West End.
phone: +1 864-233-6336

address: 61 Villa Road

This golf course is unique because each of its 18 holes was designed by a different designer. It's a fun par 3 course that can be played in 2 hours for 18 holes or in 1 hour for 9 holes.
Skatepark of GreenvilleA skatepark in Mauldin. Fun for all ages and all experience levels.
phone: +1 864 467-4300

address: 150 Cleveland Park Drive

A 14-acre facility featuring hundreds of wildlife from all over the world including giraffe, monkeys, giant tortoises and elephants. Go on a wildlife adventure through the zoo's beautifully landscaped acres filled with up close and personal views of its residents.
Swamp Rabbit TrailThe Swamp Rabbit Trail is a 17½-mile multi-use trail system that runs along the Reedy River connecting Greenville County with schools, parks, and local businesses.
Saturday MarketMore than fifty vendors, including local family farms, bakeries, and coffee, on two blocks of Main Street.
Fluor Field
phone: +1 864 240-4500

address: 945 South Main Street

Greenville's minor league affiliate of the Boston Red Sox plays at Fluor Field in Greenville's West End. Fluor Field boasts its own "Green Monster," a 30-foot high wall in left field, equipped with a manual scoreboard. The dimensions all around the outfield wall are to the same specifications as Fenway Park, including "Pesky's Pole" in right field. Tickets purchased prior to the day of game - at the Drive Box Office, by Phone or Internet - are $5 for Lawn and Deck; $6 for Reserved Terrace; $7 for Reserved and $8 for Box Seats. Tickets purchased on the day of game will cost $1 more than advance sale tickets.
Annual events
InnoVentureEach March helps build Communities of Innovation around corporations, universities, and emerging companies.

ArtisphereEach April showcases the arts, reflects the area's international flair and maximizes existing arts programs by providing a diverse menu of experiences that center around the arts.

Living GalleryAround Easter each spring, employs drama, music, and live portrayals of great works of art to bring the works of the Old Masters to life. Reproduced paintings, some as large as square, feature live models and extraordinary detail. Each year's production is unique and the program is offered several nights each spring. Annually attended by over 10,000 people.

Fall for GreenvilleA major festival held on the 1st weekend in October. This festival features local cuisine, live performances on several stages, and the Greenville Cycling Classic bicycle race.

Greek Festival is a major street festival that is held in May by members of the Greek Orthodox Church that offer Greek food and cultural activities.
Art in the Park is a major arts festival that takes place in Reedy Falls Park near downtown Greenville.

AT&T Red White & BlueAn exciting annual event celebrating Indepenence Day. The event is held on July 4, in Downtown.

Greenville News Shaggin' on AugustaAn annual one-day beach music festival held in May at Lewis Plaza, on Augusta Street.

Countybank Main Street JazzAn annual tradition in Downtown Greenville. Every Friday evening from April to September, a portion of North Main Street is closed to vehicle traffic, and an exciting street festival is opened to pedestrians of all ages. Live jazz bands are brought in for the occasion, plus food, drinks, and other entertainment are available.

Reedy River Run a 10K race that is held in late February or early March.
The Red Party annual dance party, held at the History Museum of the Upcountry, is a fundraiser for AID Upstate, an AIDS Service Organization serving Upstate South Carolina (Anderson, Oconee, Pickens and Greenville counties). AU serves, on average, more than 750 clients and families touched by HIV/AIDS.
Buy
Downtown
phone: +1 864 325-4445

address: 1801 Rutherford Rd

Daly Designs, LLC is the working studio of Liz Daly-Korybski, an internationally renowned Glass Jewelry Designer. Over 73 different product lines in house, ranging from glass, vintage, and upcycled Jewelry to vases and functional art. Dog-friendly.

phone: +1 864 233-5900

address: 119 North Main Street

Earrings, gemstone rings and bracelets with natural-colored gemstones, precious materials and inspiration, she creates works of art that are distinctive and wearable.

phone: +1 864 235-1883

address: 111 North Main Street

Clothing, hiking and camping gear, shoes, old-fashioned toys, candy, cookware and pottery, etc.

phone: +1 864 467-1984

address: 117 North Main Street

Independent toy store. Dog-friendly.

Urban Thread

phone: +1 864 255-3330

address: 207 North Main Street

Consignment clothing and accessories.
Eastside
phone: +1 864 288-0512

address: 700 Haywood Road

More than 150 specialty shops like Apple, Banana Republic, Coach, J. Crew, Francesca's Collection, Sephora and Williams-Sonoma are anchored by Belk, Dillard's, Macy's, JCPenney and Sears.

Shops at Greenridge

phone: +1 (864) 297-4950

address: 1125 Woodruff Road

Outdoor shopping center anchored by PetSmart, Best Buy, Marshalls, World Market and numerous small specialty stores and restaurants.
Falls Park and the West End
phone: +1 (864) 373-9497

address: 618 S Main Street

Popular women's clothing store west of downtown Greenville.

Lilly Pulitzer - West End

phone: +1 (864) 271-4332

address: 105 Augusta Street

Colorful women's boutique shop offering designer resort and beachwear.

Cocobella

phone: +1 (864) 283-0989

address: 21 Augusta Street

Cool, brick-lined shop offering stylish contemporary clothing, shoes and accessories for women.
Southside
McDaniel Village

address: 1922 Augusta Street

Shopping center with small restaurants and boutique shops.

The Plaza

address: 6 E Lewis Street

Shopping square with a grocery store and other smaller boutique shops and eateries.
Eat
With over 80 restaurants in Downtown, Greenville has become known as a culinary center in South Carolina. Below are the most popular in distinct Greenville areas.
Downtown
phone: +1 864 232-3706

address: 25 West Washington Street

In a 19th-century hardware and feed store one block off Main St. in historic downtown Greenville, the focus of Barley's has been to create the best beer selection in the Southeast. Barley's has been the regular recipient of local "Best of" awards for its pizza, beer list, poolroom, bar and best place to hang out. 72 craft beers on tap as well as over 200 bottled beers.

phone: +1 864 241-9909

address: 16 West McBee Avenue

Tapas restaurant and wine bar. Outdoor seating available.

phone: +1 864 233-5825

address: 209 S. Main Street

Handi Indian Cuisine

phone: +1 864 241-7999

address: 18 North Main Street

Lunch buffet available as well as full menu. Full bar and covered outdoor seating available.

phone: +1 864 241-9988

address: 106 North Main Street

phone: +1 864 241-4040

address: 123 S Main Street

A family-owned and -operated restaurant featuring authentic artisan gelato made fresh daily, and homemade food for lunch. Outside seating available, weather permitting. Dog friendly.

phone: +1 864 373-7300

address: 116 South Main Street

A casual GastroPub offering high quality "pub fare", unique cocktails, a distinctive wine list and handcrafted brews that provides a "neighborhood" social scene on Main Street.

phone: +1 864 271-8667

address: 100 North Main Street

Modern Northern Italian cuisine. Try the in-house made limoncello. Reservations highly recommended.

phone: +1 864 298-2424

address: 220 North Main Street

Focused on local, organic, and seasonal food.

phone: +1 864 232-7007

address: 207 South Main Street

Soby's is a blend of contemporary cuisine infused with traditional southern ingredients. Signature dishes include Barbecue Shrimp and Grits, Fried Green Tomatoes with Jalapeno Pimento Cheese, and Crab Cakes Remoulade. The wine list offers more than 500 selections and is a Wine Spectator Magazine award-winner for the past eight years, a 'Best of Award of Excellence' the past two.

phone: +1 864 271-8431

address: 22 East Court Street

A deli-bakery that serves breakfast, lunch and selection of baked goods for eat-in, take out or corporate delivery.

phone: +1 864 438-4954

address: 20 North Main Street

Tapas and wine overlooking Main Street.

Sushi Murasaki

phone: +1 864 271-2452

address: 4 South Main Street

Delicious, fresh assortment of sushi in a modern restaurant. Licensed to serve beer, wine and liquor.

phone: +1 864 451-7490

address: 23 West Washington Street

Belgian restaurant and bar, with a huge selection of Belgian and Belgian-style beers and excellent mussels.

phone: +1 864 271-9166

address: 121 South Main Street

Offering traditional Italian cuisine, this was a favorite dining spot for actors George Clooney and Renee Zellweger during the Upstate filming of the 2008 film, Leatherheads. The dining room is elegantly casual, and reservations are strongly recommended. Patio dining is available if the weather permits.

phone: +1 864 467-1000

address: 22 North Main Street

An eclectic fare of gourmet wood-fired pizzas are a specialty, with sauces made fresh daily and in such intriguing combinations as roast chicken with basil pesto. A wide variety of homemade pasta dishes like sautéed crawfish and rotini are another specialty of the house. Rotisserie chicken as well as a variety of wraps and sandwiches round out the menu. Enjoy your meal outdoors, weather permitting.
Falls Park and the West End
Eastside
phone: +1 864 232-7774

address: 240 Wade Hampton Blvd

Get your BBQ fix at what some aficianados consider the best BBQ in town. As befits the food, simple decor, but a pleasant outdoor seating area with a view of the highway.

Pita House

phone: +1 864-271-9895

address: 495 S Pleasantburg Dr

The best Middle Eastern food in Greenville is at the Pita House. Casual dining and a family atmosphere.
Southside
phone: +1 864-242-0316

address: 1818 Augusta Street

Classy restaurant offering New American small plates & entrees, plus wine and a full-bar.

phone: +1 864-373-9013

address: 1922 Augusta Street #111-A

Warm, relaxed restaurant lined with wine racks that serves both French and Italian food.

phone: +1 864-412-8150

address: 3016 Augusta Street

New and upcoming bar and grill offering American fare.
Drink
Alcohol
phone: +1 864 232-4677

address: 217 North Main Street

A Greenville landmark known for signature beers and an ever-changing seasonal brew lineup. Handcrafted ales brewed on site by brewmaster Johannes.

Carolina Ale House

phone: +1 864 351-0521

address: 113 South Main Street

Sports bar. Rooftop seating available, open air weather permitting.

Connolly's Irish Pub

phone: +1 864 467-0300

address: 24 East Court Street

phone: +1 864 631-1144

address: 241-B North Main Street

A craft micro distillery focusing on hand-spiriting small batches of whiskey and other spirits. Tastings and tours offered daily.

Northampton Wines & The Wine Café

phone: +1 864 271-3919

address: 211-A East Broad Street

Retail store and wine bar.

Two Twenty One North Ultra Lounge

phone: +1 864 233-9202

address: 221 North Main Street

This place has a line of more than 100 people on Thursdays, when it is college night 18+. Hip-hop, and dance music, and pricey drinks for Greenville.
Coffee & Tea
phone: +1 864 298-0494

address: 1 East Coffee Street

Locally-owned coffee house and bistro with a cozy & friendly atmosphere. Take in performances in the Theater, where weekly performances by comedians, poets & singer-songwriters are hosted. Coffee roasted in-house. Also serving beer, wine, and cocktails.

phone: +1 864 735-8407

address: 101 North Main Street

Cool, hip and cozy coffee spot serving college kids & locals.

phone: +1 864 283-6702

address: 300 Riverplace Suite #122

Cozy corner cafe spot serving bubble & loose-leaf teas, pastries, sandwiches and coffee too.
Sleep
Cope
Consulates
phone: +1 864 879-9334, +1 864 313-9437

address: 150 W Phillips Rd Ste F, Greer
Go next
phone: +1 864 244-5565

address: 2401 State Park Road

15 miles of hiking/biking trails (no biking on Saturdays).

Table Rock State Park3,083-acre park at the edge of the Blue Ridge Mountains in northern Pickens County, South Carolina. The park includes Pinnacle Mountain, one of the tallest mountains in the state.
Upstate
Clemson - home of Clemson University, 45 minutes away from Greenville by car
Lake Hartwell - bordering Georgia and South Carolina, this lake is used for fishing, sailing, and waterskiing. Boats can be rented for the day at numerous marinas.
Spartanburg - Greenville's sister town with a charming downtown and numerous college campuses for biking or taking a stroll.
Out of state
Due to being within an hour of North Carolina and Georgia, there are many out of state day trips available from Greenville.
Western North Carolina - A great way to spend the day away from Greenville is by taking a day trip to go hiking in western North Carolina. Take the scenic US 276 from downtown Greenville towards Brevard, NC. Stop by Dupont State Forest, where part of The Hunger Games was filmed, and hike to see some of the numerous waterfalls. Continue towards Brevard for a stop for lunch, and follow US 276 into Pisgah National Forest. Opt to take a trip down Sliding Rock, a 60 ft high natural water slide into a pool of water, or stop and see the roadside Looking Glass Falls, one of North Carolina's most popular waterfalls. This area is particularly beautiful in Autumn.
Continue on US 276 until it reaches the
Blue Ridge Parkway
. Take pictures over the gorgeous overlooks as the sun dips in the sky, and continue to
Asheville
for dinner. Take I-26 south back to Greenville to complete the loop. Dupont State Forest, Pisgah National Forest, and the Blue Ridge Parkway are all free.