Greifswald
Greifswald
is a town in
Mecklenburg-Western Pomerania
in
Germany
.
Understand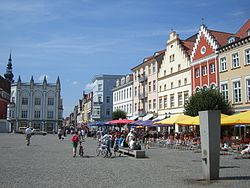 Greifswald is a very old town and gained city rights as early as 1240. In 1278, Greifswald became a part of the
Hanseatic League
and in 1456, the university was founded.
From 1648 to 1815, Greifswald was a part of
Sweden
's northern German territories. Following the
Second World War
, the town became a part of the Soviet occupation zone. The town fared rather well during and after the war, but during the Soviet and East German reign, the economy and infrastructure declined. Following reunification, huge sums of money have been pumped into the area to help improve the situation and lower the unemployment rates.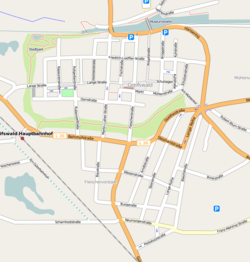 Get in
The easiest way to get to Greifswald is probably by car, but there are other options. Going by air is restricted to season.
By air
Heringsdorf airport
(
HDF
) on the island of Usedom sees some seasonal service from the likes of Eurowings.
The airport is not connected directly to the railway network, but you can take a bus or cab to the next train station and take the train from there.
Somewhat further away is Rostock-Laage (RLG) airport which mostly serves cruise passengers leaving or arriving at Rostock-Warnemünde. That airport is likewise not connected directly to the railway network, bu it sees som service through Intercity buses.
The Berlin airports Tegel (TXL) and Schönefeld (SXF) see much more service but are some three hours away by train Tegel is not connected to either the Berlin U-Bahn or the S-Bahn so you'll have to take a bus to the next station.

By train
Deutsche Bahn, operates trains to and from Greifswald. The journey from Berlin takes about 2 h 45 min and the ticket is ca €32. A ticket from Stralsund is about €9 and takes roughly 20 minutes. Tickets may be purchased on board (Note: only on inter-city trains, additional fees apply) at railway stations, in ticket machines, through the web page of Die Bahn or through their call center, phone: +491805996633

By car
From north: Road 251 from Stralsund. This is a ring road around Greifswald, so to get into the town, turn off into road B96/B109.
From east: L26
From south: E251. Trun off into B96/B109 and B109 leads to the town center
From west: L26, L261.
By boat
The nearest major harbour for passengers is Sassnitz on the island of Rügen. Three major ship-owners operate ferries to and from Sassnitz:

Get around
The town center is small and the streets are narrow, which makes it better to park the car on the outskirts and walk.
By bus
Stadtwerke Greifswald
runs the six (1, 4, 5, 6, 7 and 20) bus lines in Greifswald. All lines, except nr 5, leave from and/or pass the bus station (
ZOB, Zentraler Omnibus-Bahnhof
) in the western part of the town centre. Note that the lines may take different routes depending on time and day.
Line 1: ZOB - Bahnhof Süd (Greifswalds southern railway station) - Galgenkampwiesen (Neuer Friedhof, The New Cemetery)
Line 4: ZOB - Schönwalde - ZOB.
Line 5: Wieck-Ostseeviertel - Schönwalde I/II - EKZ, Elisen Park – Bahnhof Süd - Schillerplatz-Galgenkampwiesen.
Line 6: ZOB - Dompassage - Wieck/Brücke
Line 7: ZOB - Bahnhofstrasse - OEZ-Wieck/Brücke
Line 20: ZOB-Ostseeviertel-Schönwalde-Neuer Friedhof
By bike
Being a university town with many narrow streets, Greifswald is considered a "bicycle city", even though that fact is not as well known as it is about places like
Erlangen
or
Münster
. If you are in town for more than just a day, consider renting a bike and exploring the (rather flat) surroundings as well as the city by bike. Besides giving you exercise it is often the fastest and most straightforward method of getting around.
By car
The town center is small with narrow streets. It is better to park the car and walk. If you want to rent a car, you can do it here:
Sixt, Stralsunder Strasse 27-30. Phone: 03834-50 88 10. Open: Mon.Fri 0800-1800, Sat 0900-1200. Closed on Sundays.
Europcar, An Den Bäckerwiesen 12. Phone: 03834-50 06 00.
By cab
See
Rathaus

hanseatische Bürgerhäuser

address: Markt 11 und 15
Do
There are quite a few recurring events worth visiting:
The Theatre Ball (March)
Flower and Easter market (Easter Eve)
The music night Greifswalder Musiknacht (April)
The culture festival Nordischer Klang (The beginning of May)
The dance event TanZZeit, modern dance (The end of May)
Pfingsten Kunst: local artists open their workshops to the public (Whitsuntide)
The pottery market Töpfermarkt (first weekend in June)
The Bach Festival Greifswalder Bachwoche (end of May-beginning of June)
The theatre event Ostseefestspiele (June–August)
The boat festival, featuring dragon boats (third weekend in June)
Eldenaer Jazz Evening (first weekend in July)
The fishermen's festival Gaffelrigg (third weekend in July)
Summer night shopping (end of July)
The theatre festival Fantakel (beginning of September)
Day of the historical monuments Tag des offenen Denkmals (second Sunday in September)
The culture night Greifswalder Kulturnacht (third Friday in September)
The harvest fête/market Erntedankmarkt (third of October)
The dance night Greifswalder Tanznacht (mid-October)
The dance event Tanztendenzen (mid-end October)

The festival for Polish cultur, music, literature and artPolenmARkT (end of November)

Advent in Greifswald, including a Christmas market with handicraft, pottery and 70 different cultural events (Advent Sunday and onwards)
Buy
ATM's can be found at Sparda-Bank at Schuhhagen 2. The general currency, as in the rest of Germany, is euro. Most credit cards are accepted, but always check before you buy - some restaurants or smaller shops do not accept credit cards.
The pedestrian street Lange Strasse has many small shops.
The shopping mall Dompassage in central Greifswald has about 30 shops, a bowling alley and a cinema.

Elisen ParkIs a shopping mall with around 40 shops, cafés and restaurants. Most shops are open Mon-Fri 0900-2000, Sat 0900-1800. Closed on Sundays.
Eat
address: Rossmühlenstrasse 25

This restaurant, situated in the hotel with the same name and on the very edge of the town center, next to the river Ryck, has a big and tasty menu. The guest may choose to sit in the bar or in the restaurant, parts of which has glass walls and roof.

address: Am Hafen 1a, Wieck
Drink
address: Am Markt 13

Zum alten Fritz is a pub at the very heart of the town center, on the town square Am Markt. Apart from the local beer, snacks and light meals are served. Should you want to try all the beers available, why not order "Ein Meter Bier", i.e. "One Meter of Beer". You get a plank, a meter in length, with eleven small glasses.
Sleep
Connect
Mobile telephony/broadband
The town has excellent coverage for both 2G and 3G.

Go next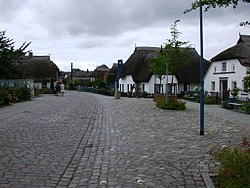 The fishing village Wieck, today more or less a part of Greifswald, lies only a few kilometres east of the city center. This is a nice little village, featuring an old village center and the ruin of the monastery of Eldena, destroyed by Swedish forces in the 1600s.