Grenoble
Grenoble
is a city of around 158,000 inhabitants (550,000 taking into account the metropolitan area) in the
French Alps
.
The climate is quite cold in winter, with days of snow almost every year. Summers are known to be hot, as mountains surrounding the town stop any wind. Grenoble is crossed by two rivers, the Drac and the Isère ("the lion and the serpent"), and is surrounded by three mountain chains, the
Vercors
,
Chartreuse
and
Belledonne
.
The city is renowned for its universities on the campus, for its scientific research centers in the northeast of the city, including Minatec for nanotechnologies, CEA the French Alternative Energies and Atomic Energy Commission, a French National Center for Scientific Research agency , the European Synchrotron for high-brilliance source of X-rays, the Institut Laue-Langevin for the most powerful source of neutron in the world, the EMBL the Europe's flagship laboratory for the life sciences as well as for its industrial center in the western suburbs : Meylan, Montbonnot and Crolles including high-tech companies such as STmicroelectronics and Motorola. Therefore it hosts a relatively large population of foreign scientists and students.
Get in
By plane
There are three airports near Grenoble:
Easyjet
and
Ryanair
and
Norwegian Airlines
offer flights.
Its about 40 km from Grenoble, or about 35 minutes by
coach
for €12.50 one way/€22 return, although only run a few times a day.
Ben's Bus
run shared ski transfer buses from Grenoble Airport to surrounding ski resorts, including Alpe d'Huez, Les 2 Alpes and Chamrousse
Lyon Airport (LYS), also known as Saint Exupéry formerly Satolas, is farther away, about 100 km (1 hr by bus, car or train). Buses go hourly to Grenoble for €22 one-way, or €33 return (valid for 2 months) ticket. TGV trains from Lyon airport to Grenoble run several times per day.
Geneva Airport (GVA), 157 km from Grenoble, is a usual destination of many flight companies, and can be cheaper than Lyon airport. Grenoble can be reached by car in less than 2 hours. By train (several times daily) it takes about 2 hours; the price is €23.60 full price. There are also direct buses from Geneva airport to Grenoble railway station for €45 (see timetable ). Geneva, as a Swiss city, uses Swiss francs; nearly all retail outlets in Geneva accept Euros but change is given in Swiss francs. Geneva Airport has a "French part" that does not require to enter into Swiss territory if you come from France and your destination flight is to France, though this only matters for customs as France and Switzerland are under the same immigration scheme.
Grenoble also has a little landing-strip (900 m) in the village of Le Versoud (15 km away):
By car
Follow the highways from:
A41, Geneva (via Chambéry)
A48, Lyon and Paris
A49, Valence and Marseille
A51, Aix-en-Provence
Grenoble can be difficult to navigate by car, but once you get there the "Park and Ride" (
parking relais
) system operated by
Tag-parking
is a good way of getting around. (see trams and buses)
By train
Several high speed trains (TGV) from SNCF link
Paris
to Grenoble directly every day, for a three-hours trip of 640 km. Full price is about €70 for a one-way ticket. Young people and students will be entitled to a découverte discount which can reduce ticket prices by 25%. Those staying for more than a few months and/or planning to travel by train a lot are advised to purchase a 12-25 card (€50) which gives 25 to 50% discounts.
Hourly trains link
Lyon
(Part-Dieu station) to Grenoble, from 05:30 to midnight (05:00 to 22:00 from Grenoble to Lyon). This takes around 1hr 15min to 1hr 30min with the TER (regional trains) . Full price is €20.20. The train schedule sometimes includes TER buses. The price is the same, the duration is the same, they start at the same station and arrive at the same point.
TER trains also link the city to Geneva in Switzerland (2 hr), to southern Alps (Gap, Sisteron) and to Valence (1 hr) where you can change for the TGV to Southern-France.
Get around
By car
Avoid rush hour (07:00-09:00 and 17:00-18:00) on highways around the town as you are likely to lose time in traffic jams.
Car club
Alpes Autopartage runs a car club in Grenoble. For a minimum duration of 3 months, and a nominal monthly fee of €12-15, you can use any of their 21 cars for as short as 1 hr to as long as several days. Some cars with winter tires in season, ski racks, etc.
By taxi
By regional bus
Many regional buses can take you from the bus station (
gare routiere
, by the train station) to ski stations and several towns in the surrounding countryside. For example, Grenoble to Chamrousse (bus 6010) ski station costs €2.70. It is better to buy tickets in advance for access to ski stations in high season- if the bus is crowded, you get priority. Tickets are sold at the main bus station and at the tourist information office (French:
Maison du tourisme
) which is on tram lines A and B (stop: Hubert Dubedout - Maison du Tourisme).
Information on regional buses
VFD/
(in French only, but finding buses' schedules is easy). Be aware that the winter schedule (
saison neige
) is not the same as for the rest of the year.
By tram or city bus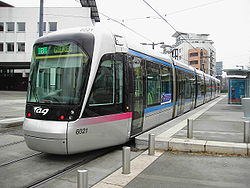 Five tram lines cross the town with services every few minutes (less frequent on Sundays or at night) and an extensive bus network operates within the city itself, the suburbs and villages further out. The bus network typically stops service at 20:00 or 24:00 for the 7 CHRONO bus lines, whereas most of the tram network runs until 01:00. Individual tickets cost around €1.60 at the tram station or €2.10 or on the bus, less if bought by 10 or 30. Daily (€5), weekly and monthly passes are available with discounts for students. Tickets are valid for one hour of travel across the TAG network (bus and tram). Tickets can be bought in the bus from the driver, and from machines on the platform for tramways, or at the Maison du Tourisme. You must stamp (
composter
) your ticket for it to be valid: this is done on the platform at the tram stop or on entering a bus. Ticket inspections are frequent, even during weekends.
Information can be found at
TAG
and maps at (in French).
Disabled travelers
The entire tram network and many bus routes have been adapted for wheelchair users. The flatness of the city means it is generally very accessible.
By bicycle
Despite its mountainous surroundings, Grenoble itself is one of the flattest cities in Europe, so cycling is an easy way of getting around. Pleasant recreational cycle routes follow the Drac and Isere rivers. An old bicycle track along the Isère river passes in front of the town centre, and the main boulevards have dedicated cycle lanes. Bicycles are allowed on some smaller streets, but riders often have to use the same lane as buses.
It is possible to rent bicycles for a day, a week or longer at the railway station and other
MetroVelo
offices- €3 a day and about €15/20 per month. For more information: métro-vélo .
The service is extremely inefficient (20 min paperwork per person are required), so expect up to an hour to rent
and to return
a bike (which may be a problem if you shall take a train shortly after!).
However, the town is walkable and bicycle rides not essential if you are focusing around town area.
See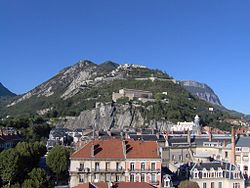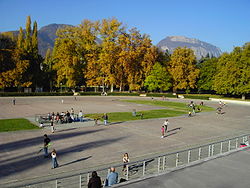 Bastille HillAn ancient series of fortifications overlooking Grenoble. May be reached by cable car , round trip €8, or by a 40-minute hike. Enjoy the spectacular panoramic view of the city and surrounding mountains from the top. On the Saint-Laurent side, giant stairways are impressive to climb or descend.

Parc Paul Mistralis a big park in the center of the city. It includes a roller skating rink and people often play street hockey. The park also boasts extensive lawns and quiet tree-lined avenues. At the center stands the tower Perret, built in 1925 for an international exposition about water-power. When illuminated at night with blue lights, it bears a considerable resemblance to both Dr. Who's sonic screwdriver and the Tower of Mordor. For at least 50 years, it has been impossible to go up due to safety problems. After renovations, the tower will reopen to the public in 2022.

address: 5, place Lavalette

The museum is worth seeing for the modern, smart building alone. It houses paintings of the Florentine school, majestic large formats of French, Flemish, Dutch and Spanish schools and also houses a nice collection of modern art; among others, the museum holds four Picassos, a few good Matisses, one Miro, one Kandinsky and one Andy Warhol. Two rooms contain antiquities from ancient Egypt, with particularly beautiful sarcophagi, the city of Grenoble is linked to the story of Champollion and that of Egyptology. The museum also organizes two exhibitions every year.

Muséum d'histoire naturelle de Grenoble

phone: +33 4 76 44 05 35

address: 1 rue Dolomieu

Facilities for the disabled. The museum has some nice collections on the subject of mineralogy and Alpine wildlife, and also houses an aquarium.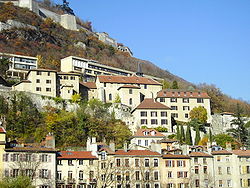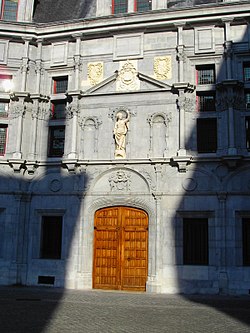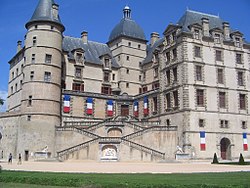 St. Roch Cemetery (French: Cimetière Saint-Roch) is the first municipal cemetery in the city of Grenoble, France. Blessed by the bishop of Grenoble Claude Simon on 19 August 1810. It is the largest cemetery in the city with 13 ha, (32.11 acres). It's on rue du Souvenir, alongside the Isère, in the district of Ile Verte. It is the only cemetery intramural city and has 25,000 graves (824 classified as remarkable) over an area 13 hectares. Political leaders, military or artististiques are buried in this cemetery. But the most important tombs are represented by manufacturers of gloves. Sculptors Victor Sappey, Henri Ding, Eustache Bernard, Aimé-Charles Irvoy, Urbain Basset are buried in this cemetery. Many mayors of the city since the French Revolution's are buried in this cemetery. Since Joseph-Marie de Barral, mayor in 1790, to Albert Michallon, mayor from 1959 to 1965. The painters Jules flandrin and Jean Achard are buried in St Roch. The most prestigious monument in Saint Roch cemetery is the chapel of Saint Roch, built in 1826 to replace the old chapel bearing the same name, built in the fifteenth century near a hospital for lepers.
Palace of the Parliament of dauphiné, the courthouse until 2002. (Place Saint Andre). A 15th-century building belonging to the Isère Council. An ongoing renovation project will give this building new lease of life whilst respecting its patrimonial character and adding a modern touch at the same time.
The Cathedral (place Notre-Dame, tramway B) has been extensively restored in recent years. A free tourist guide gives a potted history of the building and some of its works of art (in French, with an English translation written by a native speaker).
Saint-Louis Church (place Victor Hugo, tramway A, B, buses 3, 13, 33, 34)
Musée Hébert opened in La Tronche in 1934 in the house of Ernest Hébert, a French painter also director of the French Academy in Rome.
Museum of French RevolutionThe Musée de la Révolution française (Museum of French Revolution) is a art museum housed in the Château de Vizille, which has a long history of artistic conservation. A little city about 14 km in south of Grenoble. Several busts are faithful representations of Antoine Barnave, Bailly, Mirabeau, Louis XVII, Robespierre, Danton and his wife Antoinette, and General Lafayette. Among his many paintings, it houses the first representation of the French Republic, a small painting painted by Jean-Baptiste Wicar in 1793.

Musée ChampollionThe Museum of Champollion hosted in the family home Champollion. Jean-François Champollion and his brother Jacques-Joseph lived in Grenoble for 17 years. Vif is a little city about 10 km in south of Grenoble. Opening in July 2020.

The little train of La MureA travel with 18 tunnels and a spectacular view on the river Drac and the dam of Monteynard. Saint-Georges-de-Commiers, 17 km from Grenoble. Unfortunately a major rockslide in late 2010 caused the closure of the line. Reopening is foreseen for July 2020.
Do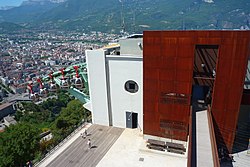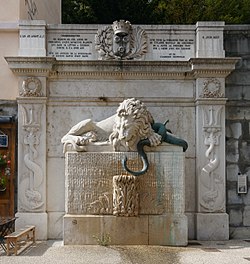 phone: +33 4 76 33 44 44

address: Quai Stéphane Jay

The cable car is the easiest way to see the town from above, and the trip in the plastic bubbles is impressive. Priced at €5.50 one-way, €8 round trip, with discounts for students and under 15s. Free for under 5s. At the summit (some 260 m above the town) is a 19th-century fortress, La Bastille. When you arrive at the top, you can explore the fortifications, have a meal or light refreshments, follow winding paths further up the mountainside or simply enjoy the view (on a clear day Mont Blanc is visible in the distance). If you take the path (GR9) to the rear of the Bastille, you can walk approx 20-30 mins further up to Mont Jalla to get an even better view, where there is a memorial to the mountain troops who fought in WWII and a monument erected on the 60th anniversary of the liberation of Grenoble (1944). You can also walk up to the Bastille via one of several paths or go by car from the city of La Tronche. Paths start from the Fountain of lion on the East side, (this path is called Montée Chalemont) or a park on the West, near the large arch (called Jardin des Dauphins).
With three mountain ranges on the doorstep, Hiking and climbing are very popular. The place to start is the Maison de la Montagne (3, rue Raoul Blanchard), where you can browse maps and helpful staff (several English-speakers) can help you choose a route according to your level of fitness and the time you have on hand. For short walks around the city, ask for the "Carte des Sentiers Sipavag" (a free hiking map) at the Tourism Office (4, rue de la République) or Maison de la Montagne, close to the Hubert Doubedout tram station. Also look for the "Guides des Balades" at the TAG office (in the same building of the Tourism Office)- a nice add-on to the Sipavag map which lists a number of parks and hikes you can reach with public transportation. The new edition for 2007 includes over 50 different walks, from half-hour strolls to full-day hikes. You will also find suitable maps at any bookshop; the best ones are published by the IGN (National Geographic Institute) and Didier Richard. Without proper maps, the trails can be confusing and you may be lost in the many turns, steps, ups and downs. However, if you are careful to observe and follow the colour codings on trees and at key turnings, then it can still be an enjoyable alternative way of getting up or down the mountain.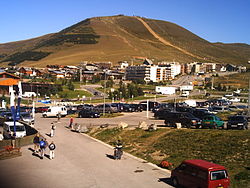 In winter, skiing is a popular activity, which is unsurprising given the historically ski-friendly terrain; Grenoble hosted the Tenth Winter Olympic games in 1968. The nearest ski stations are only 45 min from Grenoble by car. Stations close to Grenoble include Autrans (1000 m up in the Vercors), Chamrousse (1700 m - 2200 m, in Belledonne). Avoid the two last two weeks of December, which are overcrowded at all ski stations and the most expensive of the year. During high season there are also several daily buses to big ski resorts such as Deux Alpes and Alpe d'Huez (1hr 30min trip). Tickets can be bought at the Gare Routiere and they offer reductions when buying bus tickets and ski passes in combination. If skiing's not your thing but you still fancy a snowy outing, you might like to try snowshoeing- many centres around Grenoble offer half- or full-day excursions, ask at the Maison de la Montagne or the Maison du Tourisme.
Mountain lakes are a great place to visit during a hot summer day, to swim or just to admire the landscape. For example, the Lacs Robert and Lac Achard are one or two hours hike from Chamrousse. Several paths are available, some suitable for the whole family, others advised for adults only. Also, Annecy- a small, historic city on the edge of a beautiful lake, perfect for swimming- can be reached by train in 1hr 30min (up to €32 return trip). Fishing in lakes and in some rivers is allowed, but (like everywhere else in France) a permit is required. For information about fishing, contact the local fishermen's union (French: Union des pêcheurs à la ligne. 8, rue Ampère, tel. +33 9 50 35 11 73, fax +33 4 76 49 02 17, e-mail: union.pecheurs@wanadoo.fr
Moucherotte mountain, the hardest (and best) way to see the town from above, for hikers willing to spend nearly a whole day. Go to Saint-Nizier-du-Moucherotte by car or regional bus (bus 5100), then follow the path to the top (you will start at 1000 m and go to 1900 m). The view of the town is stunning. A lot of people use this path on Sundays in Spring and Summer, so you're unlikely to get lost.
For more ideas visit the Isere Tourism Board.
Learn
Grenoble has been a center of academic excellence since the 14th century. The main universities share a large, modern, purpose-built campus in St Martin d'Heres (accessible by tram, lines B, C and D). There are universities for science and technology (Joseph Fourier), Humanities and Social Sciences (Pierre Mendès-France), Languages and Literature (Stendhal) and Political Sciences (Sciences PO). Grenoble also hosts several
Grandes Ecoles
- engineering schools in physics, chemistry, electricity, computer science, and a renowned business school. See
Grenoble INP
and
Grenoble Business School
.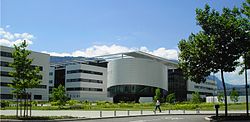 French language courses are available at
Alliance Francaise (English)
.
The Polygone Scientifique contains the
ESRF
light source (a circular building 270 metres wide, very easily visible from the Bastille) and the
ILL
nuclear reactor (the blue windowless concrete pepper-pot near ESRF), as well as an outstation of the
European Molecular Biology Laboratory
.
It is a particularly good place to do post-doctoral work in biochemistry. There is also the
Minatec
building, micro and nano technologies, visible from the Bastille.
The Grenoble graduate school business is good place to learn business and economics that ranked within top 50 graduate schools of
EU
since 2000.
Buy
If you are looking for a big commercial centre with chain-stores, consider Grand Place (tramway A direction Echirolles). Generally very crowded, especially at weekends.
For street shopping, stop at Victor Hugo tramway station (tramway A or B). The tramway station is next to Place Grenette, which is the center of the city. This area is largely pedestrianized. Small, winding streets house many boutique-style shops, chain-store outlets, traditional French cafés and all the usual city centre paraphernalia
If you want a spa/hammam, you'll have to get out of the city and head off to the outskirts such as Echirolles or Meylan.
Another shopping center with chains stores is La Caserne De Bonne (tramway C, direction Seyssin- Le Prisme). There are outdoor sports stores (such as Decathlon or Le vieux campeur).
The markets. There are several daily food markets in the city centre. The most centrally located, are at Sainte-Claire Les Halles (near the Cathedral) which has a covered food hall (housing cheese and butchers' stalls) as well as the outdoor fruit and vegetable market, and Place aux Herbes. Watch out for the grape-stealing pigeons - a great favorite with children but detested by the stall-holders! The best market is probably L'Estacade (6 days per week), under the elevated railway tracks next to Cours Jean Jaures.
The cinemas, you'll find a few within the city center such as in the pedestrian streets or the multiplex Pathé Chavant. If you want to watch an English/American movie with French subtitles head to La Nef on boulevard Edouard Rey, near Victor Hugo.
Eat
If you'd like to have an extensive eatery guide with you on your travels, The Guide du Dahu is probably the best restaurant guide to Grenoble. The work of 20 students of Grenoble business school, it includes 300 pages covering restaurants, bars, culture, sport and nightlife. €2.50 from tabacs and bookshops in the city. The
Petit Futé
series also offers a Grenoble guide, which has an extensive list of restaurants and other businesses.
You can find many good restaurants in the city center, roughly between the Train Station, Place Saint-André and Place Notre Dame. The St-Laurent neighborhood (on the northern side of the Isère river) has a number of Italian restaurants and pizzerias. There are also a number of restaurants that line the Rue Brocherie and the area surrounding Place aux Herbes. In the winter, try typical Alpine dishes such as fondue, raclette and the legendary tartiflette.
La Ferme à Dédé
, at 24, rue Barnave, has a menu with many local and regional specialties.
Budget
Cadet Rousselle

address: 3, rue Millet

Has an excellent crêpe selection with prices for crêpes salés ranging from €4-9.
Restaurant Kori Tika, 99, rue Saint Laurent, (+33) 4 76 42 63 04 Located across the Isère, a South American restaurant with main dishes ranging from €8-15.

address: 4 rue Brocherie

While not really related to Mexican tacos, this fast food French interpretation can be interesting. For €5-6, you can enjoy a Cordon Bleu "taco".
Boulangeries and Patisseries- these little bread and pastry bakeries not only have wonderful tarts and cakes, but they also sell small quiches, panini (grilled Italian sandwiches), and cold sandwiches. Grenoble is the walnut capital of France so look for small cakes (gateaux) with walnut cream, especially during the winter. Other specialties include Chartreuse (a herbal liquor traditionally made by the monks of Grande Chartreuse, a monastery high in the mountains about an hour from Grenoble).
Mid-range
phone: +33 4 76 46 32 62

address: 4 rue de Strasbourg

Not a restaurant, but a world-renowned cheesemongery. Recommended if you want to discover any of their 1200 kinds of cheese, sourced from all over the world. Cheese prices range from grocery store pricing on up.

La Fondue

phone: +33 4 76 15 20 72

address: 5 rue Brocherie

Well known in the southeast of France and western Switzerland, fondue is a traditional dish during the wintertime. La Fondue restaurant serves traditional fondue (emmental and gruyère cheese) with mix ins as well as some non-traditional fondues (cheddar, for example). There is a lunch menu for €15.50/person (Feb 2015) that includes basic fondue, salad, wine, and coffee; dinner prices are similar but include less. You need at least 2 people to order fondue.
Splurge
Auberge Napoléon, 7 rue Montorge, Grenoble +33 04 76 87 53 64, near the "jardin de ville"
Restaurant Les Terrasses, Place Déesse Hygie, Uriage-les-Bains : Tél. +33 4 76 89 10 80 ; Fax. +33 4 76 89 04 62 ; (Uriage-les-Bains, a small health resort 10 km from town hall of Grenoble). This is the only local restaurant with two Michelin stars (and prices to match, of course).

La Madelon

address: 55 Avenue Alsace-Lorraine

Elegant yet trendy restaurant close to the train station and business school focusing on regional cuisine in a very relaxed atmosphere with English speaking wait staff. Open lunch and dinner Monday-Saturday.
Drink
There are bars and pubs in the downtown area, especially between Place Grenette and Place Notre Dame.
Les Frères Berthom
, near Place Notre Dame, offers a variety of local brews and a lively ambience.
Couche Tard
,
Bukana
, and
London Pub
cater to Erasmus, international, and American study abroad students.
At Place Saint-André, you will find
La table ronde
, founded in 1739 as the second oldest café in France to Le Procope in Paris.
In the nearby city of Voiron (25 km north-west of Grenoble) are the Caves de la Chartreuse (+33 4 76 05 81 77), where the famous liqueur is made by the Carthusian Monks. It is claimed to be the largest liqueur cellar in the world. Free guided tours are provided, with a tasting session in the end. Opening hours are 09:00-11:30 and 14:99-18:30 (closes at 17:30 and weekends from November to April, no lunch break in July and August). See for more information.

address: 2 place Berulle, 38000, Grenoble

This is a nice big family pub with a large terrace. One of the best pubs in Grenoble with plenty of Anglophones as well as locals.
Sleep
Budget
phone: +33 4 76 96 45 73

For those who like to pitch a tent and pack out everything they've packed in.
Auberge de jeunesse de Grenoble : Grenoble Youth Hostel, +33 4 76 09 33 52, 10, avenue du Grésivaudan, 38130 Echirolles.
Tulip Inn Hotel D'Angleterre, 5 Place Victor Hugo. With rates €59 and up, this hotel is a great budget option in the center of the city.

address: 22 place Grenette

Rates starting at €31 for a single room. Well-kept hotel with friendly staff in the centre-ville.
Mid-range
The large chain hotels, such as the Ibis and Mercure, can generally be relied on for comfort and cleanliness. Nightly prices start around €75 in low seasons, and can climb to over €200 during summer.
Citadines City Centre Grenoble

phone: +33 4 76 15 02 00

address: 9-11, rue de Strasbourg

The residence offers apartments ranging from two-person studios to one-bedroom apartments, each apartment houses a bathroom with a separate toilet and a separate kitchen area.
Hôtel Ibis Centre, 5 rue de Miribel, Les Trois Dauphins, Place Félix Poulat, (+33) 4 76 47 48 49, .

address: 27 Quai Claude Bernard

Hôtel Ibis Grenoble université

address: Rue de la Condamine - Gières

phone: +33 4 76 87 88 41

address: 12, Boulevard Maréchal Joffre

Hôtel Mercure Grenoble Président

address: 11, rue Général Mangin

address: 29 rue Pierre Sémard

A modern, comfortable space with WiFi available and good rates. Central location.

address: 6 place de la gare

Central location, good standard of service and comfort, and moderate prices. Great if you just want a nice place to rest.

address: 25 avenue Félix Viallet

Very decent prices, lovely views of the city, good service and comfortable rooms.
Splurge
Park Hotel Grenoble - MGallery Collection

phone: +33 8 20 13 10 20

address: 10, Place Paul Mistral

Deluxe hotel, renowned for its professional service and old-fashioned charm. Located near a park with a path for jogging/biking. The well-regarded restaurant serves food all day until midnight. It is undergoing gradual renovation after joining Accor's MGallery Collection.

phone: +33 4 76 89 10 80

Place Déesse Hygie; Uriage-les-Bains; (Uriage les Bains, a small health resort 10 km from Grenoble) - Excellent location with all modern comforts, if lacking a bit of charm. Attentive staff and a calm, quiet lobby with sporadic live piano music.
Stay safe
The Drac is a small river and may appear harmless, but the level of water may change quickly, especially when the dam upstream releases water.
Avoid the Villeneuve area at night (the tram stops La Bruyère, Arlequin, and Grand'Place) as well as Village Olympique.
Be aware of pickpockets on the tram and bus lines; though petty theft is not common in Grenoble, it does exist.

Cope
Consulates
Greece

phone: +33 447-647-3923

address: 9 Rue de la Liberte
Go next