Grimsby
Grimsby
is a fishing port in
Lincolnshire
, standing on the south bank of the mouth of the River Humber, on the east coast of England. It merges into the seaside town of
Cleethorpes
, and this conurbation and rural hinterland comprise the unitary Local Authority of North East Lincolnshire, also called Great Grimsby.
Understand
There has been a fishing settlement here for over 1000 years – "Grimsby" is a Viking name – and probably over 2000. It grew up at the point where a creek flowed out of the surrounding marshes into the Humber. The marshes were drained and became farmland in the 17th century but the town remained small until the industrial 19th century. Then the harbour was expanded to accommodate a thriving fishing fleet. The town's civic buildings and sights of interest date from this period and cluster around this first dockland, the Alexandra and Old Fish Docks. Above all Grimsby and Cleethorpes owed their growth to the Victorian railway network, which carried away a boundless supply of fish to the nation's dinner tables, and carried in Yorkshire coal for export, and holidaymakers keen to escape from their mills and collieries to the seaside.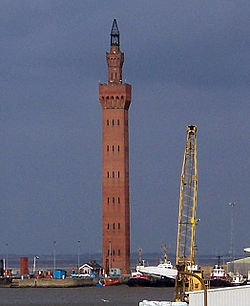 Fishing and sea trade continued to expand in the 20th century and larger docks were built. These remain in use and are busy workplaces, not for casual sightseeing, though in recent years the port owner APH has held mid-summer open days. At its peak in the 1950s, Grimsby was the largest and busiest fishing port in the world. Related industries were the processing of fish and other food (Young's, the seafood firm, are based here), maritime services, and haulage. The big decline began in the 1960s, when Iceland claimed rights to Atlantic fishing grounds (the "Cod Wars") that British fisherman had traditionally used. And fish catches everywhere were dwindling because of overfishing, and restrictive European catch quotas were imposed. Grimsby was never a pretty town, but now it became very run-down, and its modern developments were ugly.
It has survived thanks to new industry along the Humber. Much of Britain's oil comes ashore at nearby Immingham, to be refined and re-exported or distributed domestically. Many of the cars to burn that oil are imported via Killingholme. So, perhaps against the odds, Grimsby is nowadays this country's largest port complex in terms of tonnage. But it has further suffered from the 21st century economic downturn, much remains to be done to regenerate its centre, and the big uncertainty in early 2018 is over the impact of "Brexit" on fishing and other maritime business.
Get in
By car
from the south leave the A1 at Newark, and follow the A46 north-east past Lincoln all the way to Grimsby. Or from the M1, take M18 north past Doncaster to M180 and follow it east. This passes Scunthorpe and the Humber Bridge turn-off, becomes the A180, and approaches Grimsby past the oil refineries of Immingham. From the north, join the M62 and go east to M18, take this south to the M180, then follow this east as above. The last services along the route are at the M18/180 junction, "Doncaster North", there's nothing for 40 miles (65 km) before central Grimsby.
By bus
The chief bus operator in this area is Stagecoach. Most buses run Monday to Saturday only. The "Humber Flyer" runs hourly from Cleethorpes & Grimsby to Humberside airport, Barton Humber Bridge, and Hull Interchange. Bus 53 runs hourly from Grimsby to Lincoln, sometimes with a change at Market Rasen. Bus 51 runs hourly to Louth.
National Express service NX448 runs daily from Hull via Grimsby & Cleethorpes to London Victoria, via Sleaford, Peterborough and Stevenage. Service NX339 runs daily to Cornwall via Newark, Leicester, Birmingham, Bristol and Taunton.
The central bus stops (you couldn't call it a station) are next to Freshney Place Shopping Centre.
By train
Trains run hourly from Manchester Airport via Manchester Piccadilly, Sheffield and Doncaster - change here for London Kings Cross, Leeds and the north. From Hull, take the connecting bus across the Humber Bridge to Barton-on-Humber, from where a single-car train rattles through the fields to Grimsby.
The main railway station is . All eastbound trains continue to Cleethorpes where the railway ends. In between are two small stations, Grimsby Harbour and New Clee. But the Manchester express doesn't stop there, just the slow train from Barton-on-Humber, so you're unlikely to use them.
By plane
Humberside AirportAccess via the Humber Flyer bus. But nowadays it has very few scheduled flights: three per weekday to Aberdeen and Amsterdam, and occasional holiday charters, and that's it.
Consider flying via Manchester MAN (especially given the good rail service), Leeds-Bradford LBA, East Midlands EMA, or the London airports. For Poland and Lithuania however a good option is
Doncaster-Sheffield Airport
(aka Robin Hood), at Finningley some 15 km east of Doncaster.
If your budget stretches to it, the flat lands of Lincolnshire are dotted with small airfields, and HUY is quiet enough to welcome private light aircraft and helicopters.
Get around

Stagecoach buses run between Grimsby and Cleethorpes every ten mins or so (Bus 3 or 9), taking 20 mins. Otherwise walk, or cycle to outlying attractions such as Waltham Windmill or Louth.

See
Grimsby Fishing Heritage Centre

address: Alexandra Dock, Grimsby DN31 1UZ

Explore the history of fishing in this area, and visit an old diesel side-trawler.

The Dock TowerThis impressive local landmark and symbol of the town (as seen on the Young's adverts) can be seen from miles around. An Italianate brick campanile, it was built in 1852 as a water tower to work the dock gates: water was pumped up to the header tank then turned the lock machinery by hydraulic pressure. Only open for the public to climb the tower on occasional special days, see "Events".

The Town Hall on Victoria Street. An impressive Victorian building, tours are available and the Time Trap Museum is also housed here. Ring 01472 324109 for details.

Corporation BridgeA bascule or lifting bridge built in 1925. It spans the entrance to Alexandra Docks, the old fish docks. These are nowadays inactive so the bridge is almost open to traffic. Nevertheless the mechanism is maintained and the bridge lifted for special purposes or for a test, most recently in May 2016.

Grimsby Minster

address: St James Square DN31 1EP

Church of England minster and parish church dedicated to St James. The central tower is medieval, but most of the church structure and interior are Victorian.

address: Brigsley Rd, Waltham DN37 0JZ

A six-sailed, brick windmill, with a mechanism still in working order and able to produce flour. There's also a museum of rural life in Lincolnshire.
Louth is a pleasant market town 15 miles (25 km) south, see that page.
Events: see www.visitgrimsby.co.uk for and www.visitlincolnshire.com for forthcoming events.
Do
Watch football (ie soccer) at Grimsby Town. "The Mariners" play in League Two, the fourth tier of English football. Their home stadium is Blundell Park DN35 7PZ in Cleethorpes, a 20-minute walk from that station and 30 from Grimsby's (or 10 min from New Clee). Don't try to park around here, the Victorian stadium is hemmed in by narrow terraces, and the club are looking for a new site.
Musical and theatrical entertainment is found at the Grimsby Auditorium, built in 1995, on Cromwell Road (DN31 2BH) near Grimsby Leisure Centre. The theatre seating is adaptable so capacity can extend to 2000 audience.
The smaller Caxton Theatre is on Cleethorpe Road (A180) in East Marsh near the docks. The Caxton Theatre provides entertainment by adults and youths in theatre. A notable theatre company in the area is the Class Act Theatre Company run by local playwright David Wrightam. The company produces strong factual drama and premiere award-winning productions.
The Leisure Centre on Cromwell Road DN31 2BH has a swimming pool, ice rink and various gym & fitness facilities.
Visit nearby Cleethorpes for the seaside and related attractions.
In all but the worst weather, walk or cycle the Humber coastline either north or south of the port, for views across the Humber estuary to Spurn Head. (The worst here usually means blowing hard from the NE, creating a stormy "lee shore".) It's mostly a firm broad track along the shore wall, though there are tracts of coastal industry (especially at Immingham) that you need to swing inland to get around. Use OS Landranger Map 113.
With your own car, explore the haunting fenland scenery of Lincolnshire, with windswept fields and big skies. Away from the shore industries, the coast is empty of people and rich in birdlife, and the beaches improve as you move south away from the Humber mud.
Go-karting for both kids and adults at Chequered Flag, Cheapside, Holton-le-Clay DN37 0JE, 6 miles (10 km) south of Grimsby off the A16. For bookings email steve@karting.cc or call 01472 823823.
Skydive: you always meant to try it, you just never imagined doing it in Grimsby. Yet this skydiving centre is one of the biggest and best equipped in the UK. It lies 25 miles (40 km) west at Hibaldstow DN20 9NN, off the A15, and is run by Target Skysports. The usual approach for a beginner is a "tandem" – strapped to an instructor, so minimum training and fitness are needed, but you do need decent weather. Email info@skydive.co.uk or call 0113 250 5600.
Buy
Most shops in Grimsby are in or around the
Freshney Place
shopping centre.
Eat
As a fishing port, Grimsby is famous for its fish and chips. Traditional smoked haddock is a must. The best-regarded fish restaurant is Steels in
Cleethorpes
market place, see that page. There are lots of small eateries: Indian, Italian, and so on. For something different, eat Greek at Othello's at 25 Bethlehem Street DN31 1JN.
The stand-out restaurant in this area is the New Inn at Great Limber DN37 8JL, 10 miles (16 km) west on the A18. It's also a hotel. For bookings call 01469 569998.
Drink
Hewitt Brothers, local brewery
Yarborough Hotel
The Riverhead complex has several bars & clubs as well as shopping outlets
Sleep
phone: +44 1472 806000

address: 3 - 9 Wellowgate
And see entry above for the New Inn at Great Limber.
Stay safe
There's a run-down, rough edge to Grimsby. You should be safe enough daytime but at night the main area to avoid is around the docks, Riby Square and Freeman Street. For a quiet drink with your friends, maybe head for Cleethorpes.

Go next
Hull and
Lincoln
are day-trippable from Grimsby but deserve a longer visit. Further afield lie
Leeds
,
York
,
Sheffield
and
Manchester
.
Driving south, you can go inland via
Louth
, an attractive market town much used for 1950s TV locations. Or follow the coast road through Mablethorpe and Skegness to approach the Wash, with Boston or delightful Stamford as the next night's stay. Beyond that, consider Peterborough, Cambridge and East Anglia.