Grodno
Grodno
(Belarusian: Hrodna, Russian: Grodno) is a city in
Belarus
, on the Neman River, close to the borders of
Poland
and
Lithuania
(about 20 km and 30 km away respectively).
Understand
This is a very pleasant town, with a nice pedestrian area and central square worth a visit, but it may remind you more of western Europe than the former
Soviet Union
until you get out of the center. There are still some interesting remnants of the Soviet era which might be hard to find elsewhere, such as Lenin statues or some street names.
Get in
Visa-free regime
You can get to Grodno and its surrounding area including popular Augustow Channel without a visa for up to 10 days. You have to use some of the local tourist agencies, from which you have to buy some
tourist services
, at least two per day. Also, you have to buy a travel insurance from the agency, no matter if you already have one. These tourist services include tickets to the castle, museum, zoo or nightclub. Usually, the tourist agency will allow you to select one such tourist service and force you to buy a second one, which is not very useful and is their source of income. Overall, this should cost about €15. If you want to stay for more than one day, you have to provide the tourist agency with the details of your accommodation, but staying more than one day is not necessary if you are just looking for a scent of the last dictatorship in Europe.
There are numerous tourist agencies, you can find their extensive list on the Visa-Free Regime
official website
.
Belarus Visa Free
agency seems to be the most popular, providing the right papers as well as detailed information. However, you have to buy "Taxi ride in Grodno area" for €10 if buying your visa-free access with them.
By plane
On Fridays and Tuesdays, there are flights from
Kaliningrad
. Kaliningrad to Grodno at 09:10, and Grodno to Kaliningrad at 11:30. Flight duration is around 45 minutes.
By train
The train station at Grodno is where the change of car trucks (wheels and axles) takes place to accommodate different track gauges on east and west routes. It is a place of almost terrifying size, disorder and noise.
Carriages are uncoupled from the others and, in turn, lifted about ten feet as the trucks are changed. This is done without notice and while the operation takes place one has a good view of the acres of rusted, obsolete and unused equipment that litters the area.
Domestic trains from
Minsk
are daily, departing 16:22 taking five hours, with several night trains.
There are several international trains from Russia, the one from
Moscow
is daily and for a 16-hr journey. From
Saint Petersburg
there is up to three departures a week taking 22 hr. During summer additional routes are added,
Odessa
(39 hr) via
Kiev
,
Simferopol
(37.5 hr) and
Sochi
(62 hr). From Poland, you can take a train in
Białystok
. There are two direct trains per day, at 06:50 and at 19:02. A ticket is about 20 zlotys.
Cigarette smuggling is very common, and many people will be doing it.
By car
Roads are pretty good, you can easily get here from
Minsk
,
Brest
,
Vilnius
(Lithuania),
Białystok
,
Warsaw
(Poland).
Be aware of borders, and possible waiting in line (especially on the Polish border
Kuznica
-
Bruzgi
or, with usually smaller lines,
Berestavitsa
). Even if there are only a few cars waiting in the line, you might spend there considerable time due to their still surviving Soviet police attitude. To get your stamp, you have to be proactive and decently remind the policeman of your presence.
If coming by car from Poland or Lithuania, be sure to fill the customs declaration, even on one day trip using the visa free regime. You can
fill the declaration online
and just bring a printed copy of it. When coming from Poland, do not use the motorway bypass of Grodno, as a motorway fee is required for this and there are reports of cops checking for these just after the beginning of the bypass near the Polish border. You can pay the motorway fee at the first petrol station beyond the border, but there is no need for it if you are going only to Grodno.
By bus
There are a lot of buses from
Minsk
(costs around 45
Belarus rubles
for the express route, which takes 4 hr) from Vostochnyj Station or from Druzhnaya Station (behind the main train station), few from
Brest
(the same price), few from
Vilnius
, one bus from
Warsaw
(departure around 10:00-11:00 from Warszawa-Stadion station); a few buses from
Moscow
.
Get around

There are plenty of buses and trolley buses going around town. In the evenings though, they get down to travelling on the outskirts once an hour or two. A ticket for a trip costs 0.13 rubles. Buy the tickets from kiosks near the bus stops. If you speak no Russian, just say "Talony," and hold up fingers to indicate how many.
When you get on the bus, find a grey metal device that they have near the windows, put your ticket in and clamp down on it with a little lever next to it. Then, it is validated and if a ticket controller comes in, you will get no fine.
Taxis are cheap and plentiful: taxi trips within the city cost about BYN5.00.

See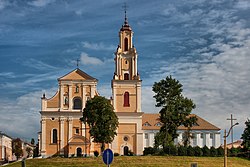 Kalozha ChurchA 12th-century Orthodox church, one of the few surviving monuments of the Old Rus period in the country.
St. Francis Xavier CathedralA fine Baroque basilica, once a church of a Jesuit monastery, now the city's Roman Catholic cathedral.
Old Hrodna CastleThe present appearance of this royal residence was mostly shaped in 16th century, when it was renovated in Renaissance fashion for King Stephen Bathory. Only a few elements of the previous Gothic castle survive.
Fire TowerThe old Fire Tower built at the end of 19th century. Every day at midday a trumpeter dressed in historic costume goes 120 stairs up and plays a tune on the top of the tower. Interestingly, a fresco on the tower has a lady with the face of Mona Lisa.
Hrodna ZooHrodna Zoo is next to the railway station. It was the first Belarusian Zoo, opened in 1927. There are over 300 kinds of animals in the Zoo nowadays: predators, small predators, hoofed animals, birds and a terrarium. Total area is 5.35 ha.
Do
Bike. The relatively flat and beautiful landscape around Grodno present a good place to bike. When planning your biking trip, use OpenStreetMaps based app, such as mapy.cz, as these seem to have the best coverage.
Buy
Booze (especially vodka), cigarettes and petrol are the most popular items for visitors from the west. These are much cheaper than in Poland or Lithuania due to the small excise duty. Also other articles are cheaper, but not that remarkably. You can find numerous large wester style shopping malls in Grodno and surrounding area. When buying petrol, there is no need to look for the best price, as these are the same at all petrol stations. Also, you have to bay for you petrol before fueling. If your tank got full before you could spend all the money paid in advance, go back to the petrol station and ask them to get your money back. No language skills are needed for this, as the petrol station staff will understand what you want.
Be sure not to exceed the import duty. From outside the EU (Belarus), you can import only 10 packages of cigarettes, 1 liter of booze and only the petrol that fits into your car tank, no canisters allowed. Of course, you can bring more if you are willing to fill the declarations form and pay some tax. You can see a lot of people smuggling excess amounts of these articles, but this can not be recommended, as the border controls are sometimes quite thorough.
Rynok Korona
address: ulitsa Maksima Gorkogo 91
A huge supermarket in Wallmart style, conveniently located on the way to Lithuania
Eat
Budget
phone: +375(152)77-17-80

address: Sovetskaya ulitca 18

A popular self-catering restaurant offering European and Belarusian food. Be sure to put the right food on the right plate - watch the other people and do the same.
Mid-range
Retro Pizza

address: 31 Sovetskaya St

Good pizzas here. The menu is only in Russian, but some staff speak English, and some dishes (not the pizzas) have pictures to point to.

phone: +375 15 272 2229

address: 15 Kirova St

Good pizza and poor coffee.
Splurge
Sleep
A good way to find cheap accommodation is to rent an apartment for a short period. You can find ads in the newspaper
Iz ruk v ruki
or on
this website (in Russian)
Budget
Mid-range
Splurge
phone: +375 152 73 98 00

address: woodland Pyshki

All rooms are equipped with telephone, mini-bar, personal safe, LCD/plasma TV, hair-drier, fluffy bathrobe and slippers. High speed Internet access in the lobby.
Connect
EU citizens be careful, as the free roaming area ends here and instead begins an area with extremely expensive roaming, so it might be better to switch off you mobile connection if you are not planning to buy a local SIM card.
Some restaurants feature free Wi-Fi, but this is not as common as in the EU.

Stay safe
Grodno is a safe city, resembling its Polish counterparts much more than you would probably expect.

Cope
Consulates
Lithuania https://consulate-grodno.mfa.lt/

Polish Consulate General in Grodno

phone: +375 152 751 590

address: Budionnego 48A

They might be able to help you if you are an EU citizen and something horrible happens, such as your car dies during a visa-free trip.
Go next
Day trips
Belarus side of Augustow Channel. 30 km away from Grodno, near the
Sapotskin
village and near the Polish border, you can visit the still functional
Augustow Channel
, with interesting drawbridges and sailing chambers. In summer, this place gets quite lively, and you can even get here by boat from
Poland
. From Grodno, you can get here by bike or car.