Grodno Oblast
Grodno Oblast
, or
Hrodna Voblast
, is a region in the western part of
Belarus
.
Cities and towns
— the center of the region and one of the oldest cities in Belarus. Hrodna is a home to a 12th-century church, an old castle, and numerous remarkable buildings from the late 17th-early 20th century.
— a town with several interesting churches and a well-preserved brick synagogue.
— some interesting churches in the town, and more in the neighborhood.
(Дзятлава) — a small town with a nice Catholic church from 17th century and a number of interesting secular buildings.
— a settlement with an old Catholic church and an unusual wooden mosque, one of the few surviving pieces of the traditional architecture of the Belarusian Tatars.
— an old city with a Gothic castle from the 14th-century.
(Масты)
— an ancient town with the ruins of a 13th-century castle and fine churches from the 18th-19th century.
— a town with well-preserved churches and secular buildings from the 18th-early 20th century.
— an interesting old church (originally Kalvinist) and some World War I fortifications.
— a town with picturesque surroundings, including the hills on which the mediaeval settlement originally stood.
(Зэльва)
Other destinations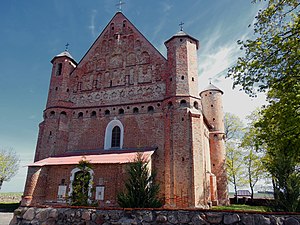 (Гервяты) — a village with a magnificent neo-gothic church
(Гнезна) — a village that preserves a fine gothic church from the 16th-century.
(Holszany, Гальшаны) – a village with a ruined castle and a Baroque monastery, once a seat of a princely Holszanski family.
(Gieranony, Геранёны) – the ruins of a Gothic castle which once belonged to Olbracht Gasztołd (d. 1539), the Grand Chancellor of Lithuania.
(Крэва) – a town with a 14th-century castle where Kęstutis of Lithuania was murdered and the first union treaty between Poland and Lithuania was signed.
(Любча) – yet another Renaissance castle of the Radziwill family can be seen in this small town.
(Мір) — one of the most-known destinations in Belarus, with an original castle from the 16th century and a nice old town with 19th-century buildings.
(Usyalub, Уселюб) — a village with a Catholic church from the 15th century. In the 19th century, the village was owned by a branch of the Irish O'Rourke family, whose funeral chapel survives to the present day.
(Жыровіцы) — a village that is home to a large monastery dating back to the early 17th century.
See
Fortified Gothic churches
Fortified
Gothic
churches can be seen in several regions of Europe (notably in Transylvania in Romania). Those in Belarus add one more element to the curious blend: they are Orthodox, and the corresponding architectural tradition has its share of influence on these buildings as well.
Church of St. Michael

address: Synkavichy

The most fortified church in the whole region.

Church of the Nativity of the Mother of God

address: Muravanka

This well-preserved fortified church is especially beautifully decorated.
Go next