Groene Hart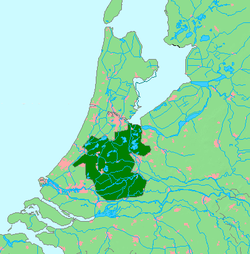 The
Groene Hart
(literally "Green Heart") is a scenic agricultural zone between the four biggest cities of the country. The flat polders and canals, considered typical for the country, can be explored by hiking or cycling.
Most of the area lies beneath sea level, and is protected by numerous dikes and windmills. The area is very flat and offers great cycling opportunities. At the tourist offices in the towns of the Groene Hart, you will be able to find some brochures or leaflets detailing scenic routes.
Destinations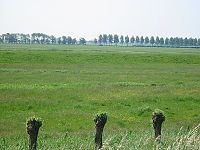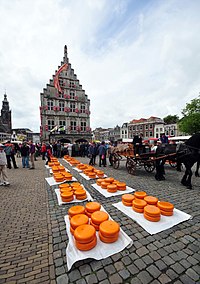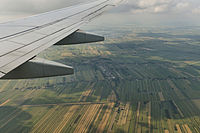 The Groene Hart is a relatively sparsely populated area, its landscape considered archetypically Dutch. Nevertheless, there are some larger and smaller towns worth visiting in Alphen aan de Rijn and Gouda. The surrounding area is rich in lakes, which lend themselves perfectly to water sports and other forms of recreation.
Get in
There are several highways running through the area, the most important one is the A12 which runs from The Hague to Utrecht.

Sleep
There are countless B&Bs in the area, many of them situated in the countryside. If you are looking for a hotel, there's a list below.
Bodegraven
phone: +31 172-650003

address: Goudseweg 32, 2411HL, Bodegraven

64 rooms all with balcony. Renovated in Aug 2007. There are two restaurants and a bar.
Gouda
phone: +31 182-860086

address: Hoge Gouwe 201

Modern hotel with 101 rooms, part of the Best Western chain, but conveniently and nicely located in the historic centre.

phone: +31 182-528096

address: Keizerstraat 11-13

Budget hotel, right in the centre of town.

phone: +31 182 528833

address: Geuzenstraat 6

Characteristic family hotel in the centre of Gouda. Breakfast included.
Haastrecht
phone: +31 182 501210, +31 182 501415

address: Ad en Vic Versteeg, Veerlaan 1, 2851 BV, Haastrecht

This traditional hotel on the River IJssel, is about 5km from Gouda, in the small town of Haastrecht. It's an easy cycle to Gouda. There is a pub/restaurant. Free Wi-fi and parking.
Stay safe
The Groene Hart is a very safe area. Be aware that some roads are not wide enough for two cars to pass each other. If you are on a small road and there is a car approaching from a distance, make sure to stop at a wider spot until the other car has passed.

Go next