Gua Musang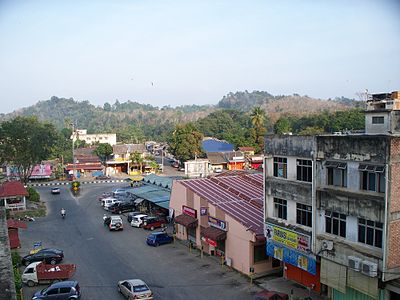 Gua Musang
is a small town deep in the jungles of central
Kelantan
. While it has little of interest in itself, it's a convenient gateway for
Taman Negara
and a good place to break the cross-peninsula haul.
Get in
By train
Gua Musang is on the
Jungle Railway
, which run from the junction at
Gemas
northwards to
Kota Bharu
and
Tumpat
. Daytime trains run between
Tumpat
and
Singapore
via Gua Musang.
Several trains per day run northwards to Tumpat, the first is at 05:00, the last at 16:20. Southbound, during the day only the 10.50 AM train to
Singapore
heads further south than
Kuala Lipis
, which itself is served by two daily local trains, at 8.50 AM and 7 PM.
Two nightly sleepers head to
Kuala Lumpur
at 22:30 and
Singapore
at 00:25. On Sundays, Tuesdays and Thursdays there is a more comfortable option for
Singapore
: the Malayan Tiger Train, which runs as far as
Johor Bahru
(five minutes from
Singapore
) at 21:10.
Times correct as of Jan. 2012. Note that times are liable to change, consult KTM, the Malaysian rail operator, for current timetables
.
By bus
Buses from
Kuala Lumpur
run via
Kuala Lipis
to Gua Musang; from
Kota Bahru
they run through Kuala Krai to Gua Musang.
Private tour companies operate shuttle services from the Cameron Highlands for RM 40-50. Inquire in
Tanah Rata
.
By car
Once only accessible by train, Gua Musang is now at the hub of several roads that run north to
Kota Bahru
, south to
Kuala Lipis
and
Pahang
and west across the
Cameron Highlands
to Simpang Pulai and Perak (near Ipoh).
Get around
The old town is small and easily covered on foot. Development is spreading away from the old centre, making the newer parts of town only within walking distance for the committed pedestrian. Bukit Gua Musang can also be reached on foot. There is not much for the tourist in the new town, except a supermarket. Taxis or bike rental may be arranged for accessing more far-flung places.

See
Trees and rocks. This jungle town has interesting rock outcrops like in
Guilin
or
Yangshuo
. Though they are much fewer, they do not lack size.
Bukit Gua Musang
Pulai - Chinese temple in Pulai, which is purportedly 400 years old. Pulai is an early gold mine town, and a historical Chinese village.
Do
Jungle Railway StationGua Musang is a railway town: Once, trains were the only means of transport to the town. The journey provides a glimpse of village life in the jungle hinterland.

Rock climbing

address: Gua Musang

Gua Musang is surrounded by limestone hills and caves, which can provide entertainment for cavers and rock climbers. The area is bolted with 30 routes from 5b to 7a, though there is no equipment hire in the town so trips will have to be prepared for elsewhere.
Buy
Nothing special to buy here; however you can buy some local fruits, like durian, rambutans, mangis, mango etc.
BanksMaybank and CIMB have ATMs
Eat
KFCHas free WiFi, also fried chicken.
Drink

There is beer. On the right hand side of the main street from the station, in the Chinese run mini-market. Look out for a glass-doored fridge with a suspiciously blanked out bottom shelf. What lies behind the card but glorious cold (not to mention expensive) Tiger and Calsberg. RM 7.80 for a small can.
Fresh coconut water has also been reported to be procurable.

Sleep
There's several options. Most have WiFi. A
government directory
lists them all. Notable options include:
phone: +60 99123191

address: PT 7746, Jalan Persiaran Raya

A good budget option. Clean rooms, hot water, towels, air-con, satellite TV and free WiFi throughout. The cheapest rooms are windowless boxes but still have all the above amenities.

Fully Inn

phone: +60 99123311

address: 75, Jalan Pekan Lama

Very close to the station. It's a big shiny Chinese monster. Free breakfast. Wifi.
There are also several hotels with prices around RM50-70 on the strip along the main road south of the main intersection, around the 7-11 and GM Shopping Centre.
Go next