Guanajuato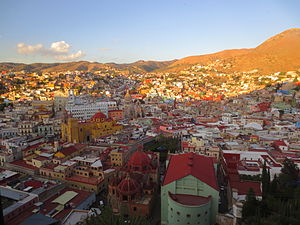 Guanajuato
is a city in central
Mexico
and is the capital city of the state bearing the same name. It is 390 km (about 250 miles) northwest of Mexico City. The name of the city means "Place of Frogs" in the local indigenous language and therefore the frog is the city's official pet.
Guanajuato is a beautiful mountain colonial town. Many tourists and locals consider this city to be the most beautiful in Mexico. It used to be a major silver mining town, and many of the mines are still active. The city is built on very hilly ground, so virtually every point in the city is on a slant. The city has a network of underground tunnels that serve as roads making this place unique in the world.
Understand
Unlike other Mexican cities that have an exact date of foundation, Guanajuato was the result of miner camping sites after silver veins were discovered between 1540 and 1558 and that eventually lead to a larger settlement. In 1558 a big silver vein was discovered in Guanajuato and produced nearly a third of all silver in the world by the next 250 years. The city was granted its city status in 1741 by Spanish King Philip V. Mining brought wealth to this town that spread towards its architecture and lifestyle.
The historic town of Guanajuato and adjacent mines were granted
World Heritage
status by UNESCO in 1987 and has been ranked by several travel magazines as one of the top travel destinations in the world.
phone: +52 473 732 4363

address: Cantarranas 5
Get in
By plane
Aeropuerto Internacional de Gunajuatois the major airport for Guanauato state serving Guanajuato, Irapuato, Leon & Silao. If booking a ticket or researching the fare on an airline or an aggregate site be sure to look for "Leon" or "Leon/Bajio" instead of "Guanajuato" as you will not find it under "Guanajuato".
Most flights offered are domestic and limited international services to/from the U.S. Scheduled flights are available with:
Alternatively if you're flying from Europe, Canada, Caribbean or South America you can fly through
Mexico City
located 319 km to the southeast and take a bus or a flight from there.
Primera Plus
operates direct buses from Mexico City's airport to Queretaro where passengers transfer to another bus to continue to Guanajuato City or to San Miguel de Allende.
Public transport to downtown Guanajuato from the Airport
As of August 2018 state sponsored,
Unebus Guanajuato
operates buses from the airport to Leon, Guanajuato and San Miguel Allende. The stop is right turn when coming out from the airport, past the building in front of the taxi stand.
Alternatively one can also access other buses passing by the highway which may be cheaper but are slower:
Step 1
: exit the airport, cross the large parking lot and exit through the front gate, here you will see a huge highway about 200 meters ahead and several ramps. Just keep to the right and walk to the large highway running parallel to the airport. Once there turn right and start walking along the highway for about 200 meters more, until you reach a green colored pedestrian overpass. Cross the overpass and about 50 meters in front of the stairs as you go down, there is a purple colored little unmarked bus stop. Wait here for the bus going to "Silao" .
Step 2
: catch the local bus to Silao ($8 or 10 pesos). It will take you to Silao bus station in about 10 minutes.
Step 3
: At the Silao bus station buy a ticket to Guanajuato on Primera Plus (M$29 (
pesos
). That bus will take you to Guanajuato bus station in about 20-30 minutes.
Step 4
: Unfortunately, you're still not in Guanajuato as the bus station is 7 km from downtown. Just exit the terminal and catch the local bus to Guanajuato Center (M$7.50). This bus will go through many tunnels and you will have no idea where to get off unless you ask someone. They will drop you off in a tunnel near an exit and you will need to walk a bit to downtown from there. This trip could take anywhere from 15-30 minutes depending on traffic. Enjoy the trip!
By bus
Bus service in Mexico is quite reliable and comfortable. Before the recent start-up of several low cost air carriers, Bus was the main mean of transport across Mexico. Several lines serve Guanajuato including Primera plus. Buses have air conditioning (except some "economy" ones), and often show movies and have refreshments.
You can take a taxi (~M$45) or local bus (
Centro-Central
, M$5) in the city to the
bus station
(
Central de Autobuses
) to catch a bus to
San Miguel de Allende
(1 hour),
Guadalajara
(3 hours),
Mexico City Norte
(5 hours),
Celaya
,
Morelia
,
Querétaro
,
Zacatecas
and other locations. The main bus station is in the southwestern part of town, at Km 7 of the Carretera de Cuota Silao-Guanajuato (Hwy 110D) in Colonia Ejido la Yerbabuena. The following bus lines offer services into and out of Guanajuato:
Get around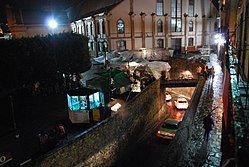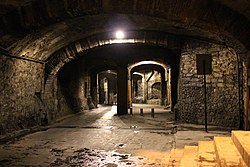 Tunnels
One of the unique features of the city is its extensive tunnel network. The first tunnels were constructed during the Spanish colonial period to for flood control, with additional tunnels built in the late 1800s. After dam construction was completed in the 1960s, many tunnels were converted to roadways to speed up car traffic. The most recent tunnel was built around 1990.
Many of the city buses run along the tunnels and is safe to take them in the special underground stops. Walking in the tunnels near Centro (downtown) is also safe. If you're driving, take into account that the tunnels are one way only, so taking the wrong tunnel may result in making a big tour around all the city.
Current tunnels:
El Barretero Runs west-east, southeast of the city and connecting the neighborhood near Presa de la Olla.
La Galereña Runs north-south, south of the city and is an exit of the city.
El Minero Runs east-west, in Centro.
Tunel Noroeste Ponciano Aguilar Runs east to west, northeast of the city.
Tunel de los Angeles Runs west to east, south of the city and is an exit of the city.
Santa Fe Runs east to west, northwest of the city.
Miguel Hidalgo The longest of all tunnels. Runs west to east, across the city.
Tamazuca The only two-way tunnel and the shortest also. Runs north to south and vice versa, west of the city.
By foot
Guanajuato is not very big and you can walk to most places, so a car is really not necessary.
By bus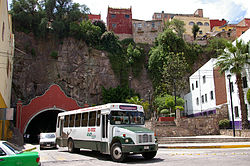 Buses, called
urbanos
, are operated by the
Sistema Coordinado de Transporte de Guanajuato
, and run from 07:00-22:00 daily for a flat rate of M$5 (single ride, no transfer). There is no schedule or route map; destinations are marked or painted on the windshield. In general buses heading from east to west travel above ground along Avenida Benito Juarez, while buses heading in the opposite direction travel underground in Túnel Miguel Hidalgo. A number of stairways descending from the street lead to underground bus stops and are safe to use.
By taxi
A taxi to any destination within central Guanajuato should cost about 35-40 pesos. Taxis do not use meters and the price should be confirmed first.
By tourist trolley
A trolley-like bus makes sightseeing tours of the city departing from
Plaza de la Paz
in the Centro, next to the
Basilica of our Lady of Guanajuato
. The rides lasts 1.5 hours and costs M$50. There is a tour guide in Spanish only. Is a great way to know the city.
By car
Driving a car is not the best way to get to know Guanajuato; however, if you plan to get in and out of the city then you will need to use the underground roads or tunnels. Make sure to park your car in your hotel, as most offer free shuttle to the city; otherwise, park your car in a lot (
estacionamiento
).
See
Churches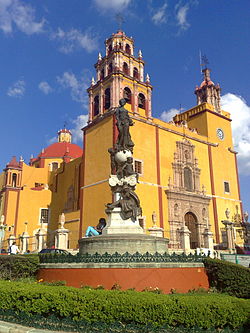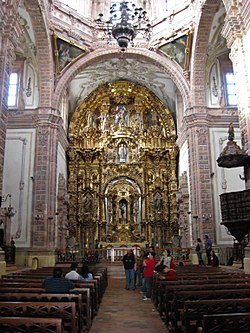 Basilica of Our Lady of Guanajuato

phone: +52 473 732 0314

address: C/ Ponciano Aguilar 7

Built from 1671 to 1696. Inside this church there is a 1000-year-old statue donated by Spanish King Charles I who tried to protect it from the Arab invasion in Spain.

Church of the Company of Jesus

phone: +52 473 733 9782

address: Lascuráin de Retana s/n

Built between 1747 and 1765.

Templo de San Roque

address: Plazuela de San Roque

Built in 1726, this was a Jesuit school in the latter half of the 18th century.

Church of San Diego de Alcalá

phone: +52 473 732 2990

address: Calle de Sopeña s/n

This is the only surviving building from the original 17th-century convent, with a splendid rococo exterior.

Saint Francis of Assisi Church

phone: +52 473 732 0377

address: Manuel Doblado 15

A former Franciscan convent, built between 1792-1828.

Church of San Cayetano

phone: +52 473 732 3596

address: Salida a Dolores Hidalgo s/n

Built from 1765-1788 with funding from the rich silver mines, this is considered to be one of the best examples of Mexican Churrigueresque architecture. Particularly noteworthy are the finely-carved, elaborate altars covered in gold leaf.
Landmarks
El Pípila

address: San Miguel hill

A 28-meter tall statue of an independence hero. Juan Jose Martinez, or also known as El Pípila, was a legendary hero who wore a stone slab on his back to protect himself while burning the Spanish troops holed up in the Alhóndiga, or granary, in September 1810. The view is beautiful, particularly at night.

phone: +52 473 732 0183

address: Sopena S/N

The architecture of this theater is part Neoclassical and part Moorish, making it a really beautiful building. Inaugurated in 1903 by President Porfirio Díaz.

Jardín de la UniónThis space was built as the atrium for a 17th-century convent, of which the Templo de San Diego is the sole surviving building. It now functions as the central plaza, and always has a lot of things going on, day and night. There are a number of restaurants surrounding the garden, and in the afternoons and evening there free concerts are often given from the central gazebo.

Teatro Principal

Callejon del BesoTwo balconies separated by only 69 centimeters is home of an old love legend. For a few pennies some children will tell you the story.

phone: +52 473 732 1112

address: Mendizábal 6

This building is where the independence revolutionaries burned the Spanish troops, and now houses a museum devoted to the history of the region, as well as an important photographic library.

Escuela Normal Oficial de Guanajuato

address: De La Presa

Teacher's school. The building also houses an English language lending library open Tuesday and Thursday.

Palacio Legislativo

address: Plaza de la Paz

This building was built as the city hall in 1903 and inaugurated by President Porfirio Díaz.

Plaza del Baratillo

Plaza de la Paz

Plaza de San Fernando

Presa de la OllaBuilt in 1749 to supply fresh water to the town. In this place you can rent a little boat. There's also a park and a great statue of Miguel Hidalgo casted in Italy also inaugurated by President Porfirio Díaz in the early 1900s. This area is very tranquil and quiet to have a break.

address: Calzada de Guadalupe

There is a 3-4 story series of steps that lead up to an auditorium, offering good views over the colonial city.
Mines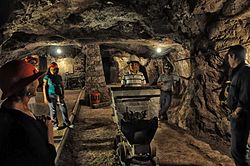 Mina de San Juan de Rayas

address: Panorámica Carretera panorámica s/n, Mellado

The first mine of Guanajuato, discovered in 1550.

Mina de Cata

Mina el Nopal

phone: +52 473 732 1036

address: Panorámica San Javier s/n, San Javier

Mina de ValencianaThe richest mine in Guanajuato still in operation today. It supplied enough silver to sponsor the Spanish Empire and its colonies.
Museums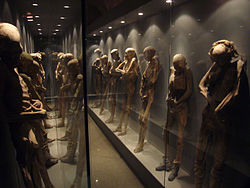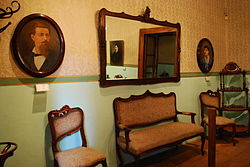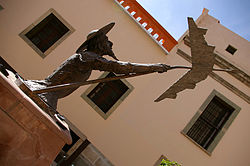 phone: +52 473 732 06 39

address: Explanada del Panteón Municipal S/N

A must if you're in Guanajuato. In 1910, due to the overcrowding of the local graveyard, the authorities were forced to exhume several bodies and when they did that they found the bodies had turned into mummies rather than fully decomposing. After that they founded this really strange and unique museum.

phone: +52 473 732 1197

address: Positos 47

The birthplace of Diego Rivera, a well-preserved traditional Mexican residence. Be sure to check out the collections of his simple, socialist-inspired works.

Don Quixote Iconographic Museum

phone: +52 473 732 3376

address: Manuel Doblado 2

Small, but very well done.

House of Legends

phone: +52 473 731 0213

address: Subida del Molino y Panorámica s/n

phone: +52 473 731 1824

address: Paseo de La Presa 62

Sort of house of horrors that's sweet in its corniness. Inside this house a woman was buried alive inside the walls. The tour is conducted (appropriately enough) in Spanish and will be difficult to understand for those not fairly fluent, though the sights are self-explanatory and the gasps and screams comprehensible in any language.

Museum of the Town of Guanajuato

phone: +52 473 732 2990

address: Positos 7

phone: +52 473 733 1029

address: Calle Real de Marfil s/n, Marfil

From 1962 to 1987 this was the home of Canadian artist Gene Byron.

Museum of the Holy Inquisition

phone: +52 473 734 0381

address: Antiguo Camino a Valenciana s/n

Features torture instruments.

Marian Gallery Collegiate Basilica of Our Lady of Guanajuato

phone: +52 473 732 03 14

address: Ponciano Aguilar 7

Mineralogy Museum Eduardo Villaseñor Söhl

phone: +52 473 732 22 91

address: Ex-Hacienda San Matías S/N, Departamento de Ingeniería en Minas

One of the richest collection of minerals in the world. Ex-hacienda de San Matias.

Ex-convent Museum Dieguino

phone: +52 473 732 7491

address: Bajos Templo de San Diego S/N

The underground excavated remains of the original 17th-century cloister, of which the Templo de San Diego is the surviving remnant today. Occasionally photography and art exhibits are also hosted in this space.

Alfredo Dugès Natural History Museum

address: Lascuráin de Retana 5
Do
Cultural events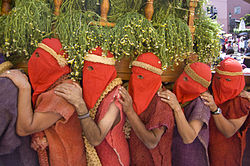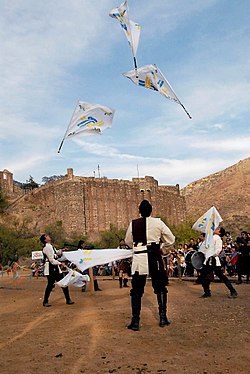 Semana SantaEaster is considered to be the most important religious holiday here, and commences with celebrations honoring Viernes de Dolores (Our Lady of Sorrows) on the final Friday of Lent. During the following week special altars are built and displayed in churches, public plazas, and in shops and homes. On Viernes Santo (Good Friday) at midday the Passion of the Christ is reenacted in front of the basilica, and in the evening the Procesíon de Silencio (Silent Procession) winds through the streets. Many tourists visit from other parts of Mexico at this time, and room rates are generally double.

Festival Medieval de Guanajuato

phone: +52 473 731 0120

address: Parque Medieval de Rayas

An annual event since 2005, this festival celebrates music, dance, and art from the 5th to 15th centuries, with participants hailing from across Mexico.

Festival Internacional de Órgano de Guanajuato Guillermo Pinto ReyesNamed in honor of Mexican organist and composer Guillermo Reyes Pinto, this annual festival celebrates the city's many historic church organs, some of which date to the 16th and 17th centuries. Distinguished Mexican and international musicians are invited to perform, and all concerts are free to the public. The festival is organized by the Guanajuato Ministry of Culture; updated information is available at the Tourist Office.

phone: +52 415 152 7264

An annual short film festival, co-hosted by the nearby city of San Miguel de Allende. Hundreds of films from nearly all genres are screened in venues including the Teatro Principal and movie theaters, as well as in alternative settings including the city cemetery. Most films are subtitled in Spanish and English.

Festival Internacional Cervantino

address: Venues throughout the city

This annual festival began as a series of weekly informal Cervantes comedy performances, and since then has grown to become one of Guanajuato's most celebrated events. The festival has a full program including theater, dance, and musical performances, and attracts both Mexican and international artists. Tickets can be purchased from StubHub or at the box office of Teatro Juarez, while outdoor performances in the plazas are free to the public. The exact dates and schedule for the festival are set in June; prices for hotel rooms generally double during this time.
Sport and outdoor activities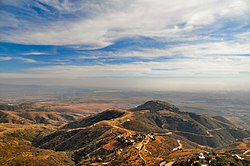 Centro Acuático en Macrocentro

phone: +52 473 109 2074

address: Ctra Guanajuato-Dolores Hidalgo, Km 2.5

Facilities include an indoor Olympic-sized pool, a diving pool, and an on-site gym.

phone: +52 55 5259-6904

Guanajuato and nearby León host the Mexican round of the World Rally Championship.

Pipila FunicularRide the funicular to the top of the mountain where the statue of the "Pipila" is located. No pets, no bicycles.

Climb to the top of the mountain that overlooks Guanajuato. There's a trail that goes to the top- look for the signs to Pipila. It takes at most 1/2 hour to get to the top and there is an amazing view of the city.
There are nice tracks to exercise for example Nieto Pina located going towards the Pipila from los Mineros.
Buy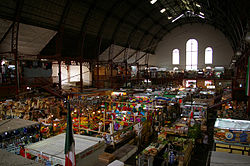 Mercado Hidalgo

address: Juarez Street and Mendizabal

A two-story indoor market selling from touristy stuff (handcrafts, souvenirs, etc.) to groceries (food, confectionery and clothing). It is said the structure of this market was originally intended to be a train station in Antwerp, Belgium, but it was brought to Guanajuato by President Porfirio Díaz and completed in 1910, shortly before the start of the Mexican Revolution. The façade of this building is made of pink quarry and boasts a tower.

El Cubilete

phone: +52 473 732 5934

address: Avenida Juárez 188

This is your one-stop store for confectionery, established in 1955. It sells all sorts of local sweets, including such specialties like 'Charamuscas', figures made of caramel resembling the mummies. Try also 'Cajeta', similar to Dulce de Leche but made of goat's milk.

Mercado Embajadoras

address: Embajadoras 26

There is a weekly market every Sunday with lots of local venders who come in to the city to sell their stuff. The rest of the week the food market has fruits, vegetables, a butcher and florist. There are lots of venders who have stalls outside the market and sell clothes, sunglasses, DVDs , toys, candy and great food.

phone: +52 473 734 0816

address: Avenida Juárez 125

If you need to get all your basics at once, check out this place which is similar to a Wal-Mart.

phone: +52 473 732 9631

address: Avenida Juárez 131

A branch of the Mexican hypermarket chain that sells everything from basic groceries to TVs and some clothing.

phone: +52 473 731 0300

A modern shopping mall with a few international chain stores.
phone: +52 473 732 7363

address: Plaza Pozuelos

Another larger branch of the hypermarket chain.
If you are looking more for handmade crafts and more touristy stuff, take a bus to San Miguel de Allende, about an hour away from Guanajuato. There is a large open-air artisan market there.
If you'd like to purchase handmade ceramics, take the roughly one-hour bus ride to Dolores Hidalgo.
Learn
Eat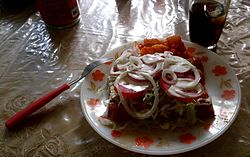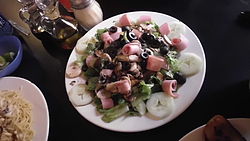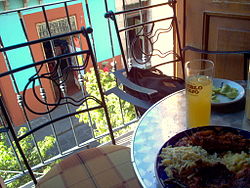 In Guanajuato the local dish is 'miner's enchiladas' (
enchiladas mineras
), served almost everywhere.
phone: +52 473 732 7154

address: Del Baratillo 16

They have bagels, Mexican food, coffee drinks and teas. It is not expensive and it has its own bar. They often have live music at night.

phone: +52 473 732 9772

address: Jardín de la Unión 4

Small, traditional café serving breakfast, lunch, and dinner. Popular with residents and visitors.

phone: +52 473 732 6212

address: Temescuitate 4

Coffee, tea, a mixed foreign and Mexican crowd, and high speed wireless internet access. It's between 5-10 minutes from Teatro Juarez up the main street towards the baseball stadium, just up the street from Bar Fly. The owner, an American expat, plays French horn in the city orchestra. Although it serves some distinctly Mexican drinks and snacks, it also has a much wider selection of tea and coffee drinks familiar to Americans and difficult to find in Guanajuato. (Tea is pretty unsatisfactory in the city, not so here. And they understand the concept of iced tea.) They also have low cost international calling and tasty snacks. Before lunch, a bakery a few doors down has a wider selection of pastries and rolls.

Las Cupulas Mexicanas

phone: +52 473 732 4182

address: Cantarranas 43

If you are looking for some after-clubbing late-night/early morning food, try some of their delicious quesadillas.

phone: +52 473 732 3881

address: Callejon de Cantaritos 37

Delica Mitsu serves up homemade Japanese delicatessen "sozai", sushi rolls, grilled chicken, and more. Many of the dishes are made from vegetables only, so vegetarians will also feel at home at this tiny restaurant owned and operated by a sweet Japanese couple. Popular with tourists and locals, there are new items on the menu everyday which are sure to keep you coming back time and time again.

phone: +52 473 732 9418

address: Sostenes Rocha 18

Fusion cafe offering vegetarian options. House-made chai, delicious coffee, muffins, and falafel.

phone: +52 473 732 0612

address: Calle Pocitos 69

Fabulous food at mid-range prices with a great atmosphere. A fine dining restaurant and art gallery combined. For M$500 it is possible to get 2 appetizers, 4 dinners, 2 glasses of wine and 2 sodas.

Mexico Lindo y Sabroso

phone: +52 473 731 0529

address: Paseo de La Presa 154

Serves classic Mexican dishes in a lovely terrace and courtyard.

phone: +52 473 732 7401

address: Calle San José 4, 1st floor

Offers fantastic southern French lunch buffet featuring lots of marinated and glazed vegetables, salads and quiches, with food sold by weight and extremely affordable. Dinners feature a standard menu. Don't miss their delicious aguas frescas to accompany your meal.

No name barServes burgers, bar food, and Mexican food at a good price. They have seating outside the bar in a nice courtyard. Beer is fairly cheap.

phone: +52 473 732 8374

address: Calle del Truco 7

Features Mexican and American food at a decent price. They have tortilla soup, enchiladas, and hamburgers. They have excellent aguas frescas and milkshakes. Try the strawberry, it comes with cinnamon in it.

phone: +52 473 122 2320

address: Campanero 4

If you want cheap food and free internet access visit Santo Café which features a sweet little bridge upon which you can eat. The food here is very clean and you needn't worry about having fresh fruits or salads.

phone: +52 4737325311

address: Plaza Mexíamora 51

The beautiful Plaza Mexíamora host this unique café, where you can find peaceful atmosphere with an excellent coffee, classical music, interesting books in English and Spanish, and delicious desserts and baguettes. A very Mexican place with an international taste.
Drink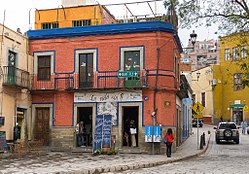 The nightlife is very active in Guanajuato, especially on weekends. Look for people passing out flyers during the day for drink specials and sometimes free drink coupons. If you walk around the city center, you'll find plenty to do – music spills out of the bars and clubs into the streets and many establishments have outdoor areas.
To start the night off, stop by one of the little cafes in the Jardín, for dinner and drinks and mariachi band ambiance. It is a great place to people watch. And definitely try
Sol
– a popular Mexican beer similar to Corona.
Fante Bar

phone: +52 473 732 9413

A small dive bar with a psychedelic video on loop near the main church. It's notable in that it has the best pulque in town. Well worth a visit if you haven't tried the local drink.

AlcatrazHas great drink specials and a great atmosphere with many locals.

El BarA salsa bar across the street from Teatro Juarez. It offers salsa lessons every night 19:00-22:00. It plays mostly salsa and merengue all night and often has salsa shows.

phone: +52 473 652 1488

address: Sostenes Rocha 30

Has a younger crowd. The staff is friendly and gets to know their customers. There is reggae music as well as lamp shades made out of solo cups. A definite must-see. If you are young and female, the staff will flirt unabashedly, but they're harmless and worth getting to know. If they know you are in Mexico to learn Spanish (whether you tell them or your teacher does) they won't speak English to you at all.

Cantina La Botellita

phone: +52 473 732 2566

address: Jardín de la Unión 2

Known for having giant, delicious margaritas and good food. They also do 2 for 1 drinks on Tuesdays, but if you're a girl, or at least with a girl, you pretty much get 2 for 1 drinks all the time.

phone: +52 473 732 0810

address: Plaza de la Paz 62

Don Olé KaraokeTry out your Spanish, but don't worry, they have songs in English too.

address: Calle Cantarranas s/n

A typical Mexican cantina, one of the oldest in Guanajuato. Lately they have a students environment. They are famous for their mezcales.

phone: +52 477 225 4941

address: Calle de Alonso 4

Another favorite of locals and tourists. It is even bigger than Capitolio and boasts two levels. It is always packed on weekends, with the same type of crowd as Capitolio. Although it plays similar music to what you hear in Capitolio, it tends to play more electronic and techno music. It also offers great drink specials, especially on bottles.

La HavanaA salsa bar that attracts a more local, late-night crowd.

No name barFeatures good music, friendly bartenders and good drinks at night and a great laid-back atmosphere to sip a beer outside and plan your day in Guanajuato during the day.

address: Calle de Alonso 34

Another chill bar that plays unique latino indie-rock and reggae. It's a good place to hang out and play pool. The bartenders are very sociable and entertaining. Why Not is open later than Bar Fly and is often the after hours destination of the Bar Fly crowd and staff.

Zilch

phone: +52 473 734 0755

address: Jardín de la Unión 4

A great bar in the Jardín Unión, they have live music from Wednesday to Saturday. Great prices, great environment, awesome terrace, great service, pool table! They serve snacks 19:00-22:00.

El Zopilote Mojado

phone: +52 473 732 5311

address: Plaza Mexíamora 51
Sleep
Budget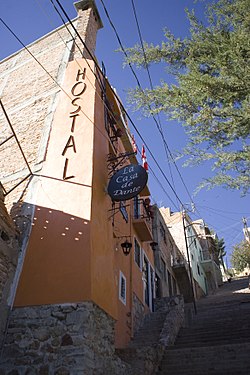 phone: +52 473 732 1316, +52 473 732 5104

address: Callejón de Tamboras 9

Free kitchen, terrace and wireless internet use.

phone: +52 473 731 0909

address: Callejon de Zaragoza 25

Very nice staff and a great daily fresh breakfast. Big, healthy and different every day, meat or vegetarian, whatever you prefer. Hardly any hot water in the showers though.

phone: +52 473 73 21532

address: Callejon Cabecita 26

This Guanajuato B&B has location, location, location and remarkable value; one block from Plaza Baratillo and another block to Plaza Union and Teatro Juarez – the heart of Guanajuato City and easy walking distance to all within-city attractions. Very safe location, clean, friendly, Wi-Fi and great breakfast in a colorful, truly Mexican home.

phone: +52 473 733 9728

address: Calle Cantarranas 47

Great location in the historic center, budget, basic, no frills but clean, free kitchen, wireless, promotions and the best rooftop in Guanajuato. This is a legally-registered hostel in the city and the owner, Olivia Machuca, is the president of the Associacion of Mexican Hostels. Their goal is to provide a professional and friendly service to the visitors. La Casa del Tío is always recommended in travel guides such as Lonely Planet, Rough Guides and Let's Go among others. The laundry machine they offer on the website doesn't work.

phone: +52 473 734 5665

address: Calle Campanero 19

Fanatically clean and beautiful architecture. Great character and friendly staff. Only two showers for the whole hostel.

Hostal La Casa Blanca

address: Calle Pocitos 17

Hostal del Truco

address: Calle Truco 4

Hostal Santuario

address: Calle Cantarranes 38

The entrance doesn't show it's a hostel, but it is. It might be noisy from the bar downstairs.

Hostel Guanajuato

address: Calle Campanero 14

Great location. Only two showers for the whole hostel, but with a lot of very hot water.
Mid-range
Splurge
Stay safe
Guanajuato is a really safe city – police are always around, and people are very friendly to tourists. Most of the city is safe during daylight hours, and as long as you stay in the downtown area, walking around alone or in small groups at night is safe as well. (Anyplace you'd want to go out at night is downtown.) The rougher neighborhoods are on the slopes of the eastern side of the city, as well as in the vicinity of the Pípila monument. Generally the city is far safer than the average American college campus and doesn't have much crime directed at tourists.
There is however one caveat: do not ever go running or walking around the Panorámica (the beautiful road around the edge of the city in the mountains) in the evening or early mornings. Many rapes, assaults, and muggings of foreigners have occurred in this area and some of the victims were out running with friends. Groups of men may be OK, but even several women together will not be safe. It is, however, safe to run in the city in the early mornings and there are a number of gyms where you can pay by the class. (Several of the foreign exchange programs have apartments on or near the Panorámica and those houses often have large parties. In the populated areas it's fine at all hours, but since it's a loop with a nice view of the city, many foreigners decide to run around it at dawn and parts of it are much more isolated.)

Go next
Try also to visit
Dolores Hidalgo
(about 1 hour from Guanajuato) and
San Miguel de Allende
(about 1.5 hours from Guajuato), both cities in Guanajuato State. Or, if you love shoes you can go to
León
, "The Shoes Capital". The shoes and boots are inexpensive, but of very good quality.