Guangxi
Guangxi
(广西;
Gwóngsāi
in Cantonese,
Guǎngxī
in Mandarin) is a relatively poor but highly scenic area in southern
China
. It is known as the Guangxi Zhuang Autonomous Region, because of its large Zhuang minority population.
Guangxi is in South China, west of
Guangdong
Province (
Canton
); 'xi' and 'dong' are 'west' and 'east' in Chinese. It has a significant coastline on the South China Sea, (Beibu Gulf). It shares many characteristics of its poorer sister to the north,
Guizhou
, due to its mainly rural nature and large minority populations.
Regions
Cities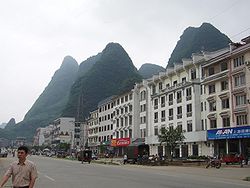 (南宁) — provincial capital, gateway to Vietnam
(桂林) — popular tourist destination
(阳朔) — famous scenic town with karst mountains, accessible from Guilin
(龙胜) — home of the famed "Dragon's Backbone Rice Terraces"
(北海) — Coastal city with a beach and cheap food
(桂平) — home of Xishan tea and Longtan National Forest Park
(柳州) — major industrial city with beautiful karst countryside
(崇左)
(德天)
Other destinations
(程阳) — idyllic Zhuang villages, famous for their wind water bridge (风雨桥)
(兴坪) — ancient town on the Li River between Guilin and Yangshuo
(涠洲岛) — volcanic island
Understand
Guangxi is in the far south of China and traversed by mountain ranges, and has often been on the frontier of Chinese civilization throughout history. It has been traditionally influenced by its neighbor
Guangdong
and the variety of minority ethnic groups native to the region's mountains. In fact, the name "Guang" shared with Guangdong literally means expanse, with Guangxi forming the western part of this region. Due to this geographic isolation, Guangxi has thus been very different from Northern China in many ways.
Talk
Guangxi is linguistically diverse. Standard
Mandarin
is spoken by nearly all, but
bahk wá
, a dialect of
Cantonese
, is spoken as the local native language in most of eastern and southern Guangxi. Due to historical associations and cultural influence from nearby Guangdong, standard Cantonese is also spoken and understood in these parts of the province, and by many locals in the major tourist centers of Guilin and Yangshuo and is the local language of
Wuzhou
. Certain communities in the north of Guangxi speak the Pinghua variant of Chinese, which is remotely related to Cantonese and therefore not mutually intelligible with it.
Some of the many minority groups still speak their own tongues as well. As the Zhuang are the largest minority group and have been granted autonomy in this part of China, Zhuang is a co-official language in addition to Mandarin in Guangxi. Bilingual signs in Chinese and Zhuang can be found on public buildings and notices.
Get in
Despite its seemingly remote location from the rest of China, Guangxi is well connected to the rest of the country by air, road and rail.
Several rail lines traverse the region, with major train stations at Guilin and Nanning. The Nanning–Kunming Railway provides connections to provinces north of Guangxi and
Vietnam
to the south. Trains serving Guangdong stop at railway stations in Guilin and Liuzhou.
The largest airports in the province are Nanning Wuxu International Airport and Guilin Liangjiang International Airport, while smaller airports providing domestic Chinese flights are also found at
Baise
,
Beihai
and
Wuzhou
.
See
Guangxi's reputation as a scenic area is due to the numerous karst mountains which dot the region's landscape. The best views of this scenery can be found in
Guilin
and
Yangshuo
, where the Li River flows between the towering mountains and has inspired countless Chinese painters over the course of history.
Eat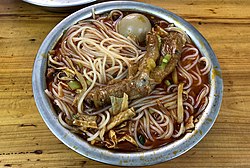 Guangxi is known for its rice noodles (粉;
fěn
in Mandarin,
fán
in Cantonese). Each city has its own specialty. Prices vary between 6-15 Yuan.
One of Guanxi's more infamous dishes is dog meat, often associated with the city of
Yulin
where an annual but non-traditional dog meat festival in held in June. The meat is prepared in a variety of ways including being a component in hotpot or stir-fried. The treatment of dogs shipped to the festival for consumption has drawn domestic and international criticism.
Drink
Locally produced wines made from fruit or flowers can be found in markets or restaurants. Also, given its proximity to Vietnam, Vietnamese coffee beans can be easily obtained at supermarkets or already brewed and ready to order in cafés in Nanning.

Go next