Guarapari
Guarapari
is a popular beach resort town in
Espirito Santo
, counting about 100.000 people, a figure that quickly multiplies in high season.
Understand
Guarapari is a very popular holiday escape for people from landlocked
Minas Gerais
state and for people from
Vitória
and
Vila Velha
. The place is fervent between Christmas and Carnaval, with smaller peaks on school holidays throughout the year.
Get in
By plane
Guarapari has a small domestic airport with no regular passenger traffic.
Vitória Airport
(VIX) - also known as
Eurico Salles Airport
- in the capital city of
Vitória
, is the closest airport to Guarapari. It receives daily flights from most state capitals in the country. Among the main airlines serving the airport are
LATAM
and
Gol
. A number of smaller carriers also serve the airport, including
Azul
,
TEAM
, and
TRIP
.
A taxi to/from
Vitória Airport
will set you back about R$ 150.
There are two daily, direct buses between the airport and Guarapari, by Alvorada, R$ 20, 1,5 hours. From the airport at 09:30 and 16:30. From Guarapari at 08:10 and 14:50.
Otherwise, take a bus
Alvorada
to
Vila Velha
, get off near
Terminal Vila Velha
, and to take a local bus to the airport. Total travel time is about 2 hours, and it costs around R$ 10.
By bus
The new (2015) bus station is possibly the most modern, and definitely the most shopping-mall-like in all of Brazil. Its being situated some 7 km out of town, on the main highway BR-101, makes it somewhat inconvenient. Consider long-distance buses to
Vila Velha
), as an alternative. Main lines include
Vitória
(some via
Vila Velha
),
Rio de Janeiro
(3 times daily, 8 hours, via Campos and Niteroi, by Kaissara, 100 R$) and
Belo Horizonte
.
Frequent local buses (R$ 2.50) run straight to downtown, only slightly slower than taxis (Fixed price R$ 35)
The bus company
Alvorada
still runs hourly buses (more frequent during peak hours) to Vitória via Vila Velha, until 9 pm, by the coastal route. I.e. no need to go to the main bus station.
By car
Guarapari is on the coast 53 kilometers south of
Vitória
on highway
60
, officially nicknamed
Rodovia do Sol
. There is also easy access from
BR-101
. You can locate a car at Vitoria Airport (Hertz, Localiza, among other companies), and drive south taking Rodovia do Sol.
Get around
Many local buses run throughout the night. Taxis are few on Praia do Morro. None have meters, but there should be a table available showing fixed prices between different neighbourhoods.

Do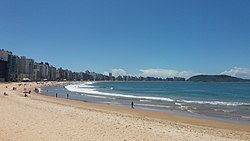 Lounge about on the beach at Praia do Morro. At its northern end there is a small nature reserve with a 1.5-km trail that leads to a small deserted beach.
There is a kind of an amusement park in the closed down part of a quarry, not far from Praia do Morro: Pedreira Adventures. During high season parties are hosted here, -an amazing setting!
There is rental of windsurfing equipment and small sailboats near Quisque 55 at Praia do Morro. Lessons are also given. Kayak rental nearby.
Buy
Plenty of cheap T-shirts along Praia do Morro, where most shops are open evenings only
Eat
Restaurante Cantinho do Curuca, capixaba moqueca. Av. Beira Mar de Meaípe.
Restaurante Gaeta, capixaba moqueca. Av. Beira Mar de Meaípe.
Drink
Kiosks line the beaches and always have plenty of beer, caipirinhas, and coconut water.
Quiosque 16 at Parai do Morro has live acts most every night until 10 PM, -R$ 1-2 cover charge.
Restaurante Janaina by Quiosque 40 at Praia do Morro has live pagode every friday and sunday.
Bar-come-club Tonteria is in the city center
High season nightlife concentrates in Meaípe:
Multiplace MAISStiffly priced, huge.

phone: +55 27 3261-1616

address: Rua Fernando de Abreu, 121 - Guarapari - ES, 29200-685

Restaurant specializes in Italian pasta, grilled meats and seafood
Sleep
Praia do Morro is probably the best option for tourists. Also many hotels in the city centre. Furnished and equipped apartments for short term rent abound. Real estate agencies on every corner can offer you something.
address: Avenida Praiana 427, Praia do Morro

Completely refurbished 2008.

Pousada Enseada Verde

phone: +55 27 3272-1376

Meaípe.
Connect
The telephone area code for Guarapari is 27 (as well as in central and northern parts of
Espírito Santo
).
Go next