Guarujá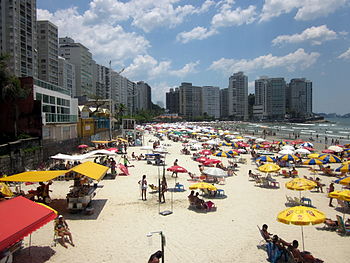 Guarujá
is a city in
São Paulo state
,
Brazil
, and it is part of the
Baixada Santista
, the metropolitan area centered in
Santos
. One of the busiest holidays destinations of the state, only 87 kilometres from
the city of São Paulo
, Guarujá is a city that is devoted to tourism and has dozens of beaches that stretch along its avenues and urban zones, or are to be found in less accessible locations.
Understand
The municipality of Guarujá corresponds to
Ilha de Santo Amaro
, a large island that remained almost unexplored during the colonial and imperial times. In the end of the XIX century, an ambitious enterprise turned Guarujá into a beach resort town for wealthy
Paulistas
, and it became a full municipality in 1947. The beauty of the island gave its nickname "The Pearl of the Atlantic".
In the 1970s/1980s, tourism in Guarujá grew enormously, following the growth of São Paulo and the opening of new roads between the two cities. Although a bit further from São Paulo than
Santos
, São Vicente and Praia Grande, the growing beach pollution problems of these cities have turned Guarujá into the main holiday destination of
Paulistanos
.
In the central area, the blue waters of the beaches of Pitangueiras and Astúrias have great appeal to the tourists. Amongst the most popular spots are the beaches of Enseada and Casado. On the open sea and not good for bathing, the Tombo beach is excellent for surfers, in contrast with tranquility of Guaiúba, Prainha Branca and Iporanga where the fertile vegetation is enhanced by a waterfall and a freshwater swimming pool. Guarujá also has relics from history such as the Barra Grande Fortress built in the 16th century, the Forte Velho just 8 km from the centre and the Armação das Baleias, the first industrial plant set up in the state for the extraction of whale oil.
Get in
By air
Arriving the airports in
São Paulo
(Congonhas /
CGH
) or (Guarulhos / GRU), packtours can arrange convenient TAXI service to Guaruja, it may take slightly more than one hour to go.

By bus
Take a taxi or the subway to Jabaquara Bus Station. There you can take a bus directly to Guarujá. Estimated travel time: 1 hour and 20 minutes. More information: 11 50113421.

By car
From São Paulo, first it catches the Anchieta Highway (SP-160) until the city of Cubatão. There it has a bifurcation that it allows to follow for the Cônego Domenico Rangoni Highway (old Piaçagüera Highway) until Guarujá. Alternatively, it is possible to catch this bifurcation from the Highway of the Immigrants (SP-150), but it takes a little longer.

Get around
By taxi
A good way to move around to not-so-close places. They are not very expensive and drivers are mostly friendly, although small cheats are not uncommon. To avoid it, after getting into a taxi, check if the taximeter has been started . If not, ask the taxi driver to do so.

By bus
Buses are a cheap and nice way to get around by day although by night they are more scarce. The fare is paid on cash to a controller or the driver only inside the bus, by passing through a roulette. There are no tickets. Keep an eye out for pickpockets when the bus is crowded. Many people get still wet from the sea into the bus, so have a good look if your seat is dry before you sit. Check bus routes to the beaches on the beach section below. Bus n.81 goes to all the beaches.

By bicycle
Guarujá has an extensive network of cycleways, and among locals, bicycles are one of the most popular ways of getting around in the city. The Enseada beach has a cycleway along most of its extension. For a tourist, there are unfortunately not many places to rent a bicycle, but it is worth considering to buy one if you are going to have an extended stay in the city. Some hotels offer bicycles for borrowing or renting.

See
Beaches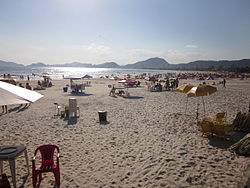 EnseadaThis huge beach is the most popular and common destination for the occasional tourist. Kiosks selling coconuts, beer and great finger food can be found all over. Although crowded in the summer, it's not as crowded as Pitangueiras. It also has a rich nightlife that can make traffic chaotic during the high season. Bus number: 11,17,19,23,55,77 and 81

PitangueirasOne of the most popular beaches in Guarujá. Overcrowded in summer mornings, Pitangueiras can be better appreciated with a barefoot walk on its sands in a warm afternoon. Surfers are all over the beach as well as vendors, who will try to sell you anything from sweetcorn to songs. When the waves are not huge, it's also suitable for bathing. Bus number: 1,15,25,26,27,39 and 81

AstúriasPitangueiras' little sister, split only by a few rocks, Astúrias is a smaller and less crowded option for sunbathing and relaxing. Bus number: 1,15,26 and 81

TomboSurfer's paradise and one of the most beautiful beaches in Guarujá, it may not be suitable for bathing when the waves are too big. Otherwise an excellent choice. This beach is usually less crowded than the others, making it an excellent choice for the sunbather. On November 2010 it received the Blue Flag from the FEE association, indicating it as a premier beach for tourism. Bus number: 1,15,25,26 and 81

TortugasThere are tours on kayak, ski and motor launch, as well as boats and the possibility of diving. The wide strip of sand is ideal for comfortable hikes.

Pernambuco. The rich and famous all have a beach house along this sophisticated and calm beach. When the tide is low, it is possible to walk from the beach to Ilha do Mar Casado, the island in front of it. Bus number: 17,55,77 and 81
Perequê. Traditional beach with authentic fisherman's villages. One can appreciate just-caught fresh fish and seafood in the many restaurants while watching the come and go of the villagers. Bus number: 17,55,77 and 81
Other attractions
Acqua Mundo Theme Park

address: Avenida Miguel Stéfano, 2001

Enseada. The biggest aquarium in South America, it has more than 700 species of aquatic animals.
Barra Grande Fortress - The fortress was built by the colonizers in 1584. In there we can see panels of Manabu Mabe's. It is accessed by the Santa Cruz dos Navegantes road, or by boat, from the Ponte dos Práticos (Pilot's Bridge).
Do
Surf! Guarujá hasn't the best waves around, but they are good enough for a great surf session. Each beach offers its own style of wave, so whether you are a newbie or an expert, you will sure find what you are looking for. At Pitangueiras beach you can find a School of Surf (to the southwest, close to the rocks) where you can take some classes or just rent a board. More informations: 013 33821827 or 013 97882558.
Buy
Pitangueiras is the commercial center of the city, and also hosts a shopping mall by the beach near Av. Puglisi. Every weekend and during holidays, local artisans gather in a square near the shopping mall to sell handcrafts. Some bargaining is allowed, so practice your
Portuguese
numbers before you go.
Eat
Not only
seafood
but many other cuisines can be found in Guarujá.
Barbecue
restaurants are a nice option after a whole day of walking on the sands (but never before swimming).
Italian
cuisine is popular in the São Paulo State and is well represented in Guarujá.
Japanese
and
Arabian
cuisine will add to the vastness of culinary options.
Besides restaurants, vendors are everywhere selling coconut, sweetcorn, sandwiches, ice cream, etc. Kiosks are also easily found on the main beaches where you can try the excellent fresh and clean fried fish, crabs and shrimps.
Budget
Disk Pizza, R. Mário Ribeiro, 1088 - Pitangueiras, tel. 33551388/ 33552667 - Not really a restaurant, just call them and they will deliver a nice and warm Pizza.

Simbad

phone: +55 13 3386-5295

R. Mário Ribeiro, 1469 - Pitangueiras. Arabian. Cheap and delicious.
Tombo Pizzas e Esfihas - Estr. Alexandre Migues Rodrigues - 739, Tombo, tel. 33546099/ 33546160. Pizzas and Arabian snacks.
Mid-range
Avelino's

phone: +55 13 3355-8360

Av. Mal Deodoro da Fonseca, 1771 - Pitangueiras. Seafood. One of the most crowded places in the summer, right in front of the beach.

Monte Carlo

phone: +55 13 3386-1669

address: Av. Marechal Rondon, 742

Astúrias. Affordable seafood served in great style.
Churrascaria Santa Carne Grill, Av. D. Pedro I, 1955 - Enseada, tel. 33518964 / 33516943. Brazilian barbecue, all-you-can-eat.

Pitangueiras Express Grill

phone: +55 13 3355-4346

R. Mário Ribeiro, 551 - Pitangueiras. Brazilian barbecue, all-you-can-eat. Very busy at noon.

Tokyo

phone: +55 13 3354-4324

Praia do Tombo, 450. Japanese cuisine.
Splurge
Dalmo Barbaro

phone: +55 13 3351-9298

address: Av. Miguel Estefano, 4710

Enseada. Traditional local seafood. One of the most popular restaurants in all the Paulista coast. Worth-visiting. Enjoy the food while admiring the sea view.

Il Faro

phone: +55 13 3351-9305

R. Iracema, 38 - Enseada. Authentic and pricey Italian food.

Rufino's Restaurante

phone: +55 13 3351-5771

address: Av. Miguel Stéfano, 4795

Enseada. Sophisticated seafood restaurant.
Drink
Barbirott's Bar, Av. Gal. Rondon, n/n, Astúrias. Videokê bar. English songs available.

Barril

address: Rua Rio de Janeiro, 280

Pitangueiras. Live music. Jazz on Saturdays after 21:00.

Guaruça Praia Bar

address: Rua Avedis Simonian, 1380

Tombo. Spacious young bar. Live music on Fridays and Saturdays.

Johnny

address: Estrada de Pernambuco, 353

Pernambuco. Nice pricey bar.
Tahiti, Av. Mal. Deodoro da Fonseca, 367, Pitangueiras. A restaurant during the day, a happy and young bar during the night, in front of the beach. Good appetizers.
Sleep
Due to the high demand caused by the proximity with São Paulo, accommodation in Guarujá is somewhat overpriced, and cancellation policies are often restrictive.
Budget
phone: +55 13 878-1439

Av. Guadalajara 646 - Enseada. Clean and new HI Hostel with good social area and nice service. Great buffet breakfast included.

Pousada Canto do ForteR. Horácio G. Barreiro, 1232, Tombo, tel. 33542860/ 33542117,

Pousada das Pitangueiras

phone: +55 13 3386-9904

Praça Faria Lima, 125, Pitangueiras,

Pousada Praia do Guaiuba

phone: +55 13 3326-6695

Prca Getulio Vargas 134, Clean and new guest house with only 5 suites offering a wonderful place to relax in front of the beach with great personalized service.
Mid-range
Sobre as Ondas Hotel

phone: +55 13 3387-1273

address: Av. Gen. Rondon, 30 - Pitangueiras

Great hotel with good value for money. Right on the rocks that split Pitangueiras and Asturias. Astonishing view of the open sea and tasty seafood served in the restaurant.

Guarujá Inn Hotel

phone: +55 13 3355-9012, +55 13 3355-9191

address: Av. da Saudade, 170 - Enseada

phone: +55 13 3392-2909

address: Av. Miguel Estéfano, 4981 - Enseada

Small, clean and comfortable hotel in the east corner of the Enseada beach. Has a small but lovely swimming pool area from where you can watch the sunset. You may want to avoid the cheapest room, "Victória", as it is quite small and windowless. Bikes for borrowing available.
Splurge
Hotel Costa Classique

phone: +55 13 3355-4767

address: Av. Miguel Stéfano, 601

Enseada.

Casa Grande Hotel Resort

phone: +55 13 3389-4000

E Spa, Av. Miguel Stéfano, 1001 - Enseada.

Ferraretto Guaruja Hotel

phone: +55 13 3023-6600

Rua Mario Ribeiro 564 - Pitangueiras, Located just off of Pitangueiras beach in the shopping area. Nice pool and restaurant with complementary breakfast. Great off-season rates.

Sofitel JequitimarAvenida Marjory da Silva Prado - Vila Jequitimar.
Stay safe
Guarujá does not have a good reputation for safety. Pedestrian robberies (especially in the sidewalks of Pitangueiras and Enseada beaches) and car robberies are relatively common. Try to avoid walking in the beach sidewalks if there seems to be few people on them, especially (but not only) during the night. Don't bring more than you need to enjoy your day.

Stay healthy

The water quality of the beaches in Guarujá tend to vary alongside the year. In the beach, before rushing to the water, check the CETESB flag. A red flag indicates that the beach is not safe for swimming.