Guarulhos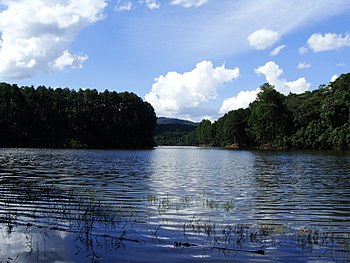 Guarulhos
is a city in
São Paulo
, located in the metropolitan area of the city of
São Paulo
. Despite being a city with 1.2 million people, second largest in the state, Guarulhos is mostly known for its international airport, the most important of South America and the main gateway to São Paulo. Indeed, Guarulhos has not much to offer to a visitor, although there are remarkable exceptions, like the Cabuçu center of
Parque Estadual da Cantareira
, one of the most beautiful nature spots of the São Paulo metropolitan area.
Understand
With GRU airport, Guarulhos is a typical "airport city" of a larger, more important city, used by visitors almost solely as a meeting point or a stopover to somewhere else. Unlike most "airport cities", however, Guarulhos is a
huge
city. It is a major center of industry and services, but also partly a dormitory city for
São Paulo
.
The view that many visitors have of Guarulhos are the
favelas
and factories that surround the GRU airport. However, the city also has a large middle class, which has been growing due to the pressure of housing prices in São Paulo. For this reason, there have been many new developments in the city, including a new modern shopping mall.
As expected, Guarulhos' most common visitors are business visitors who come for short-term conferences and meetings, sometimes in the vicinity of the airport. For them, the city offers the conveniences (and inconveniences) of a typical large Brazilian city, but for the more adventurous visitor, there are also some nice nature areas that are worth checking out.
Get in
By plane
São Paulo
's biggest and busiest airport is actually located in Guarulhos:
São Paulo–Guarulhos International Airportthe airport has four terminals that are served by Brazilian airlines LATAM, Gol, Azul and Avianca and by several international airlines, such as United, Delta, American, Air Canada, Air France, British Airways, Lufthansa, Avianca, TAP, Iberia, Alitalia, KLM, JAL, Swiss, Singapore Airlines, Korean Air (via Los Angeles), South African, Turkish, Emirates, Etihad and many others.
Leaving the airport, the only way to get into the city, or get to any other city around, is Rodovia Helio Smidt, which connects the airport to Avenida Monteiro Lobato (for Guarulhos destinations) and to Via Dutra and Rodovia Ayrton Senna (to get to farthest locations).
A taxi co-operative,
Guarucoop
(tel: +55 11 2440-7070), has a monopoly on cabs leaving the airport. They are plentiful and the queue is outside the arrival terminal. Credit-card users can pay for their journey in advance at the booth, although it's useful to have local currency as not all international credit or debit cards will work at all businesses in Brazil. Expect to pay about R$50 to any close destination.
Just across the arrival platform at terminals 1 and 2, there are some bus stops, where it's possible to take a bus to Cecap Terminal, and some other destinations inside Guarulhos, such as Guarulhos International Shopping and Cemitério da Saudade, in Picanço. From Cecap Terminal, there is a number of bus lines which can take you to any destination in Guarulhos.
By bus
The easiest way to get to Guarulhos, is get to
São Paulo
, and from there, take an intermunicipal bus. Although there is a bus terminal next to Guarulhos Airport:
From São Paulo
Several intermunicipal buses, operated by
EMTU
, serve Guarulhos from São Paulo metrô stations, such as
Armênia
,
Tietê
,
Carrão
,
Penha
and
Tucuruvi
. Due to the geographical location of Guarulhos, related to São Paulo, the best places to get a bus are at East and North regions of São Paulo.
By car
Guarulhos is served by many highways, connecting it to
São Paulo
, and many other Brazilian destinations:
Rodovia Ayrton Senna
Rodovia Ayrton Senna and Carvalho Pinto (its extension) is a modern and fast highway, that runs from
São Paulo
to
Rio de Janeiro
, crossing through Guarulhos.
Westbound, Rodovia Ayrton Senna links Guarulhos (Airport and eastern locations) to
São Paulo
, connecting to Marginal Tietê, from where it's possible to get many other highways to reach popular destinations, such as
Campinas
,
Santos
,
Sorocaba
, and the countryside of
São Paulo
.
Eastbound, Rodovia Ayrton Senna links Guarulhos to
Rio de Janeiro
(via Dutra), and popular destinations in
São Paulo
countryside, such as
São José dos Campos
,
Campos do Jordão
, and coastal cities, like
Ubatuba
(via
Taubaté
),
São Sebastião
and
Bertioga
(via
Mogi das Cruzes
) and
Caraguatatuba
(via Rodovia dos Tamoios).
Via Dutra
Sometimes referred as Guarulhos' main avenue, Via Dutra is not the best choice to travel long distances, due to its heavy urban traffic, and it runs alongside with Ayrton Senna, making the other one a more reasonable choice.
Fernão Dias
Fernão Dias is a federal highway which runs from Guarulhos (intersection with Via Dutra) to
Minas Gerais
capital
and southern destinations. In
Atibaia
, Fernão Dias highway intersects the Dom Pedro I highway, which runs from
Campinas
to
Jacareí
, turning it to a more reasonable choice to get to countryside destinations, like
Campinas
, as you may avoid the frequent traffic jams at Marginal Tietê in
São Paulo
. However, it may be a little tricky to drive through this highway, especially when it's raining, due to the heavy traffic of cargo vehicles and the track layout.
Rodoanel Mário Covas
Best known simply as "Rodoanel", this modern highway is proposed to form a ring around
São Paulo
, connecting the entire highway system. Since the north section is not already built, it's possible to use "Rodoanel" system only to get to coastal cities like
Santos
(via Anchieta and Imigrantes), and
Curitiba
(via Régis Bittencourt), with the advantage of avoiding intense traffic inside
São Paulo
.
Jacu-Pessego avenue is a good alternative to "Rodoanel", since they run alongside until
Mauá
, where they intersect.
By train
Until today, there is not a single meter of train tracks inside Guarulhos. The closest stations are
Engenheiro Goulart
,
Penha
and
Tucuruvi
in
São Paulo
metrô system.
See
Zoológico MunicipalAlthough small, this zoo has quite a range of animals and birds. Perhaps the star attraction is a lion couple.

Cantareira State Park - Núcleo Cabuçu

phone: +55 11 2401-6217

address: Av. Pedro de Souza Lopes, 7903 – Jardim São Luis – Guarulhos

Núcleo Cabuçu is the largest area open to the public area of one of Grande São Paulo's premium nature areas, the Cantareira State Park, and certainly one of the most attractive places in Guarulhos. The most popular trail is the Trilha da Cachoeira, a 5.2 km medium difficulty trail which provides nice views of the Cabuçu reservoir and leads up to a waterfall. Toilets are available at the entrance of the park; bring your own food and water.

Bosque Maia parkPopular with locals for doing sports and exercise, this strip of parkland has a kilometre long jogging strip running straight alongside the road, and a more meandering woodland trail on the valley side. At the top of the hill in the northern end there is an Orchidarium.

address: R. Vitória Calegari (cycleway access) - Vila Calegari - Guarulhos

A large garden in the right side of the Tietê river (in the left side lies the Parque Ecológico do Tietê - the two parks are not connected). Designed by the renowned contemporary architect Ruy Ohtake, the Jardim Metropolitano was conceived as a merely ornamental garden on the way between the GRU airport and São Paulo, not as a public park. Since 2014, however, the garden can be explored by the public as it is crossed by a cycleway that starts in the Vila Calegari neighborhood of Guarulhos. Still, don't expect any facilities such as shops, toilets, or drinking fountains. Security is also a concern since the garden has a small number of visitors for its size; therefore, try to cycle in groups and do not bring expensive bikes.

Padre Bento Theater

Trans-Guarulha Park

Guarulhos Forest GardenA large wildlife nature park open to school parties (TODO: verify if this is open to the public. It appears not)
Buy
Rua Dom Pedro IIThis pedestrianized street and the surrounding area at the top of this hill form the original city centre of Guarulhos and still the main high street shopping area.

Poli Shopping

address: Rua São Vicente de Paula, nº 118

A very central shopping mall opening onto Rua Dom Pedro II

Parque Shopping Maia

address: Avenida Bartholomeu de Carlos, n° 230

A new shopping mall completed in 2015

Shopping Bonsucesso

Shopping Internacional de Guarulhos

address: Rod. Presidente Dutra, exit 225 - Itapegica

There is nothing "international" about this shopping mall, but it is a decent mall and a good way to kill time for transit visitors, as it is a mere 11-minute taxi ride from GRU airport. Besides shops, food court and cinema, it contains an indoor theme park, bowling, a nice chopperia and a branch of Outback Steakhouse.
Eat
Budget
Agarca Restaurante Ltda

phone: +55 11 2446-1577

address: Avenida Rochedo de Minas, 115

Cid. Satélite,
O Postinho, Rua Luiz Faccini, (11) 2452-0256
Viola Brasileira, Rua Dona Olinda de Albuquerque, 39 (11) 2409-8235

Regina's Restaurante

phone: +55 11 2229-8341

address: Rua Diogo de Faria, 200
Mid-range
Choupana a Rainha das Batidas

phone: +55 11 2440-0545

address: Rua Silvio Barbosa, 51

Pizzaria e Churrascaria Cavacas, Rua Quitandinha - Vila Galvão, (11) 2452-8789
Restaurante Minhoto, Av. 7 de Setembro, 1555 - Vila Galvão, (11) 2451-2000

Kasa 10

phone: +55 11 2408-5007

address: Rua Diogo de Farias, 307

Centro,
Splurge
Restaurante Guaru Center

phone: +55 11 2409-5032

address: Rua José de Andrade, 129

One of the oldest restaurants in town.

Nonetto Ristoranti

phone: +55 11 2440-0676

address: Rua Josefina Mandoti, 246

Ponto K Costelaria & Cia

phone: +55 11 2461-3001

address: Av. Paulo Faccini, 1375

Cá te Espero Restaurante

phone: +55 11 2412-5436

address: Rua Mazagão, 51

Cumbica. Try the bacalhau.
Sleep
address: GRU Airport

Hotel for sleeping and shower in the GRU airport. There are actually two hotels, one in Terminal 2, near domestic arrivals, and another in a corridor in the 2nd floor, between Terminal 1 and Terminal 2.

São Paulo Airport Marriott Hotel

phone: +55 11 2468 6999

address: Av Monteiro Lobato, no number

Each room equipped with phones with voice mail, high speed internet, and multiple data ports.
Stay safe
The area surrounding the GRU airport contains very poor neighborhoods, and these are certainly
not
a place to be explored in case you feel bored. Guarulhos' good neighborhoods are mostly in the area around the city center, although they require caution, especially during the night, as in
São Paulo
.