Gudalur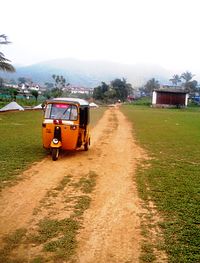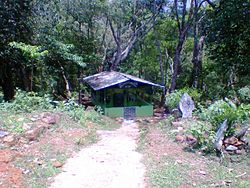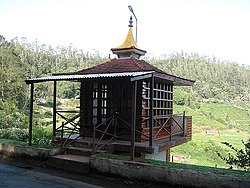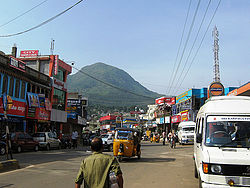 Gudalur
is a small town near
Ooty
in
Tamil Nadu
,
India
. Gudalur is a cheap alternative to Ooty as there is very little traffic and accommodation is not that expensive. Nature is the main attraction of Gudalur.
Understand

A place with mountains, valleys, evergreen forests, spices, tea, coffee, paddy and vegetables. Gudalur is the meeting point of three cities Mysore, Ooty and Calicut.

Get in
Gudalur is three hours by bus from
Mysore
. You can also reach here from Kozhikode and Ooty by bus. There is no rail link. When you come to Gudalur from Mysore, the road is two track with a toll both in the middle. The major tourist attraction is the S.G.S.Ashram with an aviary, library and museum inside. There are good restaurants like Rhythm.n.Hues, The Evergreen, the Grand View and Vishnu Cafe before reaching the airport. This is a very silent airport as no flights are operational now. Before airport there is a scenic place with a lake and bend in the road. After Kadakola town, there are two punjabi dhabha restaurants offering private outdoor huts. There is a riverside temple at Sujathapuram and also India's oldest railway bridge is located here. Cafe Coffee Day has an outlet here. Royal Hotel provides Kerala style food.
Nanjangud
town has many lodges and restaurants. Many Kerala restaurants dot either side of the road. There is a drive-in-cafe 15 km from Nanjangud. There is an outlet of Cafe Coffee Day another ten kilometer forward.The stretch of road from Gundlupet to Gudalur is a single line track passing through two national parks. You can find humps every 300 meters and the driving is very unpleasant. The road from Gudalur to Ooty is a very scenic uphill route but traffic blocks are very common near the Frog Hill viewpoint. They last for one or two hours.
Get around
The ubiquitous yellow autorickshaws are easily available everywhere. They do not charge much.
Government-operated government bus services are also available from all nearby locations and main areas.

See
Bandipur

Chandanamalai temple

Devarshola

Devon EstateA beautiful tea estate close to town.

Frog HillFrog shaped mountain

Hanging Bridges

Mudumalai National Park

Needle Rock

address: 5 km

Fantastic view point

Undulating Tea Estates

Tropical Gene Pool Garden2424 acres area. 47,000 plants. second best of its kind in the world. Museum of butterflies. Accommodation, food and trekking facility.
Do
Gudalur is an ideal place to stay if you are interested in visiting the tea gardens on the way to Ooty. Pykara lake is only 30 km away
Mango Orange village

address: Pandallur, Devala

Excellent place for trekking.
Buy
Ganesh Bakery

address: Ooty Road
Eat
Archies Curry Lounge

phone: +91 4262 263 907

address: Ooty Road

Hotel Runs

address: Ooty Road

Hotel has a good non-vegetarian restaurant.

Indian Coffee House (ICH)

address: Mysore Road

ICH offers quality vegetarian food.

Suya Mess

address: Mysore Road
Sleep
Anasuya Regency Hotel

phone: +91 4262262463

address: Police Station Road

Cafe Inn

phone: +91 94871 31734

address: Chevidipet, Mysore Road

ggtgrand.com

phone: +91 4262261290

address: Mysore Road

Hyrana Homestay

address: Calicut Road, Near the Orphanage

Cottages inside a tea estate.

Misty Grove Resort

address: Nadugani

Upmarket property.

phone: +91 94862 55687

address: Mysore road

Runs Hotel and Restaurant

address: Ooty Road

Good Rooms

S. S. Lodge

phone: +91 94435 23811

address: Ooty Road

Star Lodge

phone: +91 4262262260

address: Near new court

Venus Hotel

address: Near Bus Stand

Swamy Dormitory

address: Mela Gudalur

This place has good views but restaurants are available only down the hill.
Connect
There mobile network coverage of B.S.N.L. There is an post office run by India Post.

Go next