Gudauta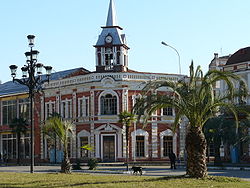 Gudauta
(Abkhaz: Гәдоуҭа) is in
Abkhazia
.
Get in
By bus from
Sukhumi
or
Gagra
.
By
Moscow
-
Sukhumi
train which goes two times a week in a winter and daily in a summer.
Train station
See
Museum "Abazgia"Consists of four exhibition halls: two of them dedicated to the Georgian-Abkhaz conflict, one - to archeology and the last one - to ethnography.
Out of town
Natural caves

address: at the origins of the river Mchishta

Abahvatsa fortress

address: Abahvatsa village

Fortress walls surround an area of about 600 square meters. The height of the walls in some places reaches up to three meters, being 1 m thick. There is a seriously damaged four-storey tower standing on the edge of the cliff. In the northwestern part of the fortress there is a destroyed underpass and a cave. Fortress itself was built not later than XIII century.
Lykhny village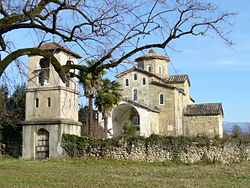 Lykhny - is a village 5 km NW from Gudauta. Moreover, it's the biggest village in Abkhazia with the population of 15000 people.
It once was a capital of Abkhazia and an official residence of Abkhazian supreme prince from 1808 to 1864.
Lykhny templeConsists of a bell tower and a dome temple (X - XI cc.) featuring XIV century frescoes. Inside the church there is a tomb of prince George Chachba-Shervashidze. And it's a still working church.

Ruins of a palaceRuins of a X century complex which consists of Abkhazian kings' summer palace and a summer residence of the ruling princes Chachba.

Glade LyhnashtaIt's a historical field in the center of the village, the place of traditional meetings of the Abkhazian people.
Go next