Guildford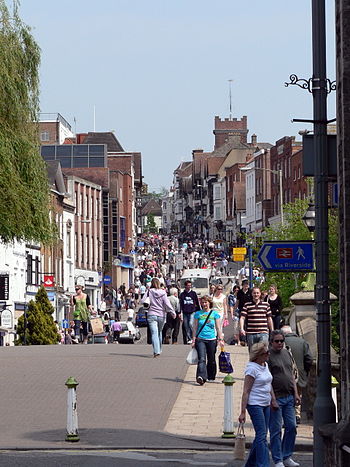 Guildford
is a large town in
Surrey
in the
South East
of
England
. It has still retained much of its historical charm. A short walk up the cobbled high street shows many buildings which are hundreds of years old. The medieval castle was used by the King of England in the 1400s and because of this Guildford is the only royal town in Surrey.
Understand
Guildford grew up into a large town because of its location at roughly the half way point between England's main naval port at
Portsmouth
and the admiralty in Greenwich,
London
. People travelling by horse-drawn carriage between the two would stop at inns in Guildford (such as The Angel and The Lion) to swap horses over and to refresh themselves. With the advent of the steam train in the 19th century, Guildford was no longer needed for this purpose, and it fell into decline. But as more and more people started to commute into work in London in the early 20th century, Guildford became more and more rich and popular.
Guildford is the county town of Surrey, but not the administrative centre (that is Kingston upon Thames, which is actually in a London borough). It is the economic and cultural centre of the whole of West Surrey.
Although under 30 miles away from Central London Guildford has its own individuality and is not similar to boroughs in London or other commuter towns in Surrey. Guildford is a large town with all the amenities of a city.
Get in
By bus
Guildford is served by many bus routes from
Woking
,
Aldershot
,
Godalming
and other local places. Prices can be fairly expensive and buses can be unreliable particularly after 6:30PM.
The main bus station, which is the terminus for all routes heading into Guildford, is on Commercial Road (off the bottom of North Street). From here, one can pick up details about bus services and buy cheaper long term tickets.
Park and ride
Guildford has several park and ride carparks, and at the weekend they are the easiest way to get into the town centre. They are situated at Artington (on the Portsmouth Rd heading out towards Godalming, about 3 miles south of Guildford), at the Spectrum Leisure Complex, at Merrow on the A246 Epsom Road, east of Guildford, and at Onslow near to the RSCH and Surrey Sports Park, west of Guildford. At all four sites, the car parking is free and you just pay for the bus fare to get into the town centre. The park and ride system is good for the environment and also it allows the city to stay congestion free!
Onslow - buses run every 15 minutes between 7:30am and 7pm on Mondays to Saturdays. The park and ride from Onslow costs £1.50.
Spectrum Leisure Complex – buses run every 12 minutes Mondays to Fridays from 7:27am to 11:10pm, reduced to every 20 minutes after 7:30pm. The park and ride from the Spectrum costs £2.40 return.
Artington – buses run every 10-12 minutes from Mondays to Saturdays from 7:30am to 7:30pm. The park and ride from Artington costs £2.20 return.
Merrow – buses run every 15 minutes between 7:30am and 7:33pm from Mondays to Saturdays. The park and ride from Merrow costs £1.80 return.
By plane
Guildford is well served by London's collection of airports. For travellers coming directly to Guildford, the most convenient (in reducing order of convenience) are:
Heathrow Airport (LHR) is about 40 minutes drive along the M25 motorway and the A3 trunk road. It is also linked directly to Woking rail station by the RailAir express bus service.
Gatwick Airport (LGW) is about an hour's drive away via the M23 (northbound), M25 (clockwise) and A3 (southbound) roads. There is a through train service to Guildford from a rail station in the airport terminal complex, running twice an hour and taking less than an hour.
By train
Guildford main line station
is served by commuter and regional train services from many different directions, including two routes to London (one fast via Woking, the other slow via Cobham). The fast services continue southwards to
Portsmouth
. Guildford also lies on the line from Reading to Gatwick Airport; beyond
Reading
, services to
Oxford
and
Birmingham
may be accessed, and via Gatwick, connections to
Brighton
and
Kent
.
From London, you should travel from
London Waterloo
station and catch a train whose first stop after Woking is Guildford (there are several of these an hour), the travel time will be about 35 minutes. There are also a few Portsmouth bound trains that go non-stop to Guildford. There are other stopping services from Waterloo via Cobham, but these take so much longer it isn't normally worth considering them.
There is a smaller station called , which is the penultimate stop on the line from London via Cobham.
Train times can be found on the
National Rail Planner
or by calling from anywhere in the UK.
By coach
National Express
serve Guildford with express bus (UK English:
coach
) services from around the country; advanced ticketing is necessary. They serve a stop called Guildford Park Barn, which is a slightly out-of-town location near a Tesco supermarket. You will have to catch a local bus or taxi (if you can find one) to take you into Guildford.
By car
Guildford is served by the A3 trunk road which runs from London to Portsmouth. It is about an hour's drive from central London.
If you are visiting for the day by car, consider using the Park & Ride site at the Spectrum leisure complex just off the A3 southbound, Onslow just off the A3 northbound, Merrow to the east of Guildford or the site on the Old Portsmouth Road at Artington (on the way to Godalming) and catching the dedicated express bus from these locations.
Get around
By foot
The central area of Guildford is easily walkable, but hilly. From the railway station you must cross the river Wey in order to reach the town centre and the bus station.
By bus
Buses not only provide a good way of getting around the central district of Guildford itself, but are adequate for the local community. Buses are operated mainly by Arriva Kent and Surrey, Stagecoach South and Safeguard.
phone: 087-608-2-608 (local rate)

provide an impartial online travel planner and telephone query service for local bus services.
By taxi
Taxis are by far the most expensive way to get around Guildford. If you do wish to travel by taxi, there are taxi ranks at the front of the Railway Station, and at the bottom of North Street on the other side of the road from the Electric Theatre. You can also get taxis from various places around the city centre.
Taxis can also be booked by phone and will usually pick up from most locations within a 5-mile radius of the town centre. Popular operators include:
By car
Whilst not as bad as either London or Oxford, Guildford's roads can get very congested at peak periods, especially at the hogs back. Especially if you are not used to driving on the left, central Guildford is probably best avoided.
On the other hand, a car is the one (possibly along with cycling) of the only really practical ways of seeing a lot of the local countryside and villages. Out here the roads are a lot quieter.
Maps
If you are planning to do any visiting or exploring beyond central Guildford, you will probably want to obtain a decent map of the area. You should ensure that any map you buy clearly shows the national grid reference lines, and explains how to use them, as grid references are frequently used to indicate out of town locations. The best maps for this purpose are those published by the Ordnance Survey (Britain's national mapping agency) and the following maps cover all the locations mentioned below:
Ordnance Survey Landranger 186. This map covers the area around and between Guildford and Aldershot at a scale of 1:50000 and is best for exploration by car or cycle.
Ordnance Survey Explorer 145. This map covers the area around Guildford at a scale of 1:25000 and is best for walking.
These maps can be found in any good bookshop in Guildford (see 'Buy' section below), or can be bought online from the
Ordnance Survey
.
See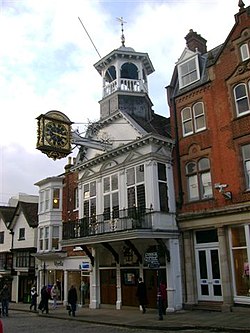 Central Guildford
Abbot's Hospital

address: High Street

Built in 1619 by Guildfordian Archbishop of Canterbury George Abbot as a retirement home for the local elderly.

Chestnuts

address: Castle Hill

Lewis Carroll, author, mathematician and photographer, Lewis Carroll (b1832) lived in Guildford until his death in 1898. Visit Lewis Caroll's house 'Chestnuts', on Castle Hill in the centre. See Guided Tours of Guildford.

The Guildhall

address: High St

A marvellous Tudor/Stuart building with its overhanging 1683 clock.

Guildford Museum

phone: +1483 444751

address: Quarry St

The Spike Heritage Centre

phone: +44 1483 598420

address: Warren Road, GU1 3JH

19th-century workhouse used to house vagrants until 1960. This site has now been fully restored and is one of two similar sites in the UK.

address: Castle Street, GU1 3TU

Medieval castle built to protect the town in the 1400s and one of Henry III's most luxurious residences. Conservation work revealed a 12th century first floor chamber which is now open to the public.

address: Stag Hill, GU2 7UP

A 1930s brick cathedral which was the first to be built on a new site in the south of England since the Reformation. The inside is more impressive than the outside. The cathedral was started in the 1930s, but it wasn't until 1961 that it was consecrated due to an interruption in construction due to World War II.

St Catherine's ChapelRuined chapel a short walk along the river wey from Guildford town centre.

The Wey NavigationThis canal winds its way through Guildford until it reaches the River Thames in Weybridge. Of particular interest is the HQ at Dapdune Wharf, but just sitting down by the locks near the Yvonne Arnaud Theatre watching canal boats is very peaceful and gives one an insight into what the Wey once was - a busy industrial thoroughfare connecting Guildford and Surrey's industries with the rest of the country - and you might even get to help open the locks for the boat!
Surrounding area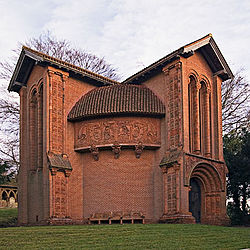 There are also many interesting things to see around Guildford:
phone: +44 1483 222482

address: West Clandon, GU4 7RQ

phone: +44 1306 876616

address: London Road, RH5 6AA

Very good wine, England's largest vineyard.

phone: +44 1483 222482

address: East Clandon, GU4 7RT

phone: +44 1306 712711

address: near Coldharbour village, Dorking

phone: +44 1483 304440

address: GU3 1HS

phone: +44 1483 795483

address: Albury, GU4 8SE

Situated on the southern facing side of the North Downs, there are fantastic views over Surrey and also plenty of walks to be done. 10-min drive from the centre of Guildford.

Painshill Landscape Gardens

phone: +44 1483 224234

address: Wisley, Surrey, GU23 6QB

The Royal Horticultural Society's (RHS) flagship garden is one of the world's great horticultural gardens, with thousands of plants from every continent across dozens of themed areas including formal gardens, borders, arboreta, rockeries, orchards and glasshouses.

phone: +44 370 333 1181

address: Farnham, GU9 8EP

Watts Gallery and Watts Chapel

phone: +44 1483 810235

address: Down Lane, Compton, GU3 1DQ

The gallery and exceptional chapel are just off the A3, south of Guildford, near Compton. It is well worth a visit to see the fine Arts and Crafts buildings.

phone: +44 1483 561389

address: Shalford, near Guildford, GU4 8BS
Do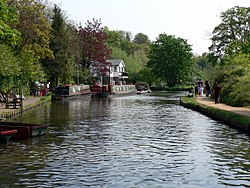 River trips
Boat trips from Dapdune WharfRun by the National Trust with help from volunteers.

Hire a rowing boat (£7) or a canoe (£5) and travel along the river at your own pace. Boats can be hired from the Guildford Boathouse, located at the back of Millmead short stay car park off the Shalford Road. The boats tend to be in good condition and the river is not too crowded!
Walks
There are many walks around the North Downs surrounding Guildford including the North Downs Way which runs from Farnham (8 miles west of Guildford) to Folkestone some 80 miles away. There are also pleasant walks to be had along the River Wey to Godalming or Woking. Pewly Down and The Chantries which are south-east of the town centre offer a change of scenery. The Fox Way is a another walk of 39 mi (63 km) split in 7 stages around Guildford.
Festivals
Guildford Book FestivalAnnual festival of literature featuring signings, readings, plays, etc.

Guildford International Music FestivalA biennial festival (2017, 2019, etc.) featuring many concerts across 2–3 weeks. Genres are mixed, and the festival brings high quality professional acts to the town.

Farnborough International AirshowNot in Guildford (10 miles away in Farnborough), but well worth a visit to this biennial airshow.
Learn
Adult learning providers include
phone: +44 1483 448500

address: Stoke Road

Courses include summer English courses of two weeks or longer.

Guildford Adult Education Centre

phone: +44 1483 518528

address: Sydenham Road

Run by the county council. Has some 1-day summer art clasees.
There are also various private education providers including a Pitman Centre
Work

Guildford has a vast array of temping agencies and private owned job centres. Walk up the High Street or North Street, or look in the local newspaper, the Surrey Advertiser.

Buy
Shopping
Sometimes regarded as one of the premier shopping destinations in the South, Guildford is the major shopping centre of West Surrey - possibly the whole county - with most of its shops clustered in a fairly compact area on and around the High Street, and the parallel North Street.
There are three shopping centres:
phone: +44 1483 503773

address: North St, GU1 4YT

phone: +44 1483 506877

address: 40 Friary St, GU1 3DW

phone: +44 1483 537153

address: Tunsgate, GU1 3QT
There are two major department stores,
phone: +44 344 800 3730

address: 105 - 111 High St, GU1 3DP

phone: +44 344 800 8877

address: Millbrook, GU1 3UU
Although there are several shopping malls, unlike many modern towns in England, the famed and attractive cobbled High Street has remained the focus of Guildford's shopping district. It is here, on the High Street and on North Street that you will find the best shops, and have the nicest shopping experience.
In general stores open M-Sa 9:30AM–5:30PM and Su 10AM-4PM although many stay open longer on some days and some do not open on a Sunday.
In addition to the shops and malls scattered around North Street and the High Street there is also a regular market each Friday and Saturday which stretches along North Street which offers a variety of goods including traditional fresh meat, fish, fruit, fresh ground coffee, cheese, olives, vegetables, flowers, pet food, luggage, linen, rugs, bags, towels, jewellery, clothes, cards, wooden carvings, CDs and picture frames.
The market operates during normal shopping hours on Fridays and Saturdays on North Street in Guildford, and is very close to Leapale Road and Castle multi-storey car parks.
There is also a Farmers Market on the High Street generally on the first Tuesday of every month. These times can vary during the summer season and during Guilford Summer festival, where markets, including crafts and handicrafts markets can be seen lining the high street for several weeks. During the run up to Christmas, too, there will be extra markets.
Money
All main British banks and building societies have branches in Guildford, and most of them are situated around the eastern end of the High Street. These branches normally open M-F 9AM-4PM and Sa 9AM-noon.
Most bank and building society branches have 'through the wall' type ATMs that are open 24x7.
For changing money there are many Bureaux de Change services throughout the town, with some such as the post office offering commission free exchanges.
Eat
Guildford has a good selection of restaurants with many different themes attracting different tastes. On Friday and Saturday many of them are booked up weeks in advance and early booking is advisable to avoid disappointment.
Central Guildford
Olivio

address: 53 Quarry Street

Tucked away from the high street and hard to find if you are not a regular visitor to the town. Worth perservering as an excellent choice.

Loch Fyne

address: Centenary Hall Chapel Street

Part of a national chain of restaurants - situated in a classic style building in a prominent position in the town.

Shardana

address: Bakers Yard, High Street

Italian bar and Pizzaria.

Cote Bistro

address: 35 Castle Street

French cuisine.

Brasserie Gerard

address: 260 - 262 High St

Magnifico's Restaurant

address: 144 High St

Mandarin Restaurant

address: 13 Epsom Rd

Maloncho Tandoori

address: 7 Epsom Rd

Indian food.

address: 21 Chapel St

Rose Valley Curry House

address: 50-52 Chertsey St

Best curry house in town. Prince Harry and his mates have been known to dine here in the past.

address: 16-18 London Road

Well presented Thai restaurant with a decent menu. There is normal seating, and for the brave, more traditional Kan Tok (much lower!) seating.

Sir & Madam Thai Restaurant

address: 8-9 Jeffries Passage

Strada Restaurant

address: 222 High St

TGI Fridays

address: 2 North St

American restaurant chain. Good cocktails and ribs.

The Thai Terrace-Rooftop Restaurant

address: 7th Floor Castle Car Park

Offers a superb view of the town

Yvonne Arnaud Riverview Restaurant

address: Millbrook

address: 4 Chapel St

Turtle Bay

phone: +44 1483 300307

address: 1 North Street

Caribbean food and cocktails. Part of a chain.
Surrounding Villages
Worplesdon Place Hotel - very good food, but a bit expensive, and service can be slow.
Drink
Pubs and bars
In the town centre,
Bridge Street
(between The Friary shopping centre and the railway station) has a cluster of formulaic wine bars and cafe bars. Cheap prices and themed nights are fun, and popular with locals, as such the area gets extremely busy around closing time.
Bar Mambo Onslow Street. Brilliant location.... Drink prices now very reasonable. Shows a lot of sport - football, rugby, etc. Staff are very friendly, food is fantastic. It's the place to be...
Bar Med Bridge St. A (loosely) Mediterranean themed bar that shows a lot of Sky football matches. Reasonably priced beer, and pretty good food as well. Well due a facelift.
Rodborough Buildings Bridge St. huge bar on two floors. JD Wetherspoons bar.
Tickled Ivory Onslow Street. Piano bar with a limited drinks selection. Avoid on Saturdays.
On or near the High Street:
Joe Clarks

address: 176 High Street

Cafe and wine bar with a Mediterranean feel.

The Tudor Lounge

address: 144 High Street

Small bar - good for a passing drink.

The Three Pigeons

address: 169 High Street

Historic town pub renamed back to the Three Pigeons in 2009.

address: 3 Milkhouse Gate

Independent tapas bar which is quite cramped inside. Serves as a late bar and can be a cheaper alternative to going to one of the clubs.

Five & Lime

address: Leapale Road

Small cocktail bar.

The King's Head

address: 52 Quarry Street

Inside, a traditional English pub, outside a very chic rooftop terrace. Very nice sitting outside in the summer.

Pews Bar

address: 21 Chapel St

Large outdoor bar area.
The Robin Hood Sydenham Road, +44 1483 888307. Just behind the High Street, a 'proper' pub, good beer, great friendly atmosphere, food lunchtimes and evenings with new menu and famous Sunday Roast which takes some beating! Live music Friday and Saturday evenings with acoustic Sunday night entertainment starting mid-August. Need to book for Sunday lunch.

The Royal Oak

address: 15 Trinity Churchyard

Hidden just behind the top of the high street, a traditional English pub, serving a range of real ales and imported drinks. Also known to host a few live music events from time to time.

The Star Inn

address: 2 Quarry St

Quite a lively pub with a young crowd. Good live local bands on some nights.

The Guildford Tup

address: 46 Chertsey St

Close to York Road Car Park. Expensive beer.

Ha Ha Bar and Canteen

address: 16-17 North Street

Refurbished in a fairly central location, close to the bus station and taxi rank.
Close to the River Wey
The White House

phone: +44 1483 302006

address: 8 High Street

Nice outside terrace close to the river, very nice to relax an a summers day or night.
The Rowbarge, 7 Riverside. Outside deck looks over the river.

The George Abbot

phone: +44 1483 302006

address: 7-11 High Street

Large Pub with big screens with live sports. Good selection of beers and real ales. Nice selection of food.

The Britannia

phone: +44 1483 572160

address: 9 Millmead

Previously called Scruffy Murphys, there is a deck on the front of the pub which overlooks the river.

The Boatman

address: Millbrook

A short walk out of town close to the Yvonne Arnold Theatre, nice outside deck which stretches right out next to the river (railings are now placed at the edge for safety).
More traditional English pubs
Ye Olde Ship Inn, St. Catherines, Portsmouth Road. Next to the College of Law, is the oldest pub in Guildford.
The Angel, on the High Street. A very pleasant pub, with a fine selection of locally brewed ales. It is expensive to drink here but this keeps the youth out, making it one of very few pubs in Guildford town centre where you can enjoy a quiet drink!
The White Hart, White Hart Lane, Wood Street (3 miles outside of Guildford) is a nice traditional English pub serving good quality local ales in a very attractive setting.
The Ship Inn Pitch Place, Worplesdon Road, 1 mile out of Guildford. Next to Yeomans Honda, serves traditional food and quality ales.
In the Stoke Park Area
For visitors to Guildford this is generally an overlooked area of guildford, which is up and coming due to the increasing student population. Also it has been billed as Guildford's Latin quarter because of its dancing and salsa venues.
The Stoke

address: 103 Stoke Road

Holds dance classes every Thursday which include include Salsa (Cuban, Cross Body On 1)and Rueda. Student discounts apply.

The Prince Albert

address: 85 Stoke Road

It offers a selection of pub meals from £2.
Nightclubs
The Casino, Onslow St. Guildford's main event night club.
Dusk (formerly known as Cinderellas). This is a smaller club than Harper's, attracting a younger crowd.
The Legion, Millbrook. On 3 floors, with 2 bars and a dance floor.
Flares, Bridge Street. 1970s/80s themed bar.

m.Brasserie & Bar

address: 36-40 London Road

Part of the Mandolay hotel, this bar is at the top of the high street on the town centre and has a free-entry disco/club before 10:30PM.
Live music venues
The Boileroom, 13 Stokefields +44 1483 440022. Billed as Guildford's Premier Live Music venue.
Wooden Bridge Pub, Woodbridge Hill, GU2-9AA, +44 1483 572708. Guildford's live music venue for the talent that the ACM, Guildford and the surrounding areas have to offer. Weekly Live nights: The Other Side Of The Bridge, hosted by Way Out. Every Saturday from 8PM.
Sleep
Budget
Mid-range
address: Egerton Road, GU2 7XZ

Situated on the outskirts of Guildford, the hotel is near Heathrow Airport and Central London. There are also leisure and business facilities on-site.

address: 73 Farnham Rd

address: Epsom Rd

address: 78 Epsom Rd

The Angel Posting House and Livery

address: High Street

address: 253 High St

address: Perry Hill

Ramada Jarvis Hotel in Guildford/Leatherhead

address: E Horsley
Splurge
address: Newlands Corner

address: 36-40 London Rd

address: 3 Alexandra Terrace, High Street

Landmark hotel next to G-Live.
Stay safe
Guildford was the safest and most attractive shopping destination in the UK, according to the Eve Prime Retail Survey, 2004.
Much of the centre of town is monitored 24 hours a day by CCTV cameras.

Connect
Phone
Guildford's area code (for landline numbers) is 01483 when dialed from within the UK or +44 1483 from outside the UK.
Cellphone coverage is generally good within the city and surrounding area.
Internet
If you are travelling with a laptop then you will find broad-band internet access in the rooms of most, but not all, medium to high end hotels. If this is important to you check before booking. And there are many Wi-Fi hot spots in and around Guildford.
There are also several places that offer web and other internet access if you are travelling without a laptop. These include:
Caffe Nero, High Street.

phone: +44 1483 568496

address: 77 North Street

Free access.

phone: +44 1483 451166

address: 7 Jeffries Passage
Cope
Consulate
Bhutan

phone: +44 1483 538189

address: Windacres, Warren Road, GU1 3HG

Bhutan's consulate to the UK.
Go next
There are three very good theme parks within 45 minutes drive of Guildford:
Surrey Hills
London 45 min by train or car, with many tourist attractions and things to do.
Portsmouth to see the historic dockyard. About 50 min by train/car.
Farnham Historic market town, about 15 minutes by train or car from Guildford Centre.
Windsor Fabulous royal castle, which the Queen still uses, and very attractive town. St George's Chapel in the town hosted the wedding of Prince Harry and Meghan Markle.
Brookwood Military Cemetery, home to a lot of British, Commonwealth and Allied war graves from the world wars and the modern era.