Guimaras
Guimaras
is a small island province in the
Western Visayas
region of the
Philippines
. It is in the strait between two larger islands,
Panay
and
Negros
.
Understand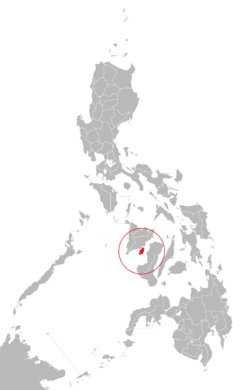 Guimaras is south of
Panay
and north of
Negros
. It is close to
Iloilo City
and was once administered as part of
Iloilo Province
but is now treated as a separate province. It is one of the smaller provinces, with a land area just over 600 km 2 (233 mi 2 ) and population around 175,000 as of the 2015 census.
The island is well known for its sweet mangoes, which are one of the main income sources for most families.
Cities, Municipalities and Islands
Pronounced as Hor-dan, it is the provincial capital of Guimaras.
(Naburot Island)
Get in
By boat
Take a 15-minute boat ride from
Iloilo City
to Jordan, through the Guimaras Strait. Be careful, because there are two ports in Iloilo that have boats going to Guimaras. One goes to Buenavista and the other one is in Jordan. The port going to Jordan is in Ortiz (near SM Delgado and Robinson's Place) and can be reached by cab. As of August 2013, pumpboat fares going to Jordan cost .
The boat trip may be dangerous, as squalls (
pugada
or
subasko
in
Hiligaynon
) are known to form over the strait during rainy season, and on August 2019, over 30 died after three pump boats capsized under strong winds caused by a severe squall. There are also long-term plans to replace the boat service with a road bridge across the strait, with construction to start by 2020, while an interim roll-on/roll-off ferry service will replace the smaller wooden-hulled boats for the short term until the fixed link is completed.
Get around
Upon arriving in Jordan port, proceed to the
Tourism Center
just a few meters from the drop-off point. From there, you can ask for assistance about budget accommodations and how to get around. There are also several mini-van and tricycle drivers who offer tour rides.
There are several driver-guides who can be contacted prior to arriving in Guimaras:
Lindon Monreal

phone: +63 948 927 2661
See
address: Balaang Bukid Shrine Trail, Jordan

Hike to the 14 stations of the cross. Take a ferry bound for Jordan Wharf in Ortiz Port (Iloilo City). From Jordan Wharf, take a tricycle ride to the foot of Balaan Bukid. It's a 30-45 min hike to the top. During the Holy Week (Easter), there are special trips that transport visitors directly to the foot of Balaan Bukid.

Guisi Light HouseFrom Guisi Beach, follow a trail 15 minutes uphill to the Guisi Lighthouse for a great view of the beach. At the top of the hill are the ruins of a Spanish-colonial outpost and the rotting remains of the metal lighthouse structure.

Trappist Monastery

Mango Plantations
Do
Buy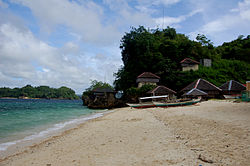 There is a souvenir shop located beside the Guimaras Provincial Capitol where you can buy local delicacies.
The best time to buy mangoes is during summer time (mid-April).
Eat
Guimaras' pride are is its mangoes which are known to be among the sweetest. Mangoes are grown in such massive numbers that they are made into dried mangoes, jam and surprisingly, mango ketchup.

Sleep
Budget
Valle Varde Mountain Resort

address: Ravina Norte Sibunag

Fan double room with own bathroom. Has a nice swimming pool.

J M Backpackers Hometel

address: JTM Building San Miguel

Fan double room with own bathroom and cable TV.

Small Wings Pension Inn

address: Sam Miguel Jordan

A/C double room with own bathroom and cable TV.
Go next
Nearly anyone leaving Guimaras will start with a ferry ride to
Iloilo City
. There are no other routes unless you have your own boat or charter one.
Iloilo has an airport, a seaport, and bus connections to anywhere on
Panay
. It serves as a regional transport hub; from there you can reach anywhere in the Philippines and there are a few international flights as well. One popular destination is the resort island of
Boracay
, just off Panay and reachable starting with a bus journey from Iloilo to
Kalibo
.
A short ferry ride from Iloilo gets you to
Bacolod
, capital of
Negros Occidental
; from there you can easily reach anywhere on
Negros Island
or continue to the main urban hub of the entire
Visayas
region,
Metro Cebu
.