Gullkrona
Gullkrona
is an island and island group in the
Archipelago Sea
.
Understand

The island was a popular boating destination and guest harbour until it was closed after 2008 due to family reasons. Most of the island has now been acquired by new owners, who try to make the island the popular destination of those times, but also with some more services, such as restaurant and some activities for children. Instead of a family running the guest harbour beside their main livelihood there is now paid staff.
Get in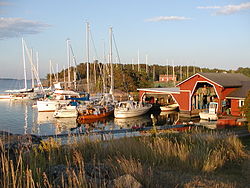 Most visitors come with their
own yacht
, but there are also ferry connections from the main islands of
Nagu
and from
Turku
.
There are connections from Kirjais Österby most days, twice some days, from Pärnäs in western Nagu thrice weekly (only the transversal route), from Turku twice weekly in season. Kirjais Österby is 12 km from the Archipelago Road and 20 min from Gullkrona, while Nagu Pärnäs is on the Archipelago Road, but four hours from Gullkrona. The ferry connections from Nagu are a free service, but the call has mostly to be ordered before 16:00 the preceding day. Timetables for the
transversal route (summer 2019)
and the
Nagu southern route (summer 2019)
available online. In season there is also a commercial twice-weekly
ferry connection from Turku
via Själö in Nagu (€40/30, W,Sa 9:30→13:00, back 14:45→18:15).
Fees and permits
Harbour fee €25–28/night for those arriving by yacht. Waste disposal, shared sauna (an hour for men and one for women morning and evening) and shower included. Day fee €5 (0–3 hr). Electricity €5. Buoys, anchoring prohib­ited.
Part of the island belongs to residents unrelated to the business. Respect their privacy.

Get around
The island is small, use your legs. If you have accessibility issues, check.

See and do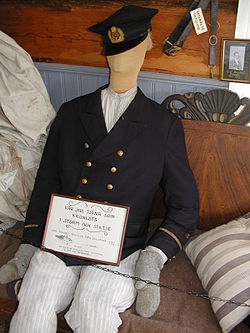 The old pilot cottage

Eva's museum

Nature trail

Sauna. Private hour €20.
Buy
There may be fish and souvenirs for sale.

Eat and drink
Bistro stiltje

phone: +358 2 465-51-73
Sleep
Arriving by yacht you sleep in your own berths. If not, check your options.

Go next
There are several island farther out in the archipelago: Stenskär, Grötö, Brännskär, Kopparholm, Träskholm, Björkö, Trunsö/Gloskär, Sandholm, Lökholm and Borstö are reachable by the Nagu southern route. Some of these have accommodation possibilities, some can be visited while waiting for the ferry to return.
If you return to Nagu you can take another ferry to the larger outer archipelago islands Jurmo or Utö.
If you take the ferry to Turku, Själö is an interesting island on the way, north of the Nagu mainland.