Gurgaon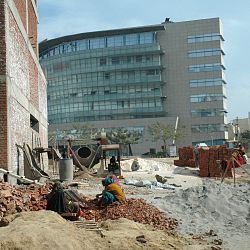 Gurgaon
(गुड़गांव) is a suburban city of
India
's capital
Delhi
, just outside the National Capital Territory, in the state of
Haryana
.
In 2016, the city's name was officially changed to
Gurugram
.
Understand
Not long ago a sleepy suburb of Delhi, Gurgaon now boasts over a million inhabitants, slick office complexes housing companies ranging from Accenture to Xerox, and more shopping malls per square mile than anywhere else in India. Alas, the infrastructure is still struggling to catch up with the boom and there's plenty of dust and traffic jams, but it's still an exhilarating glimpse into the India of the future.
Climate
Gurgaon has the typical north Indian climate, almost the same as that of
Delhi
: expect cold, foggy winters, drenching monsoons and scorching hot, dusty summers. Winter runs from early November till mid-February; usually January is the coldest month. In winters, temperatures may even drop to 2 °C. Fog on winter nights can last up to 7 hours. In March and April the temperature is pleasant. The summer starts in May and goes till July, with temperatures exceeding 40 °C at times. The heat is broken by the monsoon in mid-July, which pours rain until mid-September.
Get in
By plane
Delhi's
Indira Gandhi International Airport
is just across the border of Gurgaon, a fact which no doubt adds to its popularity.
By train
The northeastern part of Gurgaon is served by the Yellow Line of the Delhi Metro, which runs from NH-8's IFFCO Chowk crossing along MG Road over the border towards Qutub Minar, Saket and straight to Connaught Place. Travel time is about 50 minutes, with tickets ₹25 one way.
Gurgaon also has a small rail station on the
Delhi
-
Jaipur
railway line, but it only receives about five trains a day. The station is near The colony bhim Garh Kheri Part 2.
By bus
DTC and Haryana Roadways buses runs down National Highway 8 in Delhi. Buses to Gurgaon can be best boarded at Dhaula Kuan (on the Inner Ring Road). Alternatively, there is a small dedicated Gurgaon-bound bus terminal at Karol Bagh near the unmissable 100-foot Hanuman statue, a five-minute walk west of Jhandewala Metro station or a short cycle rickshaw ride (₹10) from Karol Bagh metro station. Buses cost ₹22 one-way.
Also Haryana Roadways, Mewat and Kamal (Private buses) runs from Sarai Kale Khan to Gurgaon Bus Stand whole day. Also there is frequent service of DTC buses between Gurgaon Bus Stand to Badarpur Border via Mehrauli and Khanpur.
By road
National Highway 8, now an eight-lane expressway, connects Delhi to Gurgaon and
Jaipur
. Travel time is under 30 minutes in optimal conditions, but is regularly jammed during peak hours. The road is additionally still victim to water logging in heavy monsoon rains.
Get around
Public transport within Gurgaon is, in a word, terrible. One ray of hope is
Rapid Metro Gurgaon
, which connects Delhi Metro's Sikanderpur station with the "Cyber City" office district to the north, and Golf Course Road to the south. Trains run every 6 minutes or so, the fare is reasonable (usually below ₹35) and you can use Delhi Metro's smart cards.
Starting from the bus stop "IIT Gate" south of the IIT flyover of the Outer Ring Road in Delhi you can get all day and night (because of 24-hr service for call centres)
jeeps and cars with yellow plates
carrying you for ₹10 (Aug 2007) to places like the Bristol hotel or the IFFCO chowk. Sitting in these cabs at peak times means to use the normal back bench of a car with 3 to 4 other people and without AC, but at off times you travel in the comfort of a taxi for only ₹10!
Other than that, the main option is cycle rickshaws, who are notoriously mercenary. The fare is supposed to be around ₹20 per head for a distance of 1.5-2 km, but it's not unheard of to be asked for 10 times this amount.
There are some intercity mini-buses which go from Gurgaon Bus Stand (near Police Lines) to Mall region and ahead on the MG (Mehrauli-Gurgaon) road. Cost is ₹20 per head. Ladies don't need to worry about traveling in these buses as most often than not, the conductor ensures that the lady gets a seat.
Taxis and rental cars are also available. The easiest way to book them is online at
Mapcabs.in
GetMeCab.com
CabGurgaon.com
SuperCabz
MeruCabs
. Popular mobile app based aggregators like
Uber
and
Ola
are also plentiful and usually work out cheaper.
See
Damdama Lake

Leisure Valley Park

Sheetla Mata Mandir

Sohna LakeSohna Lake is about 10 km from Gurgaon. It is best to visit after rainfall and during winters.

Sultanpur Bird SanctuaryThis park is about 15 km from Gurgaon. You can spot a variety of migratory birds around a natural lake. Park is open during winters from October to February.

Vintage Camera Museum and Foundation

address: 23/5, DLF Phase 3, Sector 24, Gurugram

India's largest camera museum. One can visit from Tuesday-Saturday from 11am-5pm only via appointments.

address: Panchgaon Tauru Road, Gurugram

Miniature railway modelling project about 5 km off National Highway 8 through a bumpy road. A labour of love rather than a money grab, visits must be pre-registered by contacting through the details mentioned on their website. A great place to revel in the detailed world building or a leisurely family picnic spot during winters. Carry your own food, only light snacks are available on site.
Do
See movies
DT Cinemas - DT City Centre and Mega Mall. Tickets would cost you around ₹150 on weekdays and as much as ₹200 on a big opening on weekends. Late shows too - last show starts around 11PM!

address: behind leisure valley ,sec 29

cultural gully through which you can see every famous place located in India and Indian culture.
PVR - Sahara Mall (2 screens), Metropolitian Malls (9 screens), Ambience Mall (9 screens). Tickets would cost you around ₹140 on weekdays and around ₹175 on weekends. Good thing is that there are lot of late shows - the last show starts almost at midnight
Other activities
address: Plot 39, Sector 44, Gurgaon 122002

The Devi Art Foundation is one of the first not-for-profit spaces dedicated to showcasing contemporary art from the Indian Subcontinent. It is envisioned as a space that will enable wider audiences to interact with cutting edge and experimental art works. The current exhibition, 'Where in the World' takes a look at the effects of globalization on contemporary Indian art and has 65 art-works by over 20 Indian artists. The Foundation is open to the public on all days except Monday, from 11AM - 7PM.
Wet and wild resort - About 15 km away on the Jaipur highway, lookout for turn to left before Manesar. Chill down your summer heat, water games and sports are great fun. Don't forget to take you swim wear.
Sky Jumper Trampoline Park - Located at ILD trade centre, Sohna Road, sector 47, an exciting place to be, especially for kids, with more than 100 trampolines connected with built-in rock climbing optional too.
Oyesters Amusement Park - Situated near HUDA city centre, another good place to be to beat Gurugram's heat.
Buy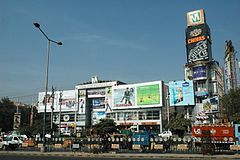 Shopping malls abound in Gurgaon, mostly along the central thoroughfare of
Mehrauli-Gurgaon (MG) Road
. The best way to get there is via private mini-buses from Gurgaon Bus-stand near Jain Temple and say "Mall". A one-way ticket costs ₹5.
phone: +91-124-4737123, +91-124-4737101, +91-124-4737149

address: National Highway - 8, Ambience Island

The biggest mall in town, host of premium stores and an enormous food court.

DLF Grand MallLand Mark the book store

DT City CentreMG Road. Pharmacy, Pizza Hut, Ruby Tuesdays, cineplex.

Galaxy MallNational Highway 8, hotel plus mall for ethnic items.

Gold SoukSpecializes in high-end jewellery.

ILD Trade Centre , on Sohna Road, Sector 47, near Uniworld Gardens, hosts a number of restaurants like Bikanervala, KFC, Vaango, Dominos Pizza, Pizza Vito, RedKiwi (a general store), a pharmacy store and has some stationary and sports shops.

MGF Mega CityMG Road (near NH-8).

MGF MetropolitanMG Road. One of the largest and most popular malls, anchored by a large PVR cineplex (9 screens). Food court on the 3rd floor and a good selection of upscale restaurants.

MGF PlazaMG Road (near NH-8). Devoted to furniture and home decoration, but there are some good restaurants on the top floor.

Raheja Mall, on Sohna Road, Sector 47, near ILD Trade Centre. It has a Bata shoe shop, SRS Value Bazaar, electronic shops and some other stores.

Sahara MallMG Road. Features a perennially packed two-level Big Bazaar supermarket. Awesome pubs and restaurants on the top floor which are open till quite late.
Eat
Budget
Bikanerwala, Near Leisure Valley and in ILD Trade Centre, Great ambience and assortment of Indian dishes like chole bhature, lassi, kulfi, dosa, Chinese food, pizza. Indian cuisine is good, only vegetarian food is available. Try their Alphonso ice-cream in summers - a very exotically-packed ice-cream inside a mango!

Haldiram'sSahara Mall GF/1F, MG Road, also at kherki Daula on NH-8. The local mega-outlet of the famous manufacturer of Indian sweets, but the emphasis here is on the fast food, especially their versions of Delhi chaat. Try the Raj Kachori, a crispy bowl filled with stuffing, yoghurt and spicy chutneys. All chaat are under ₹50, or you can get a full daily thali for ₹128. Vegetarian.

Om Sweets, Sector 14 and Sector 31 markets ,they also have outlets in sector-4 market, sector 23 market and sector 57's hongkong bazaar . Famous for sweets like dodha ,rasmalai, rasgulla etc. Gol gappa , jalebi ,kulfi and paneer tikka are some of the favourites . Indian cuisine is good, only vegetarian food is available .
Roots - Cafe in the Park Leisure Valley, Sector 29. A rustic cafe to get a reasonably priced breakfast or brunch. It is situated inside a park and has notoriously long waiting lines on the weekend. They have a variety of egg dishes but no meat. Closes at 8PM.
Mid-range
Ki Hangla, SuperMart 1, DLF Phase 4. A small, authentic Bengali cuisine joint run as a family affair. The rolls here are recommended and so is the fish. They are generous with their mustard so be aware. Costs ₹350-400 per head.
Khaaja Chowk!, MGF Plaza 3F, MG Road (near NH-8). Simultaneously retro and modern, you can choose to dine at glass tables or inside a pimped-out autorickshaw. The speciality here is Indian street food, and the Great Indian Chaat Platter (₹130) is worthy of the name. Veg and non-veg options, lunch sets around ₹150, in the evening around ₹200/head.
The Pasta Bowl Company, Cross Point Mall, DLF Phase IV. A charming, small cafe specializing in gourmet pastas. Their menu is seasonal and recent additions include a limited set of pizzas and wines. It is a popular place so get there early or book a table in advance.
Splurge
China Club

phone: +91 124-2566000

address: Lobby Level, Tower C, Global Business Park, MG Road

Fancy Chinese restaurant with waiters in bowties and round tables, serving up actual Chinese food (as opposed to the Chindian variety) for a premium price. Try the Szechuan double-cooked pork.
K2, MGF Plaza 3F, MG Road, tel. +91 124-4379151. The two K's stand for "Korea" and "Karaoke", the mainstays of this hip red-and-black Korean-run restaurant-lounge. Catering largely to Delhi's small Korean expat community, the food is authentic (they even have beef!) and fairly reasonably priced. ₹300-500.
Drink
Most of Gurgaon's nightlife spots are tucked away — where else? — on the top floors of malls.
Chinese and Thai Cafe, on the 1st floor of JMD plaza, opposite Sahara Mall. The destination for all you lovers of Rock Music. The best place in town for some head banging!

Komachi

address: 3rd floor, MGF Plaza mall, MG-Road, IFFCO-chowk, Gurgaon, Haryana, India

The Chefs there are hand picked and flown all the way from Japan to produce a very authentic, and fine japanese cuisine serving a wide range of japanese delicacies and drinks. Komachi is one of the highest rated Japanese restaurant in the guidebook which makes it the ideal place to eat, relax, and enjoy a evening or a lunch.

address: Metropolitan Mall, MG Road

Yes, it's just like every other TGI Friday's on the planet, but this is still a favorite way to start off an evening. Food is decent but expensive, so most stick to happy hour beers. Open noon to midnight.
Sleep
Demand far outstrips supply in Gurgaon and prices are terribly inflated; it's hard to find
any
halfway decent bed for the night for under $200. If comparing prices in Gurgaon and Delhi, remember that Delhi hotels charge tax on the rack rate, while Haryana (Gurgaon) hotels don't.
Budget
phone: +91 124 6763333

address: Manesar

A Tata Enterprise is in the industrial town of Manesar and offers accommodation from ₹1900/night

phone: +91 9873145941 or +91 124-4052382

Budget hotel and guest house for the corporate traveller. Very clean, spacious. Many central locations in Gurgaon. Walking distance to Metro Stations. Malls & corporate offices in immediate vicinity. 24 hr. Room Service & manned reception.
Mid-range
Splurge
Manesar
phone: +91 9213022540

address: B-14 Uppal Farms, Bilaspur Village, Near Manesar, Gurgaon

'Aamod at Manesar'.
Stay safe
Hospitals
| Hospital Name | Address | Emergency Numbers |
| --- | --- | --- |
| Medanta | Sector 32 | 7838859373, 09717156157,09811179946 |
| Paras | Sushant Lok | 124-4585666 |
| Umkal | Sushant Lok | 124-4100000 |
| Max Healthcare | Sushant Lok | 011-40554055 |
| Artemis | Sector 51 | 124-6767000 |
| Uma Sanjivani | DLF Phase-2 | 124-2350960 |
| Columbia Asia | Palam Vihar | 124-3989896 |
| Alchemist | Golf Course Road | 9891903659 |
| Kalyani | MG Road | 124-2303101 |
| Civil | Civil Lines | 124-2321121 |
Go next