Gwangju
Gwangju
(광주, 光州) (means city of light), (formerly romanized as
Kwangju
) is a metropolitan city located in the center of
South Jeolla
province,
South Korea
.
Understand
Gwangju Massacre
Gwangju is well known in South Korea for the
Gwangju Massacre
(AKA The Gwangju Uprising, the May 18 Democratic Uprising or the Gwangju Democratization Movement) of May 18, 1980, in which at least 207 (or far higher depending on whom you ask) demonstrators were killed by the army in the course of suppressing a pro-democracy demonstration. Gwangju was seen as the forefront of the relevantly recent democracy movement in South Korea. The people of the city are proud of the uprising and tend to be at the forefront of any political upheaval in the country.
Gwangju has a thriving youth and arts culture and even a glance down the streets of 'Geumnam-ro' will note a generally more fashion-conscious populace. Further to this, the city has numerous art galleries and hosts a biennial Bienalle.
The city has an interesting claim to fame as having the largest and most modern bus terminal(called U-Square) and possibly the largest single pedestrian drinking, dining and clubbing district in the country. This is reflective of the city in general, which holds a much more modern and clean appearance than anywhere else in the country, save perhaps Busan.
In Korea, Gwangju is famous for its cuisine as is the province of Jeolla. The entire area had been considered the breadbasket of Korea historically. On the practical side, food is generally tastier and easier on the wallet throughout this province.
Climate
Gwangju lies between a subtropical and humid continental climate zones. November to April tend to be more continental, while warmer months are more subtropical with hot, humid summers. There are monsoon conditions in June and July and an average of nonheavy snow during winter.
Orientation
Gwangju sits roughly 267 km (
165 miles
) the south of Seoul and about 202 km (
125 miles
) the west of Busan.
Chungjang-ro
and
Geumnam-ro streets
to the center are Gwangju's conventional shopping, entertainment downtown, and the main office building area.
U-Square (Gwangju Bus Terminal)
area,
Chonnam National University Back Gate
Area, and
Cheomdan & Suwan & Pungam
Districts are transportation nodes, comparatively new shopping area, and entertainment downtown at present, while
Sangmu district
is the new office building area.
Mudeungsan National Park
lies to the east, and
Daechon-dong Countryside
is located in the south of Gwangju. To the west is
Songjeong town
where the Gwangju International Airport and Gwangju Songjeong Station is located.
The district of
Chungjang-ro
and
Geumnam-ro streets
which is old urban core is the most accessible area for foreigners, and many of Gwangju's attractions can be found here making it a good base to start exploring the city.
Tourist Information
To pick up a map you can visit the information desk in stations or landmarks. Information is provided by interpreters in English, Japanese, and Chinese. For tourist information dial (with no prefix number) from within Gwangju. For district tourism offices please see
Gwangju Airport Tourist Information Center

phone: +82 62-942-6160

Songjeong Station Tourist Information Center

phone: +82 62-941-6301

Gwangju Bus Terminal Tourist Information Center (U-Square Tourist Information Center)

phone: +82 62-365-8733

Asian Culture Complex Tourist Information Center (1F)

phone: +82 62 601 4260
Get in
By plane
phone: +82 1661-2626

has domestic flights to Seoul(Gimpo Int'l Airport) and Jeju Int'l Airport. The airport operates 12 regular flights to and from Jeju and 3 regular flights to and from Gimpo (Seoul). The average price of standard class adult tickets ranges between ₩27,200 and ₩139,200. (2017. 05. 11.)
Muan Int'l Airport (
MWX
) is located in the west Jeolla province area and it is near Gwangju. There is the only one flight plan to and from Jeju per day. Its average price ranges between ₩64,100 and ₩76,200. (2017. 05. 11.) As the international airport, Muan Airport operates some direct international routes from Shanghai and Beijing, China.
Some travelers find it easier and cheaper to take a direct bus from Incheon International Airport instead (about 4 hours), Gimhae International Airport in Busan (under 3 hours), and Muan Int'l Airport (about 35min.) as well.
Gwangju Airport is located in the suburbs of Gwangju. But in the front of the airport, there are many mass transits to reach downtown simply, such as subway, intra-city bus, taxi, and so forth.

By train
Korail's KTX trains or SR, Inc.'s SRT run from Seoul 20~23 times a day and are the quickest option for travelers wanting to go to Gwangju from Seoul. The trip takes 1.5~3 hours and the cost is ₩46,800-₩65,500. In the case of SRT, it takes 1.5 hours, the cost is ₩40,400~58,800.
There are several stations to go to Gwangju from Seoul metropolitan city areas, such as Incheon Int'l Airport Station, Yongsan Station, Seoul station, Suseo Station, and Gwangmyeong Station. Incheon Int'l Airport operates Airport Railroad and Airport Limousine Bus from Incheon Int'l Airport to these stations.
Unfortunately, the main homepage of SRT (SR, Inc) is not supported for other languages yet. (2017.05.11.) For foreigners, the tickets can be purchased on site or use Korail trains.
Note that all trains mainly depart from Yongsan or Suseo Station in Seoul, not the main Seoul Station.
A separate KTX Honam line was constructed in 2014. After that, going from Seoul to Gwangju takes 90 minutes.
For more details about SRT, check Koject's article out.
Gwangju Songjeong station

phone: +82 1544-7788

Gwangju station
KTX Reservations

phone: +82 1544-8545
By bus
Gwangju has a highly developed bus network because of Kumho Express, which is headquartered in Gwangju. Express buses between Seoul and Gwangju depart every 5 to 15 minutes all day long.
Buses from major cities throughout the country arrive and depart from "U-Square" (Gwangju Bus Terminal), a large, fancy bus terminal near the geographic center of the city. The largest and fanciest in the country to be precise: this place looks like an airport. Every taxi driver in Gwangju knows the bus terminal as 버스 터미널, "Beosuh Teo-mee-nal", or "U-Square". Seoul Gangnam to Gwangju prices are ₩17,600 or ₩37,200 (as of 2017.05.11) for the standard bus and premium limousine buses, respectively, and the trip takes about 3 or 4 hours. Prices to other cities are comparable; late night buses tend to be a little more expensive.
Gwangju Express Bus Terminal

phone: +82 62-360-8114
Get around
Getting around in Gwangju is really quite easy, though rush hour significantly adds to travel time. There are two basic options: buses and taxis. Taxis are generally cheap but buses are frequent and more or less comfortable. Gwangju Subway line stretches from the southeast near downtown to the west-southwest, forming an arc with the northernmost point being near the bus terminal at Nongseong Station (농성역 - Nongseong Yeok). The subway line is not spread over the city, but the trains go through some busy streets. Moreover, Gwangju subway is never overcrowded as much as Seoul.
By subway
The subway is also cheap - ₩1400 in cash and ₩1250 in transportation card to any location (March 2017). The four main stops on the subway (though there are 20 in total) are the Culture Center (Munhwajeondang, former Provincial Office), Geumnamno-4 & 5 (pedestrian downtown), and Sangmu (the unofficial commercial center and western-style downtown area). To get to the bus terminal, exit at Nongseong Station (농성역 - Nongseong Yeok) and walk straight north (10 minutes) past E-Mart and Shinsegae department store. The bus terminal is juxtaposed to those two buildings. To take a train, take the subway to Songjeong-ni station and follow the signs for the train station. The second subway line that will eventually form a circle around the city will break ground towards the end of 2022~25. Eventually, there will be three lines in Gwangju.
By bus
Intra-city bus fare is the same as the subway: ₩1400 in cash and ₩1250 in transportation card. Buses are arranged by colors.
Red buses are express buses, running often, making very few stops, and covering large parts of the city. Bus number 순환01 (Sunhwan01) connects Sangmu area to the train station to Chosun University. Buses 풍암06 (Pungam06), 진월07 (Jinwol07), and 첨단09 (Cheomdan09) cover the rest of the city making large squares that intersect in important locations.
좌석02 (Jwaseok02) connects Jeungsimsa Temple to Asia Culture Center to Gwangju & Jeonnam Joint Innovation City and passes through Gwangju's main commercial areas, such as Geumnamno street, Songjeong Station, and Sangmu district. 좌석02 is a little bit expensive than the other buses: ₩1800 in cash and ₩1700 in transportation card.
Yellow buses are standard buses that run every 10 – 20 minutes.
Green buses are village buses that connect smaller communities and rural areas to transfer points.
Purple buses are district circulator buses, generally going to the outskirts of the city.
Every neighborhood (동 - dong) to main locations around the city.
By taxi
Taxis are incredibly cheap (by western standards). A general and regular taxi ride will cost ₩2800 for the first two kilometers then ₩100 per 145m or 35s after that.
모범택시(Deluxe taxi, Mobeom-taeksi) ride will cost ₩3200 for the first two kilometers then ₩200 per 172m or 41s after that.
From midnight to 4 am, you will pay 20% extra as late hour premium.
Basically, on a traffic free night, you can get across the city for around ₩10,000. Black taxis have a higher surcharge than white or silver taxis but due to the fact they charge on distances only, tend to drive more unpredictably.
By car
Driving and parking in Gwangju are easier than other big cities in Korea. The roads are wide and drivers tend to be pretty inoffensive. The parking chaos seldom emerges except for busy streets. If you are willing to pay for commercial lots in the downtown, parking problem would be no trouble at all.
The reason why Gwangju has been prospered in modern times is, the city was constructed as a central part of South Jeolla. Thereby, if you are coming to explore the area around Gwangju (such as going down to Boseong) then the flexibility of driving yourself will help you enjoy it more.
By bicycle
The topography of Gwangju is flat widely, so moving somewhere in the city by bike is quite agreeable. However, South Korean do not tend to have a bicycle culture commonly, the bikeways in the city are not well-kept except for some areas. There are two places that have fine bike lanes in the urban area; one is Gwangju stream embankment and the other one is Pu-reun-gil park.
Gwangju City established a system of renting bikes for free. All you have to do is go to any metro station with your passport (and a valid phone number). They will hand you a key and a bike that you can use throughout the day. You will have to leave your passport or ID at the station and you will get it back when you bring back the bike.
If you are looking for the bike rental shop, there are two stores in Gwangju.
phone: +82 62 942-5542, +82 10 7192-5542

address: 223, Songdo-ro, Gwangsan-gu

phone: +82 62 351-5288, +82 10 9357-5288

address: 387, Geumhwa-ro, Nam-gu
You may, however, need a Korean-speaking friend to help you with registration or troubleshooting. Once you want to borrow a bike, the rental shop may ask you to leave your passport or something precious thing as a guaranty.
On foot
When it comes to Gwangju's district, there are major areas suitable for pedestrians such as the downtown (Geumnam-ro and Chungjang-ro Streets), the neighborhood of Chonnam National Univ. (mostly around the back gate), Sangmu district, U-square, and so forth. These districts are the commercial and public transit hub of the city and clustered together in a way that makes walking around them possible.
Wherever you are in the city, you can see a huge mountain, Mt. Mudeungsan, on the east side. Choose the direction depends on the mountain's location.
There's usually a bus stop within a five to ten-minute walk in any direction.
Gwangju is mostly flatlands, walking around the city is quite easy.
Numerous mountains and parks with hiking trails can be found in the city.
Talk
English in Gwangju is not quite as widely understood as it is in Seoul: although still, people would know enough to help you out. Taxi drivers are unlikely to have much English knowledge, although there is a translation service the taxi driver can call up if needed. Gwangju also has a distinct dialect different to Seoul. Even if you are pretty good at Korean, understanding conversation between natives would be difficult. They will use standard Korean dialect with foreigners.

See
Travelers coming to Gwangju can experience a slower paced experience than Seoul, despite still feeling the
Ppalli Ppalli
(빨리 빨리 - hurry hurry) lifestyle of Korea. Gwangju also serves well as a good hub for touring the surrounding province of
South Jeolla
.
Dong-Gu (동구, East District)
Asia Culture CenterYou can see art exhibitions and musical performances at this national art complex. It's one of the largest museums in South Korea, but most of the facilities are built in the basement. Old South Jeolla Provincial Hall, where the Gwangju Uprising started in 1980, is involved in this area. You can also buy Korean-style souvenirs here.

Art StreetA back street near downtown spanning approximately three blocks. It is full of artists and their works in galleries and nicely decorated store windows. In the evenings, it is lit up especially beautiful and provides a nice quaint walk a stone's throw from the most hectic pedestrian area in town. For artists seeking supplies, many of the stores also carry very affordable materials.
On every Saturday from April to October, an art party is held in Art Street. The festival features a variety of programs for citizens and children to enjoy, such as puppet show, magic show, bubble show, and more. Over 40 participatory events with free admission include 3D printing, flower art, plaster hand printing, leather crafts, art therapy, music therapy, etc.
Jeungsimsa TempleJeungsimsa Temple, one of Gwangju's main Buddhist temples, is located at the western foot of Mudeungsan Mountain. Important cultural artifacts are preserved on the grounds. Climbing up the temple is quite easy. You can walk along the trail with an atmosphere in a quiet stillness. Jeungsimsa operates temple stay programs for tourists.
Mt. Mudeungsan pillar-shaped joint cliffThe Jusangjeollidae (pillar-shaped joint cliff) Overlook of Mudeungsan Mountain is the product of volcanic activity during the Cretaceous Period of the Mesozoic Era. Due to prolonged weathering, it has come to form a beautiful natural landscape that resembles a series of pillars or an extended folding screen. The cliffs set against the surrounding greenery and the rest of Mudeungsan Mountain make for a particularly majestic view.
Gwangju Confucian SchoolThe Gwangju Confucian School, which played a key role in Confucian education during the Joseon Dynasty (1329–1910) and served as a kind of national university at the time, today offers a "Confucian university" program through which participants can experience diverse aspects of traditional culture.
May 18 ArchivesThe 5.18 Archives systematically preserve and manage photos and images related to the May 18 Democratic Movement, which was listed in the UNESCO Memory of the World on July 27, 2011. The archive is located at the former Gwangju Catholic Center building on Geumnam-ro Street, where the pro-democracy demonstration took place. The collection includes photographs, films, and videos.
The Traditional Culture CenterThe center is located near the entrance of Jeungsimsa Temple, at the foot of Mudeungsan Mountain. At the Center, masters who have been designated as intangible cultural properties teach the public about traditional culture: Pansori (traditional Korean folk opera); Janggu (traditional drumming technique); Gayageum (traditional Korean zither). Performances are also held to demonstrate such elements of traditional Korean art and culture. A free performance of Gugak is held on every Saturday from 3 PM.
Daein MarketA night market opens on every Saturday with artists, professional and amateur, showing and selling their creations on moving stands. The eye-catching goods include silver accessories, ceramics, handmade soaps, artisanal cutting boards, wood crafts, and paintings. The best selling items include bowls of hot soup with rice, pancakes made of mung beans or seafood and scallions, and pan-fried seasoned pork. Among the "fusion" options are dessert macaroni, noodles that sell for only ₩1,000 per serving, and skewered octopus.
Seo-Gu (서구, West District)
Yangdong MarketSince 2005, the river area has been undergoing a surprising facelift, stretching from Gwangju's most famous food, clothing and furniture market, Yangdong Market, all the way out of the city in a southeasterly direction. The river edge is beautifully lit at night, and with its colored lights and shopping areas nearby, is rapidly becoming a symbol of Gwangju - the City of Light and Culture.

5.18 Memorial ParkGwangju's claim to fame is for its own Gwangju uprising, May 18, 1980. There are two memorials for this moment in its history. The main one is found in the beautiful 5.18 Park, in central Sangmu district. There is an exhibition hall there that enlightens visitors to the events that exemplify South Koreans' struggle against authoritarian regimes and their fight for democracy. While there, follow the walking path to the top of the hill where you can then climb a three-story pagoda and take in a nice view of the more modern part of Gwangju. The other memorial to this occasion is the 5.18 Cemetery, located in the northeast of the city, about 50 minutes from the bus terminal. Again, more monuments and dedications to this moment in history - but make sure the museum is actually opened because the long travel is not really worth it otherwise. The cemetery is open year-round. The operating hour of the museum is from 08:00 am to 06:00 pm.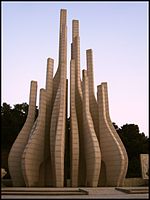 Gwangju Student Independence Movement Memorial HallThis monument is in the geographical middle of the city. Not widely known, and requires a taxi ride to get to, this monument is rather large and situated in a very quiet park atop a hill. The monument commemorates the student uprising against Japanese Imperialism in the early 1900s. The Park includes an impressive museum with detailed representations of the time. At times English tours are available.

Pung-am DistrictWithin Pungam is the World Cup Stadium (월드컵 경기장), connected to the Lotte Outlet Mall. A short walk from the stadium is the Pungam Reservoir, which has recently been upgraded to include fountains, statues, and a new walking path. If you enjoy hiking, you can also take an easy hike around Geumdangsan Mountain, which encircles the Pungam residential area. Starting from an Oriental medicine hospital, Wongwangdae hospital, the hike takes on average 2 hours at a moderate pace.

Kumho World Electronics MarketThis market occupies 15 stories of an office building right behind the main U-Square Bus terminal. From the first basement to the seventh floor, electronic markets took occupancy of that, and from the eighth floor, the building is composed of studio apartments. The building is easily recognizable from its arched roof of glass sitting jutting out of the skyline. Each floor specializes in a different electronic genre, from cameras, smartphones, PDA's, MP3 Players, DMB Players, computers, PS4-Xboxes, laptops to other electronics hardware. As a market, the starting price is not always the set price like as Yongsan Electronics Market in Seoul, with some bargaining being possible. Remember to be polite, but also haggle a little if you like. The phrase 'Kkak-ka-Ju-Se-Yo (깎아 주세요)', means 'Give me a Discount please', or alternatively 'Hal-In-Hae-Joo-Sae-Yo (할인해 주세요)' has the same meaning. Sometimes this will work, sometimes not. Haggling with them is even hard to natives, buying something in this building as a foreigner is usually not recommended.
Nam-Gu (남구, South District)
The Neighborhood of Yangnim-dong district

address: 7, Cheonbyeonjwa-ro 446beon-gil, Nam-gu

The neighborhood of Yangnim-dong district has a variety of modern and contemporary architecture and dense groves of massive 100-year-old trees. The establishment of a church, school, and hospital by Christian missionaries during the Japanese occupation earned the neighborhood the nicknames "Jerusalem of Gwangju" and the "Western Village." There are some traditional Korean houses, including the Choi Seunghyo House and the Lee Jangwoo House, and more attractions, such as 'Penguin Village' (but there is no penguin).

Sajik Park & Observatory

address: 49-1, Sajik-gil, Nam-gu

Gwangju's Sajik Park was created on the original site of an altar to deities of the state. The restored altar stands inside the park, along with the Monument to the Sacrifice of Police Officers in Yeosu-Suncheon Rebellion and the Korean War, Yangpa-jeong Pavilion, Gwandeokjeong Pavilion, a multi-purpose sports field, and an observatory that offers visitors a panoramic view of the city. The park boasts a variety of trees and flowers, and when the cherry blossoms are in full bloom in April, the park is lit at night for evening strolls under the cherry blossom trees, making it a popular springtime attraction.

Daechon-dong CountrysideDaechon-dong (Daechon district) is a rural community which is located on the outskirts of Gwangju, southwest of the city. Daechon-dong village has preserved the rice-farming cultures in Korea well. Some interesting places for experience and understanding it is operating, such as Gwangju Ceramic Culture Center, Daechon Folk Culture Experience Hall (Bitgoeul Craft), Gwangju Bean Center, Gossaum Theme Park, Pochungsa Shrine, and so forth. There are some buses to go Daechon-dong from Gwangju's downtown but, service intervals is infrequent.
Buk-Gu (북구, North District)
Jungoe ParkJungoe Park is home to the exhibition and performance facilities of such events and institutions as the Gwangju Biennale, Gwangju Museum of Art, Gwangju Children's Museum, Gwangju Culture Center; Gwangju Folk Museum, Gwangju National Museum, and the Gwangju Culture and Art Center. It also has sports and entertainment facilities, including Gwangju Children's Grand Park; courts for tennis, gate ball, badminton and basketball; and walking trails. Other points of interest include Rainbow Bridge, the Monument to the March 1st Independence Movement, a fountain, an octagonal pavilion, and Cheon-in Tower.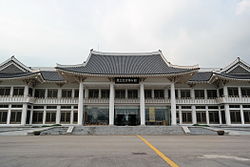 Gwangju National MuseumBuilt in the traditional Korean style, Gwangju National Museum includes exhibition halls and storage space for artifacts, as well as a garden that serves as a venue for outdoor exhibitions. On display are prehistoric remains from the surrounding Honam region; Buddhist art, pottery and ceramics from the Baekje Kingdom, Unified Silla Kingdom, and the Goryeo and Joseon periods; and undersea remains excavated in the waters off of Sinan in Jeollanam-do.

Chonnam National University's Back Gate AreaChonnam National University is the largest university in Gwangju, home to several thousand students with a sizable foreign student and professor population. A popular hangout nearby is located at its back-gate, though it most certainly is more along the sides. Both the east and the west sides of the university have many cheap restaurants, clubs, bars, etc. To go to the west side, home of the cheaper restaurants, take buses 26, 30, among others. To get to the east side of the University, home to the bars and clubs, take bus 38, among others and get off at the conveniently labeled "Chonnam Back Gate" stop.
Gwangsan-Gu (광산구, Gwangsan District)
Cheomdan DistrictCheomdan is also home to the GIST(Gwangju Institute of Science and Technology), the area has also many foreign students studying technology and hi-tech subject areas. A huge Lotte Mart is nearby as well.

Suwan DistrictSuwan is a very new district boarding Cheomdan. It has one of the only Toys "R" Us stores outside of Seoul, located in the Suwan Lotte Mart Complex.

Songjeong dong and Tteok galbi streetTake the subway west and get off at Songjeong-ri station. From there, exit south and east and walk down past the row of Chinese markets. Songjeong has a large population of Chinese ex-pats, along with other Southeast Asians like Filipinos, Cambodians, Vietnamese, and Indonesians.
After passing the Gwangsan-gu district office, turn right. On days ending with a 3 or 8 (03, 08, 13, 18, etc.) there is a five-day interval traditional market (송정 시장 - Songjeong shijang) where produce prices are roughly 1/3 of the supermarket prices. Additionally, there is Tteokgalbi street, famous for its Tteokgalbi. In case you're wondering what Tteokgalbi is, it's minced beef ribs made into patties and served in the typical meat and leaves barbecue that embodies much of Korean cuisine. It's a bit on the pricey side for Korean restaurants, ₩11,000-₩16,000.
1913 Songjeoung Station MarketSongjeong Station Market has stood next to Songjeong Railway Station since 1913. Visitors can enjoy a variety of food options, such as sugar-filled griddlecake, fish cake, and croquette with the sights of red ginseng yogurt, egg fried rice, and skewers. The hot-selling item in the alley is a calendar or a notebook marked with the Jeolla-do provincial dialect.
For more details, check
Gwangju Tourism Info Center
out.
Do
Geumnam-ro and Chungjang-ro StreetsThese two streets form the pedestrian area of downtown, which is large when compared to other downtown areas with the exception of Seoul and Busan. Any given night these streets will be packed, though the crowds die out around midnight. From restaurants to karaoke rooms, to DVD rooms, pool halls, clubs, bars, movie theaters, and shopping can be done here. Several foreign food restaurants have established themselves here too and two foreign grocers (Western products and a Philippine market) are in this area too. Just about neighborhood has a bus that eventually ends here and taxi drivers will understand "Geumnam-ro". The main landmark is the YMCA, which is handy to ask for as well if using a taxi. The subway makes three stops (Geumnamno 4&5 and Asia Culture Center) all within a short distance, covering the two ends and the middle of the downtown district. Don't miss the underground shopping areas, which spans those three subway stops as well.

Gwangju Biennale & Design BiennaleGwangju Biennale is one of the famed art exhibitions in the world. The city celebrates art every second year with international pieces on varying themes. The exhibition runs in even-numbered years. The sister festival to this is the Gwangju Design Festival which runs in odd numbered years and focuses on interior and exterior design elements. Even if you are not interested in the arts, you may be captivated by the pieces.

Ice skatingIce skating is available at the Pungam World Cup Stadium athletics center for approximately ₩6500. In the front of Gwangju city hall, temporary outdoor ice skating rink will be open in winter, with the price only ₩1000.

BaseballA new-fashioned ballpark(KIA Champion's field) has been constructed next to the former stadium. Gwangju is also one of the baseball-love city, people have big interested in baseball as well. KIA Tigers is the Gwangju-based team and very strong and influential club in S.Korea. If you like baseball, just come and enjoy the energetic atmosphere of the baseball fans. Don't be afraid about hooligans, they don't live and die for the games. Regular ticket price is from 8,000 to 15,000 and can be purchased on site or online.

address: Gwangju World Cup Stadium

Watch a Gwangju FC soccer game. Because there is Lotte outlet beside of it, you can enjoy shopping too.

Walk Gwangju RiverThe river in Gwangju runs from the southeast to the west of the city with a well-paved footpath along all the parts of the river in the city. It is perfect for a nice walk or cycle with a few park areas spaced out along the banks. At night, the park offers fountain shows and night lighting, making it ideal for family outings or romantic strolls.

CinemaThere are many cinemas at Gwangju. But CGV Gwangcheon is the most good cinema for tourist. Because it is located at U-square(Gwangju Bus terminal). So you can find it well.
Events
Gwangju Kimchi Cultural FestivalThe Gwangju Kimchi Cultural Festival used to be held annually around October, every year since 1994. Since 2016, the festival has been held in early to mid-November, right before people all around the country begin their traditional winter kimchi-making. The festival consists of diverse programs and events at Gwangju Kimchi Town, a site designed to give domestic and international visitors an experience of kimchi-making and also promote kimchi manufacturing.

Gwangju Fringe FestivalThe festival is held in Geumnam-ro and Chungjang-ro Streets, and Gwangju Art Street in every Saturday. Like as the other fringe festivals, any amateur artist can show people their own skills off without requirements. The experience booths for citizens operate in the areas as well.

Eoyeoppeuda-GungdungEoyeoppeuda-Gungdung is an art party held on Art Street on Saturday. The festival features a variety of programs for citizens and children to enjoy, such as puppet show, magic show, bubble show, and more.
Hike
Mudeungsan National ParkFor a mountain over 1,000 meters tall to be located close to a population center of over 1 million people is a rare occurrence not only in Korea but also in the world. Furthermore, it takes only 10 minutes by car from the urban area to the mountain. An unparalleled landmark of Gwangju, it appears to enfold the city in grandeur. It is a common occurrence to see photos of Mudeungsan in many stores or restaurants; if you see a snowy scene with jagged rocks that look almost like long blocks of stone, or a windswept yellow grass image in the same pose, that's Mudeungsan.
To get to mount Mt. Mudeungsan, take the subway east to Hakdong and follow the signs. Additionally, cleverly labeled bus 1187 (the height of meters of Mudeungsan) goes straight there. Catch 1187 from the bus terminal, among other places and hold on tight: the road may be twisty and thin but that doesn't mean it'll be a slow ride.
Eat
As the nickname, 'The City of Gourmets', Gwangju features numerous special cuisines for visitors. The reason why there are no 'King' restaurants in Gwangju is all of them are well-known in the country and placed higher than standard quality basically.
Local Specialties
There are dishes you should try in Gwangju that is not typically available in other parts of Korea.
Songjeong Tteokgal-biTteok-galbi is a local specialty with an area dedicated to it near Songjeong-ri subway station. Tteok-galbi is minced beef ribs made into patties and served in the typical meat and leaves barbecue that embodies much of Korean cuisine. It's a bit on the pricey side for Korean restaurants.
You can find occasionally restaurants dealing in Tteok-galbi in downtown, but mainly located in the front of Songjeoung Station. It is quite close to the stores from the station but can be a little bit hard to find to a first-time visitor. The phrase "Tteok-galbi-jip eodie is-seoyo? (떡갈비집 어디에 있어요?)", means "Where is the Tteok-galbi store?", or alternatively 'Tteok-galbi-jip chat-go-is-seoyo. (떡갈비집 찾고 있어요.)' has the same meaning. The pedestrian will help you gladly.
Ori-tangGwangju duck stew is a special cuisine which is not easy to taste in the other parts of South Korea. Gwangju and Jeolla Province's duck stew contains chili pepper powder, water parsley, and roasted perilla seeds to thicken the dish. It served with a rice porridge made with jujube, glutinous rice, ginseng, chestnut, and so forth. It contains chili pepper powder, but it is the right amount of spicy because roasted perilla seeds neutralize its hot taste. You will find dedicated restaurants for this at the front area of Gwangju station (Not Gwangju Songjeoung Station).
Sangchu-TwigimIt is an unused concept. It is pretty similar to Ssam (eat something wrapped in leaves of lettuce), but the contents are deep-fried food or something like fritters. Pick the fried food, dipped in soy sauce, wrapped in leaves of lettuce, and devour it. It sounds weird but, the leaves of lettuce help to get rid of greasiness of fried food, and it is a sublime combination of flavors. The dedicated stores are located in central Sangmu district; at the front intersection of Sejeong Outlet (세정 아울렛).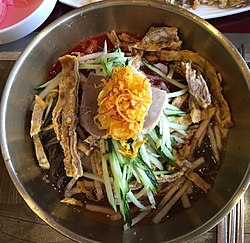 Yuk-jeon

address: From the post office in downtown, heading to the direction of Gwangju stream. At the last intersection corner before arriving the stream.

They slice the beef thinly, dip it in an egg mixture and wheat flour and sear it lightly. You can eat it wrapped in leaves of lettuce or mixed with green onion salad. It is somewhat expensive but worth a splurge.
Han-jeongsik (한정식; Korean Table d'hote)
Han-jeongsik is derived from Joseon dynasty's royal table. Gwagnju-Jeolla province has been regarded as the top-flight of it. The Gwangju table d'hote features all sorts of seafood, selected ingredients and, plentiful side dishes.
Mid-range - Haengbok-han-Imgeumnim (행복한 임금님; Happy King restaurant)
The restaurant offers two main choices of 임금님 수라상 (Imgeumnim sura-sang) and the 떡갈비 수라상 (Tteokgalbi sura-sang). Along with the main course, more than 18 side dishes are served together with restaurant's signature red yeast steamed rice. Guests can order add-ons such as a steamed pork dish served with kimchi, spicy seafood, and steamed pork, or smoked duck. Meals from ₩12,000
Splurge - Myeongseon-heon About (명선헌)
The course comes with 30 dishes or so, including Gulbi-gui (grilled corvina), Hongeo-hoe (raw skewed skate), Galchi-jorim (braised cutlassfish), Bossam-kimchi (wrapped kimchi with steamed pork), Jeotgal (salted seafood), and so forth. A kilometer to the right from the main entrance of Mudeung Park Hotel (무등파크호텔).
Korean Food
Hwangsolchon

address: Opposite to Megabox Cinema in downtown

(ex-Minsokcheon franchise) Very famous franchise specialized in Samgyeopsal (Korean barbecue) in Gwangju. There are three branch stores in the city: Sangmu district, Suwan distirct, and Chungjang-ro brunch.

Gwagn-ga

address: Heading to the direction of Jeungsimsa Temple, at the foot of Mudeungsan Mountain. When you can see an overpass, don't cross the road. Just turn right at under the overpass.

Gwan-ga is quite a large restaurant. It is famous for roasted duck dishes made by stuffing a duck with medicinal herbs and grains and cooked under very high temperature.

Nolboo BossamFamous franchise specialized in bossam (boiled pork eaten with a salty sauce and wrapped in greens) in S. Korea. Several locations in the downtown district.

Wang Bbyeo Sarang

phone: +82 62-367-9993

address: 44-12 Gwangcheon-dong Seo-gu

You can try korean soup and rice (Gukbab or Haejanguk).
International Food
The international food in Gwangju is somewhat expensive than the other cities. You can choose only mid-range option or more.
Mid-range
First Nepal

address: 6-44, Seoseok-ro 7beon-gil, Dong-gu

Nepalese/Indian Style

First Alleyway

address: 5-4, Chungjangnoan-gil, Dong-gu

American/Canadian Style

Raj

address: 9-7, Hodong-ro, Buk-gu

Indian Style

Indy

address: 28, Sangmu-daero 867beon-gil, Seo-gu

Nepalese/Indian Style

Phobay

address: 904, Mujin-daero, Seo-gu

Vietnamese Style. There are 7 branches in Gwangju.

Daisy the Bistro

address: 148, Ilgokmaeul-ro, Buk-gu

Western Style

Alps Restaurant

address: 7-12, Ilgokmaeul-ro, Buk-gu

Western Style

Black Stone

address: 31-8, Jungang-ro 160beon-gil, Dong-gu

Western Style. There are 2 more branches in Gwangju (Sangmu and Suwan district).

Gourmet Kitchen

address: 108, Mareuk-ro, Seo-gu

Western Style.

Saemi's Kitchen

address: 143-6, Donggyecheon-ro, Dong-gu

Greek-Turkish Style

Tequilaz

address: 45, Baekseo-ro 125beon-gil, Dong-gu

Mexican Style

Seoga & Cook

address: 80-16, Chungjang-ro, Dong-gu

Western Style

Popeyes

address: 12, Chungjangnoan-gil, Dong-gu

Cajun Style
Splurge
Alain

address: 17-6, Dongmyeong-ro 20beon-gil, Dong-gu

French Style

TGI Fridays

address: 904, Mujin-daero, Seo-gu

American/Canadian Style

Outback Steak HouseWestern Style. There are 2 branches in Gwangju.

AshleyAmerican/Canadian Style
Vegetarian diet & Halal Food (Pork Free)
Sal-lim

address: 3-6, Seomun-daero 817beon-gil, Nam-gu

Vegan Buffet

Hae-tteuneun-jip

address: 62-2, Daenam-daero 223beon-gil, Nam-gu

Vegetarian Buffet

Sarang-chaeVegetarian Buffet

SujataVegetarian Buffet
Drink
There are several major "Good-to-Carouse" areas in Gwangju.
In Gu-sicheong (구시청; located in next to ACC and Chungjang district) you can hang out with young people, mostly early to mid-twenties. However, note that the place is regarded as a meat-market. You should not expect to speak in English in that area. Some pubs or bars are "clean", but it will take some pains to find out.
Sangmu district is also considered as a meat-market, but Friday night and weekend only. Late 20s to early 30s office workers are the main users.
Chonnam National University's back gate is a bendering & amusement place. The users consist of students mainly. The back gate of Chosun Univ. is almost the same, but the scale of the former one is bigger.
Suwan, Cheomdan, and Yongbong district are entertainment districts as well, but that are somewhat far from the downtown.
The following are several popular foreigner-friendly bars(though all will cater to foreign customers) in Gwangju.
Speakeasy- Visit the website for a map and details of events.

LOFT28

address: 38, Hodong-ro 43beon-gil, Buk-gu

(House party & club style) The owner and staff are foreigners.

Coboc & Reboot

address: 161-7, Jiho-ro, Dong-gu

Cozy chairs and a good view.

Kkotpineun-Chunsamwol

address: 50, Seongyo-ro, Dong-gu

(Traditional Korean Style Cafe) The cafe is on the outskirts of the city. Using a public transit would be uncomfortable.

Amble

address: 8, Munhwajeondang-ro 35beon-gil, Dong-gu

(1950s Style in Western) Coffee & Beer with snacks

GetSome

address: 41, Sangmubeonyeong-ro, Seo-gu

(Lounge Bar Style)

CORONA

address: 9, Hodong-ro 15beon-gil, Buk-gu

(Mexican Style)

The Billie Jean

address: 35, Baekseo-ro 125beon-gil, Dong-gu
Sleep
Budget
The cheapest place to sleep anywhere in Korea is at the local Jjimjil-bang (찜질방; Korean dry sauna). This is a kind of public bathhouse that has a communal room for sleeping on the heated floor. Expect sauna access, cotton pyjamas, a locker to put your stuff in and a price under ₩10,000. There's a bare possibility that is robbed by the thief when you're sleeping but, Be Vigilant at least.
Welbing Geongang Laendeu

address: 116, Baekseo-ro, Dong-gu

With both Jjimjil-bangs in the Geumnamno shut down, this is the closest one left. Unique in that it truly embodies the rebellious spirit of Gwangju by daring to provide a sufficient number of sleeping mats. Your eyes are not deceiving you! On the flip side, it pays lip service to the Korean running-gag by providing an abysmally low number of headrest cubes. They can't all be winners kid.

Hwanggeum-Seupabaelli

address: 92, Gwangsan-ro, Gwangsan-gu

Starbax Sauna

address: 7th floor, 96, Sangmujungang-ro, Seo-gu

address: 20, Dongmyeong-ro 20beon-gil, Dong-gu

There is English explanation on the website.
Mid-range
Gaudy motels abound in Korea, and this is no less true in Gwangju. The main concentration of motels is in and around Sangmu district, between the Sangmu and Uncheon subway stops, or at the front of Gwangju station, and Cheomdan district, near the Lotte Mart. Motels can range from ₩30,000-₩50,000 and tend to be very seedy. One can judge the quality of a "love" motel by the movie selection usually proudly displayed near the cashier and the vending machines located throughout the motel.
If you want 'Not-bad-Motel', check
'Goodstay'
accommodation lists out that is endorsed by the
Korea Tourism Organization
.
Windmill MotelThis is a reasonably priced motel right beside the downtown pedestrian area. It can be easily spotted along the river with a large windmill on top. It has a selection of rooms including a large group room which is perfect for a group of friends.

F&T Motel

address: 31, Sangmuyeonha-ro, Seo-gu

This is neat and the reputation of a motel in Gwangju.
Splurge
There are two quite reputable hotels in Gwangju. One is the
Ramada Plaza Gwangju
in Sangmu where a room can generally cost around ₩100,000 a night. The other, near Mount Mudeungsan, is the
Shinyang Park Hotel
. The Sangmu Ramada is more conveniently located for business, whereas the Shinyang Park Hotel offers a more peaceful and quiet stay.
Holiday Inn in Gwangju
is located in Sangmu district. The hotel is regarded as the most luxurious accommodation in the city. It has a good view and is known for nice breakfast. From about ₩130,000 a night.
ACC Design Hotel
is a hotel launched in the downtown. It is located in the middle of downtown, right next to Wooribank (우리은행). Rooms from ₩77,800
Guesthouse
Misori GuesthouseHanok (Traditional Korean-style house) Style. There is English explanation on the website.

Horanggasinamu Hill Guest HouseThere is English explanation on the website.

address: 8-6, Gyeongyang-ro 147beon-gil

There is English explanation on the website.

IAM Guesthouse

address: 23, Gyeongyang-ro 165beon-gil, Buk-gu

Sinsiwa Guesthouse

address: 81-3, Donggyecheon-ro, Dong-gu

There are two branches in Gwangju.
Learn
Some universities in Gwangju provide Korean language programs for foreigners.
Connect
Emergency Numbers

Police

phone: 112

Fire Department

phone: 119
Stay safe
Generally speaking, Gwangju is as safe as most places in South Korea, which is to say very safe.
Gwangju is especially very safe to roam around freely at night and all day long. There isn't a single dangerous area in town.
There is no any gang activity in Gwangju. Sometimes, you can see delinquent pre-high school-aged boys in dim alleys or parks. However, they couldn't care less about you. The boys are just interested in smoking or drinking surreptitiously and chit-chat with themselves. If you are a well-built man or woman, they will just gaze in awe at you. Just ignore them – they wouldn't actually want to have a conversation with you because they do not speak English well.
Unlike in some other cities, Gwangju's stations and metro areas are not dangerous. Just keep away from extremely intoxicated people.
Rush hour and traffic congestion are of short duration and not as severe as in other cities. Drivers in Gwangju are somewhat gentle. Just watch out when you cross the road.
You don't have to worry about natural disasters. Sometimes storms or torrential rains come, but they are not severe.
Gwangju's tap water is "drinkable" however residents tend to boil their water or purchase affordable bottled water, or fill their own bottles at local parks or at the mountain springs that surround the town. Korean are just unfamiliar to the flavor of tap water because finding mineral water has been accessible in the land before.
There are occasionally sand storms and fine dust from China covering Gwangju. You should avoid going outside if one passes through, or wear a mask.

Cope
Consulate
For quick responses, you should get your country's Embassy contact details in Seoul.
phone: +82 62-385-8874

address: 413, Daenam-daero, Nam-gu

The Chinese consulate might be able to issue a Chinese travel visa if you do so through a local travel agent. In person applications are not allowed.
The Gwangju government websites often provide useful tourist information in English, Chinese, and Japanese. You can get the information about the city, tourism, living, and so forth.
NGO for foreigners in Gwangju
phone: +82 62-226-2732

address: 1-2F, 5, Jungang-ro 196beon-gil, Dong-gu

For details of local events and a map of the most common places to visit in the city have a look at this site. Gwangju International Center announces and offers many services to foreigners in Gwangju and is one of the very active foreign community in the country with events happening every weekend including the talk show, live music, theater, and art shows so there is plenty to do. If you want to see more Korean culture and art there are details of special shows and exhibitions which may not have much information elsewhere in English.
Cultural Center
phone: +82 62-527-2500

address: 217, Gyeongyeol-ro, Buk-gu

For French speakers. Originally the company is a private educational institute, not a public one. But if you are a french speaker and have the urgent problem in the city, they can do to help within their capacity.
Cleaning services will exist at high-end hotels, otherwise, find a local dry-cleaner by looking for the sign Setak (세탁).
Go next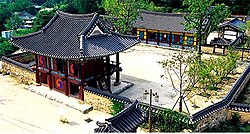 Head north, to
Jeonju
, the birthplace of bibimbap, to see it's well-preserved Hanok village, or perhaps take a train or bus south to the coastal towns of
Mokpo
and
Yeosu
respectively.
If in the season, the iconic world famous green tea plantations of
Boseong
are also a very short hop away to the west. You've likely seen this place on someone's computer desktop.
Unjusa, about 40 km south of Gwangju, is one of the most famous temples in Korea.
Piram-seowonA Confucian academy, one of nine components in the world heritage site Seowon, Korean Neo-Confucian Academies.