Gyeonggi
Gyeonggi
(경기도
Gyeonggi-do
, 京畿道) is a province in the north-west of
South Korea
, surrounding the national capital city of
Seoul
.
Cities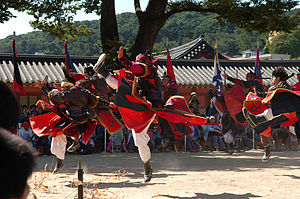 – administratively separate from Gyeonggi, but surrounded by the province, there are century-old palaces and fortresses meeting skyscrapers and LED screens in one of the most populous cities in the world.
– site of several parks and museums
– an affluent suburb of Seoul.
– the town that holds the famous Pan Am Flight 845 Boeing 747 aircraft
– midwestern city near Seoul
– – not to be confused with the larger city in the South Jeolla province, Gyeonggi Gwangju is home to the historic Namhansan village and Gonjiam ski resort.
– famous for its ceramics (don't confuse this with Incheon, the port city)
– also independent of but surrounded by Gyeonggi, this is South Korea's fourth largest city, although some may consider it an extension of Seoul. Songdo is a new city built next to it.
– nearest to DMZ, focal point of interest for visitors
– this "Silicon Valley of Korea", just south of Seoul
– the provincial capital, famous for the Hwaseong Fortress
– location of large scale amusement parks/resorts, the Korean Folk Village and Yangji ski resort
- northern city near Gangwon Province
- middle western city near Seoul, famous for the KTX station,Gwangmyeong Cave
Other destinations
– Gyeonggi's most distant island
– connected to the city of Ansan
– borders the north of the province, with the focal 'peace village' of
* - shared between North and South
– an island south-west of Incheon Metropolitan City
– connected to the city of Incheon
– connected to the city of Hwaseong
– around Incheon airport
Understand
The most populous province in South Korea, "Gyeonggi" means "near the capital", an apt description of this province wrapped around
Seoul
. However, it is not without its natural attractions. Ironically the DMZ (the northern border), which is the most heavily armed area in the world, has become an ecological paradise. Gyeonggi province, which is split in two by the majestic Hangang river, has been inhabited since prehistoric times. It contains a significant number of ancient relics, and due to its proximity to Seoul it's also home to several important historical sites dating from the Joseon era.
Talk
The 'Seoul' dialect is considered the accepted pronunciation of
Korean
in South Korea. This is also the part of the country where English language speakers are most prevalent.
Get in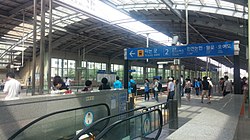 By plane
Seoul's
Incheon International Airport
is South Korea's largest airport and is served by over 70 airlines.
By train
The Seoul subway system links to some of Gyeonggi's towns, such as
Incheon
and
Suwon
, as well as areas like Goyang, Bundang, and Namyangju. The Gyeongchun mainland line runs from Seoul to eastern destinations such as
Cheongpyeong
and
Gapyeong
and is known as one of the country's most scenic rail routes. The Jungang line runs southeast from Seoul and stops at Yangpyeong station. Should the border re-open then the Donghae Bukbu line will once again connect Gyeonggi with North Korea.
By bus
Like
Seoul
, there are four colors for commuter bus, red, green, blue, yellow. You will rarely see a blue bus, as those are inter-city buses. Green bus usually connects city to city, while yellow bus will connect you throughout towns. Red commuter buses run from the center of Seoul out to the suburbs. Other destinations can be reached by a large number of express buses that mainly run from Dong Seoul and Nambu bus terminals. These buses will get you to your destination relatively comfortably, although bus stations are generally not as English-friendly as the subway stations. A trip from Seoul's Express Bus Terminal (in Seocho-gu south of the Han River; take line 2 to get here) to Incheon will be ₩4,000-5,000, and takes about an hour.
From Incheon International Airport, airport limousines run to many destinations in Gyeonggi; prices range from ₩7,000-15,000.
Get around
Local buses provide service to most large apartment areas, shopping areas, and tourist sites, although finding the right bus can be difficult without knowing some
Korean
.
Taxis are cheap (as in all of Korea) and usually fair. Be aware that outside of Seoul you're likely to get a driver who doesn't speak any English. Also, having an address in Korean won't necessarily get you to your destination; sometimes you might need to know a landmark such as a subway stop, government office, large hotel or department store, etc. close to your destination to help the driver find it.
As mentioned in the Get in section, Seoul's extensive subway network connects several of the cities in this region.
See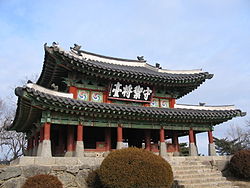 History fans should be sure to check out
Suwon
's UNESCO designated
Hwaseong fortress
and the nearby Korean Folk Village for a taste of Joseon dynasty life. The wetlands of Sihwaho Lake offer a peaceful retreat from the region's urban sprawl, as do the vast mud flats on the west coast. For those looking for something more modern, the excellent Nam June Paik Art Center in
Yongin
introduces the founder of video art. The
Royal Tombs of the Joseon Dynasty
in the provinces of Gyeonggi and
Gangwon
(and a few elsewhere in South Korea) are a
UNESCO World Heritage Site
. The newest addition to the World Heritage list is
Namhansanseong
, the South Han Mountain Fortress and the eponymous park surrounding it, located just south of Seoul's city limits.
Do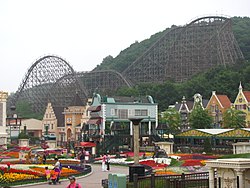 For hundreds of years
Incheon
has been one of Korea's centers of pottery making, and travelers here can take part in a
ceramic making program
or simply browse the many shops.
For thrill-seekers
Everland Theme Park
in
Yongin
has the world's steepest wooden roller coaster and during wintertime there are several ski resorts open in Gyeonggi.
Unwind at some of the region's hot spring resorts, where the water is highly regarded for its medicinal properties. Incheon's Termeden Spa and Hotel Miranda are popular. Pocheon is also known for its hot springs; there is also the Sool Gallery Sansawon, famous for producing some of the best makgeoli in Korea, with exhibits, classes on making homemade liquors, and lovely gardens.
Head to one of Gyeonggi's national parks to experience nature and get some exercise hiking sometimes steep trails. Soyosan National Park, at the end of subway line 1 and about 15 miles from North Korea, is a popular destination for locals and is beautiful in the fall. Dobongsan, just south of Uijeongbu on line 1, is also popular. Both can be crowded on weekends.
For nature lovers, the Garden of Morning Calm (수목원), a large botanical garden in Gapyeong, is a nice day-trip from Seoul.
Stay safe

There are no specific dangers in this region of South Korea. The province borders North Korea and would potentially be dangerous in the unlikely eruption of hostilities between the two countries.

Go next