Hämeenlinna
Hämeenlinna
(Swedish: Tavastehus) is a city in
Tavastia Proper
,
Southern Finland
.
Get in
By car
Exactly 100 km north from
Helsinki
with the motorway 3 E12. The nearest major city (and airport) is
Tampere
, about 75 km to the north. Road number 10 from Turku to Lahti also passes near the city.
By train
As Hämeenlinna is situated at the most important
railway
of Western Finland it's well connected with Helsinki and Tampere as well as cities further north, like
Vaasa
,
Oulu
and
Rovaniemi
.
By bus
Buses from Helsinki to Tampere stop at Hämeenlinna.
By boat
Yes, there is a waterway between Tampere and Hämeenlinna. At summer it can be the most enjoyable way to travel, while the views at the lake Vanajavesi are at their best. The trip can be quite long though. Hopealinjat offers cruises, which take 8 hours one way (see
Do
below). Guest harbours: Vaakunanranta in the centre () and Virvelinranta a kilometre to the south ().
Get around
You can get around by car, by bus or by foot. For driving around, the city center is quite an irritating experience, with its tight intersections and numerous one-way streets. The services in the city center are within a few minutes walk, so a car is hardly necessary there. All buses stop at the market square while heading west and at the bus station (at Palokunnankatu near market square) while heading east.
Hämeenlinna has a good system of public transport. Information of local transport you can find
here
. You can ride from one part of the city to another with a single ticket of €2.90, kids €1.40. Kauppatori is the center of Hämeenlinna's public transport system, but be aware that many bus lines go in both directions from Kauppatori. You can use Google Transit interactive route planner to find bus routes.
See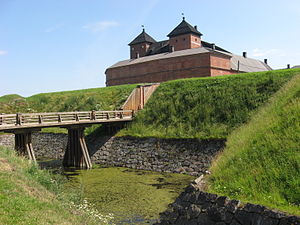 Do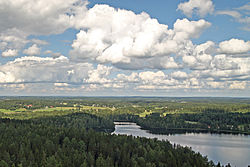 Festivals
Buy
address: Kaivokatu 7

A large mall opened in late 2014. It features an Anttila department store plus smaller stores and eateries. Architectonically the mall is a bit unusual as it's built on the top of the Helsinki-Tampere freeway, with the road passing under the mall in a tunnel.
Eat
Budget
There aren't many regional specialities available, if one doesn't count
hotsi
, a local version of hot dog, which is sold in grill kiosks. For cheap meal (€10 or less for one person, even as low as €5 in the lunchtime) you can always find some fast food. In city centre you can hardly miss a pizza/kebab place. There are also Subway, McDonalds, and Hesburger outlets. Golden Rax pizzabuffet offers it's megabuffet for €8.
Mid-range
phone: +358 3 653-2555

address: Raatihuoneenkatu 11

Popino is located at Keskustalo, a grim building with a set of stairs, which connect Raatihuoneenkatu (opposite of the church) to Palokunnankatu. Popino serves large, quite special pizzas, but also e.g. steaks and fish.

phone: +358 400-676-144

address: Linnankatu 3

Georgios serves food from Greece and is also located near market square.

address: Raatihuoneenkatu 18

A chain restaurant, which operates next to hotel Cumulus.

phone: +358 50-434-1888

address: Sibeliuksenkatu 11

Mexican restaurant.
For some ethnic food, other than kebab, you can go to the first blocks of Raatihuoneenkatu (from market square to the church's direction and on) and find couple of Chinese restaurants.
Splurge
phone: +358 3 648-040

address: Kirkkorinne 2

"The gingerbread house" is easily recognisable of its white "scaled" wall. With a beautiful view to the church this is one of the finer places in town.

address: Linnankatu 3

This restaurant in the centre of town serves the delicious dishes of the Himalayan region with many options for vegetarian and vegans as well.

address: Sibeliuksenkatu 3

A restaurant of a Finnish chain, with some Italian influence, serving slightly upscale pizzas and other Italian dishes.

Steak House

address: Sibeliuksenkatu 5

Coyote bar & grill

address: Hallituskatu 20

Another chain restaurant with nice looking menu but not exactly cheap prices.
Drink
You might not want to go bar-hopping in the suburbs, though it's not necessary, as most of pubs, rock-bars, nightclubs etc. are located around market square area.
address: Raatihuoneenkatu 5

A "beer restaurant" where you can choose between 80 different beers. They also serve food. Thursday night is "Tapas night".
Sleep
Budget
phone: +358 3 612-2106

address: Raatihuoneenkatu 23

Small hotel right in the centre at the Reska promenade street.

address: Turuntie 22

Nice budget hostel in Turuntie 1 kilometre away from city center.
Mid-range
phone: +358 20 1234 636

address: Possentie 7

Located near the railway station, at the shore of lake Vanajavesi. Not far from the city center.

phone: +358 3 64-881

address: Raatihuoneenkatu 16-18

Kylpylähotelli Rantasipi Aulanko

phone: +358 3 658-801

address: Aulangontie 93

ld fine hotel with recently built spa. In the middle of the Aulanko area, some 5 km away from the city center. Bus lines 2 and 13 leave from here to centre once in an hour. Aulanko area offers also e.g. accommodation in cottages.
Splurge
phone: +358 3 610-20

address: Vanajanlinnantie 485
Go next
PuuhamaaAn amusement park (or maybe rather a giant playground). Much of fun for kids, though everyone must pay the €17 entrance fee, which grants you all the activities: waterpark with steam sauna, boats, racetracks with small cars, and various places for jumping, sliding, climbing and playing. Having a picnic is also possible.

Tampere to north-west
Forssa to west
Lahti to east
Akaa to north-northwest