Húsavík
Húsavík
is a town of approximately 2,500 inhabitants in
North Iceland
. It is the
whale watching
capital of Iceland, with whales sighted on over 95% of trips during the summer. Additionally, it gained some fame when it used to house the (in)famous Icelandic Phallological Museum, which has since moved to
Reykjavík
.
Get in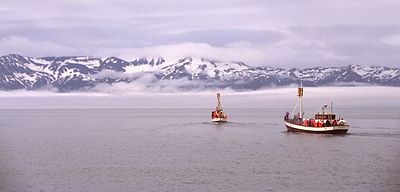 By plane
You can get to Húsavík by car or by bus. The nearest domestic airport is
Húsavík airport
about 5 min drive to town, operated by
Ernir
. There is also an airport in
Akureyri
(about 1 hour by car).
By bus
Strætó
connects Húsavík with Akureyri with a bus one to three times a day. The bus is number 79.
Get around
Like most Icelandic villages, Húsavík is easy to cover by foot. There is no public transport available.

See
phone: +3544642328

address: Héðinsbraut 3

The Exploration Museum is dedicated to the history of human exploration, from the early explorers to the exploration of space. The main exhibition room features photographs and artifacts from the Apollo Astronaut Training near Húsavík in 1965 and 1967. Other exhibition rooms feature the history of Viking exploration, Arctic explorers and a timeline of exploration history.

phone: +354 414 2800

address: Hafnarstétt 1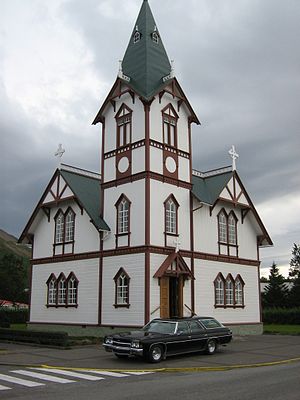 HúsavíkurkirkjaThis wooden church built in 1907 is probably the most recognisable landmark of the town.

The Icelandic Phallological Museum, which used to be here, has moved to Reykjavík.
Do
Whale watching
Húsavík is one of the main destinations for whale watching in Iceland. The species that can be seen on the tours include blue whale, humpback whale, minke, fin whale, harbour porpoise and white-beaked dolphin. Whale watching season is April through October.
phone: +354 464 1500

address: 640 Húsavík

Whale watching, puffin watching, sea angling and other tours, depending on the season.

phone: +354 464 7272

Whale watching, puffin watching and other tours, depending on the season.
Horse riding
Apart from whale watching, horse riding is another good option for tourists passing through the town of Húsavík. It's a good opportunity to come across the rugged Icelandic breed and also get to do some sightseeing on horseback at the same time.
Eat
Sleep
Connect

The public library offers internet access on public terminals at reasonable rates, and a free internet connection for those traveling with laptops.

Go next