Ha Giang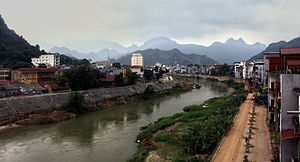 Hà Giang
— city in the northeast region of
Vietnam
, located on the banks of the Lô River. Its surroundings (and Ha Giang province in particular) can impress visitors with its high karst plateau, steep hills, winding roads and ethnic diversity, it is ideal for outdoor activities such as trekking and camping.
Understand
Ha Giang is the main city of Ha Giang province, which is located in the far north of Vietnam and shares a long border with the south of China.

Get in
By bus
from Gia Lam and Giap Bat bus stations in
Hanoi#By bus
(300 km, 200,000 dong).
See
Ha Giang is surrounded by typical Vietnamese countryside that includes rice fields terraces, green natural caves, cascading waterfalls and green tea fields. While wandering through the high mountains of Ha Giang you will be surprised to see such a variety of plants in one area, firs growing next to banana trees. The city of Ha Giang is the beginning of a famous journey called the "loop" that is a road that goes through the very top of the mountains of Ha Giang, next to the border with China. To fully immerse into the landscapes of Vietnam it is advised to travel by motorbike.
Nearby
Trekking hill tribe (live with ethnic people at homestay)
Vinh Quang village
Hoang Su PhiHoang Su Phi terraced rice fields is an ideal destination for sightseeing as well as photographers. Around 100 km by bus from Ha Giang to Hoang Su Phi.
Tam Son town
Twin Mountains – Quan Ba

address: located in Na Khoang village, Tam Son town, Quan Ba district

Twin Mountains were formed from the geological movement processes of the earth's crust, the fault of the limestone were about 400 million years ago. The perimeter of these 2 mountains are almost 1000 m², the area is approximate 3.6 ha. Twin Mountains also associated with some legendary stories which relates to the ambition and humanities of local people here.

Yen MinhYen Minh is a mountainous area, northern border of Hagiang (99 km from Ha Giang city in the North, along the highway 4C). There are many beautiful natural sceneries such as pine forest in Lao Va Chai commune; terraced rice fields Sa Ly (Ngam La commune), primary forest in Du Gia commune with diverse fauna and flora, Na Luong national cave, which are suitable for Yen Minh in developing eco and adventurous tourism.
Khu TĐC Bình Vàng village
Trekking ancient tea forest (you can see huge tea trees)
Do

Rent a motorbike to do the "loop" or to simply stroll around Ha Giang to experience have an authentic Vietnamese experience.

Buy
Lung Tam Linen weaving products

phone: +84 1255 147 665 (Ms Mai)

address: Lung Tam village, Quan Ba district

Unique linen clothes, bags, handbags, scarfs, pillows, blankets, purses and many different things. Every linen cloth weaving have traditional patterns, with the images bring the culture and color of the Hmong ethnic people by complicated indigo dyeing and beewax batik drawing process. Mrs Mai is the leader of Lung Tam linen weaving cooperative.

Shan Tuyet TeaHa Giang is one of the provinces that has the oldest aged Shan tea of the Vietnam with a large leaf, bud and young leaf with snow-like white fur, good growth, high resistance of wetness, coldness, high productivity and good quality. Therefore, it is called snow Shan tea. This is the raw tea material of Hung Cuong Trading Company to produce famous organic tea products certified according to USDA, EU, COR, IFOAM standards.
Eat
Local delicacies: Thang Co, Au tau gruel (Au tau bulb), sausage (Lap suon).

Drink
Local drinks worth trying: corn wine, sugarcane juice, ancient Shan tea.

Sleep
phone: +84915121987

address: No 368, 20 thang 8 street, 1st group, P. Nguyễn Trãi, Hà Giang, 310000, Vietnam
Khu TĐC Bình Vàng village
phone: +842193825876

address: Km17, Vi Xuyen district, Ha Giang province
Go next