Haarlem
Haarlem
is a lovely historical city on the river Spaarne 20 km from
Amsterdam
. International tourism finally seems to have discovered the town's many charms, and an increasing number of visitors find their way here each year. A quick glance at the city centre makes it obvious why. Haarlem boasts a magnificent old centre with plenty of monumental buildings. As the city was home to several first class Dutch painters, including Frans Hals, there's a lot of art to go around. And if you're into shopping, a day in Haarlem is a day well spent too, as it was best shopping city of the country several times. Other towns may lay claims to that title, but Haarlem's centre undisputably offers a colorful mix of large chain stores, specialty shops, boutiques and art galeries. A broad range of bars and restaurants makes the picture complete. In short, Haarlem is well worth a visit. For those who are wondering: yes, the famous
New York City
neighbourhood of
Harlem
is named after this once powerful Dutch city.
Understand
Haarlem is the centre of a flower-growing district and a major export point for flower bulbs. However, with some 750,000 people visiting the city each year, tourism makes up an increasingly important part of the town's economy. With about 157,000 inhabitants, Haarlem is the 13th largest city in the Netherlands but when it comes to tourism, it's the 4th most visited city. As for most popular places, this may mean the incidental line and some crowds around main attractions in high season. However, the town is fairly quiet in off season and its growing popularity does come with ample opportunities to eat and sleep.
History
The first record of the name 'Haarlem' dates from the 10th century. Located on a busy north/south connection route, the city became the seat of the Counts of Holland. In 1245 the city was granted city rights by Count William II of Holland. Due to the heroic acts of knights from Haarlem during the fifth crusade and their contributions to the siege of Damiate in 1217, Haarlem was granted permission to show a cross and a sword in the city's coat of arms. Haarlem was known for its flower growing district, and also for its textiles, shipyards, engineering plants and textile mills. In 1573, the Spanish ended its charter. In the 16th and 17th centuries, Haarlem was a hotspot for Dutch painting. Frans Hals, Jacob van Ruisdael, and Adriaen van Ostade were all located here. Also in the 17th century it became a refuge for Huguenots.
In the beginning, all of the city's buildings were wooden and the risk of fire was always present. In 1328 most of the city was burnt down. When rebuilding began, yet again in 1347, another fire spread through Haarlem. This time though, it engulfed the Counts' castle and city hall. However, the Count decided that he no longer needed a base in Haarlem and decided to move to The Hague. With that, he donated the land to Haarlem and later a new city hall would be built in its place. It would take over 150 years for the city to be rebuilt.
phone: +31 23-5317325

address: Grote Markt 2
Get in
By train
Haarlem is well-connected by train, with intercity and sprinter trains running between Amsterdam and Haarlem Central Station roughly every 10 minutes. From Amsterdam, it's a 15-minute journey (€3.80) with trains usually leaving from platform 1 or 2. Pay a bit of attention: Haarlem is one of the stops on the main train line between Amsterdam and Dordrecht/The Hague, so it will likely not be the final destination for the train. However, as not
all
trains to those cities will stop in Haarlem, check the signs or ask a conductor to make sure you're getting into the right one.
Coming from Schiphol directly, you'll have to change once, at Amsterdam Sloterdijk (or at Amsterdam Central Station, but that will take you an extra 10 minutes or so). Trains are easy to use and you may be lucky enough to encounter one or more of the most entertaining ticket collectors in the country. They number singers and magicians among their members.
address: Stationsplein 11 L, 2011 LR

The art nouveau railway station of Haarlem. Connections by train to Zandvoort, Alkmaar, Amsterdam, Leiden, The Hague, Rotterdam, and Vlissingen

address: 2033 AA Haarlem

Haarlem Second railway station. connections to bus 2 (to city center) and line 80 to Zandvoort and Amsterdam.
By bus
A good alternative is to use the big red and grey "R-net"-bus, line 300. It runs every 6–10 minutes between Schiphol and Haarlem Central Station, or you can get out at Wulft/Centrum. There are a fair amount of stops along the way, but for a lot of the journey there is no traffic because the bus has its own dedicated lane. The trip is approximately 45 minutes. You will need to carry your luggage on the bus with you. As on all public transport in the Netherlands, you pay with a
OV-chipkaart
and a single trip costs €3.64. There are many bus stops clustered in this area—the one for the R-net 300 is across the street, and is indicated on the sign at the bus stop.
By bike
If you have – or rent – a bike, it takes between an hour and an hour and a half to cycle (depending on the cyclist) from the centre of Amsterdam, a fairly relaxing ride on typically level terrain.
Get around
Haarlem is best seen on foot: it's a 10- to 15-minute walk from the train station to the city centre. If you don't want to walk, bus lines 2, 73 and 300 will take you from the central train and bus station to busstop "Centrum/Verwulft" in about 5 minutes.
Although Haarlem's waterways aren't quite as numerous as those of Amsterdam, there are enough of them to make a tour of the city by boat a nice experience. Boats are operated by
Post Verkade cruises
(€9.50, Dutch only) and
Haarlem Canal Cruises
(smaller groups, open boat, €12.50) and leave from opposite Teylers Museum. It's best to call ahead.
See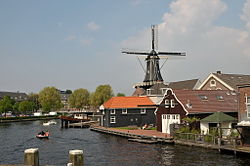 Haarlem's main sights are its lovely historic centre and its fine art museums. You'll get a good idea of what the city has to offer by just wandering the streets in the centre for a while, as many monumental buildings and the most prominent museums are all there. The tourist information office can provide maps and walking routes as well as guides, if you don't want to miss anything.
Grote Markt
Haarlem's main market square, with the huge Saint Bavo church right on it, is the heart of the old city. Not only the church, but several monumental buildings can be found on different sides of the square and when the weather allows, it's lined with outdoor café terraces. You'll also see the statue of Laurens Janszoon Coster, locally called "Lautje", a pioneer of book printing who has become an icon of Haarlem.
address: Grote Markt 22 (north side) 2011 RD

This impressive Gothic-style church has been the heart of the city and its main landmark for centuries. It was built in the middle of the Grote Markt as a Catholic church between 1370 and 1520. In 1559 it became the cathedral of the Diocese of Haarlem-Amsterdam, but less than 20 years later it was confiscated in the name of the Protestant Reformation and it has been a Protestant church ever since. Much of the antique interior remains, including the great Müller-organ that, according to records, has been played by Händel, Mozart, Mendelssohn and other famous people throughout its history. When built, this organ was the largest one in the world, leading Herman Melville in his famous novel Moby Dick to compare the inside of the whale's mouth to the many pipes of Haarlem's great organ.

Stadhuis

address: Grote Markt 2

After fires destroyed the Count's castle on this location in the 14th century, this city hall was built. The current façade is slightly younger, and originates from the 17th century.

Vleeshal

address: Grote Markt 18

From 1604 until the 18th century, the Meat Hall was the only place in town where it was permitted to sell fresh meat. Butchers had to pay rather steep amounts to be granted a spot in the Dutch Renaissance style building that had been designed and built for the purpose. It's now part of the Frans Hals Museum.

address: Grote Markt 17

Built in the 13th century, this is one of the oldest monuments in the city and the first century of its existence, it served as the first town hall. Later, it was used as private housing for several prominent Haarlem families. From April-Sept, the building is open to visitors but only on weekends.
Other sights
phone: +3123 5115300

address: Gasthuisstraat 32, 2011XP

Hofje van Oorschot

address: Kruisstraat 44

The city is notable for its many hofjes (almshouses) built around courtyards. More than 20 of them still exist in the city. Some of them are open to the public.

Amsterdamse PoortBuilt in 1355 and is the only remaining gate out of 12.

Stedelijk Gymnasium Haarlem
Gapers (Black Moors Head)
These are an ancient symbol of pharmacy in the Netherlands. They look like people yawning (gapers means yawners in Dutch), but really they have their mouths open to take medicine. Sometimes a pill can be seen on their tongue. These symbols were once common in the Netherlands, especially in Amsterdam. Today they are very rare on buildings.
Usually the head is of a black or Moor man. This is because in the 15-17th centuries, pharmacists would travel through the country with an assistant trying to sell their medicines. Before an audience the pharmacist would give a pill to his assistant. These were often Moors. The assistant would act better.
So pharmacies became known by the assistant's head.
phone: +3123 5312454

address: Gierstraat 3 2011 GA

An old drugstore built in 1849. It still features the original gaper at its facade.

Vroom & Dreesmann Haarlem

address: Grote Houtstraat 70, 2011 SR

A building of the former Vroom & Dreesmann department store which opened in 1887 and went bankrupt in 2015.

Villa Welgelegen

phone: +3123 514 3143

address: Kleine Houtweg, 2012 JE

Parts are open to the public. Villa Welgelegen is a historical building in Haarlem, the Netherlands, which houses the offices of the provincial executives of North Holland. Located at the north end of a public park in the city, it is an example of neoclassical architecture, unusual for its style in the Netherlands.

HaarlemmerhoutIt is the oldest public park of the Netherlands. With "Hertenkamp" (Deer-park)

Rooms-Katholieke Kathedrale Basiliek Sint Bavo

phone: +3123 532 30 77

address: Leidsevaart 146

This cathedral, confusingly named after Saint Bavo too, as is the much older church on the Grote Markt, was built by the Catholics from 1895 to 1930. It replaced the former Waterstaatskerk St. Joseph, which itself was built to replace the confiscated Sint-Bavo church, which had been converted to Protestantism in 1578. The Cathedral became the main cathedral for the Roman Catholic Diocese of Haarlem-Amsterdam, and holds that function still today. A small museum has been created in the former sacristy, allowing visitors to see some historical artefacts from Haarlem's Catholic past.

Molen De Adriaanthis beautiful windmill on the benches of the river Spaarne was of the main landmarks of Haarlem for centuries, until it was destroyed in a 1932 fire. Several plans to rebuild it failed due to lack of funds, but in 2002 the windmill was finally fully restored to former glory. It's functional, for tourist purposes, and holds a small museum. Guided tours are available.
Museums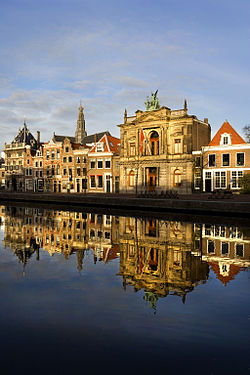 With 14 large and small museums in town, you won't be hard pressed to get your art and culture here. The most prominent ones are listed here.
Museumkaart
accepted.
Do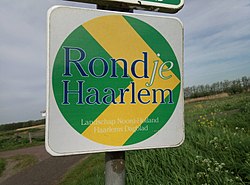 On summer days, hang out in the sun on Haarlem's Grote Markt (near the Grote Kerk) after a long day of shopping or go sightseeing in Haarlem's ancient city centre.

Comic conventionIn the even years (2018, 2020, etc.) the biggest Dutch comic book convention 'Stripdagen Haarlem' takes place all over Haarlem. With events on the Grote Markt, in art galleries, Teyler Museum, de Toneelschuur and Patronaat.

Cycling: Explore the Haarlem area by bike: Haarlem Dunes Cycle Route Coast, polders and nature reserves. Distance: 40 or 29 km.
Keukenhof Cycle Route Tulip fields in springtime. Distance: 38 or 31 km.
Rondje Haarlem is an cycling route along the beautiful place around Haarlem. The route is almost 50 km long and very worth while. Of course it's also possible to do parts of it.
phone: +3123-5173910
address: Lange Begijnestraat 9 2011 HH
Buy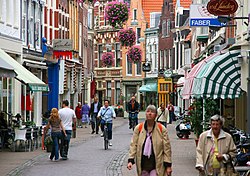 Haarlem is a popular city for shopping in the region. It has been voted many times as Best Shopping City in the Netherlands and boasts a very diverse range of shops. The Grote Houtstraat, the main shopping street, has most of the obvious shops. The surrounding streets (Kleine Houtstraat and Gierstraat) house smaller shops, where you can browse or buy everything from high-end bicycles to teapots.
Shops are open from Monday to Saturday. Opening times usually are from 09:00 to 17:00, except on Mondays when shops open at 13:00. Many shops in the city centre also open on the first Sunday of the month and usually shops may be open from 19:00 to 21:00 on Thursdays as well, the so-called "avondverkoop" ("evening sale") although no special discounts will be given).
On the main square (Grote Markt) there is on Saturdays a General Market and on Mondays a textile market.
Eat
Scattered through the inner city, you'll find a large number of restaurants. There's something for everyone and every budget, with many different styles of restaurants and a broad variety of cuisines.
Budget
Mid-range
Splurge
phone: +31 23 - 534 53 43

address: Kleine Houtstraat 70, 2011 DR

ML is one of two Michelin-star restaurants in town. As often in establishments like this, the menu is limited and prices are fairly high, but for that you get artistically plated, top class food. Calling ahead is a good idea.

phone: +31 23 542 7270

address: Spaarne 96, 2011 CL
Drink
Beerbrewing has been a very important industry for Haarlem. The historical Haarlems beer, recreated in 1995 is Jopenbier or Jopen.
Sleep
Go next
20 km away,
Amsterdam
is an obvious tourist destination nearby. However, there are a number of other interesting options.
SpaarndamQuaint old Dutch village, nice harbour, couple of restaurants and bars. This small village always had a strong relation with the water. It gained fame through the 1865 American novel Hans Brinker or the Silver Skates, in which a boy put his finger in a hole in the dike to prevent Spaarndam from flooding. Easy cycle from central Haarlem. Famous for its statue of Peter, the boy who put his finger in the dike and saved Haarlem from flooding. There you can find great places to enjoy a great cup of coffee or a cold glass of beer. It is a strictly people zone, meaning no cars or trolleys pass through.

Zandvoort - one of the most popular Dutch coastal destinations is just 10 km away. You can take a train, or go by bike as it's a pleasant ride.
Zaandam - is the biggest town in Zaanstreek-Waterland, with its typical old Dutch villages, windmills, dikes and wooden houses. It's a 20-min train journey, but you'll have to change at Amsterdam Sloterdijk.
Zuid-Kennemerland National Park is just outside Haarlem. To enter, head to Overveen. It's no more than 3 minutes by train.
Alkmaar - famous for its cheese market, has canals and a nice historic centre too. The direct train takes about 30 min.