Hagen
Hagen
is a city in the green, 42 percent of its area are covered by woods and forests, and four rivers meet on the city grounds, the rivers Ruhr, Lenne, Volme and Ennepe. It is one of 23 towns in
North Rhine-Westphalia
,
Germany
, and is situated between the industrialized
Ruhr area
in the north and the rangy
Sauerland
in the south.
Hagen was of little significance until the beginning of the Industrial Revolution in the 18th century, when the trip hammers provided the growing industry with products and led to a modest prosperity of the area. In the 19th century, Hagen became an important railway junction, and a traffic junction in the 20th century, with an urban population of 230,000 inhabitants at its peak in 1975. Since then, Hagen has been hit by the steel and coal crisis of the late 20th century, and its peripheral position at the edge of the Ruhr area has led to a 20 percent reduction of population.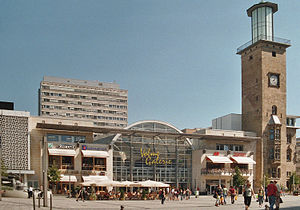 Get in
By plane
Dortmund airport
(
DTM
) 15 km north of Hagen is home of several low-cost airlines and serves mainly national and European travellers. If you are arriving from farther away, Düsseldorf (DUS, Cologne-Bonn (CGN) or Frankfurt Airport (FRA) may be options.

By train

Hagen's central station (Hagen Hauptbahnhof) is the junction of nationwide Deutsche Bahn and regional railway lines with connections to most major cities.

By car
Hagen is situated at the crossing of three main motorways, A1, A45 and A46.

Get around
Public transportation services are handled by the public transport operator Hagener Straßenbahn AG, which is part of the public transport association Verkehrsverbund Rhein-Ruhr (abbreviated VRR). Some people say, walking is the best.

See
Castles
phone: +49 2334 2771

address: Alter Schlossweg 30

Castle on a hill at Hagen-Hohenlimburg

phone: +49 2331 3067266

address: Werdringen 1

Moated castle at Hagen-Vorhalle
Museums
phone: +49 23 31 78 070

address: Mäckingerbach

Open-air museum of handicraft and technology at Hagen-Eilpe

phone: +49 23 31 20 73 138

address: Museumsplatz 3

Art gallery at Hagen-City

phone: +49 23 31 30 60 066

address: Museumsplatz 2

Museum of Modern Art at Hagen-City
Do
Walking in the hills surrounding the city centre, with an excellent network of hiking trails.
Cycling along the rivers flowing through the city, and along the adjacent lakes of the Ruhr valley.
Buy
There are two malls in the city, Volme Galerie and Rathaus Galerie.

Eat
phone: +49 2331 183947

address: Potthofstr. 22

vegetarian & vegan

Mykonos

phone: +49 2334 3598

address: Hohenlimburger Str. 216

phone: +49 2331 3404 932

address: Dödterstr.10

La Fontana

phone: +49 2331 628331

address: Helferstr. 60-64

phone: +49 2331 2044 751

address: Elbersufer 1/Märkischer Ring 88, 58095 Hagen
Sleep
Go next