Haifa
Haifa
(Hebrew חֵיפָה
Heifa
; Arabic حَيْفَا
Ḥayfā
) is the third largest city in
Israel
and the largest city in the north of the country with a population close to 300,000. The city is located on Israel's Mediterranean shoreline, on Mount Carmel and at its foot. Haifa is an important transportation, industrial and cultural center and one of Israel's most important maritime trade centers.
Haifa is the second holiest city in the Baha'i Faith. The Bahá'í sites in Haifa were declared a World Heritage Site by UNESCO in 2008 and serve as one of the city's leading tourist sites.
Understand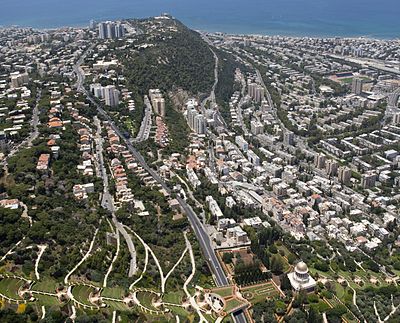 Haifa is first mentioned historically around the 3rd century CE as a small town near Shikmona, the main Jewish town in the area at that time and a center for making the traditional Tekhelet dye used for Jewish Priests' temple cloth. The archaeological site of Shikmona lies southwest of the modern Bat Galim neighborhood. The Byzantine ruled there until the 7th century, when the city was conquered — first by the Persians, then by the Arabs. In 1100, it was conquered again by the Crusaders after a fierce battle with its Jewish and Muslim inhabitants. Under Crusader rule, the city was a part of the Principality of Galilee until the Muslim Mameluks captured it in 1265.
In 1761 Daher El-Omar, Bedouin ruler of Acre and Galilee, destroyed and rebuilt the town in a new location, surrounding it with a thin wall. This event is marked as the beginning of the town's modern era. After El-Omar's death in 1775, the town was under Ottoman rule until 1918, except for two brief periods. In the years following, Haifa grew in terms of traffic, population and importance, as
Akko
suffered a decline. The development of Haifa increased further with the arrival of members of the German Protestant Temple Society in 1868, who settled a modern neighbourhood near the city, now known as the "German Colony". The Templers greatly contributed to the town's commerce and industry, playing an important role in its modernization.
By the beginning of the 20th century, Haifa had emerged as an industrial port city and growing population center, reflected by the establishment of facilities like the Hejaz railway and Technion. At that time Haifa District was home to approximately 20,000 inhabitants, comprised of 82% Muslim Arab, 14% Christian Arabs, and 4% Jewish residents. The Jewish population increased steadily with immigration primarily from Europe, and by 1945 the population had shifted to 38% Muslim, 13% Christian and 47% Jewish.
Today, Haifa is home to Jews, Muslim and Christian Arabs, as well as small communities of Ahmadis (in Kababir), Druze (in nearby Isfiya and Daliyat al-Karmel), Bahá'ís, and others. Haifa is characterised as a mosaic of peaceful coexistence between the communities. It is also the second-holiest city in the Bahai faith.
The phrase "Haifa works, Jerusalem prays, and Tel Aviv plays" refers to Haifa's reputation as a city of workers. A generation ago Haifa's image was that of a serious—and somewhat dull—labor city because of its factories and port. It still has an industrial area to its north, where one of Israel's two oil refineries is located. But it also has a world-class high-tech strip in its south, in the "Matam" technology park along the beach. The park includes blue-chip tech firms such as Intel, Philips, Microsoft, and Google as well as some of Israel's largest tech firms, Elbit, Zoran, and Amdocs. IBM has an R&D center on the top of Mount Carmel at Haifa University and HP has a lab at the Technion, Israel's leading technological university.
Districts
Coastal districts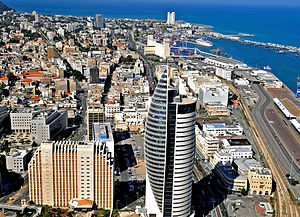 null
Haifa's main industrial area which has amongst other large industrial complexes and also includes the main location from where Haifa's shipping industry operates. Prominent tourist attractions in this part of Haifa include several shopping centers, entertainment complexes, and nightclubs.
West Haifa
The western coast of Haifa which is characterized by long beaches. Prominent tourist attractions in this part of Haifa include archeological and historical sites such as the Cave of Elijah, Stella Maris, Haifa El-Atiqia and Tel Shikmona. Additional tourist attractions include two proiminent museums (the National Maritime Museum and the and the Naval Museum), and several parks.
Kiryat Haim - Kiryat Shmuel
Two suburban neighborhoods on a plain in northeastern part of the city. The neighborhood has a predominantly secular Jewish population and has a distinctly secular character.
The Carmel ridge districts
Includes several residential neighborhoods on the north-western part of the Carmel ridge. This has a very impressive panoramic view of the Mediterranean Sea and Haifa Bay. This area of the city has some of the best educational institutions in the city as well as the most affluent population in the city.
Hadar
An area at the center of the northern slope of the Carmel ridge, with a particularly diverse population. The most prominent tourist attraction in this part of Haifa is the Baha'i Gardens that descend towards the Haifa's downtown.
Neve Sha'anan
Residential neighbourhoods on the eastern part of Mount Carmel. The Technion - one of the most important and oldest universities in Israel - is in Neve Shaanan. Neve Sha'anan is the most populated area in Haifa.
Ramot HaCarmel
Residential neighborhoods at the southwest part of the Carmel range. The University of Haifa, which is at the southern part of this area, is one of the most prominent universities in Israel.
Get in
By plane
Haifa AirportServes flights to Eilat and Larnaca, Cyprus. People flying from anywhere else should use Ben Gurion International Airport () near Lod, where flights arrive from all over the world. It's less than two hours to drive from Ben Gurion Airport, and buses, trains, taxis and shuttles operate on this route. The best way to get to Haifa from the airport is to take the train leaving from the airport terminal.
By train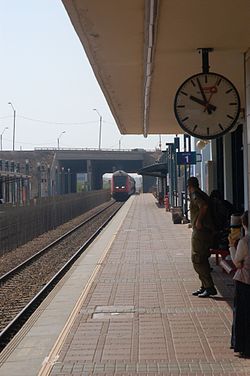 Haifa is well connected to
Tel Aviv
,
Akko (Acre)
,
Beer Sheva
,
Nahariyya
and the
Ben Gurion International Airport
by a train line operated by
Israel Railways
. The trip takes a little over an hour and during peak hours there are as many as 3-4 services hourly.
There are four train stations in Haifa, three of which are open 24 hours excluding the Sabbath (Friday night & Saturday daytime):
By car
From the south, route 2 is the coastal highway which links Haifa with Tel Aviv. This journey takes up to one and a half hours. Route 6, the inland toll road, is a bit quicker for accessing eastern parts of Haifa.
Other more minor roads link Haifa to the East and North, although chances are, if you're up there, you've come close to or past Haifa to get there in the first place.
By bus or sherut
You can take buses from
Tel Aviv
(910),
Jerusalem
(940, 960),
Ben Gurion International Airport
(947),
Afula
(301) or almost any city in the region to Haifa. During the Sabbath, you'll have to resort to a shared taxi (
sherut
), most of which leave from near Tel Aviv's Central Bus Station.
The train is more comfortable and convenient than the 910 bus, except on Friday afternoons when the train stops running several hours before the bus, and you are forced to take the 910. For Jerusalem, you should take the 940/960 bus, but if you missed the last one, get to Tel Aviv and take a bus/train from there to Haifa.
Don't take the 947 bus from Jerusalem! It is extremely slow and makes numerous stops, so you will arrive late and carsick. Better to wait even an hour for the 940/960. It is OK to take the 947 from Netanya or Raanana to Haifa, as this skips the slowest part of the route.
From Haifa (the Hadar neighborhood, i.e. the uphill part of downtown), other sherut lines provide cheap frequent service between here and the cities of
Akko
,
Nahariyya
, and Karmiel, as well as to various neighborhoods and suburbs of Haifa. They generally follow the routes of the bus lines.
Haifa has two main bus terminals where passengers can switch between intercity buses to the local routes:
Merkazit Hof HaCarmelFor buses from the south, including Tel Aviv. 940 and 947 buses from Jerusalem go here. Near Hof HaCarmel train station.

Merkazit HaMifratz bus stationFor buses from the north and east, including the Krayot suburbs and the Galilee. 960 bus from Jerusalem goes here. Located near Lev HaMifratz train station.
Each bus station is next to a train station bearing a similar name.
Note, to get to and from the bus terminals you will have to take "Metronit" (BRT) for ₪5.90. Thus, it might be cheaper to take the train, at least from/to nearby cities, e.g. Akko.
By boat
Port of HaifaWhile the port is intended primarily for freight, Haifa is gradually becoming a popular destination for many major international cruise lines and is the home to local Budget cruise line Mano serving Southern Europe and other Mediterranean destinations.
Periodically, there are also ferry boats from Greece, Cyprus, and Turkey.
In 2016, a regularly scheduled ferry began operating between Haifa and Akko. See
Akko
article for details.
Get around
Local buses
Haifa's local bus system includes three "Metronit" (BRT) routes, and a large number of "normal" routes.
Buses in Haifa run regularly between 5AM and midnight. Unlike most cities in Israel, local buses (but not the Carmelit subway) run on the Sabbath (Friday afternoon to Saturday evening) and Jewish holidays; however, they only operate minimal and highly infrequent services during these hours. The "sherut" (taxi van with fixed routes and prices) lines also run on Saturdays in parallel with some bus routes, and are much more frequent.
A night bus route runs from midnight-5AM and on Fridays and Saturdays from 10:30PM-5AM. During the peak period (summertime) this route runs every night, but in the off-peak season it only runs on Thursday, Friday, and Saturday nights.
Metronit
Some buses operated by
Dan North
are branded "metronit" and thus marketed as a "bus rapid transit" system. The Metronit system consists of three lines (blue, red and green) and some of the buses are bi-articulated.
Carmelit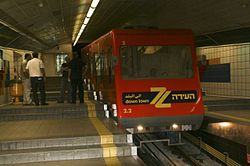 Haifa has a subway: the
Carmelit
funicular, which is the only subway in Israel. It is useful for getting up or down the mountain from downtown, but it only covers a small part of Haifa. If you need to go further, you can buy a ticket which includes a transfer to a bus for the remainder of your journey, though it's probably more convenient to just take a bus the whole way. However, the Carmelit is worth taking for fun, to see its weird angled structure (steps in the stations and train cars, made necessary by the steepness of the mountain). The Carmelit has few riders, so you'll always find a seat.
The Carmelit has six stations listed here as they go downhill:
Gan Ha'em - in the Carmel Center, adjacent to the Haifa Zoo, the Louis Promenade (with a beautiful view of the Haifa Bay, the Haifa Auditorium and Cinematheque, and many shops and hotels.
Bnei Zion - in Golomb street, near the Bnei Zion (formerly known as Rothschild) Hospital and the Bahá'í World Centre (see below).
Massada - Upper Hadar HaCarmel, home to an up-and-coming artists' neighbourhood with many antique shops, second-hand book stores, bars and coffee shops. Also not far from Nordau Street, a pedestrian mall which has seen its better days. Close to the National Science Museum.
HaNevi'im - near HaNevi'im, Herzl and HaHalutz streets, and their shops, offices. Close to the Haifa Museum of Art and Wadi Nisnas pedestrian area.
Solel Boneh - near Ha'atzmaut park, and the Haifa city hall.
Kikar Paris (Paris Square) - downtown. Near government buildings and courthouse, Ha'atzmaut street, walking distance to Haifa Merkaz train station and Haifa port.
See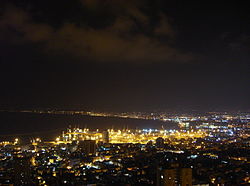 Haifa is largely a modern city.
Landmarks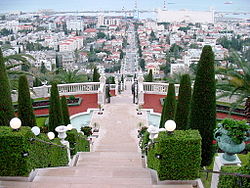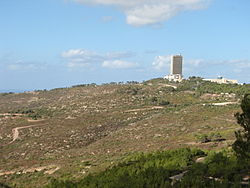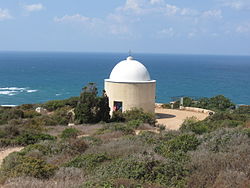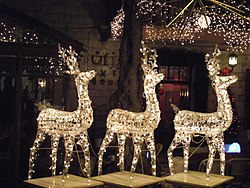 Bahá'í Gardens and World Center

phone: +972 4-831-3131

The gardens and world centre on Mount Carmel's northern slope area a must-see for any visitor to Haifa. Comprising the golden-domed Shrine of the Báb, terraced gardens and administrative buildings, the World Centre is the holiest site of pilgrimage for the members of the Bahá'í faith, as well as the faith's central administrative center. The gardens are stunning and well worth visiting if you are in Haifa. Only parts of the site can be accessed freely without joining the tour – this includes the bottom entrance and the level at the dome.

Cave of ElijahElijah is considered a prophet in Judaism, Christianity, and Islam. The Carmelites have a tradition that they were founded by Elijah at this time. According to tradition, Elijah lived in a cave on Mt. Carmel during the reign of King Ahab. The site itself may disappoint many tourists as it's a very simple site. One enjoyable and scenic option for good walkers is to walk down to the cave from Stella Maris (monastery) at the top of Mt. Carmel.

Stella MarisA French Carmelite church, monastery and hospice. This is the founding place of the Carmelite Order, a religious order of the Roman Catholic Church. The present monastery and church, built over what the Carmelites believe to be a cave where Elijah lived, dates from 1836 after the previous buildings were destroyed in 1821 by Abdullah, pasha of Akko. It's worth visiting the church to view the beautiful painted ceiling which portrays Elijah and the famous chariot of fire (in which he ascended to heaven), King David with his harp, the saints of the order, the prophets Isaiah, Ezekiel and David, and the Holy Family with the four evangelists below. A small adjoining museum contains ruins of former cloisters dating from Byzantine and Crusader times.

German Colony

address: Centered around Ben-Gurion Blvd

In 1868 members of German Templer Society (not to be confused with the Knights Templar) purchased land that was far from the city and set out to build the first planned agricultural community in the Holy Land. Many of the original templar houses have been preserved and have undergone restoration in the last decade of 20th century. Now the main street of the former colony (Ben-Gurion Boulevard) is a promenade, with many restaurants and coffee shops. Some examples of good places in the German Colony are Havana Plus, a hookah bar with a full service bar; Milagro, a restaurant that provides great beer on tap and live music after 8PM; and Isabella, one of the finer restaurants in the area. The City History Museum and the local Tourist Board are also located here.

University of HaifaAt the top of Carmel, the campus was designed by Oscar Niemeyer, the architect of Brasilia and UN building in New York City. Newer buildings were added later. The top 30th floor of the Eshkol Tower provides an incredible view of almost the entire North of Israel. The campus is also home to the Hecht Museum with its rich archeology and art collections. Entry to both of these attraction is free.

Wadi NisnasHaifa's largest Arab neighbourhood with a bustling pedestrian zone and outdoor art. "Holiday of the Holidays" is held there between December and January.

Tel ShikmonaAn important coastal city from the 15th century BCE until the Byzantine period; some of the ruins can be observed now.
Museums and galleries
National Museum of Science - MadaTech

phone: +972 4-861-4444

address: 12 Balfour St

Established in 1984, MadaTech - the Israel National Museum of Science, Technology and Space is housed in two historic landmark buildings in mid-town Haifa. Designed, at the turn of the century, by renowned German Jewish architect, Alexander Baerwald, these were home to the Technion – Israel Institute of Technology, Israel's first institution of higher education.

Clandestine Immigration & Navy MuseumThis may sound a bit bland but it's actually quite fascinating and worth a visit. The museum deals with the successes and failures of the Zionists' illegal attempts to infiltrate into British-blockaded Palestine in the 1930s and '40s. The centrepiece of the museum (quite literally - the building has been constructed around it) is a boat, the Af-Al-Pi-Chen (Hebrew: Nevertheless), whose hold carried 434 refugees to Palestine in 1947.

phone: +972 4-853-6622

address: 198 Allenby St

Deals with the history of shipping in the Mediterranean area. The collection contains old maps, models of ancient ships, navigation equipment and bits and pieces of sunken ships.

phone: +972 4-852-3255

address: 26 Shabtai Levi St

Reuben & and Edith Hecht Museum

phone: +972 4-825-7773

address: University of Haifa campus

houses a fine collection of archaeological artefacts relating to Jewish history before the Diaspora. There is plenty of ancient pottery, weapons and even a pair of 2100-year-old petite-sized sandals. The museum highlight is a 5th-century-BC Greek ship found near Caesarea in 1984. It has been carefully rebuilt and placed in a specially designed annex of the museum. An art wing upstairs contains sections on French Impressionist and Jewish art from the 19th and 20th centuries. Among the works are paintings by Monet, Pissaro and Van Gogh.

Tikotin Museum of Japanese Art

phone: +972 4-838-3554

address: 89 Hanassi Ave

The museum was founded in the year 1959, at the joint initiative of Felix Tikotin, a known collector of Japanese art. The museum present rotating exhibitions of old and modern Japanese art. It features everything from 14th-century Buddhist scroll art to pottery, metal work and newer exhibits on Japanese animation and even Pokémon.

Marc Chagall Artists' House

phone: +972 4-838-3482

address: 24 HaTziyonut St

phone: +972 4-911-9372, +972 4-852-2355

address: 89 Yafe Nof St

Haifa Educational ZooA small zoo in Carmel Center. It has lions, tigers, and bears, but no apes or large herbivores.

phone: +972 4-8564180, +972 4-8564293

Housed in the old Haifa East train station, The Railway Museum features a collection of stamps, photographs, tickets, timetables and rolling stock. Old timetables remind you that you could at one time travel from here by train south to Cairo or north to Beirut or Damascus.

address: Ben Gurion 11

A museum dealing with urban culture and describing the history of the city Haifa.
Do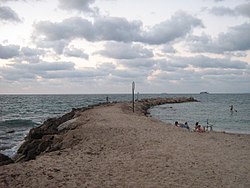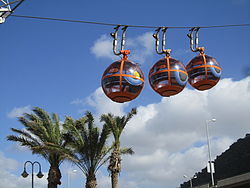 The (student's) beachThe best beaches are right next to the Hof HaCarmel bus and train stations. Just get off the train/bus and walk straight onto the beach. Haifa has many kilometers of beautiful beach on its southwest side. Part of the beach has a boardwalk with cafes and restaurants that are always bustling—day or evening. The beach has its own unwritten segments. Families with kids come to the area along the boardwalk. Younger singles hang in the strip just south of there (with no boardwalk, stores). The locals call it "Students' Beach."

phone: +972 4-8335970

Rides between Bat-Galim Promenade and Stella Maris. The ride offer spectacular views of the city, beach, port and Haifa bay.

CarmelitA subway runs between Carmel center and downtown Haifa.

address: German Colony and Wadi Nisnas

A festival celebrating holidays of Christianity (Chrismas, New year), Islam (Ramadan), and Judaism (Hanukkah). The festival happens mainly on weekends, and include free entrance to museums, public shows, fair and colorful market.

phone: +972 54-7237067

A trek along Haifa's landscapes and attractions, museums, cultural and religious sites, and the city's unique urban wildlife.

Hecht ParkHaifa's largest park, located adjacent to the sea.

Nesher parkIn a suburb of Haifa called Nesher, this is a beautiful park in a forested valley. There are hiking trails as well as two pedestrian suspension bridges over the valley.
Buy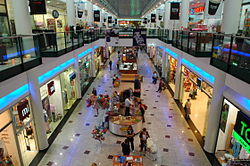 Haifa's mountainous location makes it generally unfriendly for the pedestrian. Therefore shopping avenues are less common than in other cities, though there are a few, such as the Hadar area and the Carmel Centre.
In
the old downtown (city center)
, in a flat area close to the seaport, there are inexpensive shops.
Shopping malls
Haifa has many shopping malls, including:
Grand CanyonThe biggest mall. It has international brand names such as Armani, Lacoste, Benetton and Zara as well as local brands and a large food court. "Canyon" is Hebrew for mall as well as English for canyon, and this mall is in a deep valley in central Haifa, hence the pun in its name. Israelis who don't get the pun will often just call it "the Grand".

Horev Center

Haifa Mall

Castra CenterKnown as an artistic center more than as a mall.

Cinemall

City Centre Mall

KiryonIn the eastern Krayot suburbs.
Eat
Haifa is not a gourmet center like greater Tel Aviv, but it still has plenty to offer.
Falafel and other street food.
Some good falafel can be found in: Falafel Michel and Falafel HaZkenim, both in the Wadi Nisnas area; Falafel HaNasi (locations in the Carmel Center and Horev Center); and at Paris Square, the lowest Carmelit station. Wadi Nisnas has many restaurants and food stalls for shawarma, falafel, and Middle Eastern sweets like baklava and knafe.
There is a huge concentration of falafel and shawarma stands downtown on Yafo Street, near the old Bat Galim Central Bus Terminal building (about 400 m from it). The food is cheap and authentic (about ₪10-15 for a falafel, and around ₪20-22 for a shawarma in a pita).
Another cheap street food is the Bureka—a Turkish phyllo dough, filled pastry—which is almost as common as falafel. Price is also cheap, and it usually comes filled with cheese, potatoes, spinach and feta, or meat.
Further up the food chain are the
Middle Eastern/Arabic restaurants
. Most are located downtown: Abu-Yousef (there are two with no relation), Hummus Faraj, Hummus Abu-Shaker (on HaMeginim St.), Abu Maroun (in the flea market), Matza (a good place 10 minutes walking distance from the shopping mall "Grand Canyon"). They are all famous for their high quality hummus (which is regarded as the "best of the best" in Israel). Expect to pay ₪50-80 per person for a complete meal.
There are several
Romanian-style restaurants
; in actuality this is a hybrid of Middle Eastern and Romanian cuisine. Most are located downtown: Ma'ayan HaBira (beer fountain), Cafe (coffee) Glida (icecream) Younek. Expect to pay ₪50-100 per person for a meal.
Restaurant and cafe clusters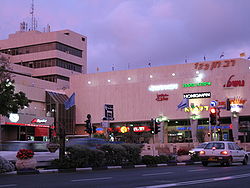 Moriah Avenue
, along the length of this street from the Carmel Center in the north, to the Horev center (shopping mall) in the south. Some good places alongside this 3 km stretch include:
Charliebar (meat, seafood, hamburgers)
Sinta-bar (meat)
El Gaucho (steaks, kosher)
Meat In and Out (steaks)
Canibar (hamburgers)
Agadir (hamburgers)
Lechem Erez
Giraffe (Asian fusion)
HaBank (cafe with good food)
Pasta Carolla
Isabella Bar
Shipudei HaTikvah (traditional meats and salads, kosher)
Pomodoro (pizza and pasta, kosher)
Jacko - one of the best fish and seafood restaurants (on Moriah Street and downtown near Natanson Street). It was a working-class restaurant until it became famous, and increased its prices a bit (₪80-120 per person).
Japanika (reasonably-priced sushi, Fridays: reservations advised)
Greg (cafe restaurant)
Mandarin (cafe)
Voila (Swiss-French)
You can find good food in the local bars around Moriah Avenue, for example: the Duke, Brown, Barbarosa.
Good traditional restaurant is Ma'ayan Habira, where home style dishes are served.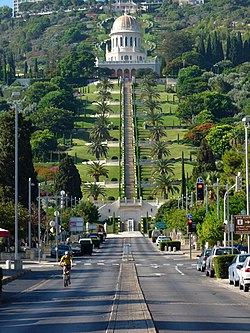 Ben-Gurion Avenue
, below the Bahai Gardens, connecting the gardens to the port area. This is a trendy area, with some good restaurants, including:
Isabella - at the entrance of the German Colony. Isabella provides great seafood that caters to a western palate at a mid-range price. Their house wine is pretty good and overall the service is good.
Fattoush
Rak Bassar ("Only Meat")
Ramsis Restaurant
Captain Nemo (seafood)
Douzan
Taiwan (Chinese food)
Wadi Nisnas
is mostly frequented for produce and groceries, but there are also a few good eateries in the area. Most of the businesses are on a street called simply "Al-Wadi" (the Valley), or its northern continuation "Shehadeh Saleh", running diagonally from Shabtai Levi St. to HaTsiyonut Boulevard.
Abdel Hadi Sweets - On Shehadeh Saleh Street, near the intersection with HaTsiyonut. It's marked only in Hebrew and Arabic, but even if you don't know those alphabets you can find it by the Arabic pastries visible through the windows. You can eat in at one of the three or four small tables (the place is mostly built for take-out); their knafeh is particularly good.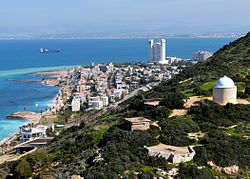 Stella Maris
, at the San Francisco Observatory.
Several restaurants with spectacular views:
HaNamal
, the Port.
phone: +972 4-862-8899

address: Hanamal St 24

One of the top cuisine restaurants in Haifa. Serving excellent (though high priced as expected) food, desserts and service. Highly advised place for a gourmet dinner.
Jacko (seafood)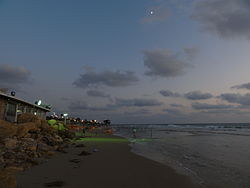 Dado Beach.
Last but not least is the beach strip cluster which has several restaurants. The food is OK, but the real reason to go there is to relax while enjoying views of the beach (only 15 meters away), or for people-watching.
All these clusters of restaurants are very vibrant with youth at about 9PM further into the small hours of the night, almost at any day of the week, but on Fridays, it may get too crowded on the most popular places. Unfortunately the medium priced places usually take the 'all the people you can squeeze in' approach, thus you might get a noisy crowded place, and service may not be as good.
Tipping
Tipping is customary. The normal rate is 15% at all places that you sit down and are served. Don't tip at falafel, shawarma, and bureka stands. If you feel the service was poor, tip less, if it was outstanding tip a little more.
Drink
Central Mount Carmel offers a decent selection of mid-class cafes and bars. Popular cafes are Greg and Tut (Strawberry), which are right next to each other in Kikar Sefer.
Closer to the Horev Center, 'Frangelico' and 'Barbarossa' are considered to be the most popular bars. They are often very crowded, but if one can't get in, there are many other bars in close walking distance, such as Brown, Levinsky, Maidler, and Duke.
The beautiful street of Yefe Nof also boasts a cluster of pubs, including a popular Charliebar and Irish-style pub.
Downtown there are some more pubs, including the legendary old-fashioned 'Maayan HaBira', which is more popular among adult crowd; the "Martef" (Basement), where you might also catch an open-mic night; and up the street from HaMartef is Jack and the Beanstalk, a more intimate pub with a great selection of appetizers. Another downtown happening place is the Syncopa bar.

Sleep
Budget
Mid-range
phone: +972 4-837-7481

address: 110 Hanassi Blvd

German Colony Guest House

phone: +972 4-855-3705

address: 105 Yafo St

Very clean and comfortable rooms. Run by the Rosary Sisters (Roman Catholic nuns) who seem to take great care of the guests. A free breakfast is included and it's a very central location near the Haifa HaShmona central railway station and the Haifa port. The only downside is that you have to be back in the guesthouse by 10PM.

phone: +972 4-6037800

address: 10 Yonatan St.
Splurge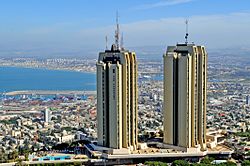 Cope
Consulates
Greece

phone: +972 48-522-098

address: 18 Hagefen St
Go next
Haifa is the gateway to Israel's north and northeast.