Hakone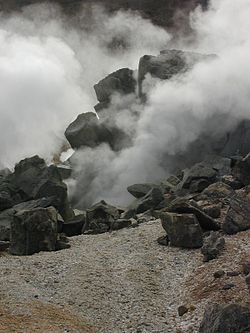 Hakone
(箱根) is a mountainous area west of
Tokyo
in
Japan
. The Hakone checkpoint on the historical
Tokaido road
marks the beginning of the
Kanto
region.
Get in
By plane
The nearest airports to Hakone are in Tokyo. If you have a reservation at a ryokan in Hakone, unless your plane lands in the morning, it is recommended that you spend your first evening in
Tokyo
or
Yokohama
, or else you might miss out on (and be charged for) dinner at the ryokan, or worse, you may be locked out of (and be charged for) your room at the ryokan's curfew time, if there is one.
Allow 2½-3 hours to reach Hakone from
Narita Airport
by train, and 1½-2 hours from
Haneda
Airport.
By train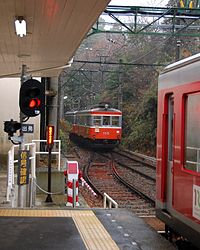 The fastest and most expensive method of reaching Hakone from Tokyo is to take a
Tokaido Shinkansen
hourly all-stop
Kodama
(こだま) train from Tokyo to
Odawara
(several
Hikari
runs per day also make this stop - check the schedule), then transfer to the
Hakone-Tozan Line
for the run to Hakone-Yumoto (trains operated by Odakyu Railway). The one-way fare starts from ¥3730 for unreserved seating, but with a
Japan Rail Pass
you need only to pay ¥310 for the Hakone-Tozan line - easily done with a Suica or PASMO card (Limited Express trains require an extra ¥200 surcharge). With a good connection, the trip takes one hour.
Be aware that the
JR East Rail Pass
does not provide access to the Tokaido Shinkansen and to make use of this pass you will need to ride the regular Tokaido Main Line to Odawara. From Tokyo, a convenient choice that is valid with the JR East Pass is the "Odoriko" limited express train service. These trains have bigger windows and better seating than the regular commuter trains, and seat reservations can be made. There are at least 3-4 runs during the day in either direction.
Rail Pass holders can also use regular JR commuter trains to Odawara, which cost ¥1490 and take 75-90 minutes from Tokyo Station or Shinjuku Station.
Green Car
(First Class) seats are available; you can purchase an electronic Green Car ticket prior to boarding with a SUICA card, then touch the card over the seat you wish to sit in, available on a first-come first-serve basis. The surcharge for Green Car seats between Tokyo and Odawara is ¥980 on weekdays and ¥780 on weekends and holidays; you can also purchase a Green Car seat on the train for an additional fee. Holders of the
Green Car
Japan Rail Pass can use these seats at no additional charge, and with no fare tickets required.
The affordable method of reaching Hakone from Tokyo is to take the
Odakyu Odawara Line
from
Shinjuku
station. The fastest train on the Odakyu Line is the
Hakone
(はこね) Limited Express train (特急
tokkyū
), which runs twice an hour for most of the day. The 85-90 minute journey costs ¥2080. Note that some trains, called
Super Hakone
(スーパーはこね), use newer train equipment, while evening rush hour runs from Shinjuku are called
Home Way
(ホームウェイ). The slower Odakyu express train (急行
kyūkō
) runs twice an hour at a cost of only ¥1190, reaching Hakone in two hours.
Odakyu
Super Hakone
services also offer saloon seating - private compartments with a table that can seat up to 4 people. The saloon fare from Shinjuku to Hakone is ¥3560 for the compartment, plus the basic ¥1190 fare per person.
Rail connections can be made at Odawara from
Nagoya
(2 1/2 hrs),
Kyoto
(3 hrs) and other locations throughout Japan. An alternate route from central and western Japan is to exit the Tokaido Shinkansen at
Mishima
and take the hourly Tokai Bus
Orange Shuttle
to Hakone-machi (42 min, ¥970) or Moto-Hakone (53 min, ¥1030).
By bus
Odakyu Hakone Highway Bus
operates several buses from the Tokyo area to Hakone-Togendai via
Gotemba
Station. Most buses leave from the Shinjuku Expressway Bus Terminal (
Busta Shinjuku
) every 30 minutes between 6:35 and 14:05, then hourly until 19:05. Return buses leave Togendai at 7:30, 8:30, 9:30, then every 30 minutes until 18:00 (2 hr 30 min, ¥2010 each way). Odakyu Bus also operates four daily round-trips between
Haneda Airport
,
Yokohama
and Togendai (¥2260/¥1950 respectively) and two express round-trips between Haneda, Yokohama and Hakone-Yumoto train station (¥1950/¥1540 respectively).
Both Odakyu and
JR Bus
operate a total of six daily round-trips between Tokyo Station and Togendai (¥2160; ¥1900 if purchased in advance).
Get around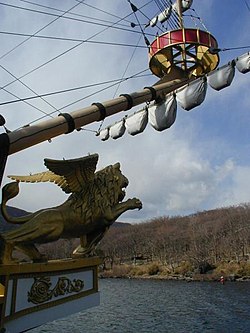 Modes of transport in the Hakone region are many and varied. Your options include:
The scenic Hakone-Tozan Line mountain railway from Odawara to Gora via Hakone-Yumoto (closed from Hakone-Yumoto to Gora as of October 2019)
The Hakone-Tozan Cablecar up the mountainside from Gora to Sounzan
The Hakone Ropeway from Sounzan down to Togendai on Lake Ashinoko via the boiling sulphur pits of Owakudani
The Hakone Sightseeing Ships, decked out like Disneyland versions of pirate ships, sailing across the lake from Togendai to Moto-Hakone and Hakone-machi
And positively dull in comparison, the Hakone-Tozan Bus back to Hakone-Yumoto or Odawara. On their website there is a journey planner, info on how to pay the fare and route maps. The last bus from town to some of the faraway places leaves around 8PM.
Some modes of transportation - in particular the ropeway - close from time to time for regular inspections, or in windy conditions. Buses will run replacement services in these cases.
Most people opt for the
Odakyu Hakone Free Pass
, which includes a return trip from Shinjuku and allows unlimited use of all of the above forms of transport for several days. In addition, pass holders can receive discounts at many hot springs, museums, restaurants, and other locations by showing their pass.
The 2-day Free Pass costs ¥5140 from Shinjuku and ¥4000 from Odawara. A 3-day pass can be purchased for an extra ¥500. Additionally, if you have a Free Pass from Shinjuku you can use the
Hakone
Limited Express train by paying a surcharge of ¥870 each way. You can also travel in a saloon compartment, if offered, at a cost of ¥3560 for the compartment. Holders of the Japan Rail Pass and JR East Rail Pass should travel to Odawara station by JR using the methods described earlier, and pay for the Free Pass from Odawara.
Accessibility
Despite the mountainous location and numerous transfers,
travelers with disabilities
can enjoy the entire Hakone Round Course. Unfortunately, getting to the many hot springs and art galleries is a different matter altogether as many mid-route stations are inaccessible or are on very steep hills.
See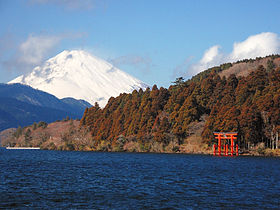 The volcanically active
Fuji-Hakone-Izu National Park
, centered on
Lake Ashinoko
, is a popular tourist attraction well known for its onsen (hot springs) and its views of
Mount Fuji
.
Great Boiling ValleyVolcanic hot spot full of sulphurous springs.

Hakone Jinja ShrineNestled on the south shore of the lake, close to Moto-Hakone, is a picturesque Shinto shrine with torii gates in water.

Lake AshiBeautiful views of Mount Fuji but only on a clear day. As many tourists have found out, a visit to Lake Ashinoko does not guarantee a view of the mountain. The lake is crisscrossed by cartoonishly decorated "pirate ships".

phone: +81 460-82-1161

address: 1121 Ninotaira

One of the top attractions in Hakone. Displays a wide variety of sculptures and artwork from celebrated Western and Japanese artists within a beautiful parkland setting. Also includes a dedicated Picasso pavilion (paintings and pottery). While the pavilion is closed until July 2019, the collection is on display in the main pavilion.

phone: +81 460-84-2111

address: 1285 Kozukayama, Sengokuhara

The Pola Museum of Art's permanent collection is centered on works gathered over a 40-year period by Suzuki Tsuneshi, the son of the founder of Pola, a Japanese health and beauty company. The collection of around 10,000 items spans a wide range of genres including Western painting, Japanese Western-style painting, Japanese-style painting, prints, sculpture, Oriental ceramics, Japanese modern and contemporary ceramics, glasswork, and cosmetic utensils and other objects. Amongst Western masterpieces, the collection includes impressionist works from Monet, Manet, Renoir and Degas, as well as from Picasso.

phone: +81 460-82-2717

address: 1300-432 Gora

Small museum with nice pictures of Hakone and Mount Fuji.

address: 909 Sengokuhara

The world's only museum dedicated to Little Prince and its author Antoine de Saint-Exupéry.
Do
No trip to Hakone would be complete without a dip at a
Japanese hot spring
(
onsen
). If you're staying overnight, your lodgings may include bathing facilities, but if not many hotels open up their baths to visitors for around ¥500 or so.
Tenzan Tōjigō(天山湯治郷), Hakone-Yumoto, Chaya 208. Large, popular hot spring operation with indoor and outdoor baths, sauna, etc. Free shuttle bus from outside the bus station. Open 11AM-8PM daily. ¥1000/630 adult/child.

Hakone Kowakien Yunessun(ユネッサン), Hakone-machi, 1297 Ninotaira. Indoor complex featuring rapids, dead sea style salt baths and jacuzzis, while the outdoor area offers waterfalls, rocks and a water slide. The popular outdoor relaxation section includes a renowned sake bath, as well as coffee, green tea and wine baths. Mori No Yu is a traditional Onsen style Japanese spring located in the same complex. Open from March to October 9AM-7PM daily. ¥3500/1700 adult/child.

HikingThe area has some nice hiking trails. The national park website has an up to date list of hikes and their current status (in Japanese, but with maps, courses listed on the right side). The visitor's center in Togendai also has a model of the area including many of the hikes around the Lake Ashi. For example there is a hike from Togendai to Owakudani and from there to Mt. Komagatake passing the peaks of Mt. Kanmurigatake and Mt. Kami. From Mt. Komagatake take the cable car down and the bus back to Togendai (beware: last cable car leaves Mt. Komagatake at 16:50). The hike takes between 2.5 and 3 hours and covers quite a difference in altitude. Sturdy shoes are definitely helpful but not necessary.
Buy
Hakone Yosegi ZaikuTraditional Japanese parquetry.
Eat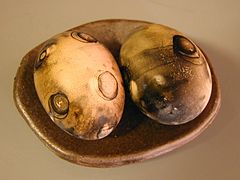 If you stay at a ryokan, dinner and breakfast might be included; make sure in advance.
Hakone's delicious natural spring water is also used to make soba, or thin noodles made from buckwheat flour. Soba is served in so many restaurants in the onsen town that it may replace rice to become the main course for your meals in Hakone. Soba can be served cold or hot, accompanied by delicious sides such as tofu, tempura or vegetables.
Black eggsBoiled on site, their shells are a mottled black due to a chemical reaction with the sulphurous water, but the inside is quite tasty. According to Japanese legend, every one you eat will add seven years to your life. 5 eggs (and hence 35 years) will set you back just ¥500.

SagamiyaIf you miss the taste of a warm brownie, try the mountain brownies at this shop. You can't miss the smell, as they are made on site!
Drink
Sleep
Hakone has many
onsen ryokan
, traditional Japanese inns featuring hot springs. Facilities vary widely, although prices are generally somewhat elevated (especially on weekends) due to the proximity of Tokyo.
Budget
phone: +81 460-87-7800

address: 1297 Ninotaira

A dormitory-style hotel in Hakone with an onsen where you can stay. They may try to overcharge, so make sure you stay firm on the price. The accommodations are a bit grungy, but they serve fresh baked bread in the morning.

phone: +81 460-85-5381

address: 702 Yumoto

This delightful Japanese style hotel is well-run. The main branch has 31 Japanese-style rooms. 12 Western style single rooms with private bath are available at the annex across the street. There is free WiFi in the lobby, 24 hour natural spa baths (separated by gender) and a public open-air spa bath. Private open-air hot spring baths are available. Japanese banquet rooms, bar with a karaoke machine, karaoke rooms, meeting rooms, souvenir shop are available.

Kappa-tengoku

phone: +81 460-856121

address: 777 Yumoto, Hakone-machi

A well-located if slowly crumbling cheap inn, featuring large open-air baths on the roof. Meals are optional and run ¥1470 for dinner and ¥840 for breakfast. The staff is very welcoming and helpful but speak very little English. You can also leave your luggage there before check-in and after check-out for free. You get more than what you pay for at this ryokan with the Japanese-style accommodations, all natural open-air baths, and good service.
Mid-range
Splurge