Haliburton Highlands
Haliburton Highlands
, also known as
Haliburton County
, is a municipality of about 18,000 people (2016) in
Ontario
. It offers more than 600 pristine lakes, and thousands of hectares of virgin forest and wilderness.
Understand
The Highlands are only a few hours from centres such as
Ottawa
,
Toronto
, and
Barrie
, yet the area has preserved its natural and wild setting. Nestled between the increasingly developed and expensive Muskoka Region and the unspoilt and vast Algonquin Provincial Park, the Haliburton Highlands are a great place for a relaxed, cultured, and beautiful vacation amongst the peaks and lakes.
Its economy is dominated by tourism. The ratio of properties occupied in the summer months to properties occupied year-round is about 3 to 1. Employment primarily caters to the needs of this seasonal cottage country population, including residential construction, resorts, services and retail.
It was named after Thomas Chandler Haliburton, author, statesman, and the first chairman of the Canadian Land and Emigration Company.
Get in
By car
Most people enter Haliburton by car. While Haliburton residents have refined countless personal routes into the County, most visitors stick to the main highways. However, traffic congestion on weekends from May to August can try anyone's patience, and visitors should "be inventive" when planning their trip.
From the south: Provincial Highways 35 from Toronto and 28 from Peterborough are the two main arteries from Southern Ontario
From the west: Provincial Highway 118 from Bracebridge
From the north: Algonquin Park's southern boundary obstructs direct road access from the north, and most visitors entering the County from this direction take the eastern or western routes.
From the east: Provincial Highway 28 is the most common route from Ottawa and Eastern Ontario
By bus
Can-Ar Coach services run daily from Toronto to the villages of Minden and Haliburton.
Greyhound Canada Coach services are available to nearby Bracebridge and Peterborough, which act as popular "pick up" locations.
By air
The Haliburton Highlands have more than 600 freshwater lakes, many of which are suitable for pontoon plane landings and take-offs
There is also the centrally located Haliburton/Stanhope Municipal Airport
Get around
Having, or renting, a car is key, due to the size of the county.
Several taxi services.
Many well groomed snowmobile and ATV trails.
Many bicycle trails and paved road shoulders for cyclists.
Boat routes integrated into the Trent-Severn Waterway.
Snowmobile, ATV, boat, car, and horse rental available.
See
address: 66 Museum Road

The main museum and its galleries are wheelchair accessible. Accessible washrooms are available on the second floor.

Stanhope Heritage Museum, Log Chute and Lookout

address: 1123 North Shore Rd, Carnarvon

Specializes in local pioneer history and is home to the historic Hawk Lake Log Chute. Hawk Lake Log Chute is the only remaining log chute of its kind in Ontario. The log chute has been painstakingly repaired and reconstructed. There is an expansive view of Maple, Beech, Boshkung, and 12 Mile Lake from the Stanhope Lookout, beside the Stanhope museum.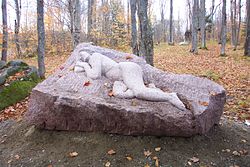 Haliburton Sculpture ForestA unique outdoor collection of sculptures by Canadian and international artists. Free tour every Tuesday at 10AM and Wednesday at 12:10PM in July and August.

Pike's Peak, cliff top lookout in Minden
Haliburton Gold lake trout, a species of fish endemic to the glacier lakes of the Haliburton Highlands
Tens of thousands of fish being bred at the Haliburton Highlands Outdoor Association's Fish Hatchery, on Country Rd 1 (Gelert Rd), Haliburton
Spectacular fall colours, as the leaves turn to bright red and orange in the autumn months
Vistas of surrounding peaks and lakes from trails such as the Circuit of Five View Points and Crests of Kennissis is Algonquin Higlands
The mysterious Harburn Wells, deep shafts in the Canadian shield developed during the last ice age
The many easily accessible waterfalls including:
Buttermilk Falls north of Carnarvon on Highway 35
Riche Falls east of Lochlin
Highfalls north of Harcourt
Three Brothers Falls north of Kinmount
Do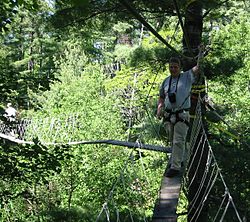 Haliburton Forest and Wild Life Reserve

phone: +1 705-754-2198

address: 1095 Redkenn Rd, Haliburton

It is a research facility, an education centre, and a sustainably managed forest. It is operated by a private company with two businesses: tourism & recreation, and forest products. Activities year-round: hiking, canopy tours, lake trout fishing, ice-fishing and dog-sledding in winter, camping. There is a resident wolf pack and a wolf education centre.

Skyline ParkA wonderful view of the village of Haliburton and the surrounding landscape.

address: 1191 Dorset Scenic Tower Rd

Viewing platform 142 metres (465 feet) above Lake of Bays. Facilities include picnic sites, restrooms, a tourist information kiosk, a gift shop and a hiking trail.

address: 1870 Horseshoe Lake Rd, Minden Hills

A natural canoeing and kayaking slalom facility in Minden that was used for the 2015 Pan American Games canoe slalom events. A 100-acre park with trails adjacent to whitewater rapids for kayaking and canoeing. 30 campsites with picnic tables and fire pits.

Haliburton Highlands Water Trails

phone: +1 705-766-9033

address: 20130 Highway # 35 North, Haliburton

28,000 hectares of provincial and municipal public lands comprised of countless lakes, rivers, trails and continuous forest.

phone: +1 705-457-1640

3 ski areas with 36 km of ski trails, and 16 km of trails at YMCA Wanakita. Glebe Park: 13 km of classic & skate trails. 1.5-km lit loop for night skiing. intermediate to difficult. In the Village of Haliburton on Fleming College Drive. Moosewoods: 13 km of classic & skate trails – easy to intermediate through picturesque forest terrain – large warming hut – on County Road #14 on the way to Eagle Lake. Twin Lakes: 5 km of classic & skate trails – easy to intermediate – dog friendly. 4.25 km of snowshoe trails. 12 Mile Lake Road at Taylor Lake Rd off of Hwy #35, 5 km south of Carnarvon, 5 km north of Minden. YMCA Camp Wanakita: 16 km of intermediate, classic-only skiing.

Haliburton Rail Trail36 km multi-use trail for bicycling, walking, snowmobiling between Kinmount and Haliburton. Trail surface: Gravel and cinders. Washrooms at Donald and Kinmount. Ritchie Falls is midway along the trail

Take a guided wilderness tour to see animals such as bears, wolves, deer, moose, lynx, bobcat, eagles, with one of the several local tour operators
Go on a guided fishing or hunting trip
The walk in the clouds: Canoe across one of the lakes and walk in the treetops on narrow boards hanging in thin ropes. For safety you are also attached to steel wires.
Buy
phone: +1 705-766-2415

address: 1061 Main St, Dorset

Includes a Home Hardware, Foodland Supermarket, the Drygoods gift shop, and the Red Onion boutique. The footwear section specializes in moccasins. Free parking and accessible from Lake of Bays.
Eat
phone: +1 705 457-2810

address: 166 Highland Street, Haliburton

Since 1935. Good food at good prices.

phone: +1 705-489-3353

address: 15526 Hwy 35, Carnarvon

Known for their Mill burger and prime rib, homemade pies and tarts and breakfasts.

phone: +1 705-489-4449

address: 9201 Highway 118, Carnarvon

Upscale casual dining in cottage country on the shores of Mirror Lake. Boshkung Brewing onsite. Closed Mondays in shoulder season.

address: 1035 Koshlong Lake Road, Donald

A tiny pastry shop in the town of Donald offering baked goods from "Ooey Gooey Butter Tarts" to Thanksgiving pumpkin pies. All of thrir baking is created by hand, from scratch, on site.

Wintergreen Maple Syrup and Pancake Barn,

phone: +1-705-286-3202

address: 3325 Gelert Rd, Minden Hills

A timber-framed barn selling foods and preserves produced on site. View the maple syrup operation through the glass wall of the La Sucrerie Restaurant which has a French Canadian menu.
Drink
phone: +1 705-489-4554 (Brewery), +1 705-286-2711 (Pub)

address: Brewery 9201 Hwy 118, Carnarvon. Boshkung Social pub: 20 Water Street, Minden

Beside Rhubarb restaurant in Carnarvon, has a tasting room, growlers, and mini-kegs. Pizza and sharing plates.

phone: +1 705-457-3443

address: 207 Highlands Street, Haliburton

Nine draught taps, featuring local craft beer, an ample selection of wines and spirits, plus fresh-ingredient cocktails.
Sleep
Go next