Halifax
Halifax
is the capital city of
Nova Scotia
and the largest city in the
Atlantic Provinces
of
Canada
. The city's origins and rich maritime history derive from a strategic location and one of the world's great natural harbours. In the 19th and early 20th century, Halifax was the entry point for European immigration to Canada. Today, Halifax is a busy Atlantic seaport and the economic and cultural hub of Eastern Canada.
Understand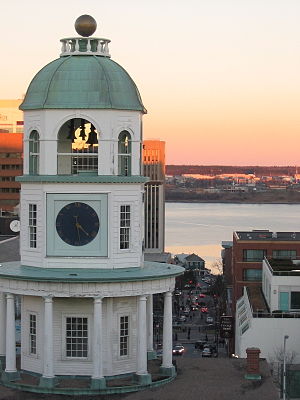 Halifax is the provincial and regional hub of Nova Scotia. It is, however, a small city by North American standards (2016 pop. 425,900). Rather than feeling relegated to 'second-fiddle' status, this dichotomy is celebrated by residents who take pride in their slower pace and warm hospitality.
History
The area around Halifax has been inhabited by native Mi'kmaq for millennia. Modern Halifax was founded on June 21, 1749 as a
British military outpost
. Easily defended and featuring the world's second largest natural harbour, Halifax proved its worth during the Seven Years' War against the French and later in the American Revolutionary War, and as the base grew in size and importance, a significant population of merchants and other civilians sprung up in its wake.
On December 6, 1917, the collision of a munitions ship loaded with 2,500 tons of explosives resulted in the
Halifax Explosion
, which killed over 2,000 people and levelled the northern half of the city.
The city was quickly rebuilt, and during World War II Halifax was busier than ever, with British supply convoys assembling to start their perilous journey across the Atlantic as German U-boats lurked offshore. After the war, over a million immigrants to Canada passed through Halifax.
Orientation
The city of Halifax is on Halifax Peninsula, on the west side of the harbour, with
Dartmouth
to the east. The main landmark is the
Halifax Citadel
, on a high hill above the city, and it divides the city into three districts: the
South End
, representing the older, wealthier urban core south of the Citadel; the
North End
, the grittier northern suburbs destroyed by the Explosion; and the largely residential
West End
. The downtown core is sandwiched between the Citadel and the sea, making navigation a snap. Inhabitants of the city are known as
Haligonians
.
Climate
Extreme cold or hot temperatures are rare, as Halifax is located next to the ocean. Also the Gulf Stream helps making the winters milder. Typical for an oceanic climate at these latitudes, there will be a lot of rain or snow throughout the year. Summer and early autumn are weather-wise the best seasons to visit the city. In the autumn months hurricanes affecting the North American east coast may occasionally move all the way up to Halifax.
Visitor information
Get in
By plane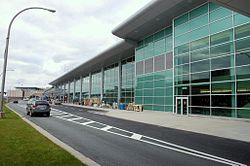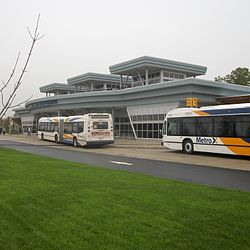 Halifax Robert L. Stanfield International AirportIt is the biggest airport in the maritime provinces, with direct flights from Toronto, Montreal, New York, Chicago, Ottawa, Calgary, Boston, Philadelphia, London, and limited service to a number of regional and holiday destinations. Direct connections to Europe are provided by Air Canada (London-Heathrow), Europe Airpost (Dublin: seasonal), Condor (Frankfurt/Main, May–October only), Canadian Affair and Icelandair (short stopover in Reykjavik).

If you need a taxi to get to the airport; then you should be search for Halifax Airport Taxi online on any search engine or social media account. They refer to a Cab as a Taxi in Halifax, Nova Scotia.
MetroX Route 320
is the only public transit connection between the airport and city, and the most affordable option. It is an express bus service to downtown Halifax with only two intermediate stops in Fall River and Dartmouth (Bridge Terminal). The total journey time is 55 minutes and the fare is $3.50 one-way. It runs on 30-minute frequencies on-peak and 60 minutes off-peak, with the first departure from the airport at 5:45AM and the last 12:15AM.
Upon boarding you should ask the driver for a "transfer", so you can continue your trip on a connecting bus for no extra charge. A transfer is a small slip of paper that you can show the driver of the next bus as proof of payment. You can change buses in Dartmouth or Halifax, or call a cab from either bus stop.
The Bridge Terminal in Dartmouth is a convenient and comfortable place to change buses. It has an indoor waiting area with a concessions kiosk, public washroom, and transit information. From the Bridge Terminal, Route 1 goes straight to downtown Halifax and the Spring Garden Road area. It may be crowded during peak hours.
Route 320's final stop, in downtown Halifax, is located on Albemarle Street. It is within walking distance to certain hotels including the Delta Halifax, Delta Barrington, Prince George Hotel, Hampton Inn, and Homewood Suites. Otherwise, Albemarle Street is somewhat out-of-the-way and you may want to call a cab to reach your final destination. If you are unencumbered by heavy luggage and wish to transfer to other buses you should walk down the hill to the bus stop in front of Duke Tower (for buses toward Quinpool Road) or to the Scotia Square Terminal on Barrington Street (for buses toward the south end, Spring Garden Road, and the universities).
Taxis and limousines
charge a flat rate of $63 from the airport to Halifax city centre and may be pre-booked at no extra charge.
By train
The
VIA Rail
train station – located in the south end of Halifax at 1161 Hollis Street, directly next to the Westin Nova Scotian Hotel – is the terminus for train services to Montreal (via New Brunswick). The full trip to Montreal takes 22 hours. There are three per week (W F Su 6:45PM) for $150-285 (Moncton is $43-77, 4hr20min).
By car
Halifax is connected to the rest of Canada by provincial highways 102 and 104. Highway 102 runs between Halifax and
Truro
, where it connects to Highway 104 (the
Trans-Canada Highway
). Going west on 104 takes one to the New Brunswick border, and then onto
Maine
,
Quebec
, or
Prince Edward Island
. The drive from Halifax to the New Brunswick border takes about two hours, and there is a $4 toll at the
Cobequid Pass
. Going east on 104 takes you to
Cape Breton
or, alternatively, the ferry to
Prince Edward Island
.
For connections to other parts of Nova Scotia, provincial highways 101, 103 and 7 are the most direct options. Highway 101 connects Halifax to
Yarmouth
via the
Annapolis Valley
, Highway 103 connects Halifax to
Yarmouth
via the
South Shore
, and Highway 7 connects the
Halifax Region
with the
Eastern Shore
and
Antigonish
.
By bus
phone: +1 902 429-2029

address: 1161 Hollis St

Operates an inter-regional bus service between destinations in Nova Scotia, New Brunswick, PEI, and Maine, with connections to major cities in Quebec and Ontario. Stops made in Halifax, Dartmouth, Bedford and Lower Sackville. Charlottetown (PEI) is 2/day with a switch at Amherst ($58.25+tax, 5hr30min). Moncton (NB) is 3/day ($49+tax, 4hr10min).
By boat
A ferry service also operates between Halifax and
Dartmouth
. It is a great boat ride, especially on clear summer days, considering the $2.50 charged.
Carnival Cruise Lines
and other major cruise lines operate cruises to Halifax.
Get around
Halifax sprawls somewhat. Public transit is limited and mostly impractical outside the downtown area. The downtown shopping and attractions will engage the average traveller for a day or two at most. Beyond this time frame, a car rental will significantly open up the surrounding area.
By car
There are no photo radar or red light cameras in Nova Scotia. If you are caught, it'll be by a live officer. At some lights, there is an "advanced green", or flashing green light, which means that you can proceed left, straight, or right at your leisure. Green arrow lights are rare. Pedestrians are king. People will often cross a road in the middle of the block, and cars stop for them. U-turns are legal (
de facto
anywhere a left turn is allowed,
de jure
), barring a no U-turn sign.
It's very important that you give buses the right of way, give them enough room to turn in intersections, and avoid passing them on one-lane streets like Barrington.
By bus
Halifax TransitHalifax Transit (formerly called Metro Transit) is the public transit provider for the municipality, encompassing Halifax and surrounding areas. The fare gives you access to all buses and ferries, excluding the long-distance commuter buses marked MetroLink and MetroX. Transfer tickets are free, are valid for 90 minutes, and can be used at any bus stop or ferry terminal (i.e. return journeys are possible on one fare). The agency has teamed up with Google to provide an online trip planner through Google Maps, however all transit maps and schedules can be found on their website as well.
By taxi
There are a number of taxi services in the city, although flagging a taxi down may be difficult in certain areas. Calling and reserving cabs is rarely an issue. If you are bar or club bound for the evening, be aware that catching a cab back from downtown after last call may be difficult. If you need a taxi to get to the airport then your best luck would be search Halifax Airport Taxi on any search engine or social media account. They refer to a Cab as a Taxi in Halifax, Nova Scotia.
See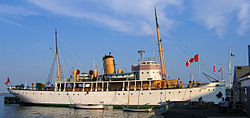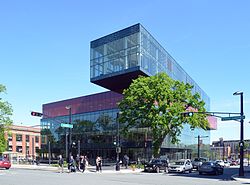 Parks
address: Spring Garden Rd and South Park St

A beautiful Victorian-era garden occupying a large city block. There are ponds, flowers, ducks, geese, and sometimes music in the gazebo.

Point Pleasant ParkA large peaceful park that serves as a vantage point to see the mouth of the harbour and into the Atlantic ocean. Was once a dense woods has since been left with patches of devastation and clear-cut from Hurricane Juan in 2003. It remains a popular place to walk dogs and stroll. The park contains some preserved historic military fortifications such the 18th-century Martello tower, and ruins of several other fortifications.

York RedoubtA sprawling complex of forts from 1790s to 1940s. Plan to spend hours exploring tunnels, caves, cliffs, cannons, bunkers, trails, and views of the harbour. 1-hour bus ride from downtown.

Halifax Common

address: Quinpool and Robie

A large public space open to everyone. In the summer, you can find residents and visitors playing sports, picnicking, and exercising. A permanent skating oval has been installed for public use.
Do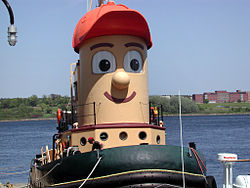 WaterfrontA boardwalk with a great variety of historic buildings, shops, restaurants, and other entertainment. Theodore Tugboat, a World War II-era Corvette, and other ships line the harbour. During the summer months, there are many harbour boat tours that launch from here.

Harbour HopperGuided tour of Halifax and harbour in an amphibious vehicle. Very informative and highlights major points of interest in the city in fun-filled hour.

Boat Tours

phone: +1 902-420-1015

Murphy's the Cable Wharf is in the heart of the Halifax waterfront and offers a variety of boat tours including nature and whale watching, tall ship sailing, deep sea fishing, historical harbour tours and dinner cruises.

Canoe the Northwest Arm

phone: +1 902 490-4688

address: 1641 Fairfield Road

Take a trip up the beautiful Northwest Arm to see the historic Dingle tower in Flemming Park, watch the numerous sailboats out for a weekend cruise or catch a regatta if you're lucky. Gawk at some of the mansions that line the water or for the ambitious, head all the way up to Point Pleasant Park, where the Northwest Arm meets Halifax Harbour. While swimming in parts of the harbour was briefly possible due to the installation of sewage treatment plants, they are down for repair and swimming is again not recommended unless a trip to hospital after is desired.

Watch ice hockeyThe Halifax Mooseheads Quebec Major Junior Hockey League team plays from October to April at the Scotiabank Centre. Rough, highly-skilled games are combined with a near-NHL level of presentation. See Ice hockey in North America for context.

Halifax Hurricanes basketballHalifax's National Basketball League of Canada team plays from November to March at the Scotiabank Centre. With many of the players coming from NBA teams, or from U Sports (Canadian university) or NCAA Division I (US college/university) teams, the Halifax Hurricanes will be Nova Scotia's only professional sports team until the 2019 launch of HFX Wanderers (below). Tickets are available at the Scotiabank Centre box office.

address: Wanderers Grounds

Coming in 2019: professional soccer. HFX Wanderers will begin play as one of the founding members of the Canadian Premier League. The team will play in a new stadium being built at the Wanderers Grounds near downtown.

Alexander Keith's Brewery Tour

address: 1475 Hollis Street

Immersive tour of Alexander Keith's original brewery as it supposedly was in 1863, complete with tour guide actors in period garb singing songs, dancing jigs, relaying a bit of the history of the brewery and Keith himself, and promoting the crisp, refreshing taste of Alexander Keith's India Pale Ale. You do get the chance to sample two mugs of the stuff at the end. Tours on the hour and half-hour but limited opening hours outside summer, check the website for details. If you are an Air Miles collector, you can redeem your miles here for free tickets.

Dartmouth FerryThe Halifax-Dartmouth Ferry dates back to 1752. For the same cost as bus fare, one can take the ferry back and forth between Dartmouth and Halifax. Make sure to get a transfer (valid for 90 minutes), so you can return on the same ticket.

Hiking TrailsHalifax has lots of the great outdoors. Scenic urban parks, protected areas, and coastline trails are all close to the city. Some are well known, others are off the beaten track, all are beautiful.
Events
Busker FestivalVisit in August for the festival of street performers along the waterfront. It's a must see, with amazing acts, some grand and awe-inspiring, some quaint, others funny (both intentionally and unintentionally). A very lively time of year along the harbourfront, with music and stalls selling food and the standard run of touristy souvenirs.

The Royal Nova Scotia International TattooHappening every July, the Tattoo is the world's largest annual indoor show. Its unique combination of music, dance, drama, gymnastics, comedy, military displays, and competitions.

Tall Ships FestivalEvery few years, Halifax hosts up to 30 historic and unique (and usually massive) maritime sailing vessels from around the world. The next festival has not yet been scheduled.

Culinary Tasting tourJun-Oct
Learn
Halifax is home to three major universities. Students make up a significant proportion of the population in certain neighbourhoods.
Spread over three campuses, Dalhousie University is the largest educational institution in Nova Scotia. With 15,000 undergraduates and a broad range of graduate and professional programs, Dalhousie is one of Canada's leading universities.
Located in the south end of the city, Saint Mary's University is somewhat smaller. St. Mary's is renowned for its business school, strong alumni support, and athletics.
Located just off the peninsula, along the Bedford highway is Mount Saint Vincent University, a smaller university with a focus on undergraduate studies, and professional programs including those in teaching and public relations.
Other educational institutions include:
Work
The military is the largest employer in the region. The city is home to Maritime Forces Atlantic HQ and the navy's East Coast fleet. Among the military installations around the city are Windsor Park, Stadacona and HMC Dockyard. It is hard to go anywhere without seeing a reference to the Navy.
Many corporations have their regional headquarters in the city, some are located downtown like TD and the Royal Bank, while others are located in some of the major business parks in the region like Burnside Industrial Park or the Aerotech Park which is located next to the Airport. Both have direct access to the major provincial highways and while the Aerotech Park is next to the airport which influences the Aerospace theme, Burnside has ~10-15 min travel time to the airport.

Buy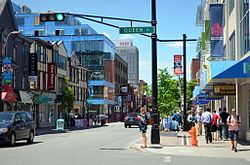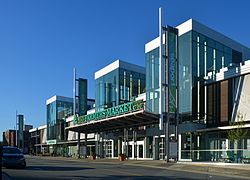 Shopping areas
Barrington StreetBarrington Street is an up-and-coming area in the heart of the Central Business District. Beautiful buildings mixed with the growing number of new stores make this definitely a nice place to 'hit up'.

address: 1496 Lower Water St

This was the site of the Halifax Farmers' Market prior to its relocation to the newly constructed Seaport building at Pier 20. However, some vendors have remained or have opened a second location here open Saturdays from 7AM-1PM.

Quinpool RoadQuinpool Road is lined with streets selling bicycles, tropical fish, dresses, movies, and more. The definite Main Street of Central Halifax.

address: 1209 Marginal Rd

This is the new location of the oldest running farmers' market in North America. The market relocated to this building by the waterfront in 2011 and had brought most of the vendors, customers and energy with it. It runs year-round. Saturdays are by far the busiest with the most vendors, but the market is open every day of the week. Along with local produce, milk, bread, meat, and preserves, you'll find a diversity of local and ethnic prepared foods, plants, artwork, clothing, and all sorts of other interesting stuff that you may not expect for find at a Farmers' Market. Buskers play music both inside and out of the building.

Spring Garden RoadDefinitely the city's main shopping district and is full of all kinds of unique stores and in buildings from all kinds of eras. Definitely very lively and a must see!
Stores
phone: +1 902-423-5724

address: 1545 Grafton St

A variety of interesting trinkets, accessories, textiles and items from around the world.

phone: +1 902-423-0419

address: 5686 Spring Garden Rd

The last independent general interest (new) bookstore on the peninsula. A huge selection in a small space; special orders are their specialty.

phone: +1 902-420-1297

address: 1669 Barrington St

High-end clothing made and designed in Canada.

Dress in Time

address: 5670 Spring Garden Rd

Often referred to wrongly as Dressed in Time, located in the district of Spring Garden Road, sells quality vintage, quirky, and unique clothing at reasonable prices.

Fifty Hats

address: 1086 Queen Street

A humble and interesting collection of used items. (Hats are in particular abundance!)

phone: +1 902-420-9151

address: 1729 Barrington St

A quirky and unique store with an array of candy (by weight), unique and hilarious trinkets.

phone: +1 902-492-8653

address: 1549 Grafton St

Small head shop on Grafton Street.

Rock Candy

address: 5189 Prince Street

An assortment of especially rock- and pop-related music items: shirts, pins, stickets, buttons, and more.

phone: +1 902-425-2140

address: 5110 Prince St

Quirky store that sells comics, toys, board games, et al.

Sugah!

address: Lower Water Street

A unique chocolate store selling a variety of interesting treats.

Venus Envy

address: 1598 Barrington St

Specializes in books and other items pertaining to gender and sexuality.
Eat
Seafood
is generally not much cheaper in the Maritimes than elsewhere and many restaurants in Halifax specialize in seafood dishes. The exception to seafood being the same price in Nova Scotia are mussels. They are generally good quality, cheap, and found on many appetizer menus. Another seafood worth having is scallops, as they are generally higher quality than the ones you get in many parts of North America (good scallops are the size of a golf ball or larger, and do not taste fishy). "Sea pie" is often a good deal when available, as are hearty eats like fish and chips or seafood chowder. Lobster in a restaurant will be expensive, so your best cheap bets are to buy one at the store and cook one yourself, or attend any of the numerous lobster dinners that are hosted by churches and community groups throughout the warmer months. Buying lobster from the various fishermans markets or directly from the fisherman themselves (who will often sell street side out of a car) will get you the best deal.
A plethora of foods that are native to Nova Scotia are easy to find in Halifax: one is the
Halifax donair
, which is similar to but distinct from the doner kebab. It is prepared using thinly sliced beef meatloaf and a sweet condensed milk garlic sauce and garnished with diced tomatoes and white onions. Other specialties include
hodge podge
(a creamy soup of fresh baby vegetables; rarely found in restaurants);
blueberry grunt
(blueberry baked with a sweet dumpling topping); and
deep fried pepperoni
(a bar snack often dipped in honey mustard sauce). Restaurants in Halifax and indeed Atlantic Canada offer a
donair pizza
featuring all the Halifax donair ingredients served on a pizza crust. In addition, one can normally find donair meat used in such offerings as
donair sausage
;
donair egg rolls
(an egg roll casing stuffed with donair meat);
donair pogos
(donair meat on a stick, battered and deep-fried, similar to a corn dog);
donair calzones/panzerottis
; and in
donair poutine
(an Atlantic adaptation of the Quebec snack dish). It is customary for bar and pub-goers to flock to pizzerias once all the bars, clubs, and pubs close on Friday and Saturday nights for a bite of pizza, or especially donair.
Garlic fingers
are an Atlantic Canadian dish similar to a pizza in shape and size and made with the same type of dough. Instead of the traditional tomato sauce and toppings, garlic fingers consist of pizza dough topped with garlic butter, parsley, and cheese, cooked until the cheese is melted. Bacon bits are sometimes added. They are typically eaten as a side dish with pizza and often dipped in donair or marinara sauce. They are presented in thin strips (or "fingers") as opposed to triangular slices.
Garlic fingers and the Halifax donair are relatively unknown outside the Maritimes, but can sometimes be found in restaurants in other provinces.
Budget
Many of the cheap eats in town are along Spring Garden Road. Also consider local pubs (see
Drink
), many of which serve up great food.
phone: +1 902 423-7100

address: 1256 Hollis St

Pick up any book to read in this bookshop café, then either purchase it or put it back. Beans are roasted in store twice a week.

phone: +1 902 429-3034

address: 1536 Brunswick St

Specialty coffees, teas, cold drinks, and baked goods. Get there before 1PM and order an 'Egg-O-Reno' breakfast sandwich, among other prepared fare.

The Ardmore Tea Room

address: 6499 Quinpool Rd

Virtually unchanged since 1956, and often voted the best diner in Halifax, and quite cheap. In addition to standard diner fare, they have a few Atlantic favourites such as "Newfoundland Steak" (a.k.a. fried baloney), and cod fish cakes with baked beans for breakfast.

Pizza Corner3 different pizza restaurants at corner of Blowers and Grafton. Good cheap pizza and donairs. However, this area can descend into anarchy when the bars let out, and the restaurants often lock their washrooms, even to customers. If you are looking for a more authentic pizza taste head up Gottingen or Agricola into Little Italy, where numerous "mum and pop" places abound.

phone: +1 902 455-5300

address: 117 Kearney Lake Rd

A charming and cosy pizza restaurant. Takes pride in its homemade dishes.

phone: +1 902 405-4022

address: 2731 Robie St

Chef/owner Mark Giffin prepares unbelievable breakfasts, lunches and baked goods with a complete selection of coffees, teas and other non-alcoholic beverages. North End Halifax

Comfy Corner Café

address: 1313 Hollis St

Great homestyle breakfast, very friendly staff, great atmosphere.

Kings Palace

address: 6140 Quinpool Rd

Chinese food.

address: 3635 Dutch Village Rd

Authentic Mexican food.

phone: +1 902 404-3300

address: 1240 Hollis St

A tiny restaurant set up in an old taxi stand. Great authentic Iranian cuisine at an affordable price. Famous for their hot sauce, a must try with a samosa!

phone: +1 902 431-8588

address: 1569 Dresden Row

"This one chef operation turns up the heat downtown with freshly-chopped, family-run, real Sichuan." - The Coast
Tasty Pizza 760 Main S. Low-end pizza place run by a very friendly Lebanese merchant, be sure to quiz him on history for a discount. Pizza is around ($14) for a medium pizza.
Mid-range
Ko-Doraku Sushi

phone: +1 902 425-8888

Down a little alley on the citadel end of Dresden Row. Best sushi in the city with a lovely atmosphere and proper inset Japanese tables. Get miso soup, salad, a maki roll and 5 nigiri for only $12 at lunch.

Fireside Kitchen

phone: +1 902 454-7389

address: 3430 Prescott St

Meals are reasonably priced, atmosphere is cosy and everything on the menu is worth eating. The cocktail menu is discounted on Martini Mondays.

address: 1661-1663 Argyle St

Behind the bizarre name lies a stunningly decorated and sprawing complex incorporating everything from chandeliers to lush indoor gardens. Extensive menu. Go on jazz night (usually Monday) and eat nachos.

phone: +1 902 421-1000

address: 1181 Hollis St

Located within the Westin Nova Scotian hotel, Elements is the winner of a Wine Spectator 2010 Award of Excellence and features contemporary global cuisine. Elements offers many seasonal menus with fresh, local ingredients.

phone: +1 902 444-3844

address: 1707 Grafton St

Grafton St. veggie & vegan friendly bistro featuring local, organic and macrobiotic food and drink. Kid's menu available. Su-Th 11:30AM-10PM, F-Sa 11:30AM-11PM.

phone: +1 902 423-6818

address: 1869 Upper Water St

Seafood restaurant on the waterfront. Casual patio dining downstairs, fancier setting upstairs. Can get very busy on summer evenings. Reservations recommended.

address: 6250 Quinpool Rd

Vegetarian, organic and extremely good. Lunch and dinner menu, soups, salads, entrees, desserts. M-Sa 10AM-8PM.

Coburg Café

address: 6085 Coburg Rd

Students come here for group study or just to hang. Great hot chocolate and a $2 mammoth slice of carrot cake.
Splurge
phone: +1 902 420-9626

address: 1537 Barrington St

A high-concept restaurant with a daily menu. Serves only seasonal, local ingredients.

Da Maurizio's

phone: +1 902 423-0859

address: 1496 Lower Water St

A world-renowned Italian restaurant located on Lower Water St. inside the Brewery Market.

phone: +1 902 422-4421

address: 1740 Argyle St

Lobster, scallops, and other seafood dishes.

phone: +1 902-405-4554

address: 1579 Grafton St

Small plates and full meals. Try the deep-fried deviled eggs!
Drink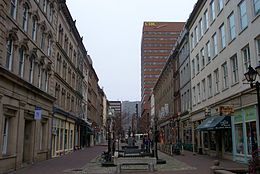 There are a large number of good cafes, pubs, and other eateries all throughout downtown. Of particular note are those on Granville St.
Liquor purchases for private consumption are regulated by the provincially owned liquor monopoly called the
NSLC
(Nova Scotia Liquor Corporation). Stores can be found in stand-alone locations, malls, and grocery stores. Selection is often surprisingly large, but be prepared to pay: a 12-pack of beer can range from $17-20, and a pint of rum or vodka will set you back $12-14. All prices quoted include taxes and recycling deposits. Most stores close at 10PM Monday to Saturday and 5PM on Sundays. Stores are closed for holidays. The exception has been the sole drive-through outlet near the in
Dartmouth
end of the MacDonald Bridge; it is frequently open holidays, but for drive-through service only. Port of Wines and several other micro-breweries are also permitted to sell their products from their outlets.
Pubs
Until a couple of decades ago, Halifax retained old British laws about the serving of alcoholic beverages. For example, if an establishment served hard liquor, it had to provide live entertainment; if it served draft beer, it also had to serve food. The heritage of those laws is a great deal of live entertainment and some very good deals on "pub food" which is priced low to get people in the door. Most "pub food" originates not far from the grill and deep fryer. Pubs that specialize in traditional-style music have "open mic" nights. Performers who attend will bring in their fiddles and bagpipes to jamthey are paid in drinks and food.
phone: +1 902 492-8844

address: 1575 Argyle St

Bearly's House of Blues and Ribs

address: 1269 Barrington Street

A mellow and low-key pub. Great live music!

phone: +1 902 428-5680

address: 1580 Argyle St

Tavern with pub fare, beer.

phone: +1 902 444-1414

address: 2057 Gottingen St

A relaxed establishment serving local and international beers. Bluegrass night every Wednesday, no cover.

Gus's Pub

address: 2605 Agricola St

No-nonsense local pub with hockey on the TV and cheap beer, but they also host a remarkably eclectic selection of local live bands.

phone: +1 902 423-6113

address: 1717 Brunswick St

A traditional and popular pub, usually with live music starting at midnight. Features staff in period costumes.

address: 1222 Barrington Street

Offers a wide range of local micro-brewery beer (originally Granite Ales, but now carries a much wider stock). Excellent food in an English pub-type atmosphere.

address: 1887 Upper Water St

Has live music reliably, almost seven nights a week usually starting at 9PM. The style of music tends to be popular not traditional. Beautiful interior.

phone: +1 902 423-5090

address: 1600 Grafton St

"Pub food" priced food and sixty kinds of imported beer. Voted "Best Beer Selection" the last 4+ years.

address: 5136 Prince St

A set of three pubs connected by a split level staircase. There is live music in the lower level frequently, starting at 8PM The music style tends to be traditional Irish/Scottish ballad. The "open" night is often surprisingly good.

phone: +1 902 423-7200

address: 2037 Gottingen St

Halifax's oldest extant tavern.

phone: +1 902 422-4366

address: 1855 Granville St

Long-standing pub with late week and weekend entertainment and cheap food. "Power Hour" brings in the crowds for cheaps drinks (2 middies for $5).

phone: +1 902 423-6766

address: 5686 Spring Garden Rd

For a good atmosphere and decently priced food.
Nightclubs
Craft breweries and distilleries
Many of the local craft producers have rooms or patios where you can enjoy their products on-site.
phone: +1 902-453-5343

address: 1149 Marginal Road

Brewers of fine beers and makers of fine craft nonalcohol sodas.

phone: +1 902-431-0505

address: 1668 Lower Water Street

Rum distilled on-premises, in white, gold, spiced, and black varieties (and a "cream" liqueur). The rum is available in bottles on-premises or at the NSLC, under the "J.D. Shore" label.
Sleep
Budget
phone: +1 902 431-3170

address: 2193 Gottingen St

Easily accessible by train or bus, this hostel offers rooms starting from $20. Free internet service and free towel rentals available. Located a bit from the "downtown" area. Its location is a bit sketchier, but more authentic. Cafe on the front makes great food.

phone: +1 902 422-3863

address: 1253 Barrington St

Located in the heart of downtown Halifax, this hostel offers free Wi-Fi to its guests and has a kitchen. The hostel is easily accessed by bus, metro, or train.

Dalhousie University Dorm Rooms

phone: +1 902 494-8840

Dorm and apartment-style accommodation From late May to late August. Limited availability (1 of 2 suites in Howe Hall) during the school year. Single and double accommodations available; doubles contain two single beds. Shared washroom facilities down the halls, free high-speed internet. Check-in is at whichever building you're staying at.
Gerard Hall

address: 5303 Morris St

Early May to late August.

Howe Hall

address: 6230 Coburg Rd

Late July to late August.

Shirreff Hall

address: 6385 South St

Early May to late July.

Risley Hall

address: 1233 LeMarchant St

Early June to late August. Single accommodations only.
Mount Saint Vincent University Dorm Rooms

phone: +1 902 457-6777

address: 166 Bedford Hwy

Single and double rooms, apartment style accommodations. Available from May 1st to August.
Mid-range
Splurge
Stay safe
Halifax is a generally safe city, but you should be aware when walking around certain areas of the city at night. The North End, including the Gottingen Street area, is relatively safe by international standards but has something of a rough reputation locally. In most cases, common sense should suffice.
Pedestrian crosswalks are highly respected by drivers in Halifax, and crossings can occur just about anywhere. This provides a double danger: for drivers to keep on the ball watching out for pedestrians; and for pedestrians to not be lulled into a false sense of security while crossing.
Rapidly changing weather means that
black ice
abounds in winter, and it's particularly nasty when combined with the city's hilly topography. Choose your steps and drive carefully.
Connect

McDonalds and Starbucks on Spring Garden road have free Wifi. The Dalhousie University Killam Library also has computers with internet access open to the public.
Scotia Square has Bell and Telus shops, where prepaid SIM cards can be purchased.

Go next
St. Margaret's Bay
is only half an hour away; a gorgeous bay, almost as big as the harbour itself, but without the cities. Instead, it is dotted with islands and small towns. In its northwestern corner there are beautiful
beaches
, such as Queensland, Cleveland, Black Point and others, just before the town of Hubbards. Maybe the best known destination there is
Peggys Cove
: stunning bare granite rocks and cliffs with its historic and still-used lighthouse. While sunsets are gorgeous and peaceful on clear summer evenings; the best times to see Peggy's Cove are the stormier days, when the waves crashing against the cliffs send salt spray high into the air. Better to get out there early in the day to avoid tour buses.
If you have a car, there are plenty of historical towns within an couple of hour's drive of Halifax that are worth visiting, such as
Lunenburg
,
Mahone Bay
, and
Wolfville
. Also the drive along the two-lane coastal Highway 3 is an attraction in itself, twisting and turning through the beautifully scenic landscape it's especially nice on summer days.
Charter flights leave from Halifax to
Sable Island
, 300 km off shore in the Atlantic Ocean.
You can also fly to
Saint Pierre and Miquelon
, a group of islands south of Newfoundland and Labrador that still belongs to France.