Halle
Halle
is the largest city in
Saxony-Anhalt
,
Germany
with a population of 233,700. Located on the river Saale, it is often referred to as
Halle an der Saale
, or
Halle (Saale)
for short, to distinguish it from other municipalities in Germany sharing the same name.
Halle has always been an important industrial centre - its industrial heritage spans salt mining, chemical industries and chocolate confectionery. Internationally, Halle is perhaps best known as the birthplace of the Baroque composer Georg Friedrich Händel, who later went on to a successful career in
London
.
Get in
By plane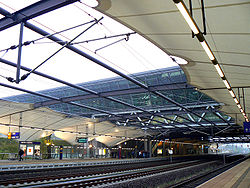 Leipzig/Halle Airport (LEJ

)
, sometimes called Schkeuditz Airport, is 30 km away from central Halle. The airport is the second biggest airport in Eastern Germany after
Berlin
. Trains between the airport and Halle Central Station run roughly every 30 minutes, alternating a S-Bahn (S 5X) and an IC-train enroute to Hanover. The trip takes 11 minutes and costs €4.20 (S-Bahn) or €6 (IC). The train station is below the terminal building and can be reached by stairs, escalators and elevators.
Berlin
's airports (TXL or SXF) are less than two away by train and offer more direct flights.
By train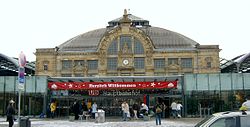 Halle (Saale) is a station on the
high-speed rail
line Berlin–Erfurt–Frankfurt or –Munich. ICE high-speed trains from Berlin and Erfurt call approximately once an hour, from Frankfurt or Munich about once in two hours, respectively. In addition, Halle is served by hourly intercity trains on the (Cologne/Bremen)–Hannover–Leipzig(–Dresden) line; as well as several regional train lines.
Deutsche Bahn
operates regular train service between Halle and nearby cities such as
Leipzig
(€7.60, 25 minutes),
Lutherstadt Eisleben
(€9.50, 30 minutes),
Dessau
(€14, 50 minutes),
Magdeburg
(€22, 50 minutes),
Jena
(€20, 60 minutes),
Weimar
(€20.50, 60 minutes),
Lutherstadt Wittenberg
(€15, 65 minutes).
High-speed trains are available to major cities in
Germany
including
Erfurt
(€40, 30 minutes),
Berlin
(€49, 70 minutes),
Frankfurt
(€88, 2:40 hours),
Munich
(€117, 3 hours),
Hamburg
(€106, 3:15 hours).
Prague
(€66, 4:40 hours) can be reached with an additional transfer in
Dresden
; or by train and bus via Leipzig (3.5 hours). Tickets may be much cheaper if booked in advance.
By bus
see
long distance bus travel in Germany
By car
From
Leipzig
, take the A14 west to the B100.
Get around
By tram
Hallesche Verkehrs-AG (HAVAG)
operates the local surface street tram. It passes most major attractions downtown and will take you to and from the main train station. Tickets are available at the office in the Marktplatz, from vending machines or from the drivers. 1-hour tickets cost €2.20 if bought from a vending machine, somewhat more if bought from the driver. Day passes cost €5.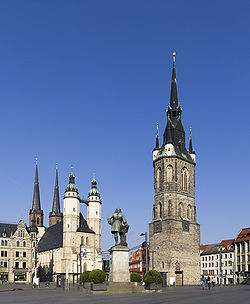 See
Marktkirche Unser Lieben FrauenLate Gothic cathedral where Luther preached. Contains Luther's death mask. Handel was baptized here.

address: Große Nikolaistraße 5

The house where Georg Friedrich Händel was born, now a museum dedicated to his life and works. Displays his works, letters, manuscripts.

Burg Giebichenstein

address: Seebener Straße 1

Old Castle that's now been converted into an art school. Is right on the Saale river. Great views of the city.

address: Friedemann-Bach-Platz 5

Castle which has now been converted into a great art museum. Has exhibits which include works by Klimt, Ernst, and Klee. Highlights include Lyonel Feininger's paintings of famous Halle landmarks.

NeustadtThe township built by the GDR in the 1980s to house chemical plant workers. It is a poignant example of East German architecture.

address: Delitzscher Straße 70

The Halloren Chocolate Factory is the oldest in Germany. The origins date back to the founding of a honey cake bakery in 1804.

address: Alter Markt 12

Three floors of memorabilia owned by fan Rainer Moers.

Landesmuseum für Vorgeschichte (Halle)

address: Richard-Wagner-Straße 9

The State Museum of Prehistory is the archaeological museum of Saxony-Anhalt with Nebra Sky disk and Eulau family graves as highlights.

phone: +49 345 2127 450

address: Franckeplatz

The Francke Foundations are a unique ensemble of historical school buildings dating back to the age of enlightenment (founded 1698); the buildings today house departments of Halle University, several schools and other cultural and social institutions. Highlights are the baroque Cabinet of Artefacts and Curiosities and the Historical Library. Occasionally concerts, lectures and conferences.
Do
Buy

Leipziger Straße is the main shopping street in downtown Halle. It branches off of the Southeast corner of the Marktplatz. There you will find many retail shops and chain fast food restaurants.

Eat
Budget
Make sure you try some döner kebap. It's heavily Germanized Turkish food. Halle has some of the best döner in
Germany
.
address: Marktplatz 20

Self-service restaurant with view over market square. Offers breakfast, cold and hot lunch buffet, daily specials, cakes.

address: Große Ulrichstraße 51

Artsy place affiliated with the Neues Theater (New Theatre).
Mid-range
Splurge
address: Oleariusstraße 4a, 06108
Drink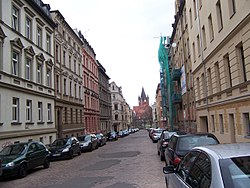 Bars and pubs
Café Noire

address: Kleine Ulrichstraße 30

It is by far the best bar/cafe on Kleine Ulrichstraße.

address: Große Nikolaistraße 2

Brewery that also serves good food.

phone: +49 345 1717740

address: Burgstraße 48

Bar that has lots of live pub music.
Clubs
Charivari

address: Kaulenberg 1

Karaoke club.

address: Kardinal-Albrecht-Straße 6

Indie club with good dance parties.

address: Seebener Straße 5

Great indie club and cafe. Folk and rock music and good food.

Potemkin

address: Kleine Ulrichstraße 27

address: Friedeman-Bach-Platz 5

Student club. Techno, house, hip-hop, drum & bass.
Sleep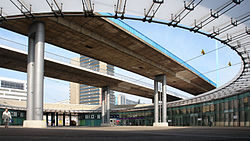 Budget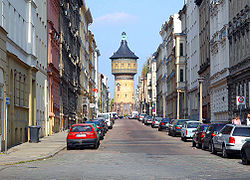 Mid-range
Splurge
Connect
Internet
Internetcafe Speed

address: Am Bauhof 1
Go next