Hamad International Airport
Hamad International Airport
(
DOH
) is the main airport of Doha and the busiest in Qatar. It is the main hub and central transit point of state-owned carrier Qatar Airways.

Understand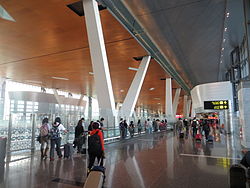 The airport was built to succeed the earlier Doha International Airport, and is quite new, with more jetbridges and space.
It consists of one big terminal, with 5 concourses - A, B, C, D, and E - and two central plazas in the middle section to connect them.
To elaborate: the southern plaza connects A and B to the southern end of C in a T-like fashion, and the northern plaze connects D and E to the northern end of C in a Y-like fashion.
If your departing flight leaves in less that 45 minutes, then you can alert ground staff to speed up transfer formalities.
Flights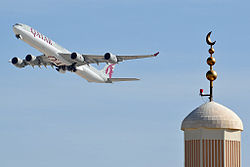 Qatar Airways is the biggest carrier at the airport, with many connecting flights. Doha is served by fewer additional carriers than
Dubai
, the home of Qatar Airways' arch-rival, Emirates. The major European airlines usually provide a single connection to Doha from their main hubs (e.g. Lufthansa from
Frankfurt Airport
, KLM from
Amsterdam Schiphol
), but minor ones do not. Most airlines of the Middle East,
Turkey
included (but not
Israel
), provide connections to Doha. Relatively few Asian airlines do so, however. The exception is a relatively good choice of connections to
India
and
Pakistan
, with Indian airlines such as Air India Express and IndiGo serving several cities.
Note that, due to a diplomatic embargo, there are no flights to many Arab states.
Ground transportation
Buses serve the airport on routes 109, 727, 737, 747, and 777. The 7xx routes can be remembered because they are the model numbers of famous Boeing aircraft.
Your bus fare can only be paid with a Karwa Smartcard. You can purchase or top-up a Karwa Smartcard from the Mowasalat Information Desk near Baggage Claim Belt 5 & 6. There are three options to choose from:
QR10 Card (USD 3): two inner-city trips within a 24 hour period
QR20 Card (USD 5): unlimited trips across Qatar within a 24 hour period
Regular Karwa Smartcard QAR 30 (USD 8): QAR 10 for the card with QAR 20 value, available to be topped up for future journeys
The Red Line metro is expected to be extended to the airport in 2020.
Get around
The north and south plazas of the terminal are connected via monorail, effectively connecting concourses A/B to D/E.

Wait
Lounges
Oryx Lounge

Al Mourjan Business LoungeFor Qatar Airways Business and First Class passengers.

Al Safwa LoungeExclusive lounge for Qatar Airways First Class passengers

Al Maha Lounges

First Class LoungeLounge for First Class ticketed passengers and for some QR Privilege Club and oneworld alliance members.

Business Class LoungeLounge for First or Business class ticketed passengers and for some QR Privilege Club and Oneworld alliance members.

First and Business Class Arrivals Lounges

Unaccompanied Minors LoungeThis lounge is specifically for unattended minors. As only the minors and authorized adults can enter, it is very safe. It has lots of entertainment, with video games and movies.

Special Assistance Travellers' Lounge
Buy
Qatar Duty FreeThis brand covers the duty-free shops at the airport that sell a variety of goods.
Connect
Public Wi-Fi is provided free of charge throughout the airport.

Sleep
Nearby