Hamada
Hamada
() is a city in
Shimane
on the JR San'in Main Line.
Get in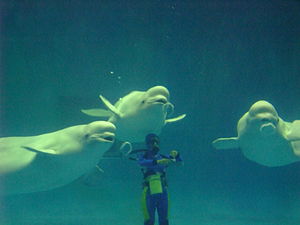 By plane
The nearest airport is
Iwami Airport
in
Masuda
, though this is only served by flights from
Tokyo
Haneda
and seasonal services from
Osaka Itami
.
There are two
share taxis
(乗り合いタクシー) a day to and from Hamada station which take just over an hour and cost ¥2000 per person. These must be booked before 21:00 the day before. Alternatively, take the bus to Masuda Station (15 minutes, ¥330) and change there to the JR San'in Line.
The nearest international airports are
Hiroshima
and
Yonago
.
By train
Hamada lies on the
JR San'in Line
, and is served by all trains which pass through.
There are seven Limited Express trains per day in each direction: four
Super Matsukaze
and three
Super Oki
. Heading east, these take 1 hr 15 min and ¥3190 to
Izumoshi
, 1 hr 40 min and ¥4620 to
Matsue
and about 2 hours and ¥5270 to Yonago. Five of these trains continue as far as
Tottori
, taking 3 hr 15 min and ¥7330 (though you can also change at Yonago). Going the other way, they take 35 minutes and ¥2030 to reach Masuda;
Super Oki
trains continue along the Yamaguchi Line to
Tsuwano
,
Yamaguchi
, and Shin-Yamaguchi, reaching the last of these in 2 hr 10 min and ¥4940.
There are five Rapid
Aqua Liner
trains to Yonago a day, taking about 3 hours and costing ¥2590 (1hr 40 min and ¥1490 from Izumoshi). Local trains take 2 hr 20 min from Izumoshi, and may be overtaken by a Limited Express en route. Local and Rapid trains from Masuda take about 50 minutes and cost ¥760.
Going by train all the way from Osaka takes no less than 5 hours (if going via Shin-Yamaguchi) and costs ¥15,840.
Using the Shinkansen to Shin-Yamaguchi,
Hakata
is 3hrs 15mins and ¥9460 away (3 hr 40 min and ¥9250 if avoiding
Nozomi
trains). Allow at least 4 hr 30 min if you want to take the local trains on the Yamaguchi Line instead.
As a cheaper alternative to the Japan Rail Pass, JR West sells two regional rail passes covering Hamada, which are available to Temporary Visitors with foreign passports:
The San'in-Okayama Pass covers a large stretch of the San'in Main Line (from Hamasaka to Hagi), and a few rural lines in the mountains, including services to Okayama via Yonago or Tottori. It can be used on local and rapid trains and the non-reserved seats of Limited Express trains. It lasts 4 days and costs ¥4500 (¥5000 if bought in Japan).
The San'yō-San'in Pass covers a vast area, stretching from Kansai's Urban Network to Takamatsu, Miyajima (via the JR ferry), and Hakata, and taking in the entire San'yō Shinkansen. It is valid on local and rapid trains and both reserved and non-reserved seats of Limited Express and Shinkansen trains (including Nozomi and Mizuho trains). It lasts 7 days and costs ¥19,000 (¥20,000 if bought in Japan).
By bus
Iwami Kōtsū
,
Hiroden Bus
and
Chūgoku JR Bus
operate the
Isaribi-gō
16 times a day from Hiroshima, taking 2 hr 30 min (or, in the case of the non-stop buses, just over 2 hours) and costing ¥3030 (¥5340 return). This is an extremely useful shortcut to the San'yō Shinkansen at Hiroshima, so much so that long-distance travellers from points east should consider using it, even if they have a Rail Pass.
There are also two separate services from Osaka:
Chūgoku JR Bus runs two day buses from Osaka Station JR Bus Terminal, taking just under 6 hours and costing between ¥5500 and ¥6500 depending on the season.
Iwami Kōtsū and Hanshin Bus run an overnight bus from Umeda (Hankyū Sanbangai and Herbis Osaka) and Kōbe Sannomiya, taking 7 hours and costing ¥8200 (¥13,900 return).
See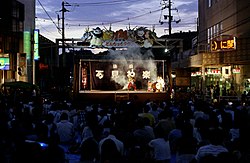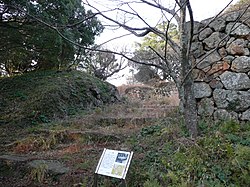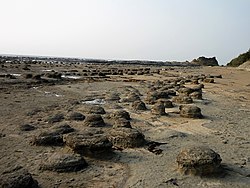 phone: +81 855-28-3900

address: 1117-2 Kushiro-chō

A small but interesting aquarium with 10,000 fish and mammals across 400 species. The main tank has a tunnel you can walk through as sharks swim above.
The park next to the aquarium has a great adventure playground for kids. Kagura shows are held in the park on weekends (winter excepted). Kagura is traditional outdoor theater performed by actors with fixed-expression masks and spectacular costumes. They're accompanied by musicians on traditional instruments, notably drums and bamboo flute. Shows lasts for about an hour and tell stories of heroes vanquishing dragons. Entrance to the park and the kagura show is free.

Hamada CastleIt was built in 1620 and destroyed in the final days of the Tokugawa shogunate. The foundations are surrounded by a pleasant park, on a hill overlooking the harbor. A prefectural cultural asset.

Iwami Kokubunji TempleBelieved to have been built in the late 8th century, although today only the great foundation stones of its tower remain. A prefectural cultural asset.
TadajiThought to date from somewhere between the mid-10th and late 11th centuries, the temple houses 59 wooden Buddha statues (木造天部像群) in its main hall. A prefectural cultural asset.
Iwami Tatami ga UraA rock configuration created by an earthquake in 1872, which rose the seabed 1.5 meters, leaving circular rocks protruding above the seashore. A national natural monument.
Wooden Amida Nyorai-Ritsuzo - Made around 1255, this is an Annami style statue carved from a single block of wood. It is the principal image of Buddha in the Shinkakuin temple of the Jodo sect. An important national cultural asset.
Ancient Sufu Tomb - A keyhole shape tomb, 66 metres in length, estimated to date from about the 5th century. A national cultural asset.
Do
Kokufu beach (10 minutes and ¥260 by bus from Hamada station to Senjōen-guchi, then 10 minutes walk, or 5 minutes and ¥190 by local train to Shimokō station, then 17 minutes walk): this is possibly the best surf spot in Shimane. Locals are friendly. The surf is variable, better in winter, but extremely cold. In summer the water is warm, but the sea may be flat. A good place to be during typhoon season in late summer/autumn.
Iwami Seaside Park (+81 855-28-2231) is close to Aquas and has nice beaches for swimming, snorkeling, and surfing. There are cabins and campsites for rent. Beware of strong currents on rough days, though. You can also watch kite surfers at the weekend.

FestivalsFebruary - Izumo Taisha Iwami-bunshi setsubun Festival; March - Tadaji Hatsuuma Festival; April - Hamakko Spring Festival and the Daimyo Parade; July - Kokubu Kinsai Festival; August - Hamakko Summer Festival, Fireworks, and Nagahama Hassakuhana Festival; October - Nagahama Tenjinreitai Festival; November - Hamada BB Onabe Festival and Iwami Kagura Festival.
Buy
Kare - dried flounder
Fugu mirin-boshi - blowfish seasoned with sweet sake
Kamaboko - boiled fish paste
Ika-maki - squid rolls
Rikyu manju - sweet bean cakes
Iwami kagura mask - nagahama doll
Eat
Uni Don - sea urchin on a bed of rice
Ankou Nabe - angler pot stew
Sleep
Iwami seaside park has bungalows for rent, or you can pitch your tent there. Its a beautiful and peaceful spot.
Go next