Hamamatsu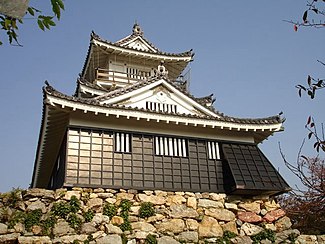 Hamamatsu
(浜松・はままつ is the largest city in
Shizuoka
,
Japan
.
Understand
An important industrial hub, the city is home to many companies, including Honda Motor Company, Roland Corporation, Kawai Pianos, Yamaha, Sony, Suzuki Motor Company and Hamamatsu Photonics as well as a large air base for Japan's defense force. Consequently, the city is well known for producing motorcycles, musical instruments and optoelectronic sensors among other things.
For its population of just under a million people, Hamamatsu is a uniquely international city. It is home to almost 16,000 Brazilians, mostly from
São Paulo
,
Paraná
, and
Belém
, as well as 3000 immigrants from
Peru
, giving it the highest per-capita concentration of South Americans in Japan. The city also has sizable immigrant populations from
Indonesia
,
South Korea
, the
Philippines
,
China
,
Nepal
, and
Bangladesh
. The ethnic diversity here provides the city with a wide array of ethnic stores, restaurants, bars and clubs.
Get in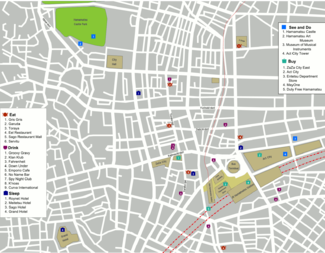 By plane
Geographically, the closest airport to Hamamatsu is in
Shizuoka
, 45 km away. However, flights there are very limited: Domestic services are operated by ANA and low-cost carrier Fuji Dream Airlines to destinations including
Sapporo
,
Fukuoka
and
Okinawa
, and international flights serve
Seoul
,
Taipei
and several destinations in
China
.
You can reach Hamamatsu by taking a limousine bus to Shimada Station (25 min, ¥500) and then taking the JR Tokaido Line (45 min, ¥840).
Fuji Dream Airlines passengers have access to a free shuttle bus to Kakegawa Station (35 min away), otherwise a shuttle to Kakegawa costs ¥1000. From Kakegawa, Hamamatsu is 30 min away by local JR train (¥500) or - if the connection is convenient - 11 minutes by shinkansen (¥1360).
It's also possible to take shuttle taxis all the way to Hamamatsu for ¥1500, but these must be reserved at least one day in advance and bookings can only be done in Japanese.
The closest international airport is
Chubu International Airport
in
Nagoya
. Entetsu operates a bus called
E-Wing
which runs directly to Hamamatsu Station every 45-60 min. The trip takes 2 hr 10 min and costs ¥3100. The fastest option by train is to take the Meitetsu Limited Express to Nagoya and change to the shinkansen (90-100 min, ¥5650, shinkansen is free with the Japan Rail Pass).
If coming from the other major international airports,
Kansai
or
Narita
, the fastest way to reach Hamamatsu is to take the JR limited express to Osaka or Tokyo, respectively, and change to the shinkansen. These trips are free for Japan Rail Pass holders.
By train
Hamamatsu is on the
Tokaido Shinkansen Line
, and the
JR Tokaido Line
, which serve major cities like
Tokyo
,
Nagoya
and
Osaka
.
There are a handful of
Hikari
and
Kodama
services that stop in Hamamatsu. From Tokyo, there are two all-stopping
Kodama
trains that depart every hour, making the run to Hamamatsu in about 2 hours. Faster
Hikari
trains depart once per hour, running to Hamamatsu in 90 min. The fare is the same for both, at ¥8290 for a reserved seat.
Kodama
trains have more unreserved seats than the Hikari; an unreserved seat costs ¥7770.
There are hourly departures to Hamamatsu from
Osaka
and
Kyoto
on either a
Hikari
(90 min from Osaka) or
Kodama
(2 hr from Osaka). The reserved seat fare is ¥8940 from Shin-Osaka and ¥8290 from Kyoto.
Discount bullet train tickets include the
Puratto Kodama Ticket
, which offers a discount for Kodama trains if you purchase at least one day in advance. You get a reserved seat, and a coupon for a free drink to purchase before you board the train. With this ticket a trip to Hamamatsu costs ¥6600 from Tokyo (2 hr), ¥3700 from Nagoya (50 min), ¥6600 from Kyoto (1 hr 45 min) and ¥7100 from Shin-Osaka (2 hr). In addition, discounted tickets can be purchased in advance through Japan Railways' official
SmartEX App
, available in English and other languages - look for
Hayatoku
fares.
Regular local train services on the Tokaido Line will get you from Tokyo to Hamamatsu in approximately 4–5 hours for ¥4430, while from Osaka it takes around the same amount of time for ¥5080. Several train changes are required along the way.
Train service from
Nagoya
take as little as 1 hr 40 min on the regular Tokaido Line (¥1940), changing at
Toyohashi
, or as little as 30 min on the Shinkansen (¥4420 unreserved seat).
All of the above train services are free with a Japan Rail Pass.
The
Sunrise Izumo
and
Sunrise Seto
trains make overnight stops in Hamamatsu on runs to
Izumo
and
Takamatsu
, respectively.
By car
Japan's Windy City
Hamamatsu gets little snow in winter, but it often feels much colder than it really is, thanks to what is known as the
enshu-no-karakkaze
, a very strong and dry wind which blows across Lake Hamana and into the city. If you come here in winter, hold onto your hat because the
enshuu-karakkaze
is one of the strongest urban winds in the world.
The Tomei Expressway, the main artery through the
Chubu
region, bisects Hamamatsu. The city is served by the Hamamatsu and Hamamatsu-Nishi interchanges. It is around 8 km from Hamamatsu Interchange to Hamamatsu station.
Further to the north, the Shin-Tomei Expressway serves Hamamatsu through the Hamamatsu Hamakita Interchange. It's about 17 km from there to Hamamatsu station.
By bus
Hamamatsu serves as a major stop for bus travel throughout the country, thanks in large part to its location near the Tomei Expressway. The main stop for buses is
Hamamatsu Bus Terminal
, next to Hamamatsu Station. This is not to be confused with Hamamatsu-
cho
Bus Terminal, which is located in
Tokyo
.
Through buses may stop at the Hamamatsu Kita bus stop of the expressway, a good distance from Hamamatsu station.
From Tokyo
Daytime buses from Tokyo take around 4 hr 30 min, with most runs to Tokyo in the morning and from Tokyo in the evening.
There are five daily JR Tomei Liner buses that run from Tokyo Station to Hamamatsu Station (¥3880).
Other buses operate a route from Shinjuku Expressway Bus Terminal (¥3880) and Tokyo/Shibuya (¥3810) to Hamamatsu, with four round-trips per day.
Entetsu operates an overnight bus from
Shinagawa
Bus Terminal (6 hr, ¥3800), while Willer Express runs an overnight service from JR Osaki Station (5 hr 10 min, ¥3900).
From Kansai and Hyogo
Two round-trip buses between
Osaka
Station and Hamamatsu are operated during the day by JR Bus and Entetsu Bus (4 hr 45 min, from ¥3900).
JR Bus runs an overnight service from
Kobe
(Sannomiya Bus Terminal),
Osaka
(JR Namba and Osaka Stations) and
Kyoto
Station to Hamamatsu (6 hr 30 min from Osaka Station, starting at ¥4200). Willer Express' overnight bus runs from Osaka (Universal Studios Japan and the Willer Bus Terminal in Umeda) and Kyoto Station (5 hr 10 min from Umeda, starting at ¥4200).
Get around
The city center is easily explored on foot, but Hamamatsu is a very sprawling place, and to visit places further out such as the Fruit Park or Kanzanji Hot Springs, you will need another form of transportation.
By car
Times Car Rental, (south of Hamamatsu station), .
By bus
Hamamatsu Bus Terminal
is just north of the main JR train station. Take a ticket from the machine inside the bus when you enter. The number on the ticket corresponds to the number lit up at the front of the bus, which displays the fare amount for the upcoming stop.
By train
The JR Tokaido main line has five stops within Hamamatsu city limits. They are, from west to east:
Bentenjima (弁天島)
Maisaka (舞阪)
Takatsuka (高塚)
Hamamatsu (浜松)
Tenryugawa (天竜川)
The JR Iida line cuts across the mountainous far northern edge of the city on its path between Toyohashi, Aichi and Tatsuno, Nagano. Useful stops include Misakubo and Sakuma.
Entetsu runs a line popularly known as the Aka-den, after the red color of the train cars. It runs from Shin-Hamamatsu station (新浜松駅) northward to Nishikajima station (西鹿島), where it connects with the Tenryu-Hamanako line. To find Shin-Hamamatsu station from the regular JR station, walk westward from the JR North Exit about two minutes and you will find the station behind Entetsu department store.
The Tenryuu-Hamanako line crosses Hamamatsu through the foothills and across the scenic north end of Lake Hamana. It connects with the JR Tokaido line at Shinjohara (新所原) at the western border of the prefecture, and again at Kakegawa to the east of town. In the center, it connects with the terminus of the Entetsu line at Nishikajima (西鹿島).
See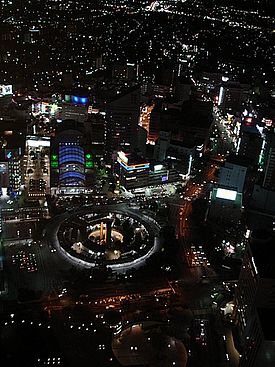 phone: +81 53 451-1111

address: Itaya-machi 111-1 - Naka-ku

Hamamatsu's only skyscraper is a symbol of the city, designed to resemble a harmonica, a reminder that Hamamatsu is sometimes known as the "City of Music". The building houses shopping and a food court, the Okura Hotel, and an observatory on the 45th floor from which you can see all of central Hamamatsu. The basement floor holds two theaters at which there are frequent concerts, musicals, plays, and seminars. On the west side there is a unique rooftop park complex, and on the north there is an outdoor "Sunken Garden" used at festival times for food stalls and cultural performances.
Tower ObservatoryFrom the observatory you can see down to the sand dunes at the shore and Lake Hamana to the west. If the weather is exceptionally clear, you can even glimpse Mount Fuji in the distance. Beneath the windows are labeled panoramic photos so you can identify the sights. Coin-operated telescopes.

Chopin MonumentErected in the rooftop park beside the tower is an authentic two-third-scale replica of the famous Art Nouveau bronze statue of composer Frédéric Chopin by the famed artist Wacław Szymanowski. The original is in Hamamatsu's sister city, Warsaw.
Futamata Castle Ruins

address: Futamata-cho Futamata - Tenryu-ku

Many battles were fought over this castle in the mid-16th century between Ieyasu Tokugawa and Shingen Takeda. In 1579, Tokugawa's wife was executed here and his son committed seppuku here as well. The castle was abandoned after 1600, and today nothing but the walls remain, surrounded by a beautiful park.
phone: +81 53 453-3872

address: Motoshiro-cho 49-2 - Naka-ku

Hamamatsu Castle was built by Ieyasu Tokugawa, who is considered perhaps the greatest shogun and one of the three people most important to the unification of Japan. His rule marks the beginning of the Edo Period. Tokugawa lived here from 1571 to 1588. After the Edo Period, the castle was destroyed, and was restored to the original specifications in 1958. The foundation, which is original, is unique because it uses unhewn stones carefully selected and fitted to lean inward. There is a small museum inside the castle, which costs ¥200 to enter, and which houses some Tokugawa armor and relics, a preserved well moved from elsewhere on the grounds as well as a miniature model of how the city might have looked 400 years ago.
Keta River

address: Haruno-cho Tenryu-ku

This beautiful mountain river flows for 66 km before it joins the Tenryu southwest of Haruno. It's a relaxing place for swimming or kayaking.
Kiga Sekisho

phone: +81 53 523-2855

address: Hosoe-cho Kiga 4577 - Kita-ku

This restored checkpoint along the Princess Road was established by Tokugawa Ieyasu in 1601. Now dressed with authentic props, visitors can get a glimpse of how tightly controlled travel in that era was. The gate is especially impressive.
Mitake Castle Ruins

phone: +81 53 542-1113

address: Inasa-cho Mitake

A somewhat strenuous hike will bring you to the ruins of a castle built atop 467-m Mt. Mitake in 1340 by the Ii Clan.
Nakatajima Sand Dunes

phone: +81 53 452-1634

address: Nakatajima-cho - Minami-ku

The second largest grouping of sand dunes in Japan makes a great place for a stroll or picnic. Be careful if swimming, as there is somewhat of an undertow.
phone: +81 53 543-0108

address: Inasa-cho Tabata 193 - Kita-ku

One of the largest and most famous caves in Japan. The first 400 m of the 1000-m limestone cavern are open to the public. Stalactites and stalagmites abound, and the centerpiece is a 30-m underground waterfall. This cave stays about 15°C year-round, making it a great place to cool off during the sweltering summer heat.
Takisawa Observation PlatformThis spot offers a beautiful vista of the city from which you can see all the way to Act City and all across Lake Hamana. Popular with local couples, the view is especially good at night when the city is lit up.
Tenryu RiverOne of Japan's largest rivers flows through the mountains of north Hamamatsu and along the edge of town from Tenryu-cho down to the coast. The meandering mountain portion and wide delta provide abundant opportunities for raftting, kayaking, and fishing, and there are many parks along its banks. The god of this river, Ryujin, is the guest of honor at many area festivals.
Washizawa Wind Cave

phone: +81 53 428-2965

address: Washizawa-cho 428 - Kita-ku

A less touristy alternative to Ryugashido, this limestone cave has cool winds blowing through it during the summertime. This is the only cave in Japan with a horizontal ceiling. The cave supposedly provided a refuge for warriors during the 1300s.
Museums
Temples and shrines
Choraku-ji Temple

phone: +81 53 522-0478

address: Hosoe-chō Kiga 4578 - Kita-ku

This temple, built at the start of the Heian era, has a charming garden with plum trees, and is especially beautiful with the change of the leaves in the fall.

Daifuku-ji Temple

phone: +81 53 525-0278

address: Mikkabi-chō Fukunaga 220 - Kita-ku

Mountain temple overlooking the small Inohana lake. Check out the Deva statues at the gate. This is an excellent place if you're in town during cherry blossom time, and if you miss it, check out the Hantoshi-zakura cherry blossoms which are in bloom from mid-autumn to early spring.

Gosha and Suwa Shrines

address: Togi-machi 302-5 - Naka-ku

Built in 1580 and 1556 respectively, these side-by-side shrines were reconstructed in the 1940s and serve downtown locals. Especially interesting at the shrine festival on May 4 or at Shichigosan on November 15 when local families wrap their small children in kimonos and come here to pray.

phone: +81 53 542-1473

address: Hosoe-chō Nakagawa 65-2

Established by an invited Chinese Zen master in 1667, this temple is a fine example of late Ming Dynasty Chinese architecture. The Buddha hall and the priest's residence are designated National Important Cultural Properties.

address: Kamoe 4-17-1

This bright-orange-and-white modern temple is one of the most important downtown temples. It is a good place to see the locals all dressed in kimonos on holidays such as New Year's Day.

Makaya-ji Temple

address: Mikkabi-chō Makaya 421 - Kita-ku

Here you will find the oldest garden in the prefecture, reminiscent of Kyoto's Koke-dera. The temple was built in 726 and contains some important cultural artifacts. Especially impressive is the wooden statue of Senju-Kannon with one thousand arms.

phone: +81 53 543-0003

address: Inasa-chō Okuyama 1577-1 - Kita-ku

This Zen temple, nestled among pines, sakura, peach, and other things, was established in 1377 and is the home of the Rinsai Sect, housing three much-revered Buddha statues. With over sixty halls, it is one of the biggest temples in the Tokai area. The small Shichison Bosatsudo is the oldest wooden building in the prefecture and a fine example of 14th century Japanese architecture. Visitors can walk through the buildings- no shoes allowed.

phone: +81 53 542-0480

address: Inasa-chō Iinoya 1989 - Kita-ku

The main hall here has "nightingale flooring" much like Nijo castle in Kyoto. When walked on, the flooring makes subtle bird sounds to warn of intruders. The garden here is a nationally designated scenic beauty. On the south side of the temple is a well which belonged to the founder of the Ii clan in the early 11th century.

Yamazumi Shrine

phone: +81 53 987-1179

address: Misakubo-chō Yamazumi 230 - Tenryū-ku

This mountain shrine was built in 709 and is well-known for its cult of wolf-worship. The grounds also have two ancient cedars over 1200 years old.
Parks
Bentenjima Kaihin Park

phone: +81 53 592-0757

address: Maisaka-chō Bentenjima 3775-2

This beautiful spot has a beach and boardwalk, with a lovely view of a torii perched on an island in the middle of the bay. The fireworks display in late June is extremely popular, bringing in dozens of food stalls, and thousands of people.

address: Motoshiro-chō - Naka-ku

North of the castle is a very big park with a Japanese garden, a koi pond, a ceremonial teahouse (see Drink below), and some commons areas. This is the best downtown location to go to see cherry blossoms in the spring.

phone: +81 53 487-0511

address: Kanzanji-chō 195 - Nishi-ku

This beautiful park has many gardens full of 3000 types of flowers, with over 100,000 plants in all. There is also a restaurant and shopping area.

phone: +81 53 428-5211

address: Miyakoda-chō 4263-1 - Kita-ku

This unique amusement park is a working fruit farm where you can see, touch, taste, and pick a variety of fruits.

phone: +81 53 487-1122

address: Kanzanji 199 - Nishi-ku

Well worth stopping if you are in Kanzanji. In the autumn, special evening hours allow to you visit the zoo after dark.

Hamanako Garden Park

phone: +81 53 488-1500

address: Murakushi-chō 5475-1 - Nishi-ku

A big green park at the end of a peninsula on Lake Hamana. Features include a 5-hectare lawn, a waterworks plaza that encourages you to get wet, an exhibit hall, an observation tower, children's playground, a restaurant, and diverse flower gardens.
Observation towerThis 50-meter tower has a covered observation deck with a nice view of the park and lake.
Do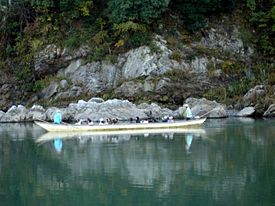 phone: +81 53 487-2121

address: Kanzanji-chō 1891 - Nishi-ku

Rollercoasters, Japan's longest raft ride, and a cable car ride over Lake Hamana are among the attractions at this park in Kanzanji.

phone: +81 53 592-2260

address: Yūtō-chō 9985-3

This method of spear fishing at night is unique to the Lake Hamana area. You can rent a boat for up to 4 people, including an experienced fisherman, for ¥27,000. For a little extra you can have your catch cooked and served.

Wotto Hamanako Aquatic Experience Center

phone: +81 53 592-2880

address: Maisaka-chō Maisaka 5005-1 - Nishi-ku

At this hands-on aquarium, you can see, touch, and learn about aquatic life in Lake Hamana.

phone: +81 53 526-7066

address: Mikkabi-chō Oosaki 1899

This ferry runs between Kanzanji Hot Spring and Mikkabi-cho, giving some nice views of Lake Hamana. The round trip takes about an hour.

Miyakoda Hiking CourseThis "19-km hiking trail" is actually a route on the roads through the area. While quite confusing to the non-Japanese speaker, it does take one past Washizawa Cave, winds up in the mountains a temple, bridges,a waterfall, and finally to Takisawa Observation Platform. A new highway being built across this area seems to have altered some roads and creates for a challenge in route-finding. Be prepared to trek 25–30 km as the 19-km length assumes one does not get lost.

phone: +81 53 478-2626

address: Takabayashi 1-chome 13-13 - Naka-ku

A nice bathhouse not so far from the city center.
Watch a movie in Toho Cinemas, in the Zaza City Complex or at Sun Street Shopping Center in Hamakita.

phone: +81 53 471-0311

address: Wago-cho 936-19

National auto and motorcycle racing events.
Festivals
Shoryu Weeping Plum Blossom Festival

address: Kurematsu-chou 1476-1, Nishi-ku

Trees are pruned to look like dragons on clouds in the sky.

phone: +81 53-523-0713

address: Hosoe-cho, Kita-ku

During the Edo Period this road was a popular excursion spot for princesses. This matsuri re-enacts what the procession was like, with actors in full authentic dress of samurai, maids, servants and, of course, the princess with her palanquin.

Hamamatsu Festival

address: downtown and Nakatajima

This 450-year-old festival is one of the most famous Golden Week festivals in Japan. In what is known as the Takoage Gassen, every neighborhood in the city and even some from other cities design and make their own kites to fly and to fight near at the festival grounds near Nakatajima Sand Dunes, with each kite representing a son born to a family of the neighborhood within the last year. The kite-fighting takes place on the third day of the 3-day festival and results entertainingly in downed kites in trees and on rooftops all over the neighborhood. In the Sunken Garden space on the north side of Act City, there is an international food court with many exotic stalls, and a stage for all kinds of music and cultural performances from around the world, including taiko drumming, local yaramaika music, Thai kickboxing, Brazilian batucada and samba dancing performances, jazz acts, jugglers, and traditional dances. There are also parades all over the city well into the night, in which children playing various instruments are carried in 70 large ornate parade floats. Everywhere there are groups marching and chanting to the sound of trumpets, and the sake flows freely.

Hamakita Hiryū Festival

address: various locations around Hamakita: Tenryu Nakase Ryokuchi (park along the river), Hamakita Culture Center (west of the Akaden Hamakita stop), Nayuta (in front of Hama-kita station)

In honor of Ryūjin, god of the Tenryuu River, various events are held including kite-flying, a gyoza competition, and a special event celebrating fire, water, and sound.

Hamamatsu Yukata Festival

phone: +81 53 460-1996

Hamamatsu is one of Japan's leading producers of the patterned, dyed fabric used to make yukata, and this small festival celebrates the beauty of this colored "summer kimono" with musical performances, food stalls, a yukata contest, and other exhibitions.

Enshu Buddhist Chanting Ritual

phone: +81 53 586-6201

address: All across town

In this local traditional performance, a procession of chanters and people with flutes, drums, cymbals and lanterns visit the homes of families who have lost a loved one in the last year.

Misakubo Festival

phone: +81 53 987-0432

address: Misakubo-cho

This mountain festival features a costume contest in the afternoon and parades of costumed men carrying elaborate floats in the evening.

phone: +81 53 586-8700

address: Hiraguchi 5051-1, Hamakita-ku

Features re-enactments of life in the Nara and early Heian periods with people dressed in authentic period clothing and dramatic Manyo poetry readings.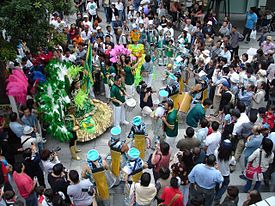 Sakuma Dam Festival

phone: +81 53 965-1651

address: Sakuma-cho Sakuma - Tenryu-ku

This festival pays tribute to Ryujin, god of the Tenryu River, and commemorates the 1956 opening of Sakuma Dam, a great engineering feat of its time. Highlights include a colorful dragon god dance, taiko drumming, fireworks over the lake, and many vendors displaying local products.

phone: +81 53 542-1111

address: various locations in Inasa-cho - Kita-ku

A rarity in Japan, this festival brings puppeteers from across the country for three full days of over 60 performances. Great for kids.

Akiba Fire Festival

phone: +81 53 985-0111

address: Haruno-cho Ryouke 841 - Tenryu-ku

Celebrating the supposed fire-prevention powers of Mt. Akiba, this festival is held at Akiba Temple and Shrine atop the famous mountain, with fire-walking, fire dances, and various weapon dances.
Hanabi Taikai - There are many fireworks displays in the area during the summer. The largest of these is Fukuroi Enshu no Hanabi held in Fukuroi, a small town a few stops east on the JR line. This celebration in early August is one of the largest fireworks displays in Japan, with over 30,000 fireworks. Within Hamamatsu city limits, there are also impressive hanabi taikais in Bentenjima (late June), Kanzanji (late July), and Tenryu (early August).
There are also various festivals and performance to celebrate the Japanese-Brazilian heritage that is so prevalent in this area.
Buy
phone: +81 53 457-0001

address: Sunayama-cho 320-2 - Naka-ku

High quality clothing and other items. The basement contains a wonderful grocery and deli.
Aeon/Jusco Shopping Malls - Hamamatsu has three of these somewhat western-style shopping malls. You'll have to catch a bus to these. The largest is in Ichino-cho (市野町).
address: Tennou-cho 1981-3

The largest shopping mall in the area. A free shuttle bus runs to the mall from Kamijima and Saginomiya stations on the Akaden line.

phone: +81 449-2611

address: Irino-cho 6244-1 - Nishi-ku

Smallest yet closer to downtown, this location is bit more like a large department store.

phone: +81 53-415-1200

address: Shitoro-cho 5605 - Nishi-ku
phone: +81 53 457-4000

address: Sunayama-cho 6-1 - Naka-ku

Clothing shops, a bookstore, a CD shop, a Muji (top quality generic items), and an import store called Sony Plaza, among other things. There is a food court at the top and a high-quality grocery store in the basement.
Sun Street Hamakita

phone: +81 53 585-8333

address: Hiraguchi 2861 - Hamakita-ku

This shopping center contains a bathhouse, a Toho Cinema, arcades, a food court, a 24-hour Seiyu, and dozens of clothing stores.
ZaZa City

phone: +81 53 413-3333

address: Kaji-machi 150 - Naka-ku

Amongst varied clothing shops, ZaZa City has a musical instrument store, a movie theater, a supermarket, a manga store, a video arcade, Toys'R'Us, Starbucks, MosBurger, Baskin Robbins, Uniqlo and more. The bookstore in the basement lever has a decent selection of English books.
Eat
Local specialties
Food-wise, Hamamatsu is most famous for eel from Lake Hamana, and
unagi
(うなぎ) restaurants can be found all over the city. Perhaps the most famous ones are Yaotoku, popular with tourists, and Atsumi, the locals' favorite. Fresh seafood from Lake Hamana is always available. In the Maisaka/Bentenjima districts, another famous local delicacy is
suppon
(すっぽん), or snapping turtle. Hamamatsu has Japan's second-highest per-capita sales of
gyoza
as well (first prize goes to
Utsunomiya
). Prized locally-produced seasonal produce items include
mikan
s, melons, persimmons, white onions, and strawberries.
Budget
Arisan

phone: +81 53-466-0207

address: Tamachi 330-1, Mabii Bldg. B1

Taiwanese restaurant with a fairly wide selection of tasty dishes with good portion sizes for the price.

address: various locations

This bakery chain serves a variety of fresh-baked breads and pastries. There is a location with a deli inside the JR station, and another bakery is across the street from Shin-Hamamatsu station.

Gyoza no Kiyo

phone: +81 53 454-1931

address: Kamoe 1-chome 33-5 - Naka-ku

Famous gyoza not far from downtown.

phone: +81 53 586-8522

address: Komatsu 2192-1 - Hamakita-ku

This may be the most famous place to get Hamamatsu gyoza. Some of the area's other famous shops are owned by former pupils of the head chef here.

Kibori

phone: +81 53 447-5737

address: Zoura-cho 563-3 - Minami-ku

A very old establishment known for its lighter, less meaty gyoza. Ramen is also served.

Kunma Suisha no Sato

phone: +81 53 929-0636

address: Kuma 1976-1 - Tenryu-ku

Named after the large old-fashioned waterwheel that turns outside, this spot serves the local specialties nihachi soba (buckwheat noodles) and gohei mochi. Visitors can also try making their own soba or konyaku.

Las ChillonasThe only full-fledged Mexican restaurant in town, run by a hard-working Mexican woman and her daughter. The chimichangas are spectacular, but the menu also includes a variety of appetizers, tacos, burritos, enchiladas, and even a chicken molé. They also serve Mexican beer and frequently have cheap margarita specials.

Okonomiyaki Honpo

phone: +81 53 478-2200

address: Nakazawa-cho 23-1 - Naka-ku

Very large and popular Kansai-style chain okonomiyaki restaurant.

phone: +81 53 457-5851

address: Sunayama-cho 320-2 - Naka-ku

Good coffee, pizza and pasta in a sophisticated atmosphere. Full bar. There is plenty of outdoor seating, and the inside shares space with the DJ booth for FM Haro, a popular local radio station.

Toraya

phone: +81 53 454-1710

address: Sakana-machi 316-36 Kawaimaruki Bldg

On the second floor above a fruit stand at Daiichi-dori and Yūraku-gai, this mom-and-pop shop has some of the best cook-it-yourself okonomiyaki in town.

Ani&Ivan

phone: +81 53-545-9161

address: 414-2, Kanda-cho, Naka-ku

Satisfying yet cheap Indonesian food, including Halal. The ¥1000 set is a surprisingly good deal for a lunch set—try the Gurame. Indonesian, Japanese, and limited English is spoken.
Mid-range
Binchou OogiyaA chain of yakitori shops, with some of the cheapest beer in town. Of the 7 stores, there are three within walking distance of the central JR station:
phone: +81 53 450-7517

address: Kaji-machi 319-23 - Naka-ku

phone: +81 53 450-8870

address: Sunayama-cho 326-1 - Naka-ku

phone: +81 53 459-1788

address: Chitose-cho 104-2 - Naka-ku

This location has a popular patio, good for people-watching.
phone: +81 53-472-0777

address: Sumiyoshi 3-chome 23-23 - Naka-ku

Popular Brazilian all-you-can-eat rodizio with salad bar, rice and beans, salgados, feijoada and a wide selection of cuts served tableside, including various beef cuts, chicken, chicken hearts, lamb, and pork.
Garuda

phone: +81 53 454-7524

address: Ike-machi 225-32 - Naka-ku

The menu here is about half Indonesian and half Nepalese. There is also a import grocery store attached, with items from various Asian countries.
Hoji Pass Soba

phone: +81 53 987-1888

address: Sakuma-cho Sakuma 1832-1 - Tenryu-ku

The simple hand-made soba noodles made at this beautiful remote mountain spot draw visitors from across the Tokai region. It is also possible to try your hand at making the noodles yourself.
Inakaya

address: 315-31 Nakaku tamachi

Good selection of local dishes. Basic décor.
phone: +81 53-448-9335

address: 731 Irinocho

Excellent selection of eel dishes. Need someone with knowledge of Japanese to order.
phone: +81 53 451 6906

address: Kamoe 4-chome 19-12 - Naka-ku

Mixture of Indonesian, and Thai food. Theme is "island life". Located a little bit out of the center (5 minutes by taxi), but truly a hidden pearl. Large terrace for summer nights, and very cozy/loungy interior. There is also a little shop selling jewelry and the like.
phone: +81 53 458-8577

address: Sunayama-cho 323-5 - Naka-ku

Servitu is part Brazilian buffet restaurant and part import grocery store.
phone: +81 53 413-2723

address: Chitose-cho 108 - Naka-ku

Slightly over-priced but satisfying Indonesian cuisine.
Yaotoku

phone: +81 53 452-5687

address: Itaya-machi 655 - Naka-ku

Hamamatsu's most famous unagi restaurant, this place has been featured on national television programs many times in the past.
Splurge
phone: +81 53 454-0888

address: Hamamatsu-shi, Naka-ku, Itaya-machi 2-banchi

Chez Moriya features a chef who has worked in several top restaurants in Europe (including Belgian Comme Chez Soi" and Paris L'Arpege). The chef who is by the way very friendly, speaks French plus English.

phone: +81 53-447-3241

address: 6 Chome-8-30 Sanarudai

Overlooking Lake Sanaru. Well layout out and decorated building, suited for small functions.

Shokudo-en

phone: +81 53 454-3050

address: 1 Chome-3-26 Kamiasada

This somewhat upscale Korean-style barbecue restaurant is very popular. Try the ishiyaki bibimbap.
Drink
address: Shikatani-cho 11-4

At this pleasant teahouse you can experience a traditional tea ceremony while taking in a nice garden view.
Bars and pubs
Many of the drinking establishments in town can be found on or around Yūraku-gai (有楽街), which runs vaguely north-south about 4 blocks west-northwest of the JR station. At ZaZa City shopping complex, it intersects Kajimachi-dōri (かじ町通り), which is the main street leading northwest from the station.
phone: +81 53-482-8700

address: Naka-ku Chitose-cho 203

Spanish tapas bar with a decent wine selection. Mostly Japanese clientèle.

Big Fire

phone: +81 53-441-0670

address: Naka-ku Shinmei-cho 218-17 Shinmei Bld. 3F

Relaxed bar run by a Brazilian and his Russian wife.

Entetsu Beer Garden

phone: +81 53 457-0001

address: Sunayama-cho 320-2 - Naka-ku

A fairly standard Japanese-style beer garden: mediocre food, cold beer, fresh air. June through the end of August.

Hambolt

address: Sakana-machi, Chambord Bldg. B1

This small club/bar hosts frequent reggae events. On Fridays they charge only ¥3000 for all-you-can-drink highballs, all night long.

phone: +81 120-63-1146

address: Chuo 3-8-1 - Naka-ku

A very large German beer hall which brews its own beer. A good spot if you have a big group.

Motion

phone: +81 90-3449-6885

address: Naka-ku, Daiku-machi 15, Daichi Bldg. 3rd Floor

Specializes in premium alcohols, liquors, beers and juices. Ask the bartender to make you one of his original cocktails. Also serves some light foods. Bartender speaks English, Japanese, Tagalog and Cebuano. The DJ plays various kinds of music. No table charge.

No Name Bar

phone: +81 53 456-8218

address: Kaji-machi 318-45

An interesting mix of Japanese and foreigners come here to drink, but they also offer authentic kebabs and other Turkish cuisine. Televised sports events on occasion. Free darts upstairs.
There are of course a large number of karaoke places along Yūraku-gai as well.
Clubs
Hamamatsu has a lot of options for clubbing for a city its size, though most of these are open only on the weekends. Most places do not start getting busy until after midnight.
Klan Klub

address: Itaya-machi 102-14, B1 - Naka-ku

This club plays a mix of Brazilian music, rock, and house. Drinks are in the ¥500 range. This place can be quite happening on weekends.

phone: +81 53 449-2204

address: Sunayama-higashi

Medium-sized Peruvian-owned club. The music ranges from salsa and forró to rock to house, sometimes all in one night. This place can get very crowded on weekend nights. The crowd is typically about half Peruvian and half Brazilian. To find it, go south of the JR station and take a left on the first main street.

Planet Cafe

phone: +81 53 451-3477

address: Motoshiro-cho 223-1

A medium-sized club with a mostly Japanese crowd which has DJ events that are often really good.

Second

phone: +81 53 455-3530

address: Tenma-cho 312-22 Kanaiya Daini Bldg. 8F - Naka-ku

A small Japanese dance club on an upper floor across from the Toys'R'Us store in ZaZa City. Plays house or hip-hop. Cover is usually ¥2000.
Venues
Force

phone: +81 53 4503-3403

address: Ta-machi 315-31 - Naka-ku

A good ol' rock-n-roll venue that features rock and punk bands, both Japanese and Brazilian, with the occasional road show coming through. Open at least every F Sa, sometimes other days.

G-Side

phone: +81 53 541-5067

address: Ta-machi 327-27 - Naka-ku

Local and national acts.

phone: +81 53 451-3035

address: Itaya-machi 100-10 - Naka-ku

This venue attracts a primarily young Japanese indie crowd for local, national, and occasional international acts.

Mescaline Drive

phone: +81 53 454-7363

address: Asahi-cho 10-23 - Naka-ku

A tiny hole-in-the-wall live venue with mostly ska bands.

phone: +81 53 451-5838

address: Tenma-cho 310-8, Daiichi Kanai Bldg. 5f - Naka-ku

This bar has frequent live rock and DJ events with cheap drinks and an almost entirely Japanese clientèle.
The circular performance space between the two ZaZa City buildings also has frequent live performances on weekend afternoons.
Schedules for the concert hall at Act City can be obtained at the HICE information center. See below.
Sleep
Budget
Business Hotel Tsujiume Honkan

phone: +81 53 453-1712

address: Sunayama-cho 355-2

phone: +81 53 453-0880

address: 1-1-26 Higashi Iba

Relatively spacious rooms with room service from 5 on-site restaurants, a laundry service and in-room broadband connections.

Nagisa Park Campground

phone: +81 53 592-7544

address: Maisaka-cho Bentenjima 5005-1 - Nishi-ku

Lakeside camping with barbecue grill rental, bicycle rentals and sporting facilities.

phone: +81 53 487-0159

address: Kanzanji-cho 2214 - Nishi-ku

A small ryokan with a hot spring bath with a lake view. Breakfast is included—note that dinner is not included here.

Toyoko Inn Hamamatsu-eki Kita-guchi

phone: +81 53-457-1045

address: 103-1 Itaya-machi

Part of the popular no-frills Toyoko Inn chain of hotels. Toyoko Inn Club members can check in from 15:00.

Urakawa Campground

phone: +81 53 967-2449

address: Sakuma-cho Urakawa 3454-12 - Tenryu-ku

Campsites and simple lodgings on an beautiful green island at the convergence of two mountain rivers. Campfire pits, showers, and shared toilets. The locale is good for swimming in summertime.
Mid-range
phone: +81 53 437-0601, +81 53 984-0114

address: Haruno-cho Kawakami 383-2 - Tenryu-ku

Log cabins for up to 5 in a quiet spot in the woods. Cabins have television but share a (separate) bath/shower. Campsites are also available, as is a log house for up to 15. Despite the name, this is nowhere near Bentenjima—you will likely need a car to get here.

phone: +81 53 592-8000

address: Maisaka-cho Bentenjima 2669-151 - Nishi-ku

Seaside rooms at this relatively new hotel have a fantastic view of the torii in the bay and the Bentenjima bridge with the ocean in the background. A restaurant on site serves fresh seafood caught in the lake.

Fitness Hotel 330

phone: +81 53-454-0330

353-1, Sunayama-cho,

Hotel Bouquet Tokai

phone: +81 53-456-8111

353-7 Sunayama-cho,

phone: +81 53 592-2222

address: Yuto-cho Yamazaki 4396-1 - Nishi-ku

Part of Hamanako Lakeside Plaza, which includes Yuto onsen, outdoor pool, tennis courts, gym, park, and several restaurants. Most rooms have a good view of Lake Hamana.

Hotel Concorde

phone: +81 53-457-1111

address: Motoshiro-cho 109-18

Formerly the city's main conference venue, this older hotel is now a fairly good bargain for good sized rooms with a nice view of the castle park. 6 on-site restaurants, broadband service, and on-site car rentals are available.

Hotel LeMonde

phone: +81 53-455-1188

address: 335-14 Sunayama-cho

Hotel Yonekyu

phone: +81 53-455-3131

address: 94 Tenma-cho Hamamatsu-shi

Maruko Inn

phone: +81 53-457-0505

address: 324-15 Sunayama-cho

Meijiya Hotel

phone: +81 53-465-8111

address: 1-1-30 Sato

Roynet Hotel

address: 218-1 Motoshiro-cho (元城町)

This hotel is 2 minutes walk from city hall and Hamamatsu Castle Park. Excellent breakfast buffet.

Sago Inn

phone: +81 53-456-3511

address: 2-3-1 Ebizuka

Sago Terminal Hotel

phone: +81 53-453-3515

address: 322-7 Sunayama-cho

South Garden Hotel

phone: +81 53-451-1800

address: 325-30 Sunayama-cho

Just south of the central train station on the left.
Splurge
phone: +81 53-452-2114

address: 1-3-1 Higashi Iba (東井場).

A large hotel with restaurants, bars and function rooms. Some rooms starting to show their age.

Okura HotelInside Act Tower.
Connect
Tourist information center

phone: +81 53 458-2170

address: Naka-ku, Sunayama-cho 324-8, Daiichi Ito Building 9F

This center has a native English speaking employee and a lot of information in English regarding local events and culture.
Internet
phone: +81 53 413-2727

address: Chitose-cho 70-1 Fun Bldg. 3F - Naka-ku

24-hour internet and manga café. Showers and massage chairs are available.

phone: +81 53 450-2700

address: Kaji-machi 320-23 Q:Face Bldg. 1F - Naka-ku

This coffeeshop has free wireless internet as well as decent food and drinks, with a full bar to boot.
Yu-Yu, on the City Hall road about 10 blocks south of City Hall. Internet cafe with pool tables.
Go next
Arai Sekisho and Hatago-Kinokuniya Archives

phone: +81 53 594-3615

address: Arai-chō Hamana-gun Arai 1227-5

This important travel checkpoint on the Tokaido highway was established in 1600 by Ieyasu Tokugawa, and is the only surviving original building of such a checkpoint. The checkpoint enforced strict regulations to keep guns out of Totomi precinct, and to keep women in. The archives hall next door contains old checkpoint records.

phone: +81 53 594-7111

address: Arai-chō Nakanogō 3727-7

One of Japan's only venues to watch boat racing.

Honkō-ji Temple

phone: +81 53 576-0054

address: Washizu 384 - Kosai-shi

The main hall is designated as a National Important Cultural Property. There is also a park here, a nice place to picnic.
Kakegawa (掛川), half an hour east, has a better castle and park.

phone: +81 53 885-0115

address: Mori-machi Shuchi-gun Toizume 1115-1

This hand-on center offers visitors a chance to try their hands at several traditional Japanese crafts, including Tōgei pottery, roof-tile making, paper-making, and traditional cloth-dyeing using local plants. The center also provides for some outdoor activities like cycling and canoeing.

phone: +81 53 524-1112

address: Mori-machi Shuchi-gun Ichimiya 3956-1

Construction on this beautiful shrine began in 555. The shrine is dedicated to the god Okuninushi no Mikoto, a benevolent god involved in the mythical creation of the archipelago, and a key figure in the famous story of the White Rabbit of Inaba (see Tottori). Very popular with Ieyasu Tokugawa and other members of his clan, this is still the most popular shrine in the ancient Totomi region. It is an especially popular place to pray for good luck, good marriages, or simply to view the autumn foliage.
Omaezaki (御前崎) is a beautiful little beach town.